Ganz, the same manufacturer of the insanely popular Webkinz collectible plush stuffed animals, has created a virtual world of mystery, lush in beautiful scenery, music, and scandalous tales!  Tail Towns Friends will enthrall you with its charming characters and titillating storylines, as you build your way to exquisitely landscaped orchards and gardens while helping friends along the way.  The free Facebook game is geared towards grownups and is an extraordinary way to melt the stress away.
Playing Tail Towns Friends is a pleasant diversion from the hectic daily activities.  Sitting down with a cup of hot tea and mentally getting away from it all for just a few minutes out of the day is one way I like to take time for myself.   Otherwise, things tend to build up and I become a very cranky momma!
Tail Towns Friends Gaming Components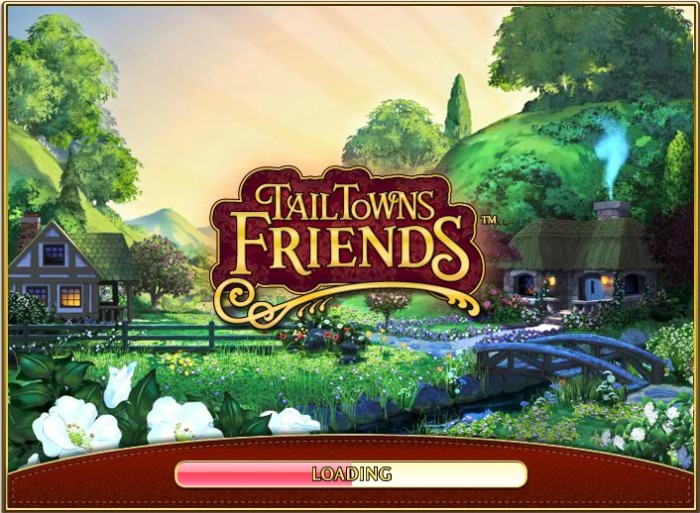 I have been playing past the tutorial for approximately five days straight and every time I log into play I am rewarded for returning with a load of acorns.  Here is what I have learned about the game thus far.  Tail Towns Friends is based upon the three fundamentals of Business, Decorating, and Stories.  You begin as a penniless mouse from the country, determined to succeed by turning your newly built orchard into a fruitful business adventure.  It is not as easy as it sounds!  You have to be a savvy little mouse and plant seeds to generate different "Resources", wait until they reach maturity, and harvest the plants to be able to fulfill the "Orders" for each city business you are striving to help.  The objective is to get the maximum amount of acorns (game currency) to be able to purchase items you need from the store in the efforts of increasing your "Storage", improving your local business, and helping to promote the businesses of Greenwood City partners.  However, you have to strategize your movements, since you use up energy needed to complete tasks.  Once the energy is depleted you have the choice of waiting until it regenerates, asking friends to gift you some, or purchasing Energy packs with Facebook credits.  Another option of increasing your energy is to visit your friends and be rewarded 5 free "Visit Energy" points.  This energy can only be used at your Friend's country place to collect from their items.  Basically, the more friends you have, the more Reputation you will gain, and the better your chances will be of succeeded in Tail Towns Friends.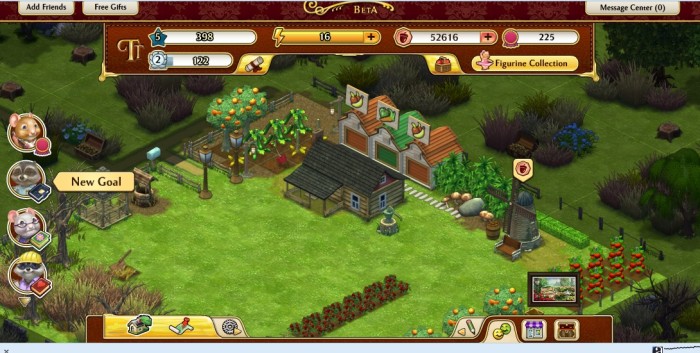 You can let your decorating skills run wild in this highly entertaining game.  Turn your Country Place into a dream haven of dazzling proportions by accomplishing decorating challenges from the Beautiful Home Club.  Some of the goals are as simple as purchasing decorations from the store such as gazebos, benches, and lamp posts.  There are also larger tasks inspired by fine art paintings that may give you a bit of decorating motivation.  Every time you place a new Décor item at your place your Décor Score will increase, which is used in various Decorating goals that unlock more extensive Decorating items.  As you become more of a pro you have the capability of replacing the lower tier Décor items with the higher extravagant decorations and you will be the envy of your friends. The layout of your Country Place is entirely up to you and you are only limited by your own imagination and the amount of acorns you possess.   The best part of the game is visiting your friends to see how they have ornamented their land!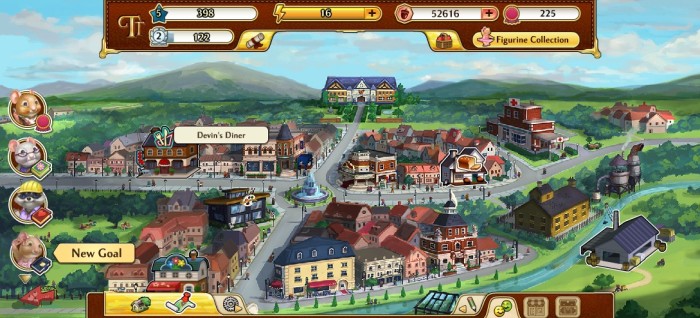 The storyline is bursting with charming characters, shocking events, and elements of treachery.  The woodland creatures are adorable, but don't let their innocent appearance fool you!  As the game progresses you uncover juicy tidbits about the critter townsfolk that are filled with drama, romance, and betrayal.  For instance, William Rete has the town under his thumb with his monopoly of supplies and is trying to run Devin's Diner out of business.  Yet, you arrive in the nick of time to help Devin put a stop to Rete pushing everyone around and earn your own orchard in the process.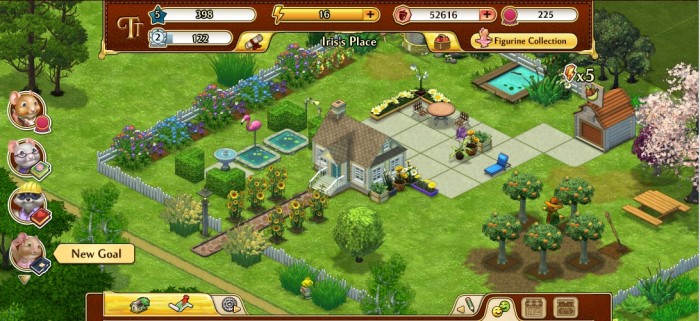 Then there is Iris Greenbloom, Devin's Aunt,  who has lived in Greenwood city her entire life.  She seems to know everyone and has her own opinion about them all.  You know the type I'm talking about! Iris is spunky, but because she is much older tends to have difficulty keeping up with the high demands of owning an orchard, so she is retired.  She is sick of the Rete family and wants to put an end to their reign of terror, especially since William Rete is threating her nephew's business.  Iris believes you reap what you sew, and there is no rest for the wicked, or the wise!  She is also member of the Beautiful Homes Club and keeps a gorgeous home.
 Another Tail Towns critter I have met along the way of my game playing is Madison Rosenbloom.  Madison is a social butterfly and friends with everyone.  She is the premiere real estate agent in Greenwood and upholds a strong business sense.  The cute young mouse was influential in helping the Rete's get an upper hand over the townsfolk by brokering several important property deals for William Rete.  Her favorite part of the job is helping clients find their dream homes, but she also enjoys being a master decorator and president of the Beautiful Home Club.
As you can see the characters all have diverse personalities and are an engaging feature of Tail Towns Friends.  The storyline is written by exceptionally talented writers and they keep the gamer coming back for more.  I have played similar Facebook games as Tail Towns Friends, but none of them have been as entertaining or relaxing as this game.
Tail Towns Friends Collectible Figurines
Tail Towns Friends also delivers a total gaming experience by offering beautiful collectible figurines.  Each figurine is custom-designed, hand painted, and can be registered to unlock the character's exclusive storyline and "Secret Diary Goals."   Upon registering the 16 digit Secret Code Card located within the figurine's box,  players will be rewarded with a Specialty decor items and gain insight into the character's life.
I received two Tail Towns Friends figurines out of the 12 available within series 1 as one of the fun perks of being a Tail Towns Friends Ambassador.
"The Soccer Player has his eyes set on a single purpose.  Make the perfect strike and hear the crown roar! "
Registering Diego the Soccer Player rewards with the World Of Soccer Trophy (once the goal is completed), exclusive to only his friends, and  a basket full of Acorns!  If you register additional Diego the Soccer Player Secret Codes you will be rewarded with just the Acorns.
"The Ballerina dreams of a life on stage, moving with grace and pose, lighter than air."
Registering the beautiful pink Ballerina unlocked a new set of Secret Dairy goals.  After the goals are completed I will receive a Clockwork Ballet, exclusive to only Sonya's friends.  I also received 25,000 Acorns.
I also unlocked level 5 after registering both figurines! AWESOME!
The adorable figurines retail for $14 and not only add excitement to the game, but additionally look wonderful on your collector's shelf!
PLEASE Join Me!  Its Fun and Free!
Please come join me in the Tail Towns Friends relaxing world of game play!  I would love to visit your orchard and see how you used the items to build your dream country home.  The game is completely free to play,  even though there is an option to purchase Facebook credits to advance quicker throughout the game.  If you would like to be included among my friends just let me know and I will send a request for you to join my Tail Towns Friends circle.  Thank you for reading this review and peace out!
Stay Connected With Ganz Tail Towns Friends
Play Tail Towns Friends (need Facebook account)
Follow Tail Towns Friends on Twitter
Check out Tail Towns Friends on Pinterest
Disclosure: Our blog is participating in a sponsored blog ambassador program from GANZ Tail Town Friends. As a part of this program we have received paid compensation and merchandise for placement of digital advertisements and specific postings related to Tail Towns Friends.