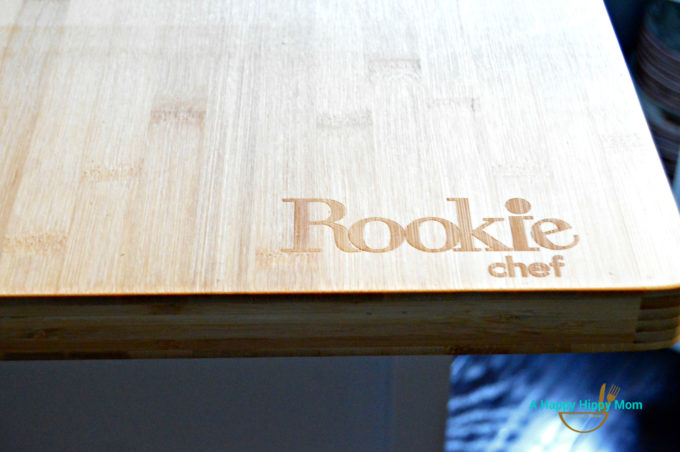 Disclosure:  I was provided with a product to facilitate this post.  The words and opinions expressed in this review are strictly of my own.
The holidays are coming!  Are you excited?  I am completely stoked, because this year I get to share with you about Rookie Brands!  I think the brand is going to get your child jumping with joy!   Not only is it going to inspire your child, generate independence, and encourage creativity; Rookie Brands can help them develop a variety of invaluable life skills that your young sprout can carry with them into adulthood.
Rookie Brands recently launched Rookie Chef.  Rookie Chef is the first of the Rookie Brands, LLC to be introduced onto the market and specializes in providing innovative kitchen tools for kids aged 5-12.  These are not your average kitchen toys you think about when purchasing cooking tools for children.  The products are extremely well built and are fully functional in the kitchen.  The mobile kitchen island carts are scaled down to accommodate the height of a child, but are in no means play toys.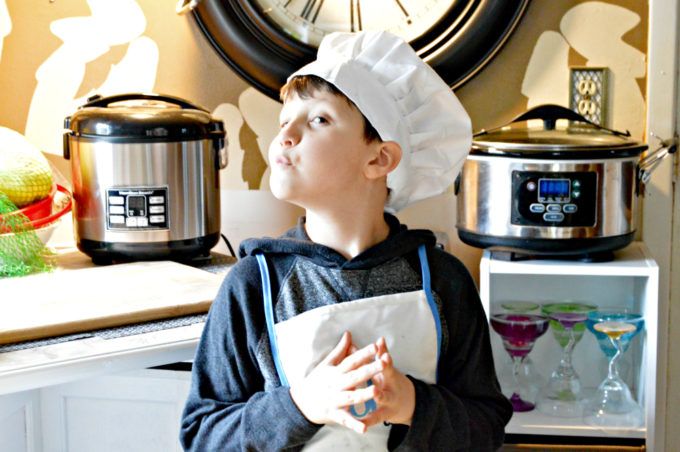 My son has taken a great interest in the culinary arts.  To put it frankly, the child loves food!  He is passionate about the smell, taste, and overall kitchen experience of creating something scrumptious to eat.  Personally, I have never seen a person who gets so excited over a bowl of chili!  I want to empower him to take his passion and turn it into life skills he can develop towards a fulfilling future career in the food industry.   With the help of Rookie Chef, he will be set on a promising path.
Rookie Chef Starter Kit and Accessories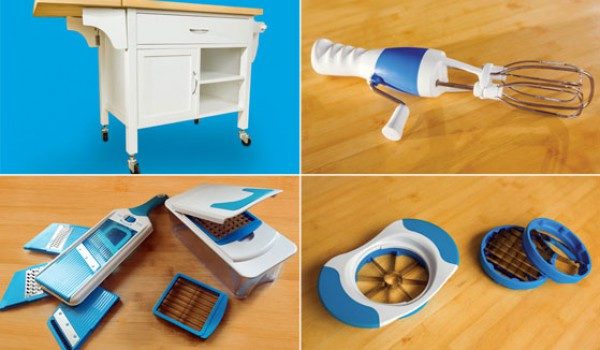 We were extremely thrilled to receive the Rookie Chef Starter Kit and accessories for review.  The package includes everything needed to get Aiden cooking in the kitchen, including the Rookie Chef Island Cart, The Slicer-Dicer, The Mixer-Upper, The Handy Slicer, Apron with Detachable Hand Towel, and Cut Resistant Gloves to prevent injuries.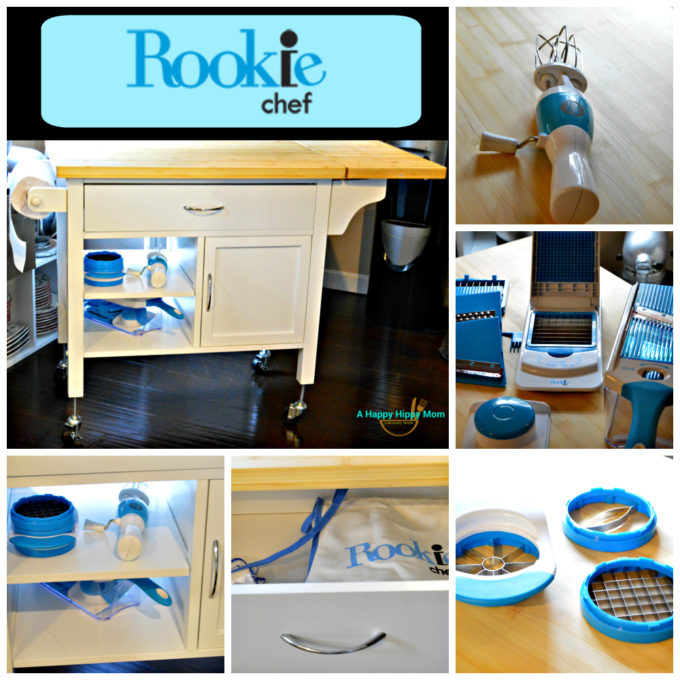 Rookie Chef Island Cart
The Rookie Island Cart is fabulous!  It features a THICK unfinished Butcher Block top, 6 1/2″ Flip-up Extension for expandable work space, shelves, cabinet, pull-out drawer, flip down drawer with two storage containers, and towel bar for paper towels or a hanging rack for an apron.  It is predominately made of bamboo construction and adds a touch of warmth to the kitchen.  The cart is not a plastic play toy and is real furniture, thus it should be treated as such.    Additionally, the height can be adjusted up to 3″ by raising or lowering the wheels.  It can easily move from place to place, making it a truly functional work station.   The dimensions are 33 x 20 x 19.5 in.
The unfinished butcher block top needs to be treated to keep it hydrated every week or after each use with some type of edible oil.  This cart is perfect for the little home chef in your home and promotes quality time cooking together in the kitchen.
If you are planning on purchasing the Rookie Island Cart for Christmas, I recommend you assemble it beforehand.  It comes extremely well packed, but requires full assembling.  It took me about two hours to get it together to realize I had one of the sections flipped around.  I had to take it all apart to fix it.  Each piece is conveniently labeled, including the hardware baggies, to match the assembly diagram.  However, it can be a bit confusing and will take full concentration to get it assembled.
The Slicer-Dicer
The Slicer/Grater/Chopper is a very cool tool!  It can slice fruit or vegetables, chop onions, grate cheese, and more!  The useful tool comes with a variety of attachments and makes food prep easy for kids.  The blades are extremely sharp and wearing the cut resistant gloves will help protect fingers.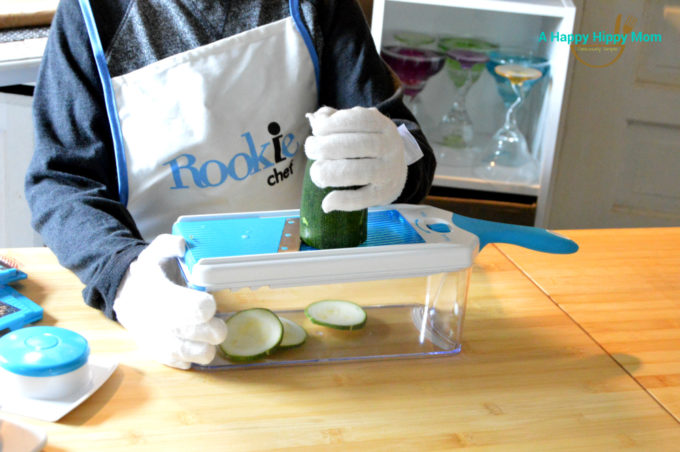 The Mixer-Upper
The Mixer-Upper is a kid friendly hand mixer suitable for light mixing of dry goods, sauces, pudding, ect.  It is not intended for dough or thick batters.  The kitchen tool is for beginners who are not ready to use a heavy mixer.
The Handy Slicer
Great for snack prep, this handy kitchen gadget contains an inter-changeable base to fit attachments including an apple corer, mango corer, and fry maker.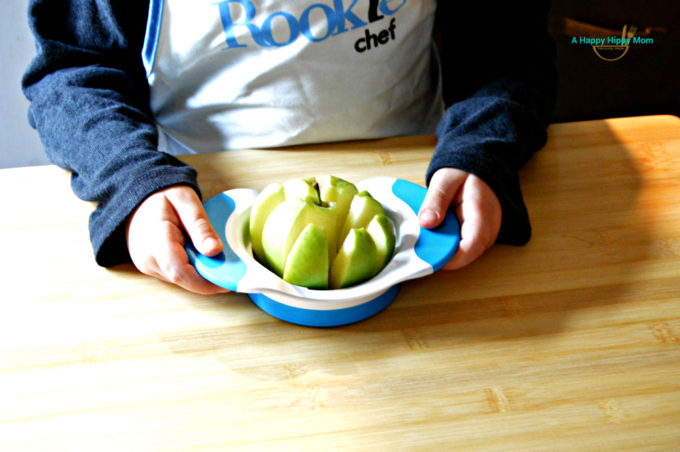 Apron with Detachable Hand Towel
This apron is adorable and will help protect your child's clothing during cooking!  It comes with a handy towel attached, which can be easily tossed in the wash for cleaning.  The apron features the Rookie logo in blue letters and will encourage your home chef to whip up something delicious!
Cut Resistant Gloves
The gloves are sized for little hands and will help avoid your Rookie from cuts while using the sharp Slicer-Dicer.  They are meant to prevent small mishaps and are not cut proof.
Creating Memories in the Kitchen
Rookie Chef Starter Kit was developed to help bring families together in a whole new way by getting children to prepare food with their parents in a fun and safe environment.   Creating memories in the kitchen gives children a sense of pride, accomplishment, and helps build self-esteem.  Rookie Chefs can cook using the kit alongside their parents and build new skills that will last a lifetime.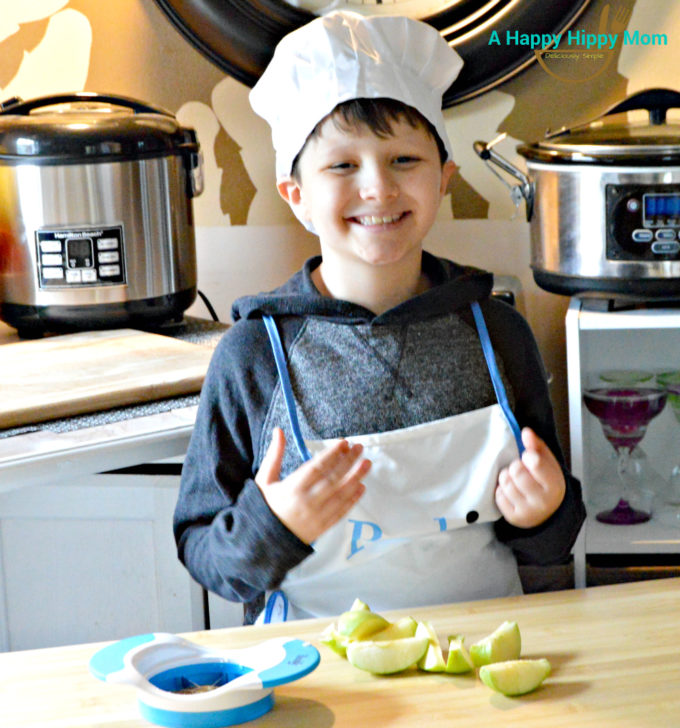 My son loves his new kitchen work station!  The Rookie Island Cart and accessories are quality made and are fun to use.  The innovate kitchen tools gets him excited about food preparation, nutrition, and inspires him to learn in the kitchen as he grows!
Spreading a Message of Empowerment
Founder and Owner of Rookie Chef, Vanessa Retter, has been spreading a message of empowerment to parents across America who are able to teach lessons of taking pride and ownership in your work through the food that is prepped in the kitchen. Parents looking for a way to spend more quality time with their children can use Rookie Chef products as that tool.

"The Rookie Chef Island Cart and accessories are really neat, but the biggest impact comes from the experience children gain from using these products," explained Retter.
15 Future Brands!
Rookie Chef is the first of the Rookie Brands, LLC to launch.  According to Venessa, there are 15 future brands in the making!  Keep watching for Rookie Carpenter, Rookie Gardener, Rookie Business, Rookie Designer, and more! Each brand pertaining to life skills and interests for 5-12 year olds.
Buy it!
This holiday shopping season why not give your young chef a gift that will build life skills?  The Rookie Chef Starter Kit and accessories have a retail value of $379.00 and are available for purchase at www.RookieChefs.com.
Also, 10% of each sale goes to building self-sustaining communities to home the homeless. Rookie Brands believe giving is better than getting so the company wants to give to those who could give nothing back!
FEATURED ON 2016 HOLIDAY GIFT GUIDE!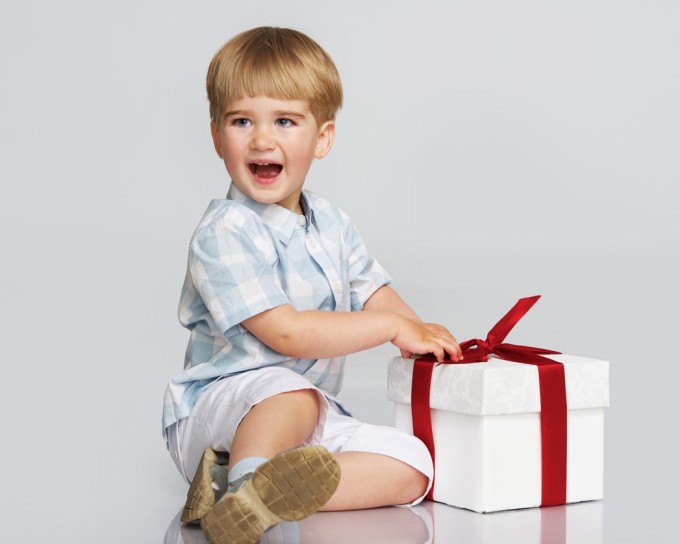 The product above is featured on A Happy Hippy Mom's 2016 Holiday Gift Guide!   The gift guide includes recommended gift suggestions to make your holiday shopping a breeze!