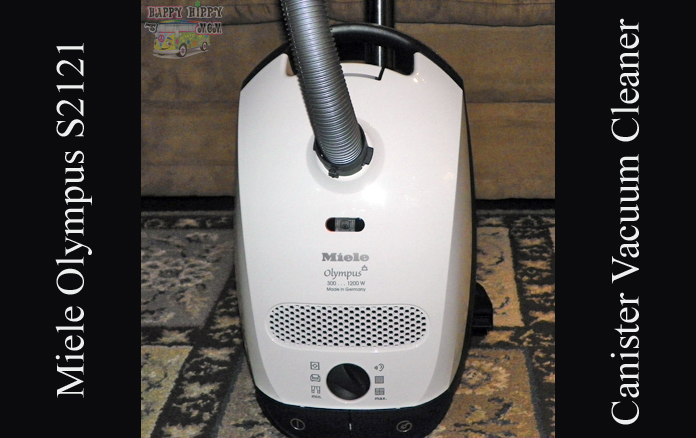 Throughout the 20  years of marital life to my wonderful husband we have owned many different brands of vacuum cleaners.  In truth, I personally have lost count regarding just how many we have invested in within the duration.  Most, if not all,  the vacuums were multi-floor upright models priced under $150.  They would all manage to perform effectively in the very beginning and then slowly but surely lose there capacity to sustain the pet fur, particles, and dirty mess my floors accumulate daily.  Either the motor would fizzle out or the suction power would get weak (without having a clog) and we would need to buy a replacement.
The canister type of vacuums never appealed to me.  I felt they were harder to maneuver, less powerful, and plain old fashioned. Not to mention,  having to pull a vacuum behind me instead of pushing it seemed like it would take more energy,  resulting in an increased cleaning time.  Plus, I also worried about not being able to control the canister and having it ding my furniture . They just appeared to be inferior in almost every feature in comparison to the upright  models. Then Vacuum-Direct, an online retailer of high-end floor care products, introduced me to the Miele Olympus Canister Vacuum and changed my thoughts about canister vacuums forever!
Miele's 1200W Vortex Motor
The Miele Olympus S2121 Canister Vacuum features a 1200 Watt German made Vortex Motor,  a remarkably quiet yet highly strong motor.  I was truly astounded by the absence of noise it produced after I turned it on.  However, I became much more blown away by the powerful suction power this unit contained!  The motor system is capable of  "141 Cubic Feet Per Minute of airflow"  for optimal suction and dust intake.  Furthermore, since the  carbon brushes on the Miele Vortex motor are situated directly behind the fan, the coolest area on the motor, the life span expectancy of the Miele motor is twice that of common vacuum motors.  Miele warranties the motor system for 7 years, which covers the upper and lower housings, and one year on all parts and labor.
Vacuum Maneuverability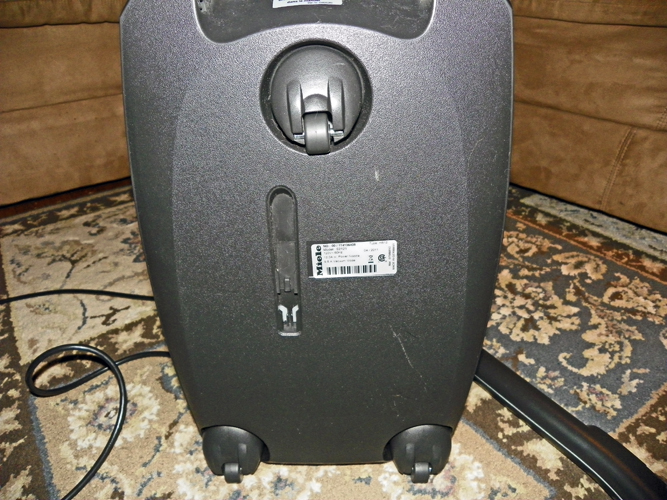 Most canister vacuums have two stationary wheels in the back and a single free moving wheel in the front, allowing the vacuum to move in a straight path.  If you pull the vacuum to fast or at the wrong angle the canister would typically tip over, slowing your cleaning process down.  The Miele Olympus Canister Vacuum comes equipped with three free-wheeling casters on steel axles on the bottom of the canister.  The vacuum can be turned 360 degrees without tipping over.  The maneuverability performance is incredible and you can pull it forward, backward, sideways, or in a circle if you desire.  Basically, you can dance with this baby if you want and it will follow you!
Suction Power Selector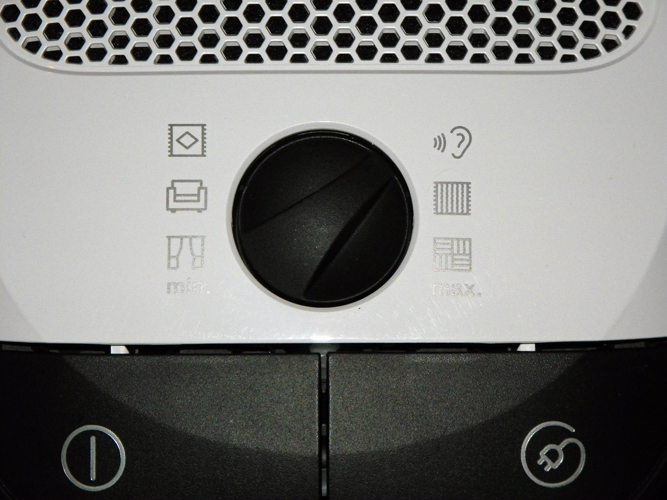 On the base of the canister is a  rotary dial allowing you to control the amount of suction power suited best for floor type you are cleaning.  There are 6 positions including:
curtains, lightweight fabrics
upholstery, cushions
thick pile carpets, rugs, and runners
energy saving, daily vacuuming with low noise level
lightly soiled textured carpets
textured hard flooring, and for intensive cleaning of carpets
The "textured hard flooring" setting is full suction and so powerful that if you tried to clean your curtains in this position it would most likely rip them off your wall.  Being able to control the suction level gives you flexibility in muti-cleaning tasks.  Not that I would try,  since I am an animal lover, but I think this thing could suck up a whole pet if it got too close.
Super Tough Suction Hose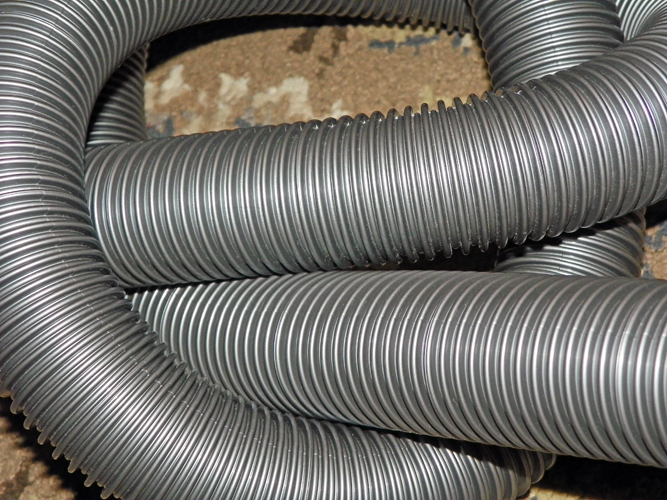 Miele uses a super durable,  light weight, hose that is tough!  The "crush-proof" hosing can be stepped on, twisted, or bent in half and it will return to its original shape.  Therefore, the hose will retain full suction power and the motor will always have the airflow needed for its protection.
Telescopic Wand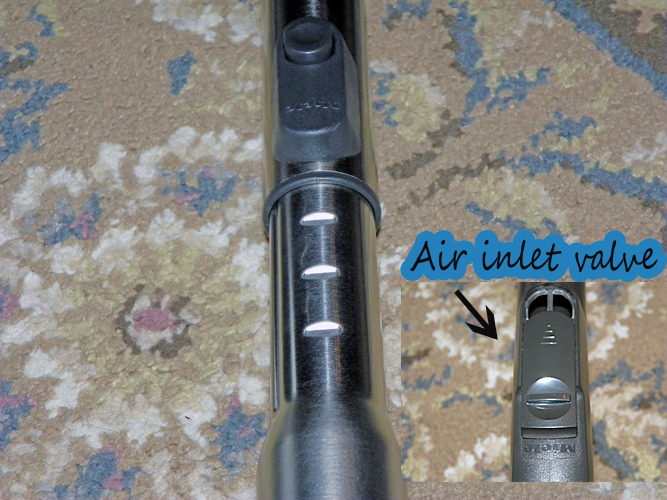 The vacuum comes with an adjustable stainless steel telescopic wand with an air inlet valve on the handle that allows to vent the suction for cleaning.  Opening the valve reduces the suction power to the tool being used.  Press the telescopic wand release button to release tubes and adjust to the desired height.  Reaching the ceiling to remove dust  and webs is a cinch.
My black Lab sheds like mad.  Honestly, it is like he loses enough fur to create a whole nother dog.  The fur collects way underneath my china cabinet, but the Miele's telescopic wand can lay flat enough to reach it.
Miele S2 Attachments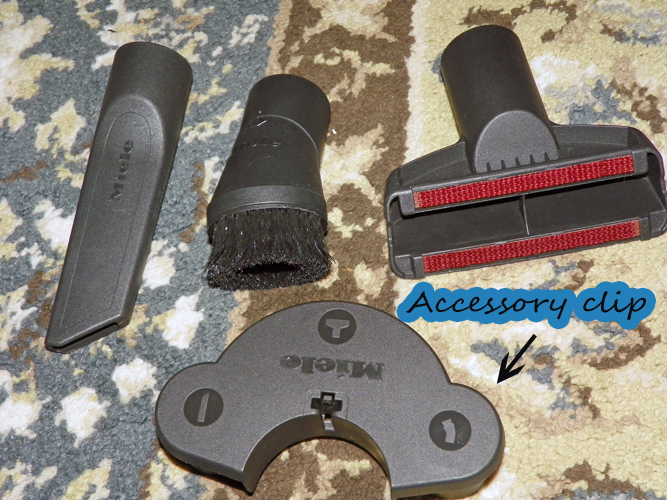 The vacuum comes with three accessory tools including  a dusting brush with natural bristles, upholstery tool, and crevice nozzle.  They easily clip on and off allowing for quick changing.   The tools can be conveniently stored on the tool caddy clip that attaches below the suction hose, or above the hose connector.   Basically, all your vacuuming needs are covered!
Standard Adjustable Floor Brush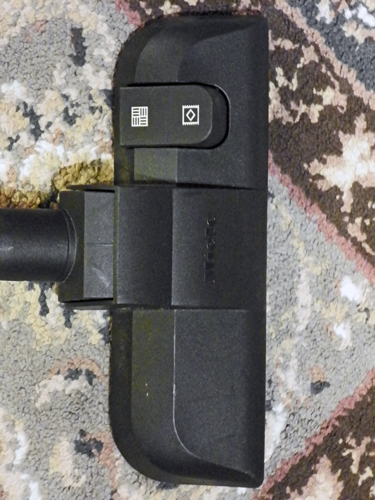 The Miele Olympus S2121 Canister Vacuum Cleaner comes standard with a classic combination rug/ hard floor surface floor brush.  The floor brush is suitable for cleaning low pile carpets, area rugs, carpeted stars, and hard surfaces that are not susceptible to scratching.  Changing between surfaces is as simple as flipping the rocker switch.  The brush extends out of the floor tool for cleaning hard floor surfaces, and retracts back into the head for cleaning rugs and carpeting.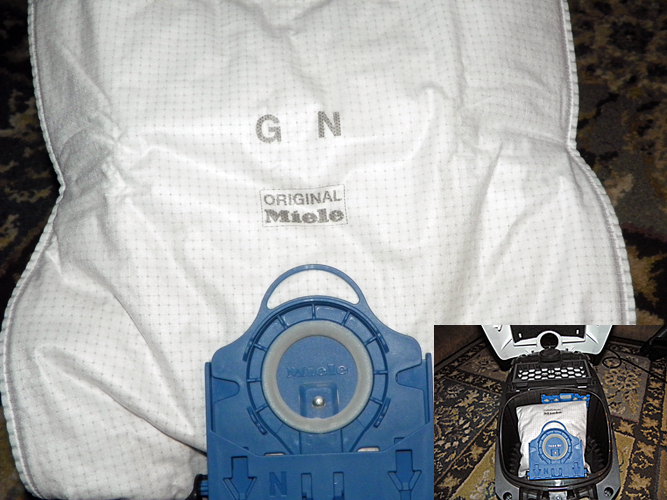 Miele Canister Vacuum Cleaners require bags, which in my opinion is generally a significant downside.  On the other hand, I must say I have by no means seen a vacuum bag constructed as good as the Miele's new AirClean style vacuum bag.  When I initially opened up the canister and observed the bag I was shocked, because the bag actually looked like it was made from a durable fabric. Unlike typical bags that may be split easily by glass, nails, or some other sharp items– this bag was developed to stand up to anything which is able to be sucked through a hose! The bag offers 9 separate layers of filter material in the bag itself. The enhanced layers help contain the very fine particles that induce allergic attacks and trigger asthma problems. Yet, what seriously impressed me is the bag is engineered to automatically seal itself when the hood of the vacuum cleaner is opened.  The bag can be removed without having any contact with the nasty stuff you vacuumed up!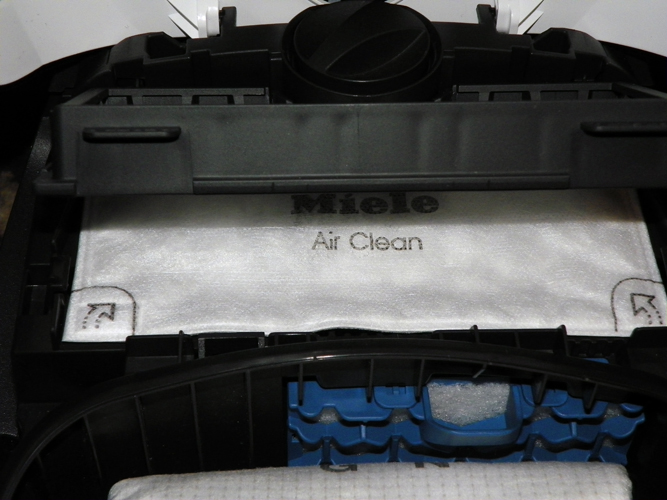 The Super Air Clean filter is designed to catch 94% of particles down to .3 microns.  In simple terms, it retains the dust within the vacuum cleaner keeping the surrounding air clean while your zipping around sucking up dirt.  The filters will last up to 5 dustbag changes and is included free of charge from Miele with each box of Miele certified dust bags.  What is really fantastic is that if you have someone in your home who has asthma or severe allergies,  the Miele S2 Series models can all be upgraded to accommodate the better Miele Active HEPA Filter.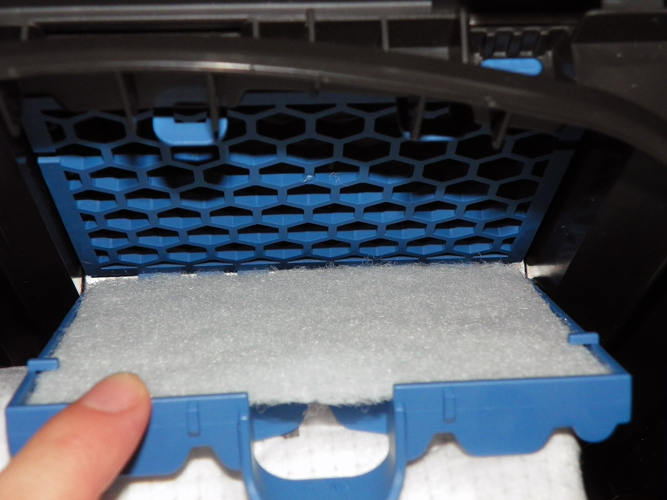 Each package of Miele AirClean bags comes with 4 vacuum bags, 1 pre-motor filter and 1 Super-Air clean post motor filter and priced at $18.95.
Other Features
29.5 foot operating reach
Vacuum dust bag replacement indicator
Retractable cord
Transport and storage parking clip
Easy On/ Off foot switch
Park-System
Carrying Handle
Overheat Protection
Performance
The Miele S2121 Olympus Canister Vacuum Cleaner excels on hard floor surfaces.  Dust, dirt, and fur can not hide from its powerful suction. However, I noticed on carpets that the floor brush has to be manually lifted to vacuum larger crumbs. The suction actually pulls up the area rug and it can be slightly difficult at times to push the floor brush over the low pile.
I absolutely love how the canister easily moves in all directions and the telescopic wand can extend to reach dirt way under furniture.  Overall the vacuum performs up to or even better than its description!
Check out the quick video below where hubby and I do a quick demonstration.
[field name= iframe]
Conclusion
All vacuums are certainly not created equal and the Miele Olympus S2121 Canister Vacuum Cleaner is in a class all of its own for high performance and superior hygienic filtration.  It is built to last although it features a light weight design making it easy to transport.  The housing unit is constructed of sturdy, recyclable ABS plastic materials that will hold up under tough cleaning pressure.
The vacuum is recommended for households with hard floor surfaces, low pile carpeting, and area rugs.  It does not contain an agitator (spinning brush), so it is not suited for carpets with a high pile.
Perfect for homes with babies, the vacuum is so quiet moms can get their cleaning done fast and swiftly while their precious bundle is sleeping in the next room.  Also ideal for apartments or places where noise can easily disturb other residents.
Miele Olympus S2121 Canister Vacuum Cleaner is priced at $299 and although that might sound rather expensive—you are getting a lot of bang for your buck.  It is also backed by the Good Housekeeping Seal of Approval,  which confirms the product has been thoroughly tested assuring that you've made a good investment.  The Good Housekeeping seal adds a two-year limited warranty which guarantees a replacement, repair, or refund on defective products.
Stay Connected With Vacuum-Direct
Stay connected with Vacuum-Direct using these social media sites:
"Like" Vacuum-Direct on Facebook
Follow Vacuum-Direct on Twitter
Visit the Vacuum-Direct Website