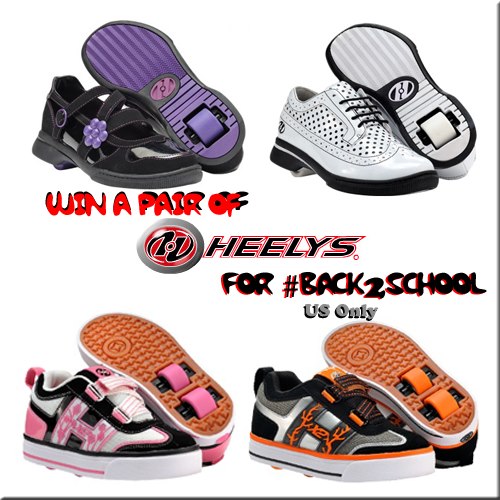 I'm happy to be able to share this fantastic giveaway with you!  This back-to-school giveaway is for a fun,  cool pair of Heelys for a boy or girl!
Heelys, Inc. is a company founded on innovation. It designs, markets and distributes its action sports-oriented products to the youth market under the Heelys(R) brand. The company's primary product, Heelys wheeled footwear, is a patented dual-purpose skate shoe that incorporates a stealth, removable wheel in the heel. The company also offers Heelys HX2, which uses two wheels for better balance and control, making it ideal for younger users. Heelys' third offering, Nano, ramps up the Heelys experience by giving skaters a board that links into the patented Heelys shoe bracket. This allows them to skate farther, faster and longer than ever before.
Recently, Heelys expanded their line to include three new styles tailored specifically for girls!  So if you have a little fashionetta on the go at home you don't want to miss entering for this awesome prize.  The brand new designs are definitely more fashion-forward than previous Heelys, offering features like flower buckles and elevated  heels, delivering a little bit of height for the wearer and a look that goes terrific with jeans, shorts or skirts.
Like traditional Heelys, the updated designs feature removable wheels that can easily be taken out, turning them into a fashionable pair of shoes. The new styles are: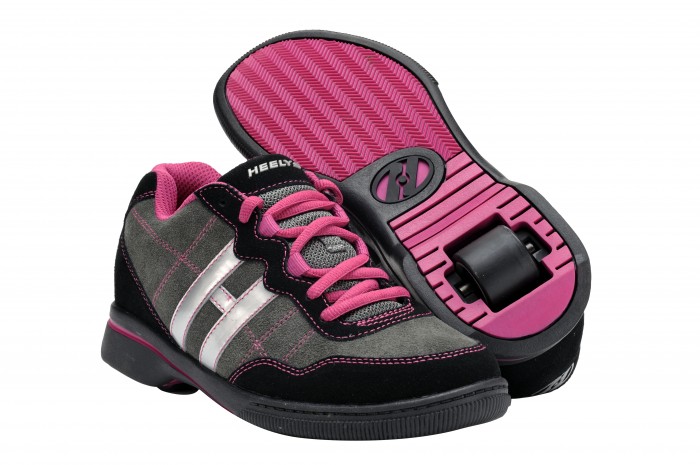 Jogger: An athletic look with major style, Jogger comes in charcoal gray suede and black nubuck and features a stylized "H" logo in silver patent leather. To tie the design together, pink contrast stitching zigzags its way across the shoe, forming a unique pattern. With its soft suede and bright colors, Jogger is sure to please. Jogger is available in sizes 12C — 6 Youth and 7-9 Women's. MSRP: $69.99.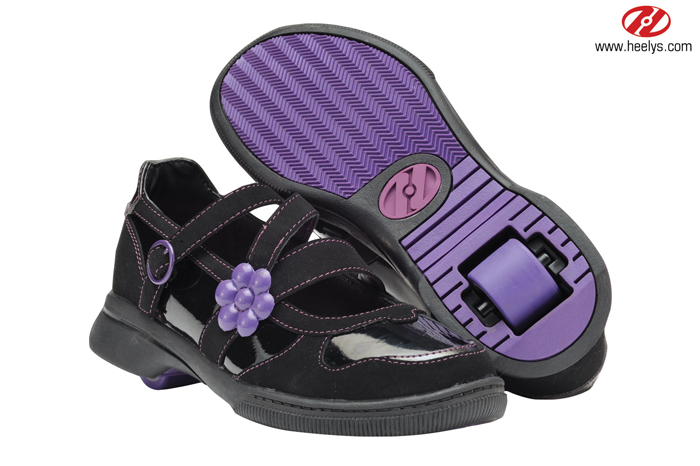 Socialite: Cute, stylish and fun, these shoes sport an iconic Mary Jane look with shiny black patent leather, buckles and straps, and rounded toes. Heelys took it one step further, adding black nubuck detailing and a splash of color — purple stitching with a matching buckle and flower-shaped accent. Socialite comes in sizes 12C — 6 Youth and 7-9 Women's. MSRP: $64.99.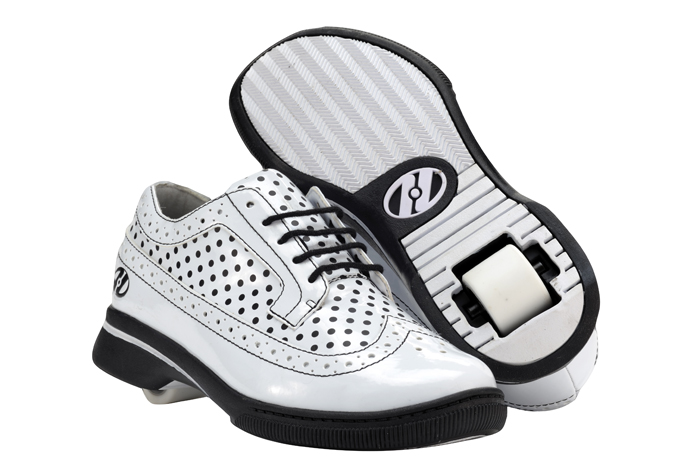 Hipster: These white wingtips make a bold statement. White patent leather with small, jet-black polka dots gives Hipster a sleek, retro look. As its name suggests, Hipster is perfect for trendsetters who have a genuine flare for fashion. The Hipster comes in sizes 12C — 6 Youth and 7-9 Women's. MSRP: $69.99.
To enter the giveaway please follow the instructions on the Rafflecopter form.  All entries must be in before September 4th at 11:59pm.  It is open to US only.
[field name= iframe]
A big thanks goes out to MySillyMonkeys for organizing this giveaway!