For me, tuning in to music is an essential element of exercising.  I can't envision attempting to get through a monotonous 45 minutes of fast-paced  walking on the treadmill without having my favorite tunes.  Pumping up the jams helps motivate me to increase the intensity, speed, and duration of my exercise routine,  producing a much better performance resulting in more calories burned.  It's the distraction I need to pull through the discomfort and get my thoughts on toning up my body and ultimate fat loss!  If I didn't have my MP3 player packed with upbeat songs , I wouldn't get past the first 15 minutes!
On the other hand,  having a heavy music player strapped to myself throughout working out can be quite a hindrance.  I've experimented with using the ipod armband or placing it inside my pocket, but find I'm less likely to move as much,  due to trying to avoid pulling the ear buds out.  Furthermore, the very thought of flipping my expensive ipod touch onto the ground causes me to be well aware of any rigorous motions that might make it happen.  This prevents me from obtaining the most from my exercise session.
Last week SanDisk, through Mom Central, sent me a Jumpstart Red 4 GB (plays up to 1000 3.5 minute songs) Sansa Clip Zip MP3 player along with a 4GB microSD card.   It is the latest addition to the popular Sansa Clip family,  which ranks among the best-selling sub-$50 MP3 players in America. It is the successor product to the Sansa Clip + MP3 player.
Features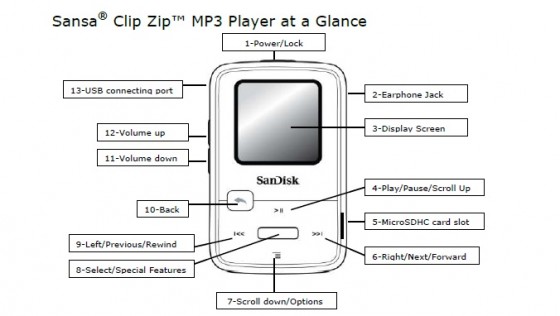 The  Sansa Clip Zip MP3 player offers a number of new and enhanced features including;
Easy clip on, Easy Go
1.1″ full color screen with new graphical user interface and album art display (83% more viewing area than previous Sansa Clip models.)
Voice recording with built-in microphone
Stopwatch
Play or record FM radio stations
Expanded memory slot
AAC Compatible (DRM-free iTunes), MP3, WMA, secure WMA, Ogg Vorbis, and FLAC.
User-friendly interface
Colors

The player is available in 7 different colors: Stealth Black, Gunmetal Grey, Primetime Purple, Momentum Blue, Jumpstart Red, Encore Orange, and White Flash.
Price
The player is now available at major retailers and at sandisk.com in 4GB and 8GB capacities carrying a suggested retail price of $49.99 and $69.99.
What Comes In The Box
Sansa Clip Zip MP3 player, USB 2.0 transfer cable, earphones, starter CD, and quick user's guide.
The Testing Process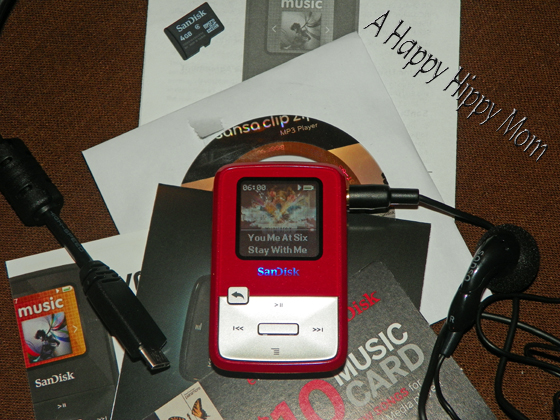 I put the  Sansa Clip Zip MP3 player  to the ultimate test, trying every single feature!  I discovered several capabilities I loved and some I would want to see improved upon.  Listed below are my results…
Likes
The Sansa Clip Zip MP3 player   gives plenty of bang for its buck!  For a price tag of only $49.99, it gives you far more features compared to the pricey ipod shuffle with similar amount of storage space.
Is light in weight (approximately .6 ounces) and eye-catching!  With 7 fashionable colors to select from,  you can get the perfect color to match your persona and feel at ease clipping it on your attire at the gym. Plus, it's practically nearly weightless! The dimensions of the player are .6 x 1.4 x 2.2 inches.
The clip works!  This is my personal favorite feature!  The Sansa Clip Zip MP3 player   remains FULLY immobile exactly where you clip it to, eliminating all concerns from it dropping off during an intense workout.  I clipped it to my collar and experienced no issues with any pulling or movement.
For the compact height and width of the player,  it provides a large brilliant screen which makes it simple to see and browse through  the menu as well as tunes while on the go.
It's compatible with all key music platforms!  I presently use iTunes, Audible.com, and Rhapsody.  Sansa Clip Zip MP3 player  is versatile without needing to utilize a independent program to convert file formats, which saves me a good deal of time and frustration!
The stopwatch  is great for timing sprints or other scheduled tasks.
The voice recorder is useful for keeping track of how many miles run or calories burned.  It is also ideal for remembering what days of the week you worked out.
The FM radio works strong and easy to preset channels.
The sound quality is excellent!
The player's rechargeable battery lasts up to 15 hours of audio playback!  I actually got about 13 hours, but perhaps it wasn't completely charged.
It is compatible with the slotRadio cards!
The player has a microSD/microSDHC card slot to expand your player's capacity up to 32GB!  If you have tons of audiobooks, download podcasts daily, and a very large music library…this is extremely important!
Needs Improvement
I LOATHE the ear buds.  This is such a very good little player, however the ear buds are of low quality and don't fit my ears.  Having said that, with the cost-effective selling price of the Sansa Clip Zip,  it is possible to invest in a superior pair , yet still spend under what  you'd probably typically pay for an ipod.
I think the ease of the software platform needs to improve.  It took me a while to understand on how to get my iTunes songs onto the Sansa Clip Zip.  For some reason I couldn't get the syncing option to work for me and I had to manual add the songs.  The drag and drop worked great though!
There is no way to go back and reply the song on the slotRadio card.  I wish they would make this possible for all the Sansa players.
Awesome Stocking Stuffer!
The SanDisk Sansa Clip Zip would make an awesome stocking stuffer for the music and fitness lover always on the go on your holiday shopping list.  For the price of $49.99 and all the features it contains… you can't beat it!
STAY CONNECTED WITH SanDisk
Sansa on Facebook
SanDisk on Twitter
SANDISK's Channel on YouTube
SanDisk Sansa Clip Zip MP3 Player Giveaway!
Our friends at SanDisk are generously giving the gift of music to five lucky readers this holiday season.  I have one coupon code to give away good for a %100 free SanDisk Sansa Clip Zip MP3 player including free shipping.  The winner can select any color they would like!
Additionally, I have 4 coupons worth 20% off  the purchase of a SanDisk Sansa Clip Zip, which would bring the price down to about $40.00 (shipping not included).
Codes are good only at the SanDisk Online Store and expire on November 25th!
TO ENTER THE GIVEAWAY PLEASE USE THE RAFFLECOPTER FORM INSTEAD OF LEAVING BLOG COMMENTS HERE. Any comments are welcomed below, but won't count towards the giveaway. Only entries using the Rafflecopter form will be eligible for prize. Thank you!
 [field name= iframe]
"I wrote this review while participating in a campaign by Mom Central Consulting on behalf of SanDisk and received a product sample to facilitate my review, and coupons to giveaway."