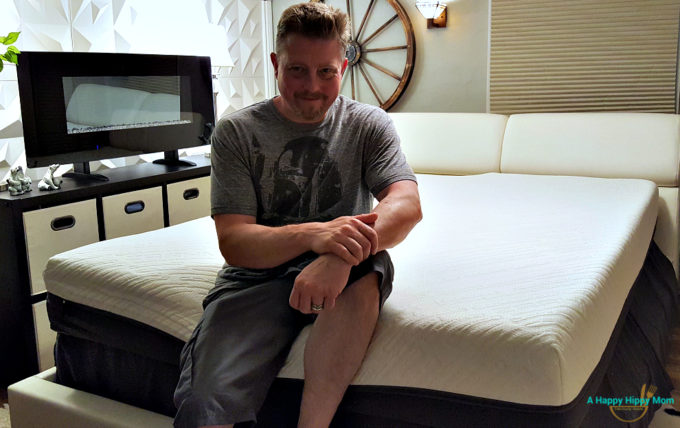 Disclosure:  Zaahn provided me with product to facilitate this post.  The words and opinions expressed in this review are strictly of my own.  Post contains affiliate links.
Are you sacrificing a good night's sleep, because of your partner? They say opposites attract, but when it comes to being restless all night long due to your partner's firmness preference, there needs to be a plan of action.  Eventually, sleep deprivation will result in irritability, a lower metabolism, and suppressed immune system.  Consequently, compromising your sleep environment for your significant other isn't the healthiest for your relationship or well-being.  It's time to make a change!
Polar Opposites
My husband and I have a lot in common, but when it comes to the level of firmness of our mattress we are completely different.  He needs a soft mattress to get a good night's sleep while a prefer more of a firmer bed.
Over the years, I have let him choose the mattress, which has been always way too soft.  I would find myself tossing and turning to try and get comfortable.  Becoming extremely restless, this lead to grabbing my blanket and sleeping on the floor next to the bed.  Unfortunately, as you grow older your tolerance level for things gets a lot less and the sleepless nights on the floor were becoming more frequent.  I would wake-up sore, cranky, and mentally fried.  The mornings were miserable!  When you are pouring orange juice in your Cheerios instead of milk, because you are to groggy to know the difference, the mattress must go!
Zaahn, the Perfect Match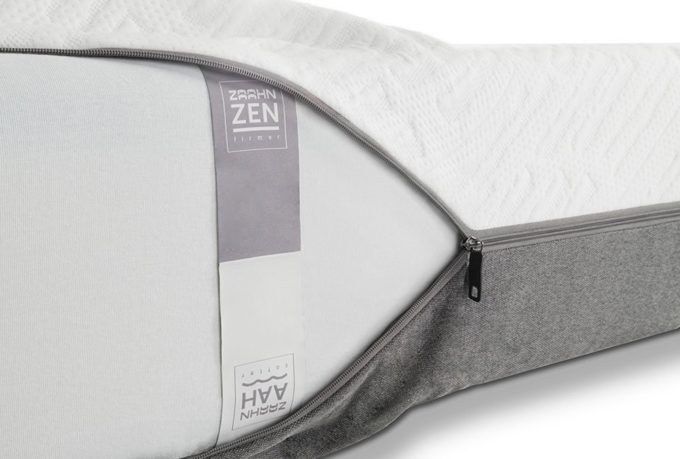 A few months back I learned about the Zaahn sleep system that allows you to personalize your mattress. With the ZAAHN PARTNER DESIGN and ZAAHN COMFORT TECHNOLOGY, my husband and I could sleep in the same bed and still get the desired comfort option we both wanted.  The two-sided memory foam mattress has the unique ability to be flipped to a firmer Zaahn ZEN side or a softer Zaahn AAH side.
Here is more about the Zaahn Mattress
The Zaahn Mattress offers a choice of comfort for two
but in one mattress:
The only two sided memory foam mattress for under $1000.
Firmer Zaahn ZEN side OR softer Zaahn AAH side.
Choose the side that best suits you – simply zip and flip to find
 your perfect comfort!
The perfect surface for two very different sleepers.
Medium density foam providing 6-inches of central support—
 totalling 10-inches of deep comfort.
Open cell memory foam constructed to create an ambient
 temperature—perfect environment for a cool, deep, sleep.
VISCOSE from Bamboo Stretch Cover keeps the mattress
 fresh and the surface airy and cool to sleep on.
*Available in Twin ($529.00), Full ($749.00), Queen ($849.00), King ($979.00)
Zaahn Mattress Set Up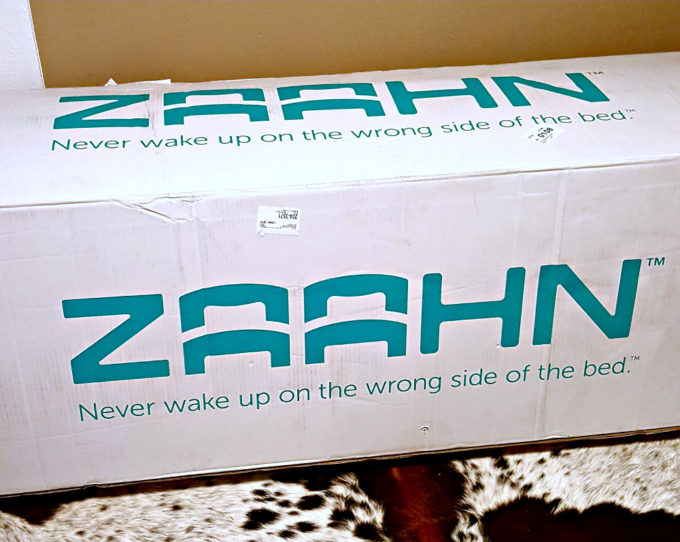 The Zaahn Memory Foam Mattress arrived on my doorstep in an easy to move box.  We moved the box upstairs, which was much simpler than having to try carrying a bulky mattress up a narrow stairway.  We placed the rolled-up mattress on the platform bed foundation and unrolled it.  Next, we removed the outer protective plastic covering with the included Zaahn tool and waited for the mattress to fully expand (approximately 3 hours).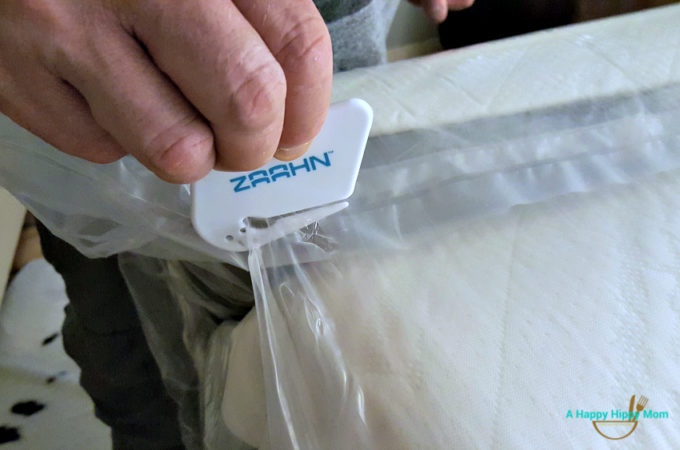 Once the mattress reached full plushness we unzipped the covering to reveal the two inner side mattresses.  My husband chose the Zaahn AAH side for the softer option and I chose the Zaahn ZEN side for a firmer sleeping condition.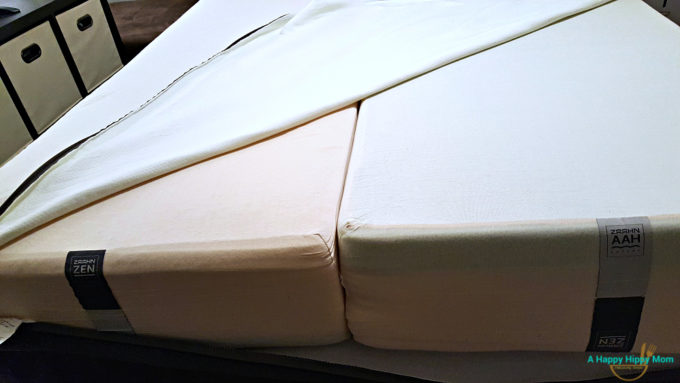 Basically, the entire process from delivery to complete setup was incredibly simple.  Plus, I did not notice any noxious smells coming from the mattress unlike other memory foam products, so there was no need to let it air out before using it.
Quality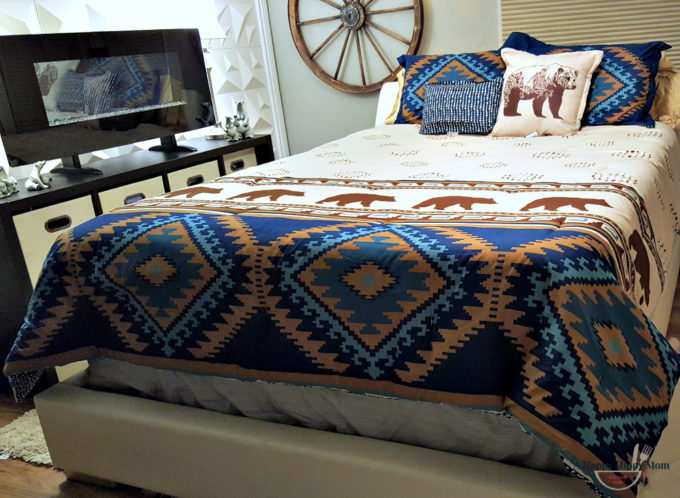 Overall, the entire quality of the Zaahn 10-inch Memory Foam Mattress is superb.  The zipper on the covering is well built along with the actual construction of the mattress.
The softer Zaahn AAH side is noticeably softer than the Zaahn ZEN side, which I found to be on the medium level for firmness.
My only worry was that the mattress would separate in the middle causing a gap, since it is actually two sections creating a queen size bed.  Thus far, the mattress retains its shape without a division and is extremely comfortable!
Never Wake Up on The Wrong Side of The Bed
If your partner and you are complete opposites when it comes to mattress firmness preferences, give Zaahn a try!  With a simple "zip" and "flip," Zaahn plush memory foam mattress allows you to personalize your level of support to a Zen firmer or AAH softer side.
The company offers a full 100 day guarantee! Sleep on it for 100 nights. If you don't absolutely love it, Zaahn will pick it up for FREE, and refund your money. Keep the dual-sided pillow as our gift.
We have been sleeping on the Zaahn Mattress for way over 100 days now and I am finally getting a good night's sleep (when my son isn't waking me up during the night) alongside my hubby.  I have no complaints and we are loving the comfort it provides.  More sleep means a less cranky mom and wife! Everyone is happier!
Zaan Pillow
16" x 23" x 5" – $49.00
The Zaahn pillow brings incredible comfort, with a temperature regulating cover and construction. With the same Comfort Technology found in our Zaahn mattress, you get to choose either the Zaahn Zen side with a firmer support memory foam layer or the Zaahn Aah side with a comfort memory foam layer. Your perfect side is just a flip away.
EXLUSIVE Zaahn FREE PILLOW& Discount Code!
For a limited time offer receive a discount and a FREE Zaahn Pillow when you use this link and apply the code happy at checkout!
Stay Connected
Visit the Zaahn website
Follow Zaahn on Instagram
Like Zaahn on Facebook
Subscribe to  Zaahn on YouTube