Disclosure: The reviewer has been compensated in the form of a Best Buy Gift Card and/or received the product/service at a reduced price or for free.
The good, bad, and the ugly of the Internet.  For most of us we can't imagine going a day without connecting to talk to friends, shop, stream music, play games, and research topics we want to learn more about. The good is, the Internet is a magnificent community playground that takes us to places we normally wouldn't be able to travel to from the comfort of our chair and portable smart devices. For businesses (small and big), it's a giant equal opportunity to attract new customers or clients and has the potential to increase productivity.
The Ugly
While the Internet enriches our lives in many ways there is also the dark side of things.  The bad, every time we connect we open our doors to the dangers of hacking, ransom ware, identity theft, and other frightening life halting threats.  Not to mention, if you have young children who are connecting daily they could be in danger of the ugliest the Internet offers like cyber-bullying, sexting, porn, and the worst of all—sexual predators! It's scary, but it's true.  And just like you wouldn't leave your precious child in a vast room of strangers without some protection, you shouldn't let them connect to the Internet without safety measures.
Windows of Opportunity
Years ago, I felt safe browsing the Internet with just having a good virus protection software installed on my computer.  Now, with hackers being able to breach even the most secure systems, I know I need extra protection to feeling somewhat safe.  Plus, the thoughts of smart devices in our home such as security cameras, baby monitors, and even every day appliances not protected by antivirus that can be huge windows for hackers, I want an extra level of protection!
CUJO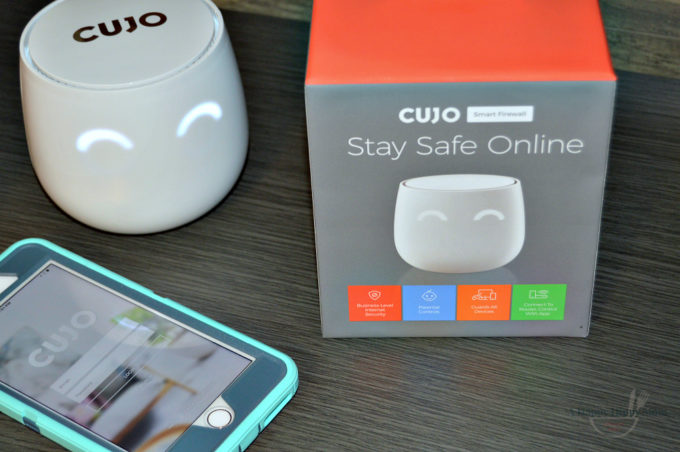 Recently, I was introduced to CUJO (available at Best Buy).  No, not a rabid dog from Stephen King's 1981 novel.  However, think mad dog protection for your network!  CUJO acts as a layer of protection against hacks, malware, and cyber threats. The manufacturer website explains the device best as "CUJO is a smart firewall for the connected home, designed to bring business-level security to the home network."  If you are looking to keep your ever-connecting home safe, CUJO will jump to action to secure all devices against hacks and web threats!
The cool looking device monitors up to 50+ devices on your home or business network, simultaneously blocking any malicious behaviors detected.  Through a free app (available at the App Store and Google Play), users can configure, control devices on their network, and receive instant threat notifications via the CUJO app while home or away from home easily from a phone.  In addition, the app allows you to manually override any blocks by CUJO, giving you full control.
CUJO Features:
Internet security for all devices
Parental Controls
VPN (coming soon…)
Bridge or DHCP server mode
Customizable DHCP settings (Subnet, IP range, Lease time, Static IP, DNS)
Live Video Customer Service support
Security Features:
Safe Browsing (IP/DNS)
Command & Control blocking
Unauthorized access blocking
Antivirus and Antimalware
Behavior Analysis
Local+Cloud security layers
DoS attack protection
Protection of all devices on the network
(like PC,, Phone, TV, Camera and etc.)
Dimensions
4.875" x 4.875" x 5.75"
Weight
0.831 lbs (without packaging)
Tech Specs
Processor-Dual Core 1GHz
Flash Memory-4GB Flash
SDRAM Memory-1GB DDR SRAM
Acceleration-Cryptographic Hardware Acceleration
Ports -2 x 1Gbps Ethernet Ports
External Power Supply- Input: 100-240V ~ 0.3A 50-60Hz Output: 5V DC 2.0A Max Plugs: US/CA, EU, AU/NZ, UK, Other countries
How it Works
CUJO is a combination of a "network sensor" and firewall.  The sensor collects metadata from your network connections and sends it to the CUJO cloud through an encrypted data channel.  The metadata is then analyzed for DoS attacks and other anomalies.  If something sinister is detected, the company initiates a firewall rule from the cloud via the secure channel on your CUJO where it protects the device on your network from the rogue server that it is talking to.  You are then notified via the CUJO mobile app that a threat was detected.  From the app, you have the option to override the block if you find it necessary. So, you still are in full control.
Another thing I like about CUJO, is it only collects metadata.  Your privacy is in full, since the data collected tells nothing about the actual traffic content.  The company is only able to see basic info which is used for troubleshooting.
Setup
In a perfect idealistic world, CUJO is easily setup by downloading the free CUJO App on your phone or tablet and following the setup instructions.  CUJO connects in two ways:
Direct Connection – directly connected to the router needing further router configuration.
OR
Bridge Connection- connected between the router and main switch.
On initial setup, I had no problem.  I followed the easy instructions via the app and the device was working wonderfully.  I walked out of the room for half an hour, came back to log onto my PC, and had no Internet.  I tried rebooting my system, but nothing worked.  I called my ISP to confirm the internet was working, but they were not of any help since I own my own modem.  The only way I could get service back was to unplug CUJO and completely hard reset my modem.
A few hours later I received an email from a CUJO Rep alerting me that CUJO was offline and if I needed any help with the setup to call.  So, the team is right on top of things and ready to assist!  I was very impressed!  Eventually, I was able to just reconnect the line again and it has worked seamlessly. Not sure as to what caused the glitch! Could have been my ISP.
Device EYE Modes

One of the attraction features of CUJO is its friendly design.  The round shaped device has "lighted eyes" letting the consumer know what status it is in.  When CUJO is offline it has sad eyes, connected properly it displays happy eyes, and wide full eyes means it has detected a threat.  When you notice the eyes blinking it is an indication of a firmware upgrade. Overall, CUJO is a friendly looking device that adds a nice tech flare to any room!
Parental Controls
Having a 9-year-old who is always accessing the Internet is the main reason I wanted CUJO.  Like I said earlier, the Internet is a wonderful tool in helping a child learn. But with the good comes the bad! Parents need to be vigilant and put proper safeguards in place to protect from unwanted content.  CUJO gives me full control over any devices my son uses and I can block certain content (adult, porn, social media, in-app downloads and purchases ect.) by simply checking the filters  under his profile.  Additionally, I have the option to completely pause the internet and set time limits of access.  This is an awesome feature for the normal sneaky behavior of a child who likes gaming and Internet creeping in the night when we are sleeping!
Extra Peace of Mind
CUJO gives that extra layer of protection against ruthless hackers with its smart firewall!  In a world where thieves can steal your files and hold them for ransom from a remote location, Internet safeguards are a must!  Malware, identity thefts, and other scary things are a fact of connecting to the web.  Protect your finances, devices, and most of all—your kids from unwanted bad behaviors and content associated with the Internet.  CUJO protects your privacy and  offers mad dog protection with business-level security for your home network!
CUJO is currently available for purchase at Best Buy with a free subscription for $219.00!