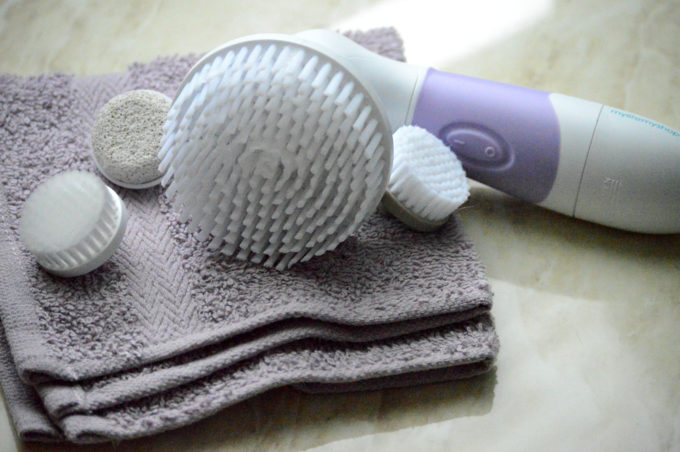 Disclosure:  I was provided with a product to facilitate this post.  The words and opinions expressed in this article are strictly of my own.
EXFOLIATE! EXFOLIATE! EXFOLIATE! We have all heard the well-known beauty tip to healthy looking skin hundreds if not thousandths of times. Exfoliating removes the old, dull, and dry outermost layer of dead skin cells to reveal smoother, fresher looking skin. It is also said to help unclog pores, fight breakouts, and smooth out wrinkles for a younger looking appearance. Plus, exfoliating allows your expensive topical products to penetrate for better results. There is no doubt that exfoliating is an essential step to putting your best face forward. With that being said, there are numerous mechanical and chemical products which make exfoliation a cinch. From pricey to affordable options, choosing the correct exfoliation product can be a challenge as the market is flooded with them.
Spin For Perfect Skin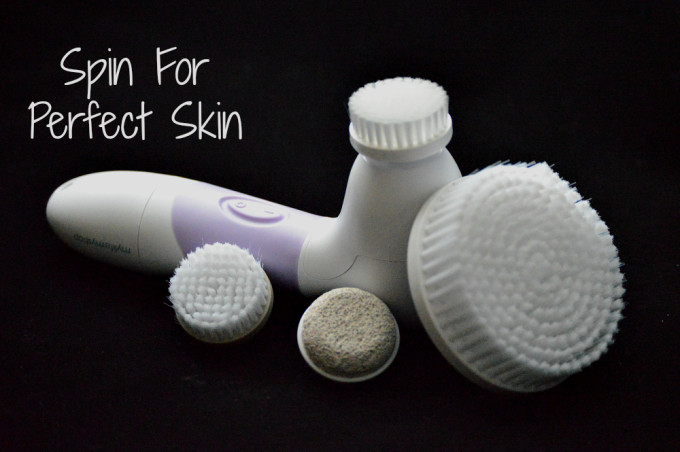 Personally, I do not like the idea of using messy chemical exfoliation products and stick to items I have more control over. One product I was recently introduced to and absolutely love is the Spin For Perfect Skin Face & Body Brush. The beauty gadget is a complete system that can be used in or out of the shower to exfoliate and cleanse the entire body from head to toe. "Spin For Perfect Skin" comes with 4 brush attachments including a Cleansing Facial Brush, Exfoliating Facial Brush, Pumice Stone, and large Body Brush. Each brush has its special usage that easily can be incorporated into your daily skin care ritual for beautiful looking skin.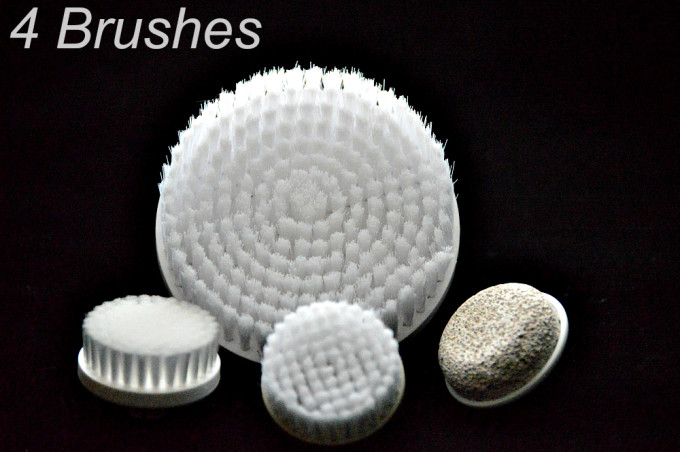 Cleansing Facial Brush: Made of ultra-soft bristles, this brush is designed for the tender skin on your face. Spin your way to removing trapped oil and dirt from the face for smaller looking pores and to help smooth out fine lines and wrinkles.
Exfoliating Facial Brush: The brush is made of hygienic, quick-drying bristles and used to lift away dead skin cells and debris. It is used after cleansing your face for best results.
Pumice Stone: Have rough skin on your feet? This attachment will do the trick of helping remove callouses and dead skin from your feet, knees, and elbows! The Pumice Stone should not be used on the face, since the skin is more delicate. For best results it is recommended to soak your feet for at least seven minutes before using the stone.
Body Brush: This large brush is designed to clean your entire body! Use it in replace of those nasty body sponges on your legs, arms, back, and torso!
The unit itself takes 4 AA alkaline batteries (not included) and is water resistant. However, it should not be submerged fully in water. How it works is you first remove any eye makeup by hand, attach the desired brush to the tool, wet your skin and brush with warm water, apply your desired cleanser to the skin or brush, turn it on (power is on the handle) and you're ready to go! Gently move the spinning brush in small circular motions around the area you are cleansing and when you are finished cleaning turn it off. It is simple and extremely fun to use!
Caring For The Spin For Perfect Skin
Caring for the unit is fairly straight forward. It is recommended by the manufacturer to clean the handle at least once a week thoroughly with soapy water. To clean the brushes you just need to rinse them after every use. If you plan on using the tool regularly, dermatologists suggest replacing the brush heads every 3 months. Vanityplanet.com offers an easy subscribe and save program which conveniently allows you to refill your brushes and save 30% off each order. The price without the subscription to replace all 4 brushes is $45.  The subscription plan options are 30, 90, or 180 days.
My Daily Skin Care Regimen
Spin For Perfect Skin is a great way to exfoliate without the need of harsh chemicals and abrasives! I use the beauty tool first thing in the morning to cleanse my face and body. It is now part of my daily skin care regimen which consists of the Spin For Perfect Skin (face and body), moisturizer (pure organic aloe vera gel), DeramWand, and  Vitamin C Serum! This is my complete skin care regimen for trying to fight signs of getting older and achieving healthy looking skin. I have definitely noticed a major difference in my skin's texture and overall appearance since using these products together! The lines are not as noticeable around my lips and eyes and my skin just looks healthier! I can't guarantee it will work for everyone, but this is the daily regimen that works best for me. I have thoroughly tested all these products and highly recommend them. Give my daily skin care routine a try for a few weeks and let me know what you think!
Buy it NOW and SAVE 70% OFF!
Spin For Perfect Skin is available for purchase at Vanityplanet.com for $99. Add the coupon code SPIN4HHM and the price drops down to $30!  The product is a steal at this price and the sale won't last long, so if you want it get it now! The unit comes in three different colors including Purple, Gray, and Black. The complete skin care system would make an ideal gift for the sweetheart on your Valentine's Day shopping list!