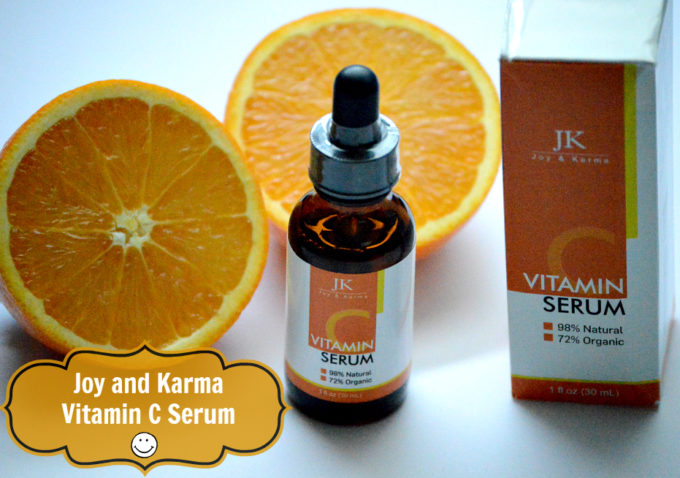 Disclosure: I purchased this product for review at a deep discount.  The opinions are of my own.
There is no question Halle Berry has gorgeous glowing skin!   The actress defies her age at 48 and looks a decade younger. So what is her beauty secret to looking years younger? Believe it or not —it is actually a very inexpensive trick to looking youthful. Besides having great genes, eating healthy and exercising, Halle revealed to Marie Claire that she exfoliates her skin and she rubs pure Vitamin C Serum on her face before putting on a moisturizer. What! That's it?
Apparently, Halle isn't the only one who recommends using Vitamin C Serum, since two of the top plastic surgeons from New York (Dr. Shirley Madhère) and Los Angeles (Dr. Leif Rogers) spilt the beans on Dr. OZ during the "Drop a Decade from Your Face" segment that using tropical Vitamin C can take years off your face without having to go under the knife or spending thousands of dollars.   Both doctors passionately believe the powerful anti-oxidant Vitamin C helps turn back the clock by counteracting wrinkle formation by increasing collagen production.
This year I turn 45 and zealously exploring natural methods of fighting aging, especially on my face. I'm all about putting my best face forward in 2015, so if that means rubbing Vitamin C Serum on it—I'm trying it! Seriously, what's there to lose?
Joy and Karma Vitamin C Serum
Joy and Karma recently had an exclusive sale on their bottle of top-selling Vitamin C Serum and I decided to jump on the offer. I was able to get the product for dirt cheap on Amazon.com, which lists for $59.99. What sold me on the product is that serum is comprised of 98% natural and 72% organic ingredients and is free from the ugly stuff like sulphates, parabens, alcohol, petrochemicals and artificial colors. Another selling point was the company doesn't make any bloated false claims of the product results like other competitors (they don't need to being they have hundreds of rave reviews from happy customers) and even promise to refund every penny within the first 365 days if you're not 100% satisfied.   The product speaks for itself! Also, the Vitamin C Serum was packaged well and came super-fast (2 days)!
What I love about Joy and Karma is they really care about their customers!  The company even sends emails making sure the product was received okay and you are getting the most out of the Vitamin C Serum.  Here are the tips Joy and Karma suggests to get the best results.
Tips on getting the most out of your Vitamin C Serum
Healthy Skin Tip #1: Feed Your Skin With Natural Ingredients

It's been said that about 60 percent of what you apply on your skin gets absorbed. So why then would we choose to use skincare products with ingredients that are completely unnatural/foreign and thus incompatible with our bodies?

At Joy & Karma, we believe in the importance of using natural ingredients which is why our vitamin C serum is made with over 98% natural and 72% organic ingredients.

Remember, your skin is the biggest and heaviest organ in your body and absorbs much of what we put on it. So feed it with the nutrition it needs – skincare products with natural ingredients by Mother Nature!

Healthy Skin Tip #2: Be Kind To Your Body

Feeding your skin on the OUTSIDE with the right skincare products is important, but what about feeding your skin on the INSIDE? That's right, what you eat is as important or perhaps more important than what skincare products you use.

Try to …

Eat a nutritionally dense diet with lots of vitamins, minerals and antioxidants (think veggies!)
Cut out processed and junk food (if mother nature didn't make it, don't eat it)
Stay hydrated (substitute alcohol and sodas with water and tea)
Get more sleep (aim for 7.5 to 10 hours of quality sleep daily)

So as much as we love our products here at Joy and Karma, even we have to concede that it's only part of the complete picture. Remember, healthy skin BEGINS on the inside with a proper diet and lifestyle choices and ENDS on the outside with high quality skincare products.

Healthy Skin Tip #3: Be Patient

Vitamin C serum products like ours can help improve the appearance of wrinkles and age spots in as little as a week but depending on your lifestyle, diet and other factors, it could take much longer.

But just like how Rome wasn't built in a day, the same goes for your skin cells. It's been said that the skin cell turnover rate for babies is about 14 days but much longer as we grow older.

So if you don't notice immediate improvements, be patient. Are you eating right? Are you sleeping enough? Are you cleansing your face regularly and properly? And finally, are you using high quality skincare products?
Easy to apply and non sticky!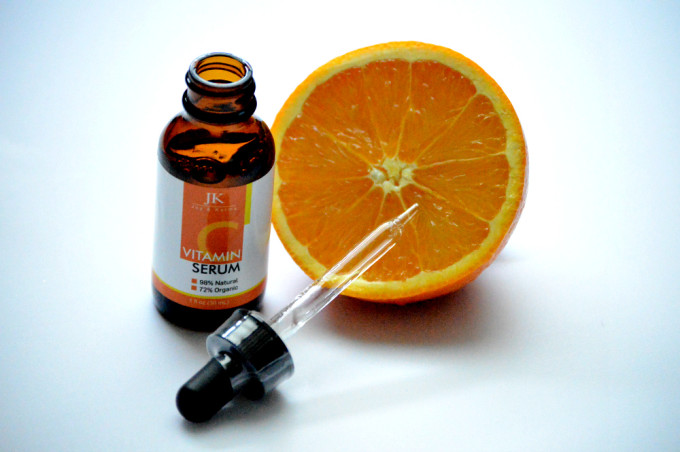 I have been using the Vitamin C Serum for about a week and really like it!  The product comes in a 1 fl oz glass bottle with an dropper.  To use, I apply a few drops of the Vitamin C directly to my face after using my DermaWand.  The serum absorbs quickly, is non sticky, and makes my face feel smooth.  I have only been using the product for a week, but have definitely noticed an improvement in the way my skin looks.  It has more of a healthier glow!  Plus, my makeup goes on easier without caking.  Thus far, I am completely impressed with the product and have added it to my daily skin care regimen.
Buy Now and Save 69% Off!
Joy and Karma Vitamin C Serum has a listing price of $59.99.  Right now at Amazon the product is on sale for only $18.47! That is a whopping 69% savings off the original price!
Product ingredients:
Organic Herbal Infusion, Organic Aloe Barbadensis Leaf (Aloe), Sodium Ascorbyl Phosphate (Vitamin C), Methylsulfonylmethane (MSM), Cassia Angustifolia Seed Polysaccharide (botanical hyaluronic acid), Hamamelis Virginiana (Witch Hazel), Carbomer, (2s)-2-Amino-5-guanidinopentanoic Acid, Kosher Vegetable Glycerin, Organic Simmondsia Chinensis (Jojoba Oil), Phenoxyethanol, Ethyl Hexyl Glycerin.
Special 50% Coupon Code
On the final checkout page, you should see a "gift cards & promotional codes" form. Input the code there and then click the "Apply" button and you will receive 50% off Joy and Karma Vitamin C Serum . If you are an Amazon Prime member or if all the items in your cart total more than $35, you'll also get Free Shipping.
**Expires On Mar 15th**
What beauty products and beauty secrets do you use to help combat the signs of aging and for looking younger?  Please let me know!