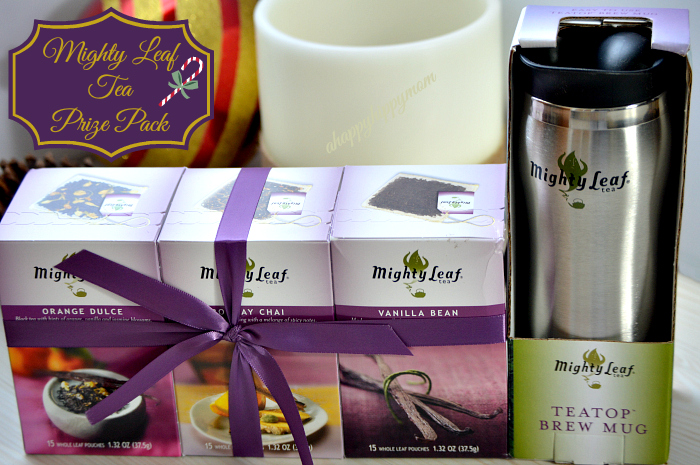 Disclosure:  Mighty Leaf Tea provided me with product to facilitate this post.  The words and opinions expressed in this article are strictly of my own.
Mighty Leaf all natural ingredient teas are wonderful for sharing the warmth of the holiday season with friends and family. With the aromas of orange, cinnamon, and cloves, the Mighty Leaf Tea Sweet Selections Gift Sampler awakens the senses and soothes your body with warm thoughts of the season. Each intoxicating blend is placed in uniquely designed silken Tea Pouches that are hand-stitch with unbleached cotton. You won't find and glue or staples in these beautiful large tea bags! Pair the tea sampler with the TeaTop Brew Mug and you will have the perfect heartfelt gift under $50 for the tea enthusiast on your shopping list.
Satisfy cravings with these sweet teas.  Includes 15 Tea Pouches each of Orange Dulce, Vanilla Bean, and Bombay Chai.  Orange Dulce teems with bergamot, jasmine blossoms, and Ceylon black tea.  Wrapped with a ribbon.  $30
Mighty Leaf Tea Bombay Chai
Leaves: Medium sized black tea with spices
Aroma: Spicy and sweet
Color: Dark reddish-brown liquor
Taste: Black tea leaves with subtle hints of pepper, orange, cinnamon, cardamom, and cloves
Mighty Leaf Tea Orange Dulce
Leaves: Medium twisted black tea
Aroma: Orange and vanilla-caramel
Color: Rich reddish brown liquor
Taste: A port-like brew of Ceylon and China black teas with notes of bergamot, orange, vanilla and jasmine blossoms.
Mighty Leaf Tea Vanilla Bean
Leaves: Medium sized black tea
Aroma: Sweet, perfumed nose with woody undertones
Color: Reddish black liquor
Taste: A rich and malty blend of black tea leaves with Madagascar vanilla
Our insulated "traveling tea pot" is perfect for enjoying Mighty Leaf whole leaf tea on the go.  Say goodbye to over-steeping!  Pull the string through the patented lid and your tea pouch is in a special holding area, away from your tea.  $16.95
Mighty Leaf Tea Pouches
Experience Mighty Leaf Tea
If this is your first time experiencing Mighty Leaf Tea you are in for a real treat! The mixture of the handpicked whole leaves, blossoms, herbs, fruits, and spices give an incredible flavor and the hand crafted hand-stitched tea pouches brew a perfect cup of tea every time. My favorite tea blend out of the sampler is the Bombay Chai, since it embodies all the essence of the winter season with its spicy blend of pepper, cinnamon, cardamom, and cloves. Not to mention, by adding a bit of milk and sweetener it makes a delicious cup of Chai Latte! I have included the recipe simple recipe below for you to try!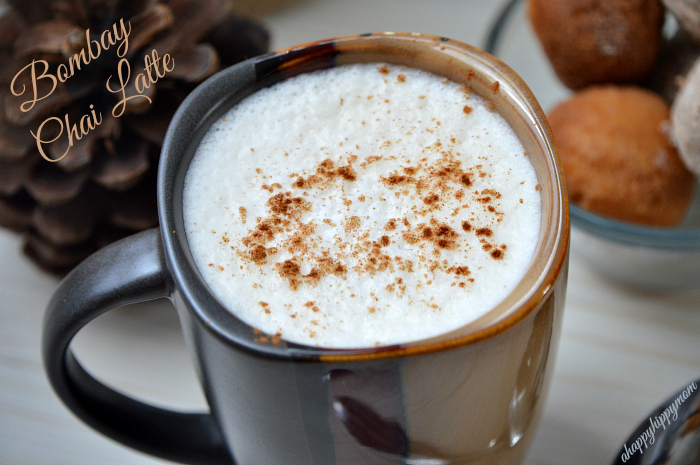 Ingredients
6 oz Mighty Leaf Tea Bombay Chai
6 oz fat free milk, frothed
desired natural sweetener (optional)
dash of cinnamon (optional)
Directions
In large mug, steep one Bombay Chai Tea Pouch in 6 oz. of boiling water for approximately 5-6 minutes. Add sweetener to taste. Meanwhile, froth 6 oz heated milk. Spoon froth into tea. Sprinkle top with cinnamon and enjoy!
Mighty Leaf Tea Holiday Prize Pack Giveaway!
Courtesy of Mighty Leaf,  one lucky reader is going to win a prize pack containing the Mighty Leaf Tea Top Brew Mug and  Mighty Leaf Tea Sweet Selections Gift Sampler!  To enter the giveaway, please follow the instructions provided on the Rafflecopter form.
Open to US Residents Only- age 18 + Ends November 30, at 11:59 pm (eastern time)! Enter Daily!
[field name= iframe]
Stay Connected
Mighty Leaf Tea Website
Mighty Leaf Tea on Facebook
Mighty Leaf Tea on Twitter