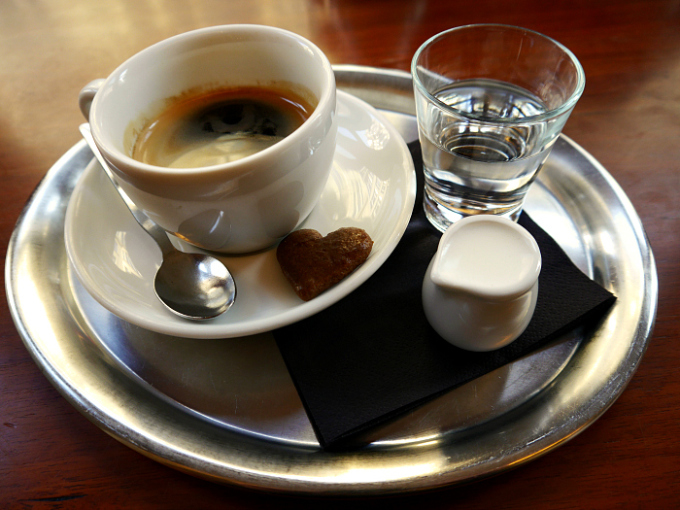 Disclosure:  Staples provided me with products to facilitate this post.  The words and opinions expressed in this review are strictly of my own.

Monday, September, 29th is International Coffee Day! I don't know about you, but I could not fathom a day without a cup of piping hot coffee.   From the aroma of its fresh brewed fragrance- to its kick you into gear lift –to its delicious full-bodied flavor, I savor my coffee down to the last sip.   As you can tell, I am very passionate about my coffee. Why? Because coffee is there for me first thing in the morning, was instrumental when dating my husband (we use to meet at a café), and is a great excuse to get old friends together and reminisce about the good times in the past. Whether it is cappuccino, americanos, latte, or a strong shot of espresso, my appreciation of the caffeinated beverage runs deep!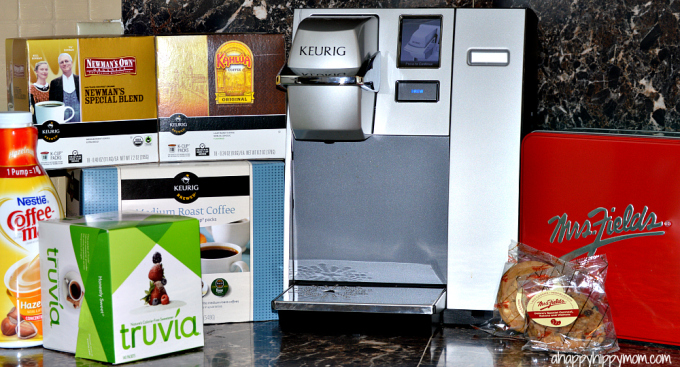 Our friends at Staples know about my extreme affection for coffee and wanted to make sure I had everything I needed to celebrate International Coffee Day in style by supplying me with an AWESOME Keurig B155 OfficePRO Premier Single-Cup Coffee Brewing System, Keurig K-Cup Medium Roast Variety Pack Coffee, Keurig K-Cup Newman's Own Organics Special Blend Coffee, Keurig K-Cup Kahlua Original Coffee, a huge box (140 packets) of Truvia, and Nestlé Coffee-mate Liquid Coffee Creamer Pump Bottle, Hazelnut, 1.5 Liter. They also sent me a deliciously sweet gift of a Mrs. Fields 24 Cookies Classic Tin to go along with my coffee! How sweet it is!!!
About the products:
Product Description:
Choice of 4 cup sizes (4 oz., 6 oz., 8 oz. and 10 oz.)
Easy cleaning and refilling with removable 90 oz. water reservoir
Quiet-Brew Technology®
Energy Saving Mode – Auto On/Off
Drainable internal hot water tank
Engineered for continuous use and tested for the workplace
Travel mug friendly
Drip tray is removable
MY K-CUP® is not compatible with the B155
Included mix of different roasters and top selling varieties of coffee, tea and hot cocoa
Set your language preference to English, Spanish or French
UL & c-UL approved
13.9″H x 10.4″W x 14.0″D, 18 lbs.

Get the boost of energy that you need every day with this brewing system. A removable drip tray makes cleaning a breeze, and the reservoir can hold up to 90 ounces, providing enough capacity for the whole office. It also features Quiet-Brew technology, which keeps the noise from interrupting your daily tasks.
The Keurig OfficePRO Premier coffee machine is the ULTIMATE single cup brewing system for your business or home office! Featuring a vibrant full-color touch screen, brewing is made simple with easy onscreen menus at your fingertips. The brewer is designed for offices up to 30 people, but is an amazing system to have in your home as well. It is commercial grade appliance, which means it is engineered for continues use and is ready to brew one cup after another in under 1 minute. Equipped with a large 90 oz easy-to-fill removable water reservoir, the coffee machine is able to brew up to 18 cups without having to refill making it perfect for entertaining. With 250 varieties of gourmet coffee, tea, and hot cocoa K-Cup packs to choose from, it is always easy to find the right cup for whatever mood you or your guests are in.
I have owned a Keurig Platinum Brewer for almost five years and enjoyed using it several times per day. The Keurig B155 Commercial Brewing System is an enormous upgrade from the Platinum machine. Not only does the fully programmable brewer look spectacular on my kitchen counter, but it also operates like a dream delivering a perfect cup of coffee every time with just a touch in under a minute! The interactive touchscreen adds a beautiful modern high-tech feel to the brewing system with displaying the water level and various color pictures. Additionally, once you remove the drip tray there is room to use a travel cup for fast on the go coffee. Also, for the forgetful individuals, the machine can be programmed to shut off after 2 hours to save energy. Don't hesitate in purchasing this brewer for your office or home, because you are going to love it!
Keurig® K-Cup® Medium roast variety coffee pack includes 12 packs of each different flavors with roasted coffee pods to give you a hot delicious coffee at your work time, sold as 48 pack.
Keurig® K-Cup® Medium roast variety coffee pack consists of medium strength roasted coffee pods that can be brewed in few seconds. Coffee cup offers regular caffeinated coffee per pack that each produces one beverage between 6 to 10 ounces.
Regular caffeinated coffee
Medium roast
Contains: 12 Green Mountain ® Nantucket Blend, 12 Tully's® House Blend, 12 Barista Prima® Columbia and 12 Coffee People® Donut Shop
Brews either a 6, 8 or 10 oz. beverage depending on the machine
Product is Kosher
A great box to get you started containing 4 quality medium roast flavors. The coffee tastes fantastic on its own, but is perfect for adding flavored syrups, creamer, and sweetener.
Newman's Own® Organics Special Blend Coffee is a hearty, full-bodied blend of medium and dark roasts.
Regular caffeinated coffee
Medium roast strength
Blend of medium-roasted Central American coffees and darker-roasted Indonesians is rich, robust, and satisfying
Brews either a 6, 8 or 10 oz. beverage depending on the machine
18 K-Cups per pack
No filters or loose coffee, just pop it in and brew
Product is Kosher
A wonderful full bodied organic blend of coffee for eco-conscious individuals who seek a mid-afternoon pick-me-up!
Kahlua Original K-Cup coffee combine the delicious notes of rum, vanilla and caramel, wrapped in roasted coffee flavor.
Regular caffeinated coffee
Light roast strength
Delicious notes of rum, vanilla and caramel, wrapped in roasted coffee flavor from hand-picked Arabica beans
Non-alcoholic
Brews either a 6, 8 or 10 oz. beverage depending on the machine
18 K-Cups per pack
No filters or loose coffee, just pop it in and brew
Product is Kosher
Free of alcohol and full of delicious flavor! The coffee packs are a good choice for individuals who like the taste of Kahlua without the effects of alcohol. Perfect for sharing in an office!
One packet of Truvia® natural sweetener provides the same sweetness as two teaspoons of sugar.
Granular
Zero-calorie sweetener
140 individual packets per box
An alternative to sugar
Product is Kosher
A large box that will go a long way! The box is filled with 140 individual packets of zero-calorie sweetener made from the stevia leaf. Truvia is a Cargill product, a company with a strong environmental awareness that is built upon a foundation of sustainability and transparency.
Nestlé® Coffee-Mate® easy-to-use pump dispenser eliminates mess.
Concentrated creamer
Hazelnut
1.5 Liter bottle with pump dispenser
No refrigeration necessary
One pump = 1 liquid creamer single serve
Approximately 300 servings/bottle
Pump is non-removable once installled, to help ensure food safety
Lactose-free, gluten-free, Kosher dairy
A concentrated creamer with a hint of hazelnut flavor! The bottle comes with a pump for easy dispensing. One pump equals one serving of liquid creamer. The product does not need refrigeration, so it can be left on the counter for quickly adding to your coffee. For best quality, it is recommended to use within 30 days.
Mrs. Fields 24 Cookie classic tin contains cookies and brownies made freshly with only the highest quality ingredients.
Mrs. Fields® 24 Cookie classic tin contains cookies, brownies and Nibblers® bite-sized cookies. Classic cookie tin holds a tasty assortment of flavor favorites and is perfect for any occasion.
Mrs. Fields® Classic Cookie Tin
24 Original Cookies
Made fresh with only the highest quality ingredients.
These cookies are soft, rich, and delicious! The tin makes an awesome gift for coworkers or the cookie monster in your life! The cookies come individual wrapped in twos for a total of 12 separate packages. Varieties include White Chocolate and Macadamia Nuts, Milk Chocolate without Nuts, Debra's Special Oatmeal Raisins and Walnuts, Triple Chocolate, Cinnamon Sugar, Peanut Butter, Semi-Sweet Chocolate with Walnuts, and Semi-Sweet Chocolate without Nuts.
Fluffed Marshmallow Vodka S'MORES Latte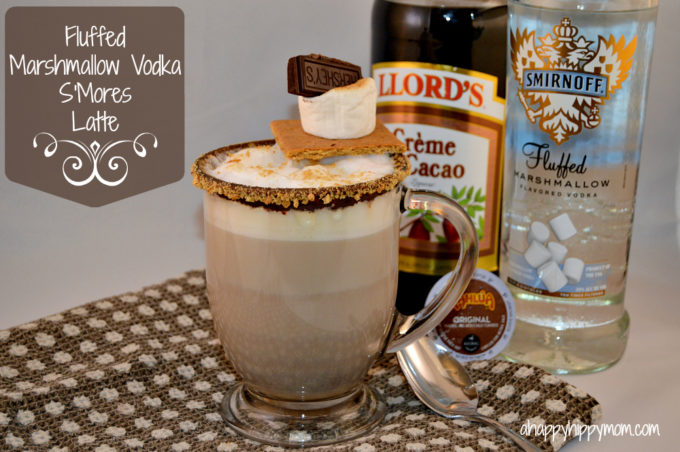 To help get my readers (that is you) excited about celebrating the caffeine filled day, I have hit the kitchen to create a coffee recipe using the brewer and coffee products Staples sent me. With fall being officially here, it is time to find ways to add a bit of heat to take off the cold chill of the season. I can't think of a better way than to cozy up with a cup of coffee that reminds me of my favorite campfire snack—S'MORES! Now, this recipe is meant to be used on a cold autumn night with friends and not in the office, since I am using a combination of alcohols, coffee, and graham cracker dust to bring about the flavor of S'MORES. I'm not a professional mixologist, but I think this cup of coffee tastes incredibly like the campfire treat and a perfect way to celebrate International Coffee Day!
Fluffed Marshmallow Vodka S'MORES Latte #CoffeeBuzz @Staples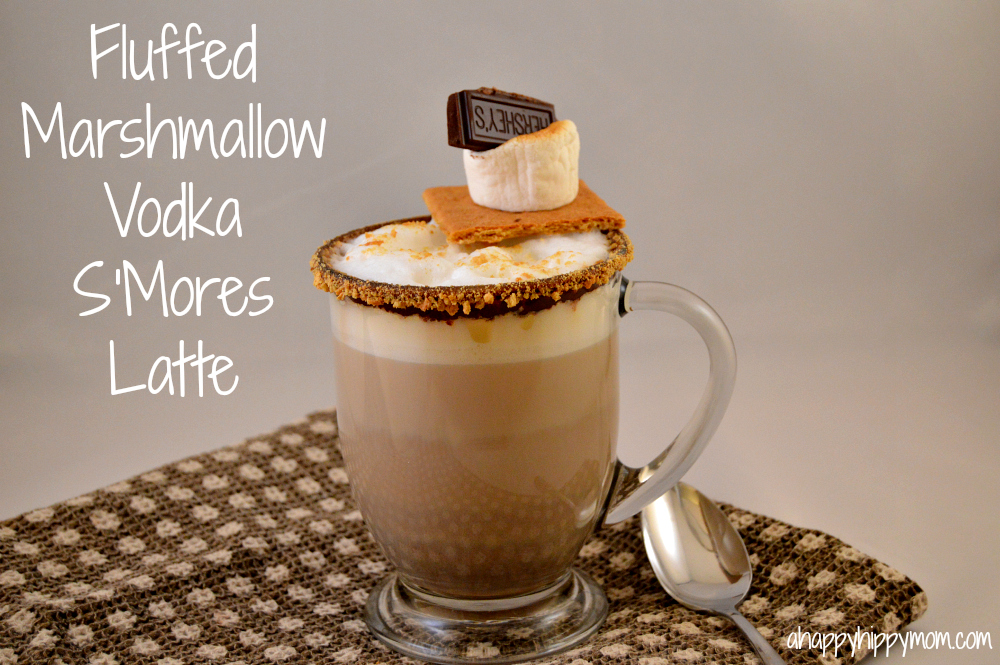 Author:
Michelle Jacklett
Recipe type:
coffee beverage
Ingredients
1 Keurig Kahlua K-cup, brewed 4oz
½ cup milk, frothed
1 shot Smirnoff Fluffed Marshmallow Vodka
½ shot Creme de Cacao
1 full sheet graham cracker, finely crumbed
4 dark chocolate squares, melted
Open S'Mores Garnish (optional)
half of graham cracker sheet (2 crackers)
1 dark chocolate square
1 marshmallow, toasted
Directions
Dip rim of 16 oz mug into the melted dark chocolate. Next dip the chocolate rimmed mug into the graham cracker crumbs to coat entire top.
Using the 4 oz setting on Keurig machine, brew the Kahlua K-cup into mug.
Add vodka and Creme de Cacao to coffee, gently stir.
Fill with steamed milk, top with foam.
Sprinkle top with graham cracker crumbs.


For Garnish
Place toasted marshmallow on graham cracker.
Top with 1 dark chocolate square
Gently add to top of the mug
More than just paper!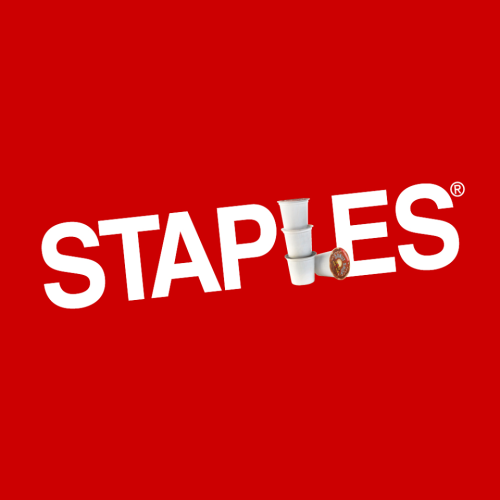 A huge THANK YOU to Staples for making this International Coffee Day extra special and tasty! Don't forget to check Staples for all your business and home office needs! They have everything to help make your day successful and enjoyable, including a large selection of brewers, coffee, and sweet gifts!
Stay Connected With Staples
Visit the Staples website
Like Staples on Facebook
Follow Staples on Twitter
International Coffee Day Giveaway- Your Choice of Brewer!
Courtesy of our friends at Staples, a lucky winner is going to win their choice of one of the three brewers below in celebration of International Coffee Day!
Keurig OfficePRO Single-Cup Commercial Coffee Brewer
Jura-Capresso Espresso and Cappuccino Machine
To enter the giveaway, head to Staples and checkout the three brewers above.  Let me know which one you would like for your prize if you are selected as the winner using the Rafflecopter form.  Any comments are welcomed below, but won't count towards the giveaway. Only entries using the Rafflecopter form will be eligible for prize. Thank you!
Open To US Residents Only- age 18 + Ends October 10th , at 11:59 pm (eastern time)! Enter Daily!
[field name= iframe]