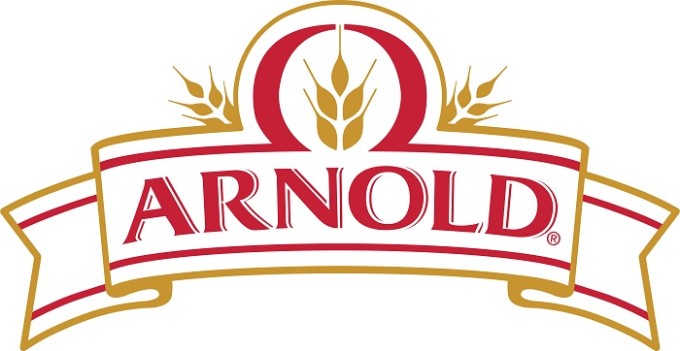 "The coupons for product redemption, information, and gift card have been provided by Arnold® Bread so that I could try the product and share my thoughts and information about Arnold. The opinions expressed in this post are my own and do not reflect the opinions of Arnold Bread."
Are you a sandwich engineer who likes to create unique meatless mouthwatering double-deckers? Or perhaps a mom who is always trying to find healthy alternatives for your family to classic recipes that have been around for more than two generations? If this sounds like you and you love using Arnold Bread products to slap your sandwiches together, then you could be deemed the sandwich master and win a grand prize of $25,000 in the "America's Better Sandwich" Contest!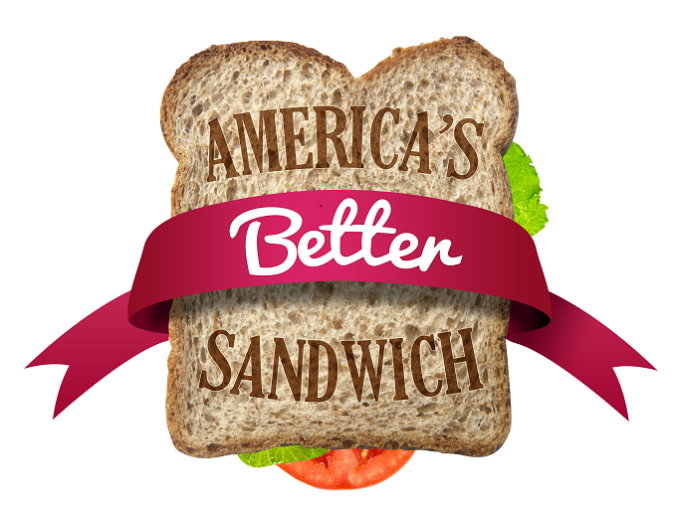 About the "America's Better Sandwich" Contest:
Are you ready for "America's Better Sandwich" Contest ? The sandwich architect whose filling matches the goodness of Arnold Bread will win a grand prize of $25,000.

Before entering a better sandwich in the Contest, the entrant should make sure it includes any of the Arnold® Whole Grain Sliced Breads or Arnold® Sandwich Thins® Rolls varieties.

There are four (4) sandwich categories in the Arnold "America's Better Sandwich" Contest including: "Creative Classic" (a healthful twist on a sandwich that has been around for more than two generations, such as a Reuben, BLT or club sandwich), "Stealthily Simple" (maximum of five (5) ingredients), "Fueling Good" (ingredients that help boost your energy such as healthful fats, protein, fiber and iron), and "Meatless Marvel" (no animal products including land and sea animals may be included in the recipe).

The recipe in each sandwich category with the highest score will receive a $5,000 category prize.

Entries will be accepted July 23rd – August 22nd, online consumer voting will take place September 22nd – October 17th, and the winners will be announced on National Sandwich Day- November 3rd.

To submit a recipe, receive tips on creating a better sandwich or learn more about the Official Rules visit: www.americasbettersandwich.com.
Sandwiches make quick easy satisfying meals on days you just don't want to fuss in the kitchen! We normally eat sandwiches at least twice a week in our home and I always try and make them as healthy as possible by cutting out extra empty calorie fats, sugars, or processed meats. For holding all the ingredients together, I enjoy using Arnold Bread products, because not only do they taste delicious but they are packed with whole grain goodness. In fact, the breads contain so many whole grains you can actually see them! Plus, the breads are cholesterol free and do not contain any High Fructose Corn Syrup making them a great foundation to any sandwich ingredients. Here is more info about Arnold products per manufacturer.
Information about Arnold products:
All of Arnold Whole Grain Sliced Breads and Arnold Sandwich Thins Rolls contain/are:Health authorities recommend munching on 25-38 grams of fiber and 48 grams of whole grains per day, much of which may come from whole grain products like Arnold Whole Grain Sliced Breads or Arnold Sandwich Thins Rolls varieties.

3 to 4 grams of fiber per slice or thin
Zero grams of Trans Fat
No High Fructose Corn Syrup
Cholesterol free

If you're not sure of how many grams of whole grains you are getting, look for the Whole Grain Stamp found on all of Arnold Whole Grain Sliced Breads and Arnold Sandwich Thins Rolls.
Healthy Creative Spin on Chicken Salad Sandwich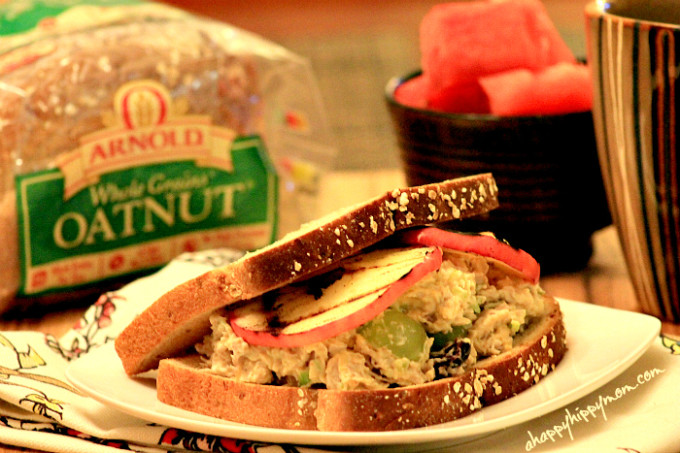 I took a healthy creative spin on the old chicken salad sandwich classic to enter the contest! It is thought to be that the first American form of chicken salad was first served by Town Meats in Wakefield, Rhode Island, in 1863 by Liam Gray. He mixed his leftover chicken with mayonnaise, tarragon, and grapes and the sandwich became a huge popular hit. Over the years there has been many versions of the delicious sandwich recipe, yet I never found one I liked. Either the chicken salad came out too dry it just about choked you or it contained so much fattening mayo that you were better off eating a large greasy big mac! With that being said, I decided to tweak a few different recipes and came up with my own version. The Greek non-fat yogurt and fat free mayo combo gives the chicken salad a nice creamy texture with none of the extra fat.  AND by using the meat from a rotisserie chicken you are getting all the flavor of moist delicious roasted chicken to go along with the sweetness of the dried cranberries and green grapes. But the real secret to the sandwich is the grilled apples! The flavor combination is out of this world good! Give the recipe a try and let me know what you think. I know some people are not huge walnut fans, so try adding sliced almonds instead or just omit the nuts from the recipe.
Creamy Chicken Salad with Grilled Apples Sandwich Recipe
Healthy alternative to the classic chicken salad sandwich recipe using Greek non-fat yogurt and fat free mayo on Arnold Whole Grains Oatnut bread.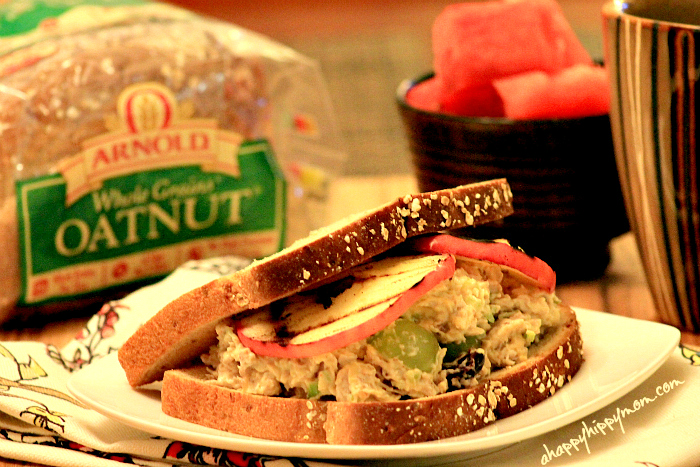 Author:
Michelle Jacklett
Ingredients
3 cups chopped rotisserie chicken, skin removed
1 large Gala apple, cored and sliced into thin rings
⅓ cup diced celery
¼ cup diced red onion
⅓ cup dried cranberries
⅓ cup chopped walnuts
15 green seedless grapes, halved
½ cup Kraft fat free mayo (found it tastes the best)
½ cup Greek non-fat yogurt
1 tbsp. yellow mustard
½ tsp onion powder
¼ tsp paprika
¼ tsp black pepper
¼ tsp salt
12 slices of Arnold Whole Grains Oatnut Bread
Directions
In large bowl combine chicken, celery, red onion, cranberries, walnuts, and grapes. Gently mix until combined.
Mix Greek yogurt, mayo, mustard, and spices together in medium separate bowl.
Pour dressing mix over chicken mixture and carefully stir (do not crush grapes) to coat. Refrigerate until cold.
Meanwhile, lightly spray apple slices with natural cooking spray and grill for about 2 minutes.
Assemble sandwich by spreading about 1 cup of chicken mixture on one slice bread, layer with two slices of grilled apple, and top with another slice of bread.
ENJOY!
Stay Connected With Arnold Bread
Arnold® Bread website: http://bit.ly/1xF3skw
Arnold® Bread Facebook page: http://on.fb.me/1hMBezz
Arnold® Bread "America's Better Sandwich Contest: http://www.americasbettersandwich.com
Arnold Bread Prize Pack Giveaway!
Courtesy of Arnold Bread, a lucky reader will receive a prize pack including:
Three $5.00 coupons to purchase your Arnold Whole Grain Sliced Bread of choice
Three $4.00 coupons to purchase any Arnold Sandwich Thins® Rolls of choice
A $25 Visa gift card to use towards all the deliciousness you pack in between your favorite Arnold Bread slices
To enter the giveaway, please follow the instructions provided on the Rafflecopter form. Any comments are welcomed below, but won't count towards the giveaway. Only entries using the Rafflecopter form will be eligible for prize. Thank you!
Open To US Residents Only- age 18 + Ends August 2oth, at 11:59 pm (eastern time)! Enter Daily!
[field name= iframe]