Whether you are heading over the river and through the woods or staying cozy in your home this Christmas, Netflix has something that will add a little joy to your holiday season!
I plan on spending the last week before Christmas baking cookies, finishing up last minute shopping, and snuggling up with my kiddos while watching cheerful flicks.  The great thing is no matter if we are out traveling or staying time at home —Netflix is ready to lift our spirits with beloved family favorites!  I have been a member of Netflix for years and love the convenience of being able to enjoy movies on the go, especially during the holidays. The service is accessible on tablets and smartphones via the Netflix app as long as you are able to connect to wifi, 3G or 4G, so you have access to a library full of movies at your fingertips wherever you go– just about anywhere, anytime you want to watch them.
Netflix was kind enough to compile a list of a few favorites you can take to Grandma's this year, including beloved characters like Charlie Brown, Thomas the Tank Engine and Clark Griswold from Christmas Vacation.  One of our family favorites we look forward to watching every year on the list is Jingle All the Way!  The movie stars Arnold Schwarzenegger and Sinbad and is absolutely hilarious!  It is not a film you would automatically consider Arnold to be in, but is an entertaining treat!  The movie is inspired by real-life Christmas toy sell-outs and about two fathers trying to find the hot item (Turbo-Man action figure) in time  to make sure it is under the tree for their sons.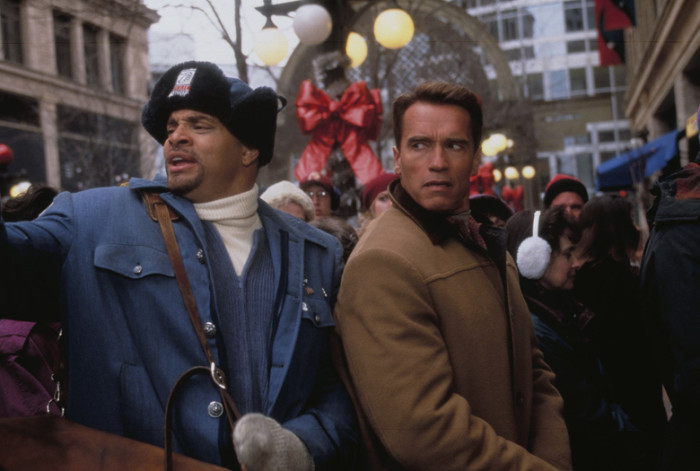 Netflix Holiday Titles to Take on the Road This Holiday Season
Put a holiday twist on your kids' favorite characters:
Mickey's Magical Christmas
Power Rangers Super Samurai: Stuck on Christmas
Super WHY: 'Twas the Night Before Christmas
Lady Gaga and The Muppets Holiday Spectacular
Dreamworks Holiday Classics
Charlie Brown's Christmas Tales
I Want a Dog for Christmas, Charlie Brown
Thomas & Friends: Ultimate Christmas
Kung Fu Panda: Holiday
Phineas and Ferb: Christmas Vacation
Veggie Tales: A Story of Joyful Giving
Get into the holiday spirit with these movies for the whole family:
The Polar Express
The Nightmare Before Christmas
Jingle All the Way
Little Brother, Big Trouble
The Search for Santa Paws
Santa Paws 2: The Santa Pups
On-the-go craft project and snack idea.
Looking for an easy craft and simple snack idea to keep the kids entertained during the holidays? Check out the Lego Travel Box project and Chocolate Candy Cane Smoothies!
Lego Travel Box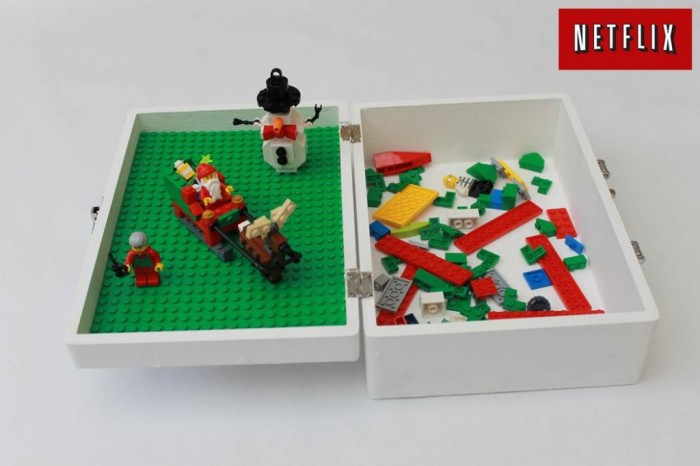 "Bring the fun on the road this holiday season with a DIY lego box. This self-contained kit is easy to transport, making it perfect for the backseat of a car or a long wait at the airport. Click here to learn how to make your own."
Chocolate Candy Cane Smoothies
"Ditch the chips and instead enjoy a delicious and healthy on-the-go treat: a Chocolate Candy Cane Smoothie. The recipe is inspired by a holiday favorite — peppermint hot chocolate.
Even better? Though it might taste almost dessert-like, it's actually a protein-packed snack that will keep the kids full and energized…without the sugar rush. Click here to learn how to make your own."
 What family movie do you look forward to watching with your kids during the holiday season?