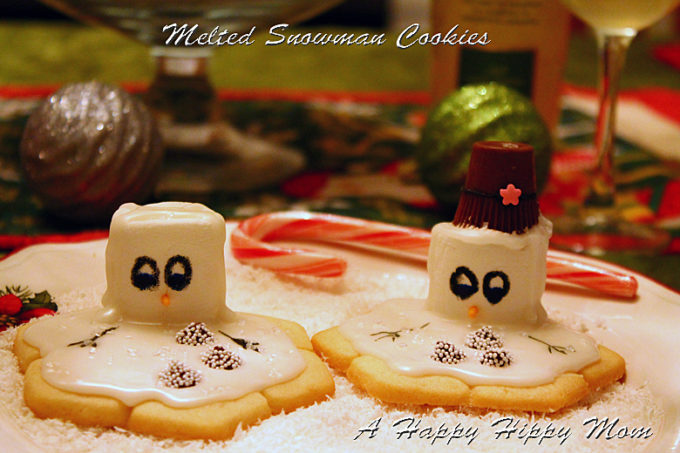 Can you believe Christmas is only 10 days away? Usually by now I have at least nine different kinds of cookies and candies made, but this year I am way behind in my baking!  Thankfully, I just received a box full of goodies containing everything needed to get me motivated from Sweet Creations by Good Cook including Sweet Mixing bowls, High-tem spatula, Flex cookie turner, Cookie dropper, Cookie Cutters, and two large Pure Aluminum cookie sheets.  So, I took my package of baking arsenal, grabbed my little helper, and we went to work creating some delicious sugar cookies to submit in the Good Cook Virtual Cookie Exchange!
The sugar cookie recipe below is a personal family favorite and I make them every Christmas.  Typically, we just cut them out, bake, and decorate them with homemade butter frosting plus festive sprinkles.  They taste incredible and the kids love helping to deck them out with different cookie toppings.  Some of the most memorable moments happen in the kitchen and baking these cookies together is a way for us to keep a yearly tradition going.
After seeing some adorable Melted Snowman cookies on Pinterest we decided to make our own version using the snowflake cookie cutter, marshmallows, peanut butter cups, Rolos, orange sprinkles, food coloring writers, snowcap candies, and simple sugar glaze.  The most difficult aspect of creating these adorable Christmas cookies was getting the glaze the correct consistency to be able to flood the cookies.  However, it is one of the best cookie glaze recipes I have ever worked with in that it does not call for meringue powder and dries shiny, hard for being able to easily write on.  Also, it is like glue and the snowman marshmallow heads stick wonderfully on the cookie bases and stay secure without falling off.
If you have never used the Sweet Creations products before you should give them a try!  I find there baking items to be fantastic and of great quality!  The cookie cutters are perfect for little hands to grip and have a one-push soft-grip handle for easy cutting! Plus, the large aluminum pans are super for even baking and easy cleaning!  Baking is so much more fun when you have the correct tools.
Here is how to make the Melted Snowman Sugar Cookies!
Melted Snowman Sugar Cookies Recipe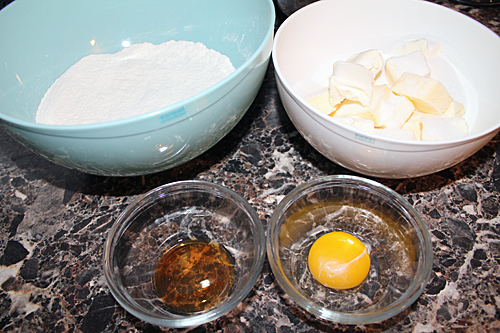 Melted Snowman Sugar Cookies
Recipe and images by Michelle J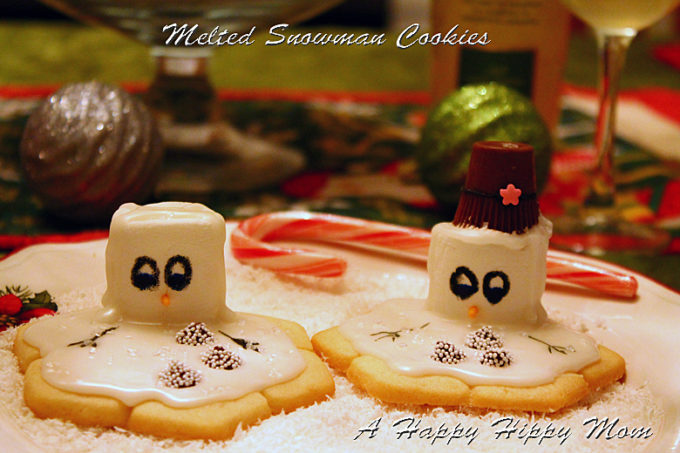 Serves:
Makes 24 Melted Snowman Cookies
Ingredients
1 cup butter, softened
3 ounces Cream Cheese, softened
1 cup sugar
1 egg yolk
½ teaspoon vanilla extract
¼ teaspoon butter extract
2-1/4 cups all-purpose flour
½ teaspoon salt
½ teaspoon baking powder
¼ teaspoon baking soda
Cookie Glaze
2¼ cups confectioners' sugar, sifted
2 tablespoons light corn syrup
¼ teaspoon butter extract
2 tablespoons plus 1 teaspoon milk
Decorations
24 marshmallows (head)
72 small snowcap chocolates (buttons)
24 orange sprinkles (for nose)
black and blue food coloring writers
Optional
24 peanut butter cups
24 Rolos
Black Icing
24 Snowflake sprinkles
Directions
In a large mixing bowl, cream the butter, cream cheese and sugar on medium until light and fluffy.

Beat in egg yolk and extracts.

Combine the flour, salt, baking soda and baking powder; gradually add to creamed mixture.

Cover and refrigerate for 3 hours or until easy to handle.

On a lightly floured surface, roll out dough to ¼-in. thickness.

Cut with snowflake cookie cutter.

Place 1½ in. apart on ungreased baking sheets.

Bake at 375° for 10-12 minutes or until edges begin to brown.
Cool for 2 minutes before removing from pans to wire racks to cool completely.

While cookies are cooling prepare snowman heads by drawing eyes on with food coloring writers.

For hats, pipe black icing on the top edge of upside down peanut butter cup. Place Rolo on top of icing. Decorate side of hat with snowflake sprinkle.

Slightly melt top of snowman marshmallow head (I used a lighter). Place hat on top of the marshmallow and press down until the chocolate hat binds with the marshmallow. Stick orange sprinkle in the marshmallow for the nose. Set aside.
For frosting, in medium bowl, combine the confectioners' sugar, corn syrup, butter extract and 2 tablespoons of milk; mix until combined. Keep adding extra milk until desired consistency is reached. Frosting should be as thick as warm honey. Store frosting in a tightly covered bowl until ready to be used.
Working quickly, pipe or spread (flood) frosting on cookie. Place snowman head onto frosted cookie; holding until secured. Decorate with three snowcaps for buttons. Let dry at room temperature for several hours or until firm.

With black food coloring writer draw on the arms.
Store in airtight container.
Save 5%
Save 5% off at goodcook.com for any Sweet Creations product. Use CODE: COOKIES during checkout to receive your discount!
Win one of 10 Cookie Kits from Good Cook!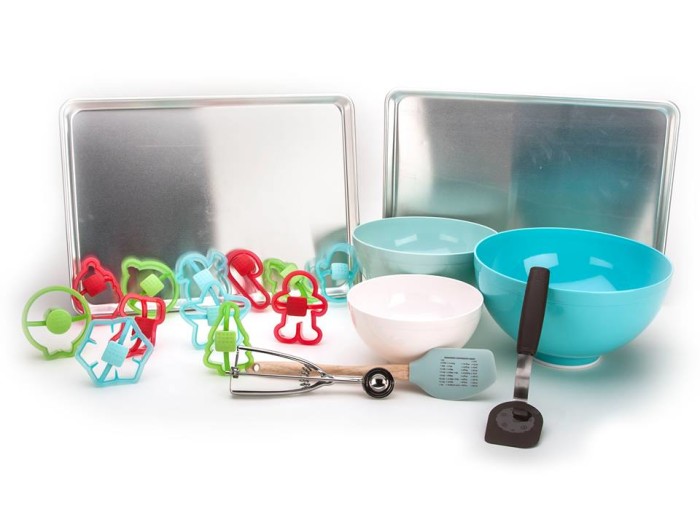 Like my Melted Snowman Sugar Cookies by heading on over to the Good Cook's Sweet Creations  page and be entered to win one of 10 Cookie Kits from Good Cook!
Stay Connected
Follow Good Cook on Twitter using the hashtags #goodcookcom, #goodcookkitchenexprt, and #sweetcreations