"I participated in an Ambassador Program on behalf of Mom Central Consulting (#MC) for Sprint. I received product samples to facilitate my review."
There are only 19 shopping days left until Christmas!  What is on your family's holiday wish list? For us it is mostly high tech gadgets that will make our daily life easier and more pleasurable.  Speaking about cool gadgets, if you happen to be in the market for a new smartphone this holiday season you might want to consider the LG G2. I have been testing the product for a little over a week now along with the QuickWindow Convenient Folio Case and they make a remarkable duo!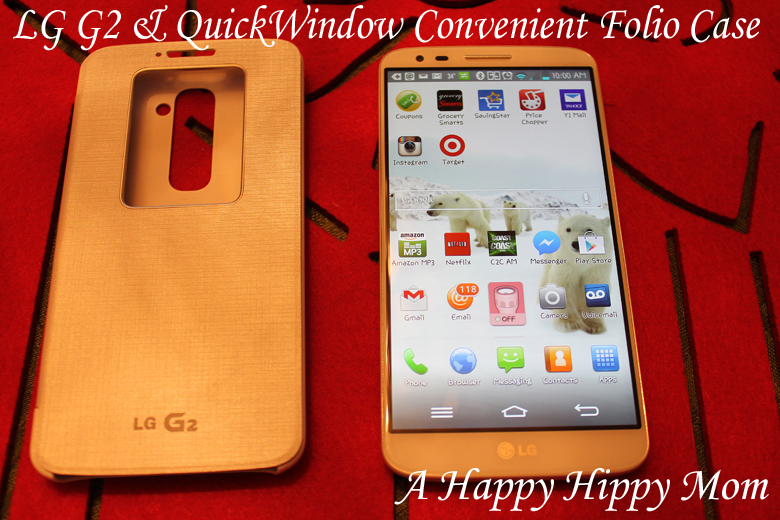 LG G2 Design
Just when you think you are finally use to the uniformity of smartphones having the On/Off button on the top right and the volume controls being directly below or on the left side, LG mixes up the arrangement and places the controls on the back. At first it feels slightly awkward and you wonder why change a good thing? Then after becoming acquainted with the new design you realize it actually feels natural and the rear key placement in the middle is ingenious, setting the phone apart from all others.  Fingers are able to manipulate the controls easily, toggling the textured volume buttons up and down without straining your hand for true functionality and allowing a comfortable hand position for both left handed and right handed users.  The phone additionally features ultra-thin bezels for edge-to-edge viewing and rounded corners for a sleek feel and appearance.  It is undeniably a stunning phone.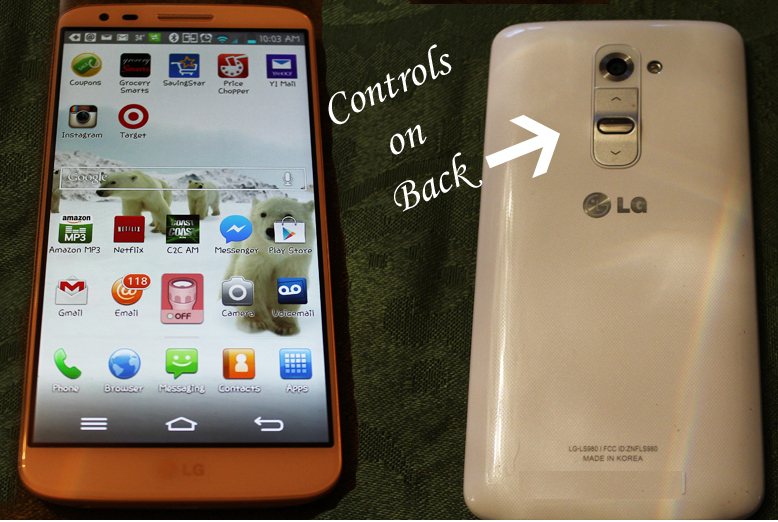 Display
LG G2's 5.2″ Full HD 1080p IPS display is one of its best features, offering crystal clear viewing with an impressive sharp, 423 pixel-per-inch resolution for crisp graphics and text.  Movies and games are presented in extraordinary detail on the 16:9 high-definition screen, minimizing potential eyestrain.
Performance
The LG G2 is powered by Android 4.2.2 (Jelly Bean) and an ultra-fast 2.26 GHz quad-core Snapdragon 800 processer.  If you like to multitask having more than one app open at a time—this phone is a performance gem able to snap back and forth without hesitation.  Enjoy videos, browsing the web, and games seemingly with the speedy 4G LTE-enabled device.
Battery
The long lasting non-removable built-in 3,000 mAH SIO+ battery helps keep the ultra-slim G2 going for up to 17 hours of talk time.
The battery life on the LG G2  is ridiculously long lasting!  A 30 % charge can last up to 10 hours and 51 minutes!
Camera
The device contains a front and rear camera. Capturing clear pictures and video on a smartphone can be a challenge. However, the LG G2 13-megapixel rear camera features a two-axis Optical Image Stabilization for maintaining focus during shaky conditions and lessoning the blur you often experience in low-light environments. The G2's scratch-resistant sapphire crystal glass helps protect the lens, ensuring clear photos and videos for years to come. The device also includes plenty of camera settings and photo editing software options for making sure you are getting the picture you desire. For instance, under camera mode you have the choice of different shot modes, including  Normal, Shot & Clear, Dynamic tone (HDR), Panorama, VR panorama, Burst shot, Beauty shot, Dual camera, Time catch shot, Intelligent auto, Sports, and Night. Here is more about each option.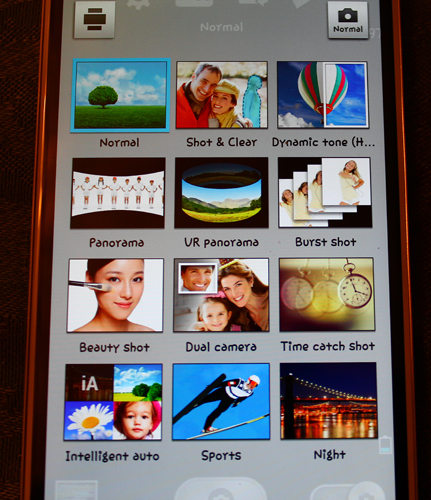 Normal:  Captures a normal photo shot.

 Shot & Clear:   Removes any moving objects from the photo.

Dynamic tone(HDR):  Combines photos taken at multiple exposures into one optimal photo  to get a better photo in tricky lighting situations.

Panorama:  Creates a wide photo of a panoramic view. Hold the phone horizontally, press  the shutter to start and slowly sweep the camera across the scene.

 VR panorama:  Creates a wide photo of a vertical panoramic view as well as a horizontal  one. Hold the phone horizontally, press the shutter to start and fit the focus area to blue guide  line to take phone. Move the camera to catch another focus area and take photos. The  photos will come together into one image.

Burst shot:  Takes up to 20 shots quickly by pressing and holding the shutter.

 Beauty shot:  Makes facial skin look brighter and smoother.

 Dual camera:  Captures a photo using both of camera lens. Touch and hold the small screen  to resize or move it.   l Time catch shot:  Captures the missing moment before pressing the shutter.

 Intelligent auto:  Automatically identifies the scene's characteristics and adjusts aperture,  shutter speed, options to take a photo.

Sports:  Captures fast-moving images.

 Night:  Captures photos in dark areas.
The camera settings include Cheese shutter, Brightness, Focus, Image size (Choose from 13M- 4160×3120, W10M -4160×2340, 8M-3264×2448, or 1M-1280×960),  ISO, and White balance.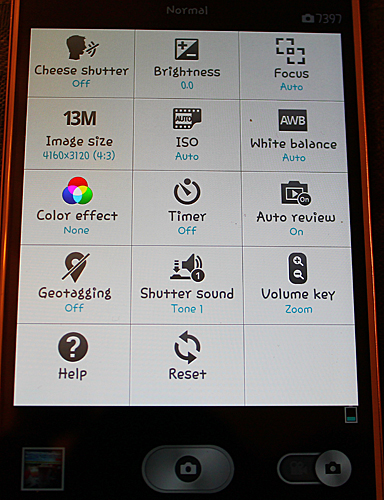 I love the camera on this phone!  The options are the most detailed I have seen yet for a smartphone and the clarity is amazing.  This is a picture I took in low light of a plush Mike from Monsters Inc.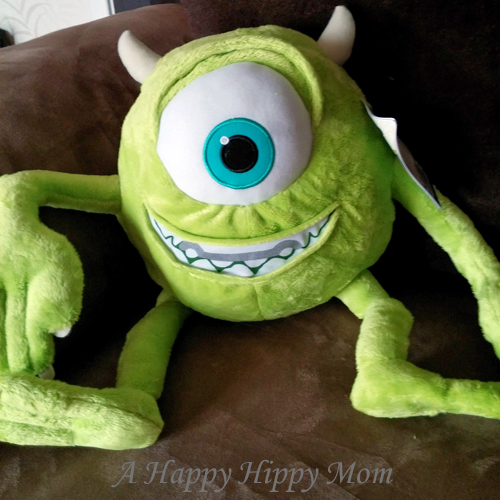 LG Enhancements
Capture Plus.  Allows to save a full Web page rather than a simple screen capture.
Clip Tray. Lets you easily copy and store multiple items. Acts similar to a PC clipboard.
KnockON.  Wake the phone with a simple knocking gesture. G2 senses the gesture and turns the display on or off automatically.
Guest Mode.  A very COOL feature that lets you customize the G2's with two modes — one for yourself and one for a child or guest.  It helps to keep your personal information and device settings safer by locking out apps and other stuff for each user.  The Guest Mode is  a cinch to activate and unlock by setting a separate lock screen pattern. Great for letting a young child use the phone, but want to lock out apps with adult content like YouTube.
QSlide Function.  Lets the user multitask by giving the option of opening two additional windows over the main screen, as well as adjusting the window size and transparency.
QuickMemo.  You are able to add a personal touch to everything by writing or drawing on any screen using just a finger.
QuickRemote. This feature turns your G2 into a programmable remote able to manage multiple compatible electronic devices such as TVs, cable set-top-boxes, audio systems, and even air conditioners!
Slide Aside.  Quickly move between up to three apps at once, by using three fingers to slide your current screen aside to access another app.
Storage
32GB (Up to 24 GB for User Memory).
Specs For Techs
Operating system
Android 4.2
Battery information
3000 mAh Li-ION
Talk time
Up to 17 Hours battery
Dimensions
4.7″ x 2.6″ x 0.37″
Display
5.2″ Full HD IPS Display (1920X1080 FHD)
Weight
5.04 oz
Processor
2.3GHz Quad core Qualcomm Snapdragon
Memory
2GB RAM/32GB ROM
Bluetooth profiles
A2DP, AVRCP, GAVDP, HFP 1.5, PBAP, HSP, FTP, GOEP, SDAP/SDP, DUN, OPP, SPP, Stereo Streaming, AVDTP, and OBEX
What's in the box
3000 mAh Li-ION Battery
Energy Efficient Charger
Micro USB Cable
No MicroSD Slot! Thank Goodness for Dropbox!
Why are the newer phones coming out with no MicroSD Slot?  I feel like it is a push to having to rely on extra services such as Google Drive and Dropbox. Being that I have several 32GB MicroSD cards filled with music that I like to swap out depending upon my activities (working out, relaxing, ect…) this is a real negative aspect.  Thankfully, Dropbox offers up 50GB free space and you are able to earn more (16GB) on friend referrals.  However, transferring large song files takes tons of time to complete. BUT, once they are in Dropbox you are able to easily sync the tunes, files, or photos to other devices or share them with friends. There is an option to upgrade for additional space for $9.99 a month.
QuickWindow Convenient Folio Case
The lightweight QuickWindow Convenient Folio Case snaps on to the LG G2 for extra protection, convenience, and beauty.  The case gives the phone an elegant look and protects against everyday scratches, smudges, and minor impact (not full droppings).  The only place that is not protected by the case is the small window allowing for quick finger access to unlock the phone, answer calls, and more.  Also, there is a bit of concern that the metal around the window makes contact with the phone's screen, so it is best to make sure there is no pressure placed on the front of the case.
Features:
Wakes your phone automatically when opened
Direct access to screen for incoming Calls, Alarms, Messages and Notifications
Navigate among widgets, by flicking left or right from the mini window
Protects your phone from everyday scratches, smudges, and minor impact
Allows easy access to all buttons and ports
Mobile Security
Are you worried about mobile security?  Should you be if you are not? Sprint has recently conducted a mobile security survey revealing smartphone consumers' mobile behaviors, habits and concerns about privacy.  I found the information to be compelling in that only 44 percent of people set a PIN or passcode on their mobile phone.  Really?  Maybe I am a worry wart, but I use my phone for EVERYTHING and the thought of someone seeing my sensitive personal and banking information without permission sets a shiver of panic down my spine! Taking the time to set an easy to remember PIN is worth the extra protection! Don't you think? Take a look at the survey!  You are going to be surprised at the results.
Buy It
LG G2 and QuickWindow  would make excellent gifts this Christmas!  Please visit Sprint for product information and current prices!
This review is in association with my Holiday Gift Guide festivities!  Keep checking back for more great recommendations coming your way!