"I participated in an Ambassador Program on behalf of Mom Central Consulting for Sprint. I received product samples to facilitate my review."
The back-to-school season is in full swing! How are you surviving the hectic routine?  This time of year is the most stressful for a lot of families, as they try to adjust to the fall's chaotic daily routine.  Juggling multiple schedules, soccer games, academic responsibilities, new social events, and work schedules is able to turn any happy June Cleaver mom to an angry controlling Joan Crawford! I know that was probably a bad analogy, but I'm thinking you get the gist. Anyhow, if it wasn't for the nifty innovative gadgets in my life to help manage the daily planning of school activities, extra-curricular functions, and everyday household tasks, I might turn crazy and be forced to enroll in my very own laughing academy!
The single most key element in keeping my sanity throughout the school year is the capability of being able to reach family, friends, and business connections no matter where I am.  As you can imagine, my smartphone never leaves my side.  Nonetheless, as useful as the smartphone is, it does have its limitations.  Using the mobile phone for work purposes such as typing an article, editing, or making website changes is very difficult, if not impossible.  A good comparison would be something in the lines of trying to strain a pound of spaghetti through a small hand sifter.  It would be tedious, take an extremely long time, but could be done bit by bit.  Not something you really want to do if you don't have to.  On the other hand, being able to take a laptop anywhere and have a fast internet connection would be absolutely amazing!  So, you probably can imagine my excitement (an understatement of the century) when I learned I would be participating in an Ambassador Program on behalf of Mom Central Consulting for Sprint and testing out the NETGEAR Zing Mobile Hotspot!
The NETGEAR Zing Mobile Hotspot  (also known as the AirCard 771S) is one of the first tri-band devices offered by Sprint that makes connecting to the internet possible, no matter where you are!  Equipped with a 2.4" excellent LCD touch screen display and easy management features, the Netgear Zing is perfect for the family on the go allowing 10 Wi-Fi enabled devices (laptops, tablets, eReaders, portable gaming systems, digital cameras, iPod Touch, printers, ect.)  to share one connection!
The NETGEAR Zing Mobile Hotspot Key Features
The first speedy 4G LTE mobile hotspot from Sprint with international capabilities using GSM roaming.
Easy to use Web User Interface to manage device settings.
Equipped with the latest wireless encryption technology to keep personal info private when lending out your mobile hotspot (don't have to share password).
Supports the most advanced mobile security protocols including NAT Firewall, VPN pass-through, and contains password-protected administration user interface.
Share data over the network with 10 devices when tethered to computer via USB cable.
Long lasting 2500 mAh battery provides up to 10 hours (I got approximately 8) of usage on a single charge and up to 10 days of standby.
Internal and External Antenna support. Non-standard adaptor required; 2X2 MIMO (multiple input and multiple outputs) antenna for LTE
GPS service
Compatible with Windows® 8, 7, Vista®, or XP (32 and 64bit), Mac OS® 10.5 or 10.6 and newer (Snow Leopard), Ubuntu Linux 9.04.
Specs.
Dimensions: 4.3" L (110 mm) x 2.7" W (69 mm) x 0.6" H (15.2 mm)
Display: 2.4" / 320 x 240 pixels (QVGA) resistive LCD touchscreen with data usage meter
 Weight: 3.95 Ounces (112 grams)
 Frequency: Tri-band: LTE: B25 (1900MHz), B26 (800MHz) & B41 (2500MHz); CDMA: BC0/1/10
USB port (2.0 recommended)
Web browser may be required for initial setup
System Requirements
USB port (2.0 recommended)
Web browser may be required for initial setup
My Two Week Netgear Zing Mobile Hotspot Trial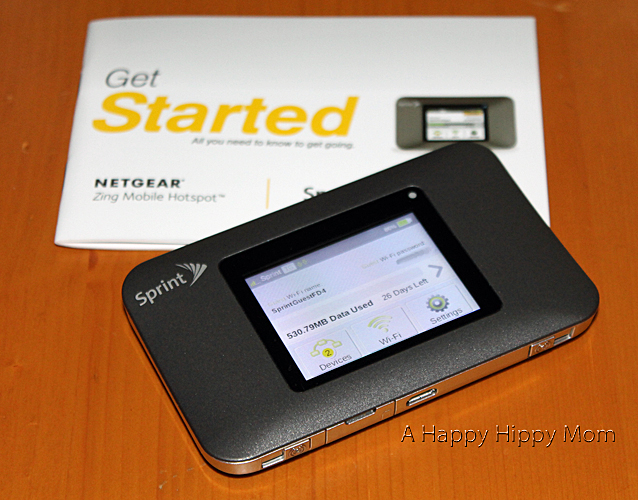 I received the Netgear Zing Mobile Hotspot for review approximately two and a half weeks ago.  Right from the beginning the unit was easy to use.  No lengthy setups or software to install, just a quick firmware update and I was ready to go! There are several features I absolutely adore about this product.  The first being there is no guessing of data usage and network status, since the info is clearly displayed on the LCD touchscreen.  Additionally, it shows if you are reaching your monthly limit and billing cycle.  I also like that I'm able to view and block devices with a simple tap of the finger on the touchscreen. Furthermore, I can share my connection by enabling the Guest Wi-Fi, which is a great perk when my daughter's teen friends want to use their devices in our home.  Otherwise, in order for them to get an internet connection I would have to let them use the Main Wi-Fi, exposing them to my devices.  Anyone who has teens constantly coming and going is able to agree that probably isn't the best of ideas!
During the testing phase I lost track on how many times I used the Netgear Zing Hotspot. I tried connecting everyplace I normally wouldn't be able to like outside, the car, and several different stores. However, the most memorable moment was when the whole family was traveling in the car and my son was having a blast watching Netflix on the tablet, my daughter was playing games on her iPod Touch, and I was browsing the internet on the laptop—ALL AT THE SAME TIME!  Everyone was happy, including my husband who was driving and enjoying the magnificent silence!
I had no problems with connecting and the speed was incredible. Nor, did I experience any lagging or connection breaks.  The service was impeccable!
Who Needs High-quality Mobile Broadband?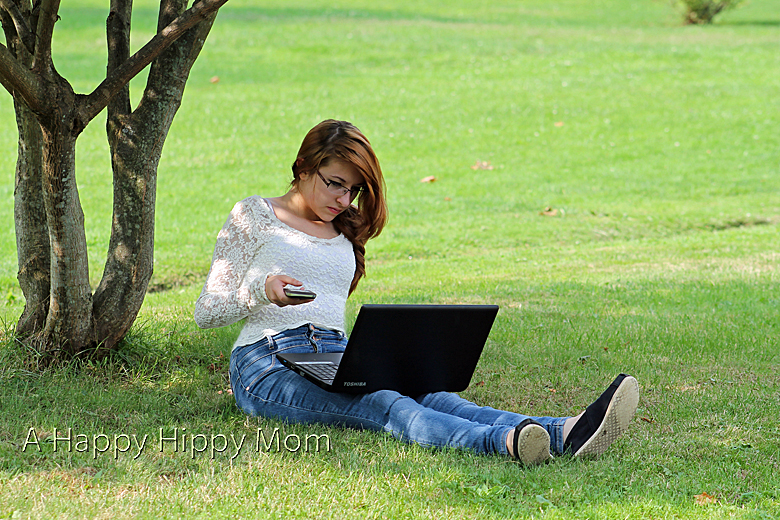 The NETGEAR Zing Mobile Hotspot is an awesome gadget for students who need the internet to do schoolwork, want to share notes with other classmates, or connect with a study group..  My daughter sat outside with the laptop where it was quiet (away from her little brother), so she could concentrate on writing her essay.  The college student in your life who is always on the go would appreciate being able to work on their studies anywhere they wanted to without having to search all over town for a public hotspot.
The attractive mobile hotspot device is also perfect for OCD bloggers who can't pull themselves away from their blogs!  Webinars, Skype calls, Twitter parties, Youtube videos, publishing articles, and scooping up dream opportunities on the go are just some of the benefits of always being connected.
A must have for Road Warriors! Enjoy internet connectivity during business travels, vacations, airports, hotels, or at the poolside while sipping margaritas, as you catch up with clients and friends. Going overseas? No problem! Maintain productivity when you stay connected using an unlocked SIM designed for international travel.
How about that soccer game?  Get connection in the stands while giving play by play details of your little sport's first game to family members who wanted, but couldn't be there!
Basically, it is for anyone who wants to stay connected, virtually anywhere!
Sustainability
The NETGEAR Zing Mobile Hotspot environmental attributes include a high recyclability rate of 75 percent, minimal use of environmentally sensitive materials, and 100 percent recyclable packaging.  It is the first mobile hotspot that meets Sprint's eco-friendly specifications.
Cost
Purchase the NETGEAR Zing Mobile Hotspot (regular price $249.99) for $49.99 (excluding taxes) after a $50 mail-in rebate via reward card.  Pricing requires a new line or eligible upgrade, and two-year service agreement.  Data plans range from $34.99 per month (excluding taxes and fees) for 3GB,  all the way to $79.99 plan with 12GB of 3G/4G data.
Visit www.sprint.com/mobilebroadband for more product information and pricing plans.