Are you planning on purchasing a tablet for your child this Christmas?  According to a recent survey conducted by PBS, 54% of parents plan to give a tech item to their children this holiday season with tablets being at the top of the list.  However, choosing the correct tablet for your child does take some consideration and you might be just throwing your money to the wind if you do not purchase one appropriate to its intended use.  So how do you choose?
When it comes to selecting the best tablet for your child and getting the most bang for your buck you should think about key buying factors including product recommended age, parental controls, built in educational apps, software platform, battery life, durability, internet access, child's capabilities, and price.  If you are trying to stay under $100 and looking for a kid's tablet that provides tons of features that your child will not likely out grow in a year than you might want to contemplate purchasing a ClickN KIDS tablet.  I actually had an opportunity to test the tablet and think it is a bargain for everything it offers.
ClickN KIDS, a multi award-winning educational content provider, developed the first Dual Interface tablet that is affordable and loaded with features that make it functional for both children and grownups.  Unlike other children's tablets offered on the market that do not go beyond the first years of educational fundamentals, the ClickN KIDS tablet is able to grow with your child and will not become obsolete for their age.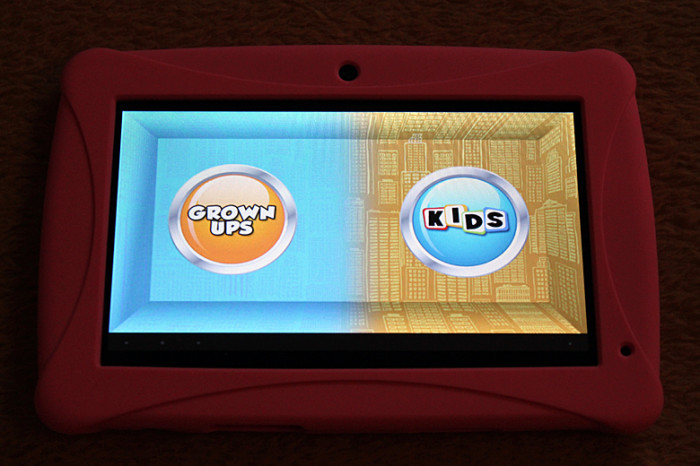 Parental Controls
The WiFi 7″ Touchscreen Tablet comes loaded with Kiddoware, a powerful free Android (downloadable at Google Play or Amazon App Store) parental control program, which allows you to control your child's access to certain apps, helps protect your personal data, allows to set time limits,  monitor their time usage, blocks out inappropriate content, and more.  The easy to use application restricts children to only the apps you approve and prevents children from downloading new apps along with performing other actions that can cost you money.
The Kids Place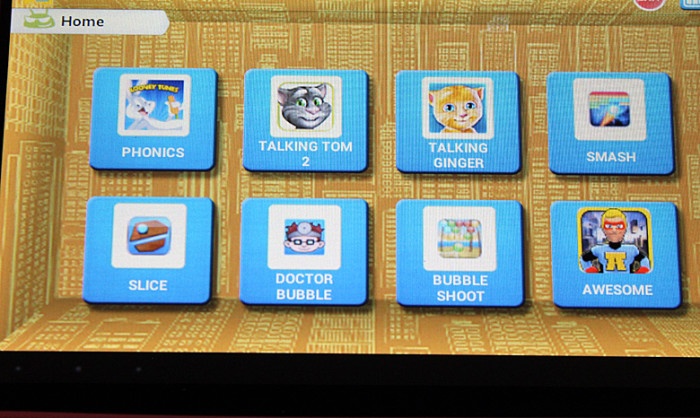 The Kids Place experience offers access to more than 30 premium pre-loaded applications including Talking Tom 2 and Talking Ginger, Diversion, Team Awesome plus the multi-award winning Looney Tunes Phonics program.
Looney Tunes Phonics program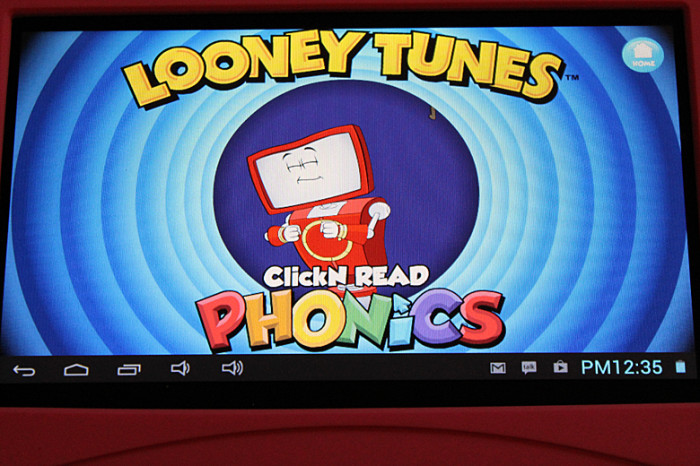 The ClickN KIDS tablet is the only tablet that comes preloaded with Looney Tunes Phonics program.  In my opinion, this is one of the top aspects that makes this device standout and highly valuable over other children's tablets on the market today.   The tablet features 100 interactive-reading lessons ($50 value) using the wacky antics of the Looney Tunes characters to engage and educate children.  Kids are introduced to core reading concepts, including simple letter sounds, word blends, sight words, silent letter rules and sentence dictation as the have fun learning to read with the help of  Bugs Bunny, Daffy Duck, Road Runner, Tasmanian Devil, Tweety Bird and more.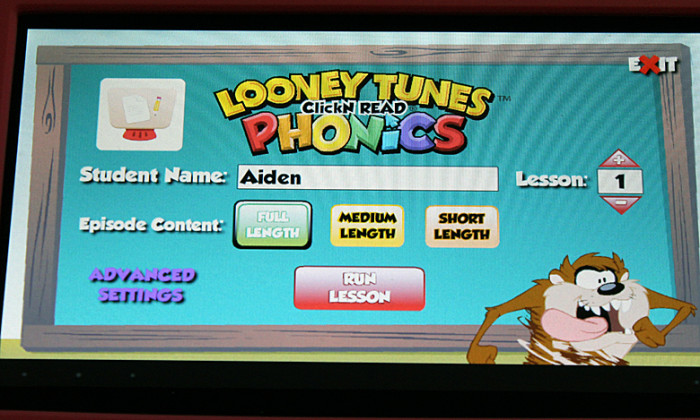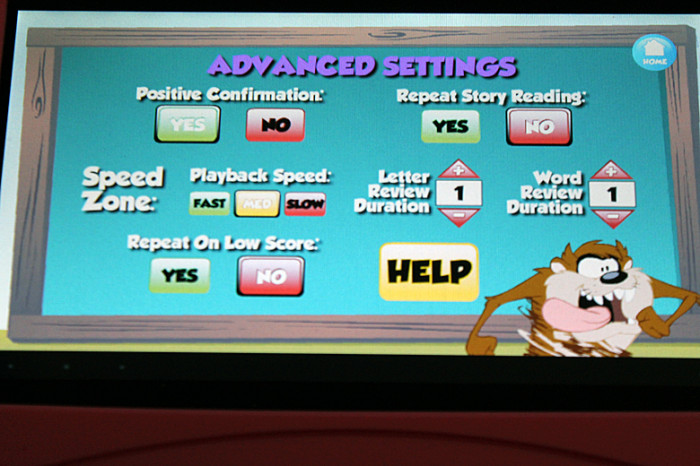 During the sessions, Professor Wizbot guides them through the interactive program lessons,  each consisting of six to 14 activities and ranging from 15 to 30 minutes.   Before and after each activity, kids are rewarded with a quick Looney Tunes entertaining cartoon.  Parents are able to track the child's progress through individual lesson reports, which tells Correct First Attempts, Multiple Attempts Required, and the Items that Required Multiple Attempts.  Here is an example of the award winning program.
"The ClickN KIDS curriculum is based on recommendations from the National Reading Panel and was developed by nationally recognized early education research professor J. Ron Nelson, Ph.D. Dr. Nelson is also Director of Curriculum Development for ClickN KIDS."
Looney Tunes Phonics is geared toward children in PreK-3.  However, my son is 6 and just learning to read.  It is perfect for homeschoolers and children who need extra help understanding the key principles of reading.
Grownups Section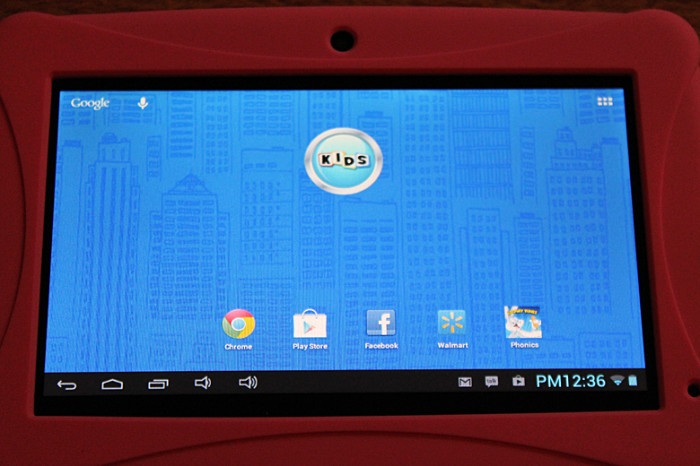 The full featured tablet is powered by the popular Android 4.1 Jelly Bean, meaning parents have access to the Google Play Store and all the wonderful goodies it has to offer.   The area allows grownups to browse the internet, watch movies, check emails, make a Skype video call, listen to music, take pictures and videos and more!  Basically, anything you can do on an Android tablet you are able to do on the ClickN KIDS tablet in the Grownups Section.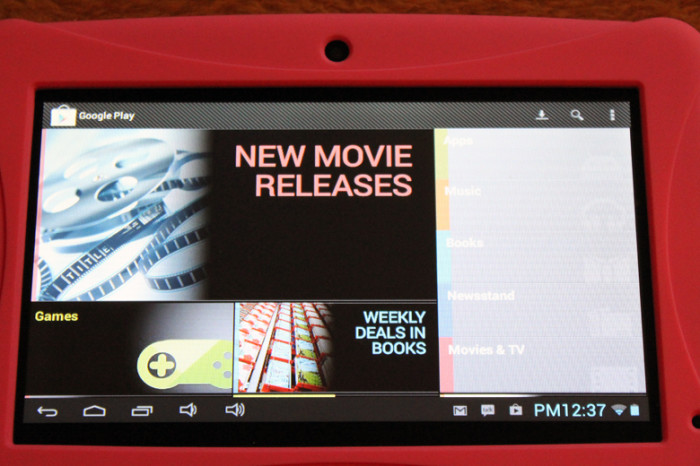 Battery
The device is equipped with a 3600 mAH  and comes partially precharged, so you are able to power it up and get it rolling right out of the box.  Upon full charge, it last up to five hours for music and 3 hours for video —which is not great, but fairly average.
Camera
The front-facing camera is not going to win any awards, yet it is good enough for Skype or selfies.
Design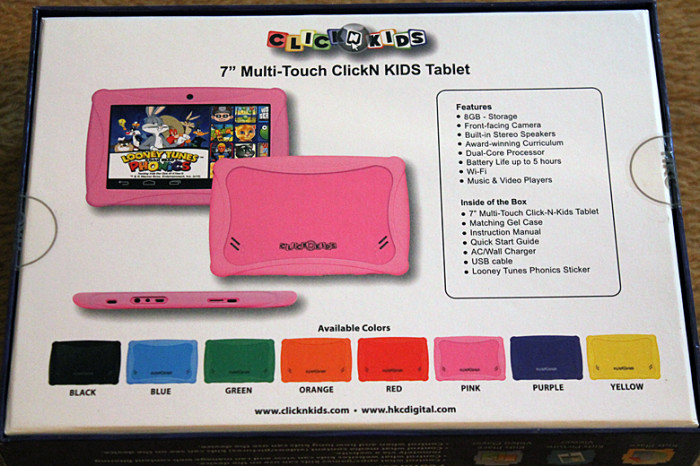 The ClickN KIDS tablet has an attractive design and is available in 8 kid pleasing colors including black, blue, red, orange, yellow, purple, green, and pink.  It comes with an easy to grip gel case in the same color as the device and measures 8 w x 5.4 l x .68 h – inches, .89 lbs with Gel Case.
Screen
The tablet's  7″ touchscreen has a resolution of 800 x 480, which is rather low compared to a resolution of 1280×800 of other tablets.  However, it is very responsive and still more than suitable for watching movies.
Speakers
There are two speakers located on the back of the device.  I was actually very impressed as to how loud the speakers were for a tablet priced under $100!  They are plenty good enough for kids to listen to the phonic lessons, movies, ect.
Memory
The tablet has a 8GB of storage, which can be expanded to 32GB by using a micro SD card.  Another fantastic feature that most children's tablets are missing today!
Specs
Technical Specifications:
1.5GHz Dual-Core processor
1GB of system memory
7″ touchscreen, 800 x 480 resolution
Built-in 802.11b/g/n WiFi
Additional Features:
Front webcam with microphone
miniUSB port, 3.5mm jack
8GB on-board storage memory, additional memory via microSD card slot
stereo speakers
Up to 5 hours of run time on a full charge
Weighs 0.7 lbs; 7.48″ x 5.04″ x 0.46″ dimensions
Software and Applications:
Android 4.1 OS (Jelly Bean)
Looney Tunes ClickN Read Phonics, Gmail, Google Maps, Google Voice, Google Books, YouTube, Google Drive, Google+, Google Earth, Google Finance, Twitter, Facebook
Android browser and Google Play (for applications)
Android Music Player
Media Formats: Popular media formats
At a Glance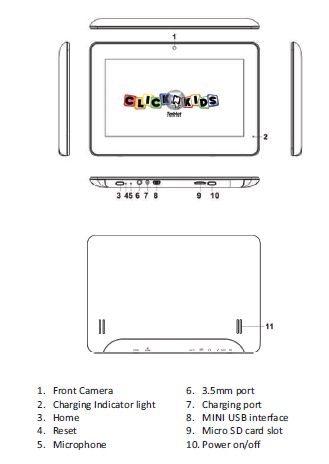 What's in the Box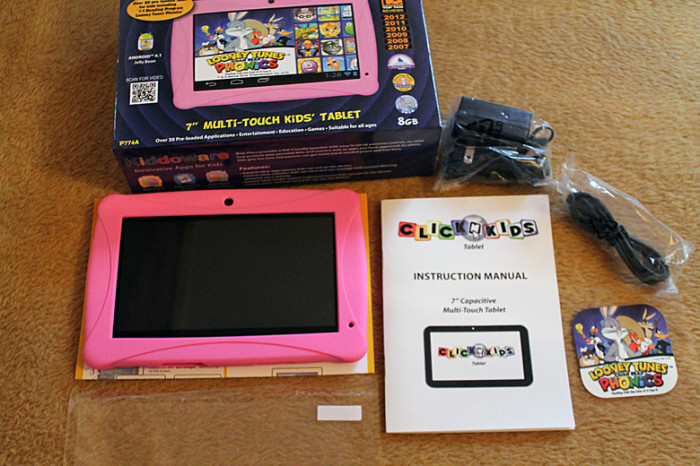 Tablet and AC adapter
USB Cable
Screen Protector
Gel case
Looney Tunes sticker
Purchase It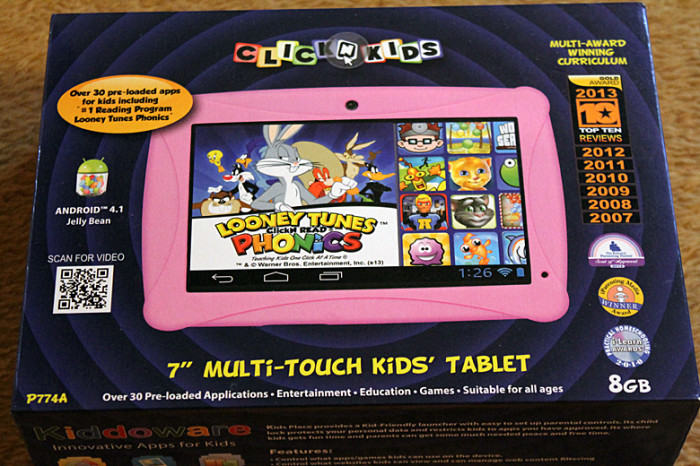 ClickN KIDS tablet is available for purchase at Walmart and is currently on sale for $89.99!  Makes a fabulous last minute gift idea for the child on your shopping list!