Are you worried about summer "brain drain?" My son is 6 years old and homeschooled, so summer "brain drain" is a real concern in our home. I don't want him to forget everything I taught him during the year. Research shows kids can lose one to three months of learning over the summer, which could cause a significant learning relapse. For children who are reluctant learners it is important to keep essential skills fun and fresh, especially throughout the summer months.
Preventing Summer Learning Loss with ABCMouse.com
One online program that I plan on using to help prevent summer learning loss is ABCMouse.com. For the individuals who have young sprouts (2-6) in your home, you probably have heard it advertised hundreds of times on TV or read numerous blog reviews about the learning site. Why is it so popular? Because kids actually like it!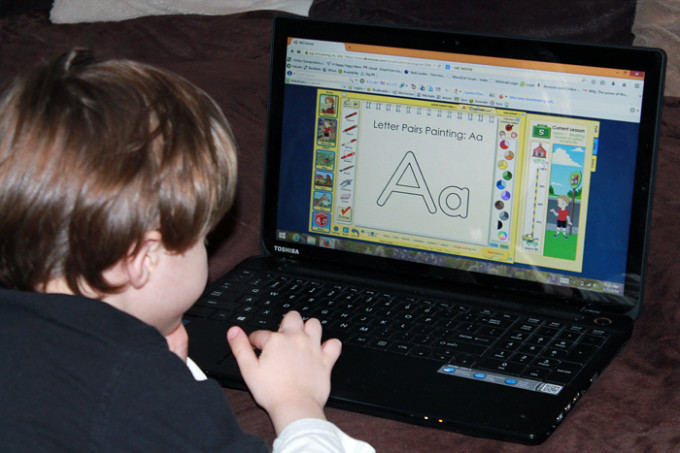 Before I get into the comprehensive details of ABCMouse.com, I want to give you a diminutive insight about my son's behavior when it comes to wanting to learn. He is not one of those children who enjoys sitting down for long periods of time or finds learning to read overly exciting. He has the beginning signs of what I call the Peter Pan Syndrome and wants to stay little forever. Schoolwork of any sort is not appealing to him and in my son's young mind academic activities take away from his important playtime.   Being that I am his mom and also his educator, I feel completely responsible if he falls behind, thus I am always trying to discover ways of making learning seem like less of a chore and more of a fun game. Not to mention, I want to ensure he is prepared for first grade and will not find the upcoming curriculum overwhelming. This is why I am going to be using ABCMouse.com during summer break!
Enormous Learning Resource
ABCMouse.com provides kids a safe and fun online platform that offers a wide range of learning activities for 2-6 year olds at preschool, pre-k, and kindergarten levels. Created by a panel of nationally recognized early childhood learning experts and a large staff of very talented writers, designers, programmers, creative artists, and musicians, the comprehensive early education website helps bring learning to life with fun educational content. With the goal of "helping children build a strong foundation for future academic success," the learning academy is an enormous wonderful resource of over 450 lessons and more than 5,000 learning activities! ABCmouse.com has been the recipient of numerous awards from national organizations focused on parenting and learning, such as earning a Gold Seal from the Parents' Choice Foundation and the Mom's Choice Awards Honoring Excellence. You can view the selection of accolades here.
There are several aspects I really like about ABCMouse.com and a few I would change. Starting with the positives, the 450 lessons are broken down into six levels.
Preschool, Level 1 is designed for children age 2—3. The lessons are simplistic and are designed to teach the alphabet, how to count to 5, easy shapes, primary colors, and getting dressed
Preschool, Level 2 follows Preschool, Level 1 and kids learn about uppercase alphabet letters, review of a to z, math numbers 1 to 5, secondary colors, shapes, and learning at the market.
Pre-K, Level 3 is intended for children who have completed Level 2, and for children age
3—6. The lessons continue to teach children the alphabet, numbers 1 to 10, shapes, primary and secondary colors, plants, and the weather.
Pre-K, Level 4 is the next step after Pre-K, Level 3. The games, puzzles and art activities in Pre-K, Level 4 are becoming more challenging now. Level 4 curriculum includes lowercase alphabet letters, numbers 1 to 20, six shapes, primary and secondary colors, sports and good sportsmanship.
Kindergarten, Level 5 is designed for children who have completed Level 4, and for children age 4—6 who already have some experience with the alphabet and numbers 1 to 10. Children learn uppercase and lowercase alphabet letters, numbers 1 to 20, 8 shapes, 11 colors, and the four seasons.
Kindergarten, Level 6 should follow Kindergarten, Level 5. Lessons cover words, word families and sight words, more and less; concept of Zero; numbers 0 to 20, shapes, introduction to addition and subtraction, patterns, telling time, colors and shades of colors, and about the earth, moon, sun and planets.
Flexible Learning Platform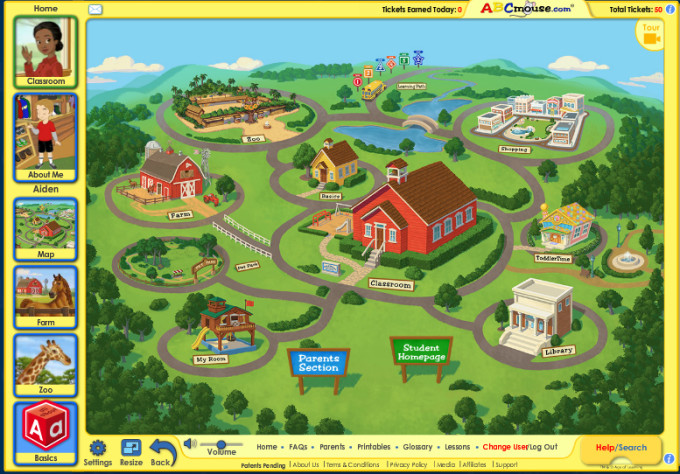 Children can learn in three different ways: the Step-by-Step Learning Path, Guided Learning, and Independent Learning. The Step-by-Step Learning Path includes six different types of activities, including books, puzzles, games, songs, art activities, and more than 1500 printables. Children are directed from one lesson to the next in the Step-by-Step Learning Path, earning rewards (tickets) for each activity and lesson that they successfully complete. In Guided Learning mode parents are able choose and customize lessons they would like their kids to complete using the Lesson Builder feature. The Independent Learning lets kids choose their own activities from the Classroom, the Library, and the Zoo. Because each child learns in different ways, the site gives parents and students a flexible multifaceted online learning platform. Plus it is free from annoying advertisements, popups, and external links!
Progress Tracking
Another feature I like about ABCMouse.com is it allows parents to track their child's progress to see what activities have been completed in each subject. Parents can look at the white bar to see how many of the activities on the page have been completed one or more times. The gold bar shows how many have been completed five or more times. However, the report does not specify how well they are doing in each activity or how long the lessons took to complete. Personally, I would find this information very useful to see if my son needed to keep repeating the lesson or required extra help understanding it. ABCMouse.com recommends that the lessons should be repeated at least five times before moving to the next level, but just repeating the work over and over does not mean a child fully comprehends the material. A more detail report would let a parent know what trouble areas should be targeted.
Ticket Reward System
I believe children should be awarded for doing good work! Don't you? ABCMouse.com makes learning fun and encourages them to find more activities to do by rewarding kids with tickets for each book, game, song, puzzle, or art activity completed. The tickets can be used to purchase virtual clothing, features, or items for his/her Avatar, emotions, pets, fish, toys, furniture for "My Room," and more! My son gets excited every time he collects more tickets and wants to immediately move onto the next activity to earn more. The system also introduces kids to the concepts of more and less and helps them sharpen their math skills. BUT, as much as the reward system is a good idea, I have found it to be a distraction as well. I notice my son racing through the activities and doing them halfheartedly to obtain additional tickets to go shopping. There is a way of blocking ticket spending in the parent's settings, but no way that I have discovered to actually turn off the ticket machine.
Conclusion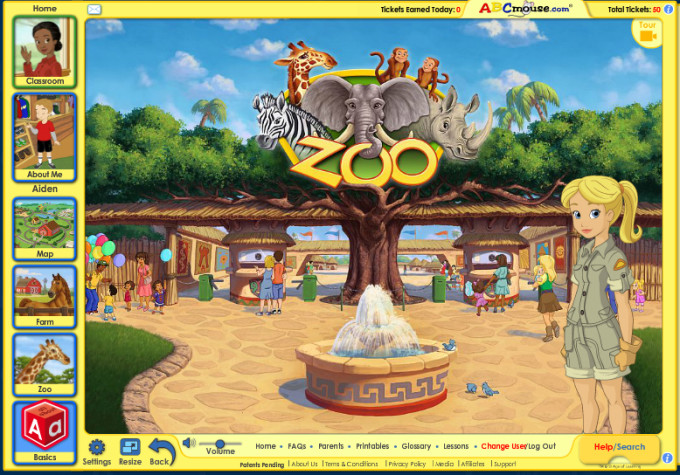 I could go on and on with all the fantastic features of ABCMouse.com, such as the different fun environments like the jungle, mountains, and Solar System, or the other great stuff kids love such as the Farm and Zoo! But the nitty-gritty is the site makes kids want to learn. It is brightly colored, full of fun songs, coloring pages, and tons of cool interactive learning activities. There is so much to do there that kids don't get bored. Not to mention, my son thinks he is getting free computer playtime while he is on ABCMouse.com.  If you want to combat summer "brain drain" or prepare your child for kindergarten I would give it a try! The truth is it is not going to teach a very young child how to read in a week, since we all know reading takes time. What it will do is help your child learn the basics and get them interested in wanting to learn more! Plus, it is an awesome way to keep your child busy in the car while traveling this summer if you have an iPhone, iPad, or Android device with internet access!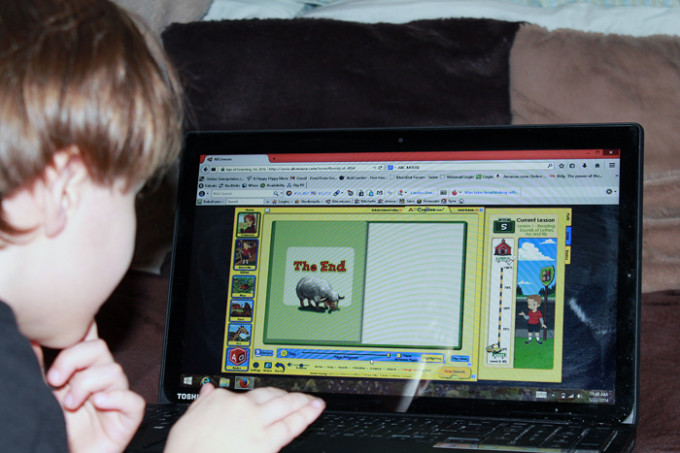 FREE 30 Day Trial!
ABCMouse.com is offering new members a FREE 30 day trial!
[field name= iframe]
Stay Connected
Visit  ABCMouse.com
Like ABCMouse on Facebook