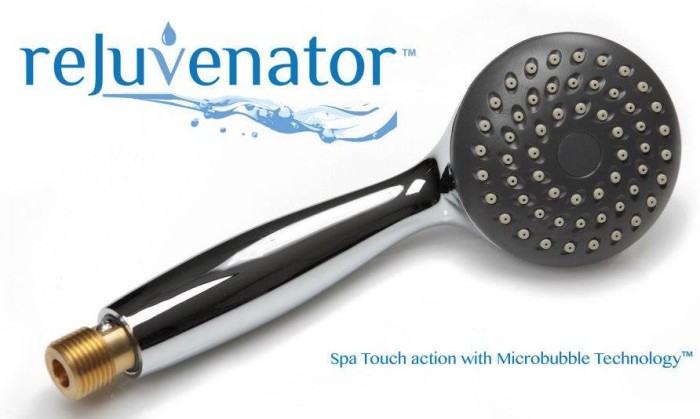 Last month I had the chance to review the Rejuvenator Micro bubble shower head and unquestionably LOVE it! Sincerely, now that our family has the sophisticated shower head,  I can't imagine us ever going without it!  Yes, it is that good!  So, I am elated to be able to have the opportunity to give one lucky reader this amazing product for the holidays.  If you happened to miss my review please go read it to learn more about the benefits of micro bubbles and my spa at home Rejuvenator Micro Bubble Shower head experience.
To enter the giveaway, please follow the instructions provided on the Rafflecopter form. Any comments are welcomed below, but won't count towards the giveaway. Only entries using the Rafflecopter form will be eligible for prize. Thank you!
 Open to  U.S.  residents, ages 18+.  Ends November 26th at 11:59 pm (eastern time)! Enter Daily!
[field name= iframe]
This giveaway is in association with my Holiday Gift Guide festivities!  Keep checking back for more great prizes coming your way!
About Rejuvenator
The Rejuvenator shower head uses Microbubble Technology to better cleanse the skin and hair and provide a washing experience that will surpass any shower you've ever had.

Thousands of tiny microbubbles are generated to deeply cleanse the pores of the skin. Our Microbubble Technology will leave you feeling clean, hydrated, and rejuvenated.
Product Description
Patented Microbubble technology that cleans deep within your pores
Self cleaning jets with a full coverage spray
Easy to install with no tool required
Included diverter with matching metalic coating for dual shower head installation
1.5 meter "Argent" shower hose (anti-corrosion)
Follow us on Twitter! @RejuvenatorPro
Like the Rejuvenator Facebook page
Save 30% Off
Give the gift of an in-home spa experience all year long!  Save 30% off the price of the Rejuvenator Micro Bubble Shower Head when you apply the code ahappyhippymom at checkout.