Everything seems to have gluten in it these days!  Even foods you would not think could have it like dry-roasted nuts might contain traces of gluten.  Cheese products, condiments, salad dressings, soups, beer, breads, pastas, cereals, cakes, cookies, flour, and baking mixes, will most likely have gluten in them.  For individuals who are gluten sensitive or have Celiac Disease, finding great tasting foods not containing the irritant could pose a problem, especially if you are from a small town.  But, there is a solution!  Udi's Gluten Free Bread offers a wide array of delicious products that are delivered straight to your door!  From mouthwatering muffins, cookies, granola, chips, to breads, bagels, pizza crust, and more, the online gluten free store has just about everything you need to stock your pantry without having to leave your home! Plus, all Udis products are all natural without artificial flavors, colorings, preservatives, GMO's or other synthetic additives too!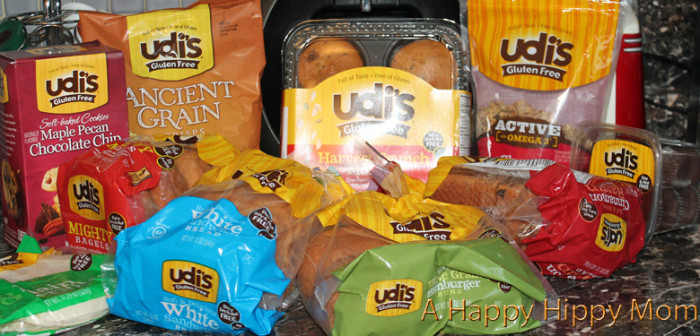 Udi's sent my family a sample box full of gourmet snacks and goodies to try including:
Our Dark Chocolate Brownie Bites are decadently rich and perfectly satisfying. Indulgent dark chocolate will satisfy all of your sweet-tooth cravings, and wrap you in gluten free joy. Sure to be a hit with everyone, you won't be able to resist these moist, fudgy bites of brownie!
Maple Pecan Chocolate Chip Cookie
One of three delicious new cookies that are shelf stable and made with non-GMO cereal grains. The flavor combinations are sure to blow you away! A riff of our favorite holiday pie, this cookie is sure to be a year-round crowd pleaser. 3 Varieties: Peanut Butter Coconut, Sea Salt Caramel Cashew, and Maple Pecan Chocolate Chip.
Active with Omega 3 Cherry Walnut Granola Clusters
Food is fuel, food is fun. We took this thinking to heart as we blended the best ingredients to create Udi's Active Granola Clusters. By combining certified gluten free oats, wholesome ancient grains, delicious fruits and filling nuts, Udi's bakes clusters of granola goodness to keep you active and happy.
Aged Cheddar Ancient Grain Crisps
Our new Ancient Grain Crisps are not only delicious but full of nutritious Amaranth, Quinoa, Flax, Sesame, Millet, and Black Seeds! They also have fewer calories, carbs, and fat than regular chips. Our 3 flavors include Aged Cheddar, Sea Salt, and Jalapeno Cheddar.
These muffins are the perfect morning or afternoon snack! Not only are the delicious, but they are nutritious as well. They are filled with healthy ingredients rich in protein, vitamins, and minerals (3g protein, 4g fiber per muffin).
The bread that started it all is now a customer favorite. Our signature light and fluffy white sandwich bread is made with all natural ingredients without added fillers. Reward yourself during your next meal and enjoy the luxury of bread again.
Sliced for your enjoyment, our cinnamon raisin bread compliments any breakfast table. Warm in the oven or toaster or enjoy straight from the bag for a slice of cinnamon goodness.
Grilling in the backyard is now delicious, nutritious and gluten free. Loaded with 6 grams of fiber, these hamburger buns come fully equipped with the right nutrients to accompany a savory sandwich or classic burger.
Filled with healthy ingredients that are rich in protein, vitamins, and minerals (8g protein, 3g fiber per bagel), these bagels will give you the boost you need to get your morning off to the right start.
Quesadillas, Fajitas, Burritos . . . Oh my! Finally a great tasting gluten free tortilla. Pick some up today and have a fiesta tonight! Available in small or large sizes.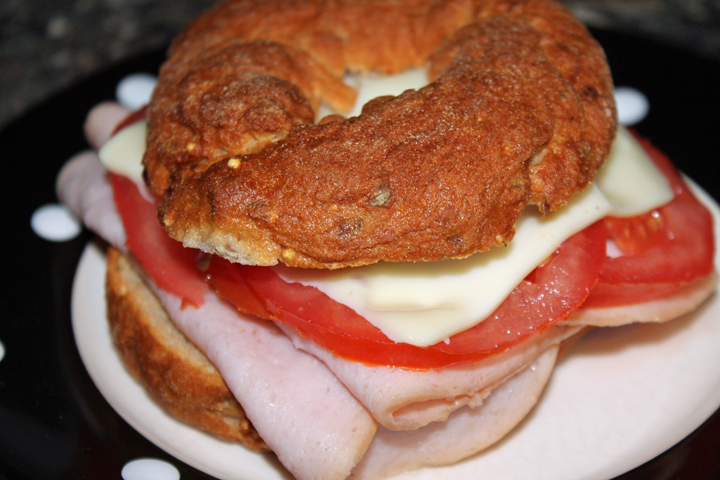 For anyone who has never tasted gluten free bread products,  all I can say is they seem to have a cardboard texture and very little flavor. Sorry, that is the truth without candy coating the facts.  Furthermore, the bread normally is never moist and is a dry crumbly mess. Yet, ask a person with a gluten allergy or sensitivity and they will tell you they would rather sacrifice taste for being symptom free.
On the other hand, Udi's products taste delicious, have wonderful texture, and are full of flavor!  My teen daughter is exceptionally persnickety and she found Udi's gluten free foods to be incredible.  The brownies in particular were a big hit.  They had a rich chocolate taste and a soft, chewy texture. Personally, my favorite item was the granola!  It is a slightly less crunchy than regular granola, but packed with mouthwatering goodness! YUM!
So, the great news is not all gluten free food is created equal!  Udi's products actually taste very good! As we know, coming up with gluten-free lunch ideas that kids will want to eat can sometimes be a challenge.  However, Udi's make it easier to pack your child's lunch with their fun line of gourmet snacks like granola bars, cookies, chips, and muffins.  If you have a child who was diagnosed with Celiac Disease or is gluten sensitive give Udi's Gluten Free Bread a try.  You cannot go wrong!
Stay Connected
Udi's website: http://udisglutenfree.com/
Facebook: https://www.facebook.com/udisglutenfree
Twitter: https://twitter.com/udisglutenfree/
Disclosure: I received product samples from Udi's for review. However, all opinions are of my own.