Looking for a quick delicious home-baked treat without all the fuss of the measuring and messy cleanup? Try Betty Crocker $1 Small Size Pouches! Betty Crocker has always made baking a cinch in the kitchen, but with her new $1 Small Size Pouches, she can save you money too!
Betty Crocker reintroduces a new line of $1 pouches, including favorites like cookies, brownie, muffins, Bisquick biscuits, pancakes, and pizza crust! They're great for everyday—and can add a little spice to any weekday meal—from muffins at breakfast—to cookies after school—to biscuits or pizza at dinner.  Simply add water to Betty Crocker small size pouch muffin mixes and Bisquick Complete Biscuit mixes.

Not only are Betty Crocker snack size pouches easy to make –– but at a low price of just $1 each, they are perfect for every meal! Visit www.bettycrocker.com/smallsizepouch for details!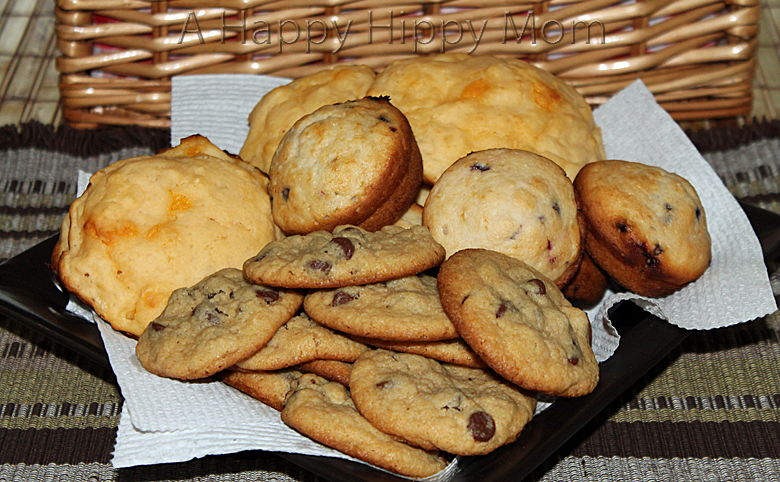 We love the homemade goodness of Betty Crocker in our home.  The small economical pouches are perfect for when you want something fresh baked, but don't have the time to bake from scratch.  Made with quality ingredients, the quick and easy preparation mixes whip up in a flash and taste delicious! And because you are not working with raw eggs and other messy ingredients, the Betty Crocker $1 Small Size Pouches are great for letting little hands help in the kitchen!
Betty Crocker $1 Small Size Pouches make entertaining a small group of party guests inexpensive and simple as well! A wonderful idea would be to purchase and bake several different pouches, create a variety platter of yummy baked treats, and serve them to friends and family at your next last minute gathering. The crowd pleasing snacks will be a huge hit and only take a few minutes to prepare!
I absolutely love the Betty Crocker Small Size Blueberry Muffin Pouch. All you need to do is add 1/2 cup water to the mix, heat the oven to 400 degrees, grease the bottom of the muffin pan, spoon the batter into 6 cups, and bake for approximately 20 minutes.  The mix makes just enough for two people to share at breakfast!
Betty Crocker Small Size Pouches Prize Pack Giveaway!
Courtesy of Better Crocker, through MyBlogSpark, one lucky reader will receive a Betty Crocker  $1 Small Size Pouches Prize Pack containing:
3 samples of new small size pouches: Chocolate Chip Cookie, Triple Berry Muffin, Three Cheese Biscuit
Apron with detachable towel
2 oven mitts
$10 Walmart gift card
Retail Value: $60
To enter the giveaway,  please follow the instructions provided on the Rafflecopter form.  Any comments are welcomed below, but won't count towards the giveaway. Only entries using the Rafflecopter form will be eligible for prize. Thank you!
Open To US Residents Only- age 18 + Ends August 24th, at 11:59 pm (eastern time)! Enter Daily!
"Disclosure:  The product, gift pack, information, and additional sample have been provided by Betty Crocker through MyBlogSpark."