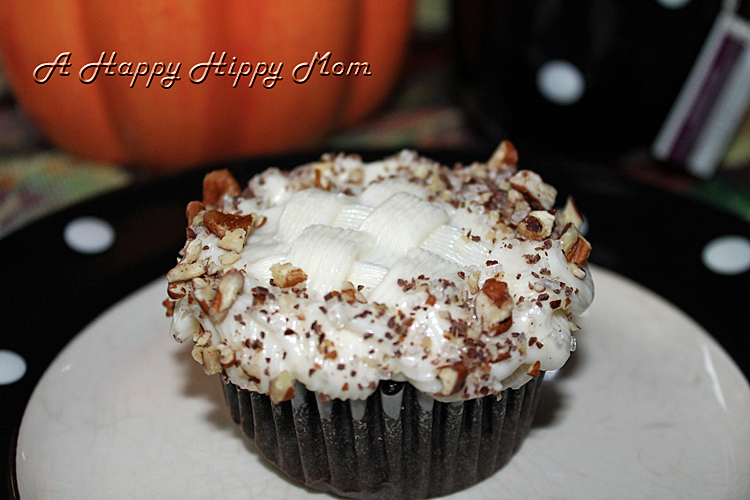 Dazzle your Thanksgiving guests with this chocolate cupcake recipe!  The secret ingredient that makes these Dark Chocolate Cupcakes so moist and scrumptious is pumpkin!  The chocolate cupcakes are rich in flavor with a twist of spice and just the right amount of pumpkin zest to embody the flavors of autumn.  Top with Spiced Rum Cream Cheese Frosting and you will be taken away to sweet heaven!
If you don't want to use canned pumpkin than make your own puree! This chocolate cupcake recipe is a good way of using up those small sugar pumpkins you have lying around outside and not letting your money go to waste.   Larger pumpkins like the ones typically used for jack-o-lanterns can also work, but don't have the nice texture or sweetness of the "Pie Pumpkins." Please do not try recycling any carved pumpkins that have been sitting since Halloween, as they are a bacteria mess and probably are already growing mold.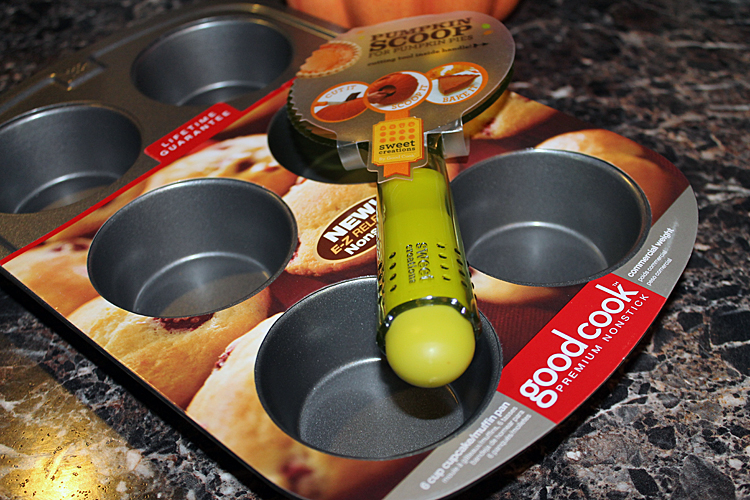 Good Cook Pumpkin Scoop
The thought of making pumpkin puree might seem a bit tedious and scary.  Yet, with the correct tools such as the Good Cook Pumpkin Scoop, the task won't take as long and you will be rewarded with the fresh taste along with knowing you made everything from scratch.  The scoop makes scraping out the pumpkin and cutting it up to bake a cinch!  Unfortunately I did not have any unused pumpkins, so I used fresh packed pumpkin for this chocolate cupcake recipe. However, the scoop is easy to use, has strong plastic serrated teeth for removing the pumpkin's innards and dually has a knife hiding inside the handle perfect for slicing it into pieces.  It is available for purchase at Walmart.
Good Cook Bakeware
For baking the cupcakes I utilized a nonstick muffin pan from Good Cook lined with plain cupcake liners. Remember, your finished baked product truly relies on the quality of pan used.  Good Cook Bakeware is designed to distribute heat evenly for thorough baking without hotspots or burned edges; meaning your cupcakes won't be undercooked in the middle or have those nasty overcooked crispy edges.  The professional gauge steel construction protects against warping, breaking, and staining so your pan stays looking new longer.  The nonstick coating makes removing your baked goods effortless and easy cleaning.  I love the Good Cook products and give their bakeware a rating of 5 out of 5 stars!
Recipe Recommendations
Now for the chocolate cupcakes!  The chocolate cupcake recipe calls for 1 ½ tsp of cinnamon.  To get the spiciest bite, I recommend Saigon Cinnamon.  It has a stronger flavor and really comes out in the taste of the cupcakes.  Make sure to use a good quality dark cocoa like Hershey's as well.  The Spiced Rum used in the frosting was Blackheart Premium, which has hints of vanilla, nutmeg, cedar, and cherry. But any bold spiced rum will do the trick.  Just try to resist your pirate instincts and get some in the frosting before drinking the entire bottle!
Chocolate Cupcake Recipe – Pumpkin with Spiced Rum Cream Cheese Frosting
Dark Chocolate Pumpkin Cupcakes with Spiced Rum Cream Cheese Frosting Recipe!
Recipe by Michelle J author of A Happy Hippy Mom.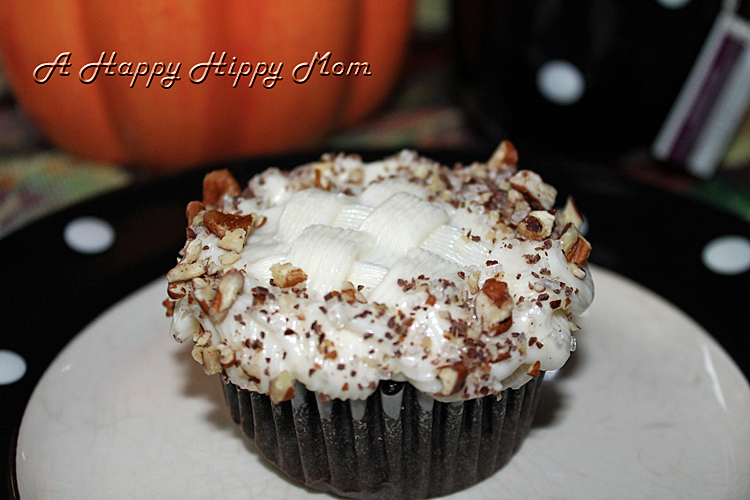 Ingredients
2½ cups all-purpose flour
1¼ cups Dark Hershey's unsweetened cocoa
1 tsp baking powder
1½ tsp baking soda
½ tsp salt
1¼ tsp Saigon ground cinnamon
¾ tsp nutmeg
¼ tsp ground cloves
¾ cups low-fat buttermilk
1½ cups pumpkin purée
2 tsp vanilla extract
2¼ sticks unsalted butter, softened
1½ cups packed dark brown sugar
1½ cups granulated sugar
5 large eggs
Spiced Rum Cream Cheese Frosting
8 oz cream cheese, room temperature
¼ cup unsalted butter, room temperature
4 cups powdered sugar
1 teaspoon vanilla
3 tablespoons Blackheart Premium spiced rum
Optional Garnish
chopped pecans
shaved dark chocolate
Directions
Heat oven to 375 degrees F. Line muffin pan with paper liners and set aside.
Sift the flour, cocoa, baking powder, baking soda, salt, Saigon cinnamon, nutmeg, and cloves in a large bowl and set aside.

Combine the buttermilk, pumpkin, and vanilla in a medium bowl and set aside.

Beat the butter and sugar together in a large bowl using an electric mixer on medium speed, until fluffy. Incorporate the eggs, adding one at a time. Beating until the mixture is smooth and light.


Alternately add the flour mixture and pumpkin mixture, blending well after each addition.

Fill cups ⅔ full with batter.

Bake for 18 minutes, until an inserted toothpick comes out clean. Let cool for 10 minutes in the pan and then remove to a wire rack to cool completely.

Spiced Rum Cream Cheese Frosting
To make the frosting, cream together the cream cheese and butter until light and fluffy. Add the rum and vanilla extract. Gradually mix in the powdered sugar a little bit at a time. Refrigerate the frosting for 20 minutes until it thickens. Frost cupcakes and garnish cupcake edges with chopped pecans and shaved dark chocolate.
The Ultimate Thanksgiving Twitter Party!
Come Join Me, Good Cook, TheFrugalMom and other Good Cook Kitchen Experts!
The Ultimate Thanksgiving Twitter Party, Monday, November 25, 2013 at 6:00 pm to 7:00pm EST On Twitter with hashtag #Thanksgivingtips
Join in as we talk about everything Thanksgiving from turkey prep to decorating the table. Plus get a chance to win a special gift and one of three $200 Thanksgiving Baskets that will arrive in time for your dinner.
Be among the first 500 to RSVP by November 23, 2013 and receive a free set of Turkey Lifters
Click here RSVP.
https://www.goodcook.com/index.php?main_page=twitter_party