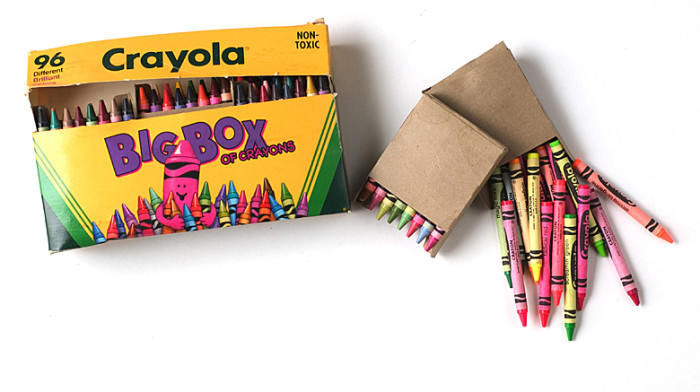 Nothing brings creativity back to the classroom like Crayola!  In addition to backpack essentials like crayons and markers, this year Crayola is helping bring even more artistic excitement back-to-school with a bunch of new cool products including:
 SuperTips Washable Markers Kit
This super-colorful collection of Crayola Super Tips Markers and paper includes 65 pieces in a durable, portable carryall case.
 Twistables Colored Pencils Kit
This "twisted" colorful collection of Crayola Twistables Colored Pencils and paper includes 65 pieces in a durable, portable carryall case.
 Wild Notes Black Notebook
Older kids and even young adults can have fun infusing color into note-taking as they head back to school.
 Wild Notes Black Journal
A smaller 5"x7" size is perfect for taking notes, keeping a personal diary or writing colorful ideas.
Crayola Haul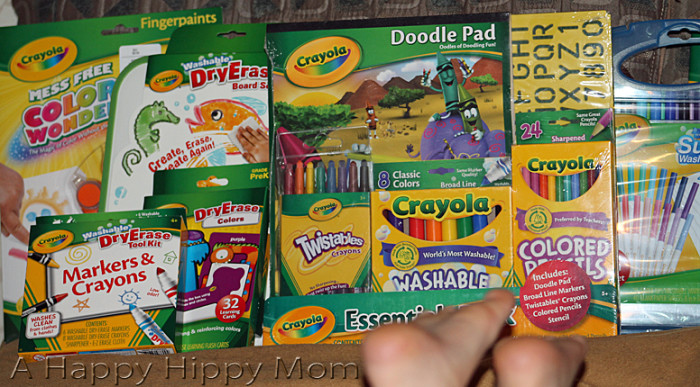 To help prepare for back-to-school, Crayola sent me shopping!  My family decided to head to our local BJ's and scoop up the great BULK Crayola deals they had to offer!  A lot of  the kit items where on sale for $1.00 off!  If I would have purchased everything independently– it would have been much more money. Here is our huge Crayola haul that cost us under $50!
Color Wonder Fingerpaints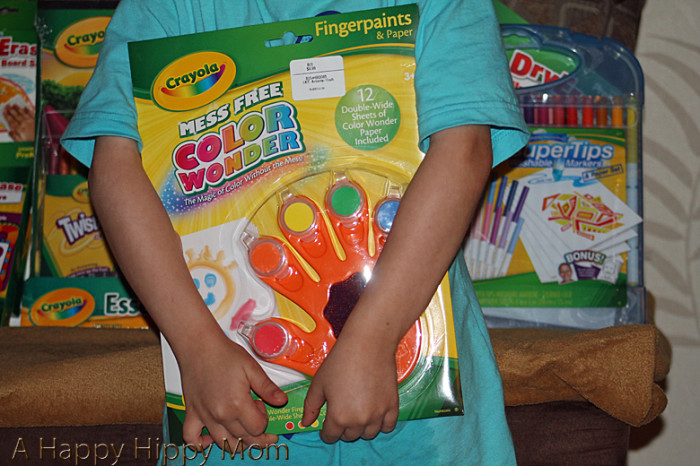 Finger painting is now much easier and cleaner!  With Crayola Mess Free Color Wonder Fingerpaints & Paper kit, kids get all the magic of color without the enormous mess!  These clear, fast-drying gels give kids the real feel of the fingerpainting experience, but the color only appears on the Color Wonder Paper! Plus, unlike traditional fingerpaints these gels don't stain the hands!  The kit comes with 5 Color Wonder Fingerpaints and 12 Double-Wide sheets of Color Wonder Paper.
Washable DryErase Board Set
Crayola Washable Dry-Erase board and markers make it easy for kids to create, erase, and create again! The kit includes 6 Dry-Erase low odor broad-line markers and DryEase Board.
Crayola Essentials Pack
Get all the color fun you need for one low price in this wonderful Crayola Essentials Pack including 60 sheets Doodle Pad, 8 Broad Line Markers, 8 Twistables  Crayons, 24 Colored Pencils, and Stencil.
SuperTips Washble Markers & Paper Set
This super-colorful collection of Crayola Super Tips Markers and paper includes 25 markers, 40 blank paper sheets, and a durable storage case.  The nontoxic markers feature a tip that draws both thick and thin lines.  The ink easily washes out of most clothes and from skin.
DryErase Under the Sea ABCs Kit
Designed for both fun and learning, this kit helps teach children the alphabet, handwriting, shapes, letters, numbers, and colors.  It includes a DryErase Under the Sea ABCs workbook, 32 Dry-Erase Learning Flash Cards, 6 Washable Dry-Erase Markers, * Washable Dry-Erase Crayons, Sharpener, and E-Z Erase Cloth.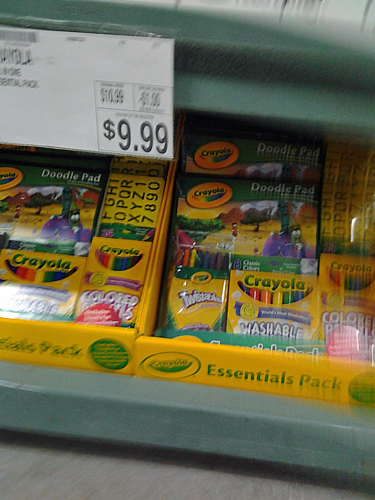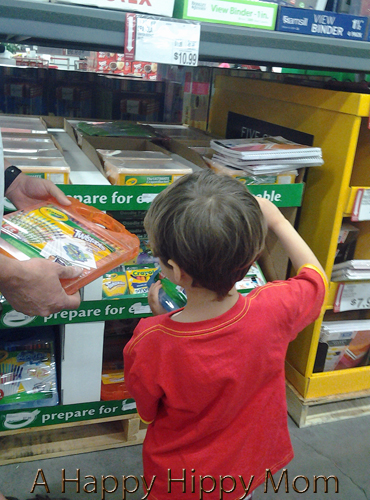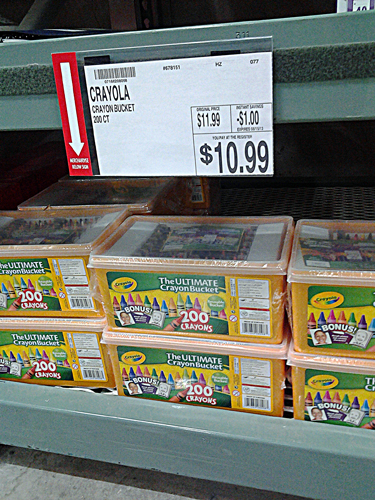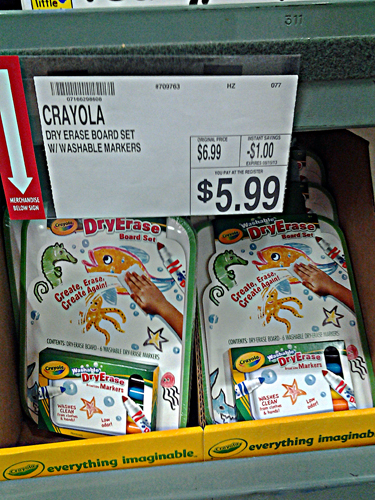 Walmart also had some fantastic deals for crayons and markers!  However, I needed a lot of supplies for homeschooling, so the club store was  a better money saving  option for us.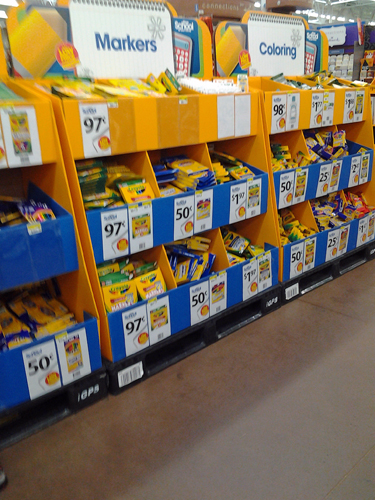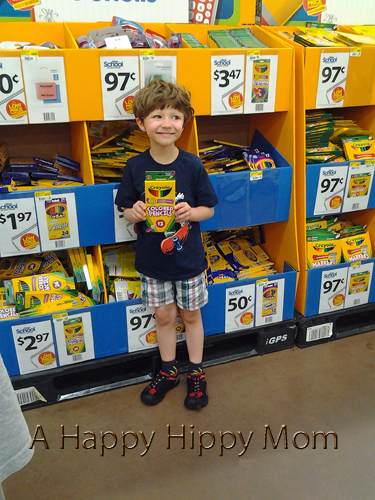 The Crayola Difference
When it comes to crayons and markers, no other company compares to Crayola in my honest opinion!  Ever since the first crayon rolled off the company's assembly line back in 1903, Crayola has inspired kids with their wonderful products.   Here are just a few reasons why they stand out:
-Crayola's washable markers are the World's Most Washable
-The classic markers and colored pencils are preferred by teachers
-Crayola colored pencils are made with reforested wood
The Power of Color
 My son is beginning Kindergarten in two weeks!  I have to admit I am extremely nervous, because I have decided to homeschool him this year.  Even though my 16 year old daughter was homeschooled for the first 4 years of her academic life, teaching my son worries me a bit because he is not as interested in actually learning as she was.  His exact words were "It's too much work."  However, he enjoys coloring and I know these Crayola products are going to be a lifesaver in getting him motivated in wanting to learn!
Believe it or not, in several of my daughter's high school classrooms she is still required to color!  The teachers use the coloring assignments to help the students recall the information and retain it for a longer period of time.  The power of color is amazing!
Crayola Back To School Coupons & Special Offers
Looking for ways to save money on your Crayola back to school supplies?  Right now you can save up to $5 on Crayola products at Target when you purchase specially marked Avery binders and dividers.  Additionally, whenever you buy specially marked Nesquik Powder, check for coupons on the product packaging for up to $10 off on Supertips, Twistables, Crayons and much more!  If you would rather do your shopping online, take $5 off your next $25 purchase with discount code 5OFFBTS at crayolastore.com Plus, orders of $49+ ship free. Offer valid through 8/31.
Stay Connected
Crayola Website – http://bit.ly/R2gIk
Crayola on Facebook – http://on.fb.me/2EUvNI
Crayola on Twitter –http://bit.ly/QZUcS3
Crayola $25 Visa Giveaway
Courtesy of the Crayola team, one lucky reader will win a $25 Visa Card to help fund their own Crayola haul! To enter the giveaway,  please follow the instructions provided on the Rafflecopter form.  Any comments are welcomed below, but won't count towards the giveaway. Only entries using the Rafflecopter form will be eligible for prize. Thank you!
Open to U.S. residents – age 18 + Ends September 10th, at 11:59 pm (eastern time)! Enter Daily!
Disclosure: "The Crayola product, information, and additional gift pack have been provided by Crayola."