Can you believe Pampers, the first baby care brand to distribute disposable diapers around the globe, is turning 50?  In celebration of their birthday and honoring these 50 special years of parenting, Pampers unveiled its Little Miracle Missions program.  Believing that every baby is a little miracle that deserves to be celebrated, supported and protected, the program promotes acts of kindness to little miracles (babies) and their families while encouraging parents to "pay it forward" and support others.
The brand recently kicked off the Little Miracle Missions campaign by delivering more than 30,000 care packages to families with babies in level-three Neonatal Intensive Care Units (NICU) across the country, for the care of premature or ill newborn babies. Pampers continued the celebration by partnering with a variety of celebrity parents who have their own personal miracle stories.  Actors Joey Lawrence and Mark Consuelos, alongside actresses Ali Larter and LaLa Anthony personally delivered care packages and a thank you basket to The Mount Sinai Hospital's Neonatal Intensive Care Unit (NICU) in New York City,  and their staff.
"I am honored to join Pampers in celebrating their 50th birthday and kicking off the Little Miracle Missions program," commented Joey Lawrence. "Being a parent is one of the most difficult jobs in the world and I remember all the support my family and friends gave me, especially during the recent delivery of my daughter, Libby. My baby was delivered prematurely and I know first-hand what it's like to be a parent having a baby in the NICU. That's why it's important for me to be able to lend that same support and awareness to others going through similar experiences. Pampers Little Miracle Missions program helps me to do that, and it gives you the chance to, as well. With your commitment to support a little miracle in your life, Pampers will respond to touch the lives of many more!"
How Parenting Has Evolved
I found this information extremely interesting and wanted to share with you!  In celebration of their 50th year anniversary, Pampers recently did a study  to look back at how parenting has evolved in the United States over the last five decades.  You might be surprised at some of the changes.  Check it out!
Multiple births have increased

:  In 1973, multiple births (the birth of more than one child) accounted for under 2 percent of births in the U.S. ; in contrast, in 2008, multiple births accounted for almost 10 percent of births.(1)

The use of fertility treatments is on the rise

:  The number of ART (Assisted Reproductive Technology) procedures reported has more than doubled from 59,142 in 1995 to 148,055 in 2008.(2)

There are more babies born to unmarried women

:  The percentage of births to unmarried women has increased dramatically in recent decades, from 5.6 percent of all births in 1961 to 40.6 percent in 2008.(3)

Today's birth rate is comparable to 50 years ago

:  After the birth rate decreased substantially in the 1970's and 1980's, recent birth data shows that the 4,247,694 babies born in the U.S. in 2008 is a marginally smaller amount than the 4,268,326 babies born in the U.S. in 1961.(4)

Gestational surrogacy is becoming a more viable option

:  The number of infants born to gestational surrogates almost doubled from 2004 to 2008, from 738 babies born to nearly 1,400.(5)

The average age of the first-time mom has increased

:  In 1961, the average age of a first-time mother was 21.8 years; in 2006, it was 25 years.(6)

Stay-at-home fathers are becoming more common

:  In 1994, there were 76,000 fathers who responded as primary caregivers in families with children under the age of 15.  That number reached 154,000 in 2010.(7)
Get Involved!
This is a wonderful program and I'm sure your interested in how you can get involved in the act of kindness. You can easily participate in the Miracles Missions programs, and support little miracles across the country, by logging on to Pampers Facebook page. Pampers is also asking everyone to pay-it-forward by participating in the first Little Miracle Mission- to congratulate and offer support to an expectant mother with a gift or surprise gesture. Once more than 2,500 people pledge that they have achieved this mission, Pampers will respond by giving baby showers to expectant mothers nationwide just in time for Mother's Day. Pampers will issue different missions throughout the entire year to celebrate all aspects of parenthood, and with the help of parents, family and friends, they hope to touch the lives of every baby born in the next year.
I'm Paying It Forward!
Pampers challenged me to find a way to celebrate, support or protect a new little miracle in my own community by donating a $50 Visa Gift Card to me.  I was told how I use the gift card is entirely up to me so I've decided  to purchase  $50 worth in diapers and give them to  an expecting mother who's husband works at my hubby's workplace.  I do not personally know her which makes it even better!   I'm hoping the act of kindness inspires her someday to do the same for someone else who is having a baby.  Giving is contagious and once you start a chain of events it can cause a wonderful domino effect!
I believe in making money stretch so I've clipped as many diaper coupons as I could find to help get the most for my money!  Saving just a few dollars can go towards another pack of diapers!  I can't wait to surprise the expecting couple!
$50 Giveaway!
I've been given the opportunity by Pampers to challenge one of my readers to pay it forward by giving them a $50 gift card.  To enter the giveaway leave me a comment explaining your act of kindness mission.  Some ideas would be to use the money to purchase diapers for a family who could use them, use the money to prepare meals for a family, or even use the money to host a larger fundraiser for a family.  What ever you decide is entirely up to you!
EXTRA ENTRIES
1. Read any of my other reviews without a giveaway and leave me a comment there.  Then come back here letting me know you did. Make sure you leave ten separate comments  (example: Left a comment at review extra entry 1, Left a comment at review extra entry 2, Left a comment at review extra entry 3, ect.).   This is worth 10 extra entries.
2.Mention the giveaway on your own blog linking back to this post and Pampers.  Leave an additional comment with a link to where you blogged about the giveaway. This is worth 5 extra entries.  Make sure you leave five separate comments. (example blogged extra entry #1, blogged extra entry #2, blogged extra entry #3, ect…)
3. Follow my blog and leave me an additional comment. ( There is a Google Friend Connect widget on my footer that shows my followers. Just click follow). If you already follow leave me a comment letting me know you already do. (3 extra entries)
4. Enter any of my current giveaways and let me know you did here. (3 extra entries)
5. Follow @ahappyhippymom on Twitter plus tweet about the giveaway. Please make sure you leave the link where you tweeted in your comment. YOU CAN TWEET ONCE PER DAY TO INCREASE YOUR CHANCES OF WINNING.
6. Follow Pampers on Twitter (2 extra entries)

6. Subscribe to my feed and leave a comment. If you already subscribe leave a comment telling me you are already a subscriber.
7. Like Pampers on Facebook.  This is worth 2 extra entries.
8. Like ahappyhippymom on Facebook. Worth 2 extra entries
Winner will be chosen at random via Random.org.   Info will be forwarded to sponsor.
Open To US Residents Only- age 18 +
The contest ends May 28,  11:59 PM eastern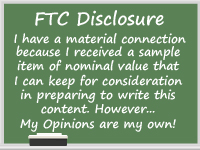 *NOTE: The two $50 Visa Gift Cards donated to me and my readers are not intended as payment for any favorable opinions.  Any feedback or opinions I chose to give, either positive or negative, were entirely of my own.
[ad#Google Adsense-1]