Disclosure: GourmetGiftBaskets.com provided me with product to facilitate this post.  The words and opinions expressed in this review are strictly of my own.
Valentine's Day is about declaring your love to that someone special in your life.  It's not about putting yourself financially in debt with big expensive lavish gifts.  For most of us, we are still recovering from the past year's holidays and don't need any extra stressful expenses.  With that being said, letting the day pass without doing anything for the person you adore is plainly thoughtless. You are going to look like a colossal schmuck and cheapskate.  So, being that Valentine's Day is less than a week away, if you haven't found anything yet to surprise your true love with, we have your back!  Here are a few affordable Valentine's Day gift suggestions from GourmetGiftBaskets.com!
Now, I don't know about you, but we have been trying to avoid large crowds, because of the severe flu season.  Shopping online seems to be the way to go!  Plus, GourmetGiftBaskets.com delivers your gift straight to your sweetheart's door.  It is the perfect solution for last minute Valentine's Day gifts that are delightfully thoughtful.
Here are four GourmetGiftBaskets.com suggestions (all under $100) to get your Valentine's Day gift shopping dilemma solved!  The gifts are quickly shipped and will surely place a smile on your significant other's face.
Send A Bear Hug Care Package, $49.99, GourmetGiftBaskets.com
"If your Valentine is far away — at college, across the country, or in the military — he or she needs a little love from afar. This Bear Hug Care Package would be perfect to inspire a smile."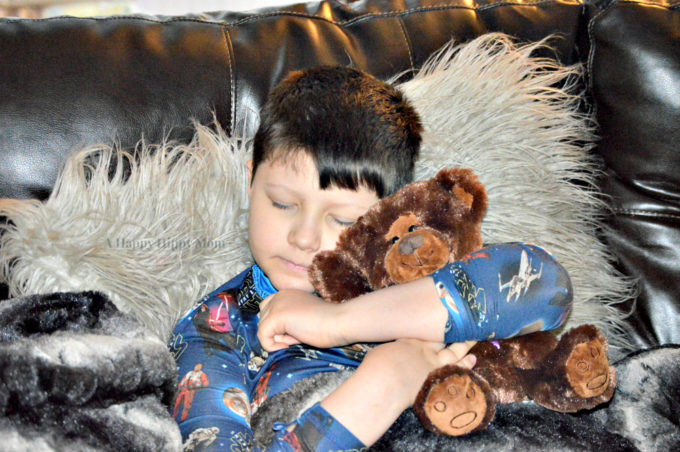 We received the "Sending All My Love Valentine's Day Care Package" for review.  The gift is perfect for wanting to give your long-distance sweetie something soft to cuddle.  The cute cuddly bear comes accompanied with a round decorative signature box filled with decadent treats.  The beautiful box can be reused to store small mementos like photos, jewelry, and other keepsakes.  If you are looking for a sweet gift your darling will remember and be able to use all year long, don't hesitate to send this lovely care package to help say I love you!
Teddy Bear – A beautifully crafted and snuggly teddy bear made from soft, plush fabric and adorned with a silky purple bow.
Dark & Sea Salt Caramel Filled Square by Ghirardelli – .53 oz. – A square of dark chocolate, filled with creamy caramel and topped with a pinch of sea salt.
Milk Chocolate Caramel Square by Ghirardelli – .53 oz. –  Smooth milk chocolate square infused with creamy caramel filling.
Chocolate Covered Cherries by Marich – 2.3 oz. – Freshly picked cherries covered in sweet and smooth milk chocolate.
Caramel Chocolate Chunk Cookies by Kimball Lake Bakery – 2 oz. – Delicious, crispy cookies that are filled with rich chocolate chips and gobs of sweet caramel.
Belgian Chocolates by Annalie's Chocolates – 1.76 oz. – A quartet of Belgian truffles in flavors like dark chocolate, cherry, white chocolate cappuccino and chocolate mousse. 
*Out of stock? Check out this similar Teddy Bear & Chocolates Valentine's Day Gift Basket!
"Happy Valentine's Day" Cookie Cake, $29,99, GourmetGiftBaskets.com
This is the gift to get your Valentine if you really don't know what else to select, as it's a great, big, heart-shaped chocolate chip cookie (or the equivalent of 30 regular-sized cookies).
"Be Mine" Valentine's Day Brownie Cake, $29.99, GourmetGiftBaskets.com
Remember the little candy hearts with the messages on them? Well, imagine one of them that's a heart-shaped brownie cake and you have this very yummy gift that's big enough to share.
Beer My Valentine Bucket — $69.99, GourmetGiftBaskets.com
Want a great gift for just about any man? This is it. It's a bucket replete with six micro brew beers, Honey Mustard gourmet popcorn, Sea Salt and Cracked Pepper gourmet popcorn, beef jerky and other snacks. 
Visit GourmetGiftBaskets.com for more Valentine's Day Gift Baskets filled with decadent chocolates, exquisite treats, champagnes, and other delightful treats!
QUESTION:  What Valentine's Day Gift (visit here) would you like to receive the most from GourmetGiftBaskets.com?
STAY CONNECTED WITH GOURMETGIFTBASKETS.COM
Visit the GourmetGiftBaskets Website
Like GourmetGiftBaskets on Facebook
View  GourmetGiftBaskets on Pinterest
Follow GourmetGiftBaskets  on Twitter
GOURMETGIFTBASKETS.COM VALENTINE'S DAY GIFT GIVEAWAY
Courtesy of our friends at GourmetGiftBaskets, a lucky reader is going to receive a "Sending All My Love Valentine's Day Care Package."  A $49.99 Value!
To enter the giveaway, please follow the instructions provided on the Rafflecopter form. Please also leave a relevant comment to show your support!  Thank you!
Open To US Residents Only- age 18 + Ends February 24, at 11:59 pm (eastern time)! Enter Daily!