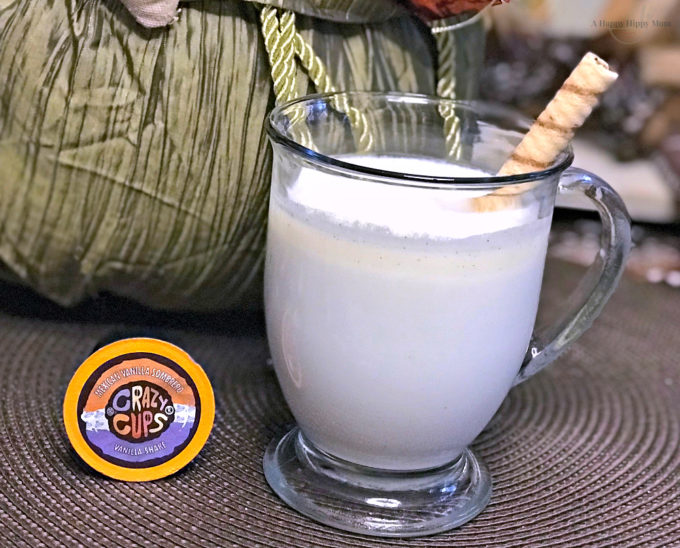 Disclosure:  Crazy Cups provided me with product to facilitate this post.  The words and opinions expressed in this review are strictly of my own.
Whether it's the first soothing sip, eye awakening aroma, or the caffeine that helps push me through the day, nothing is better than my morning cup of coffee.  So, when this month's Crazy Cups delivery was brewed I was expecting a new delicious cup of fresh flavored coffee to enjoy.  However, what came out of my Keurig brewer was a pure white substance and I was like "What is this some new type of coffee?"  I should have read the box better!  The Mexican Vanilla Sombrero Vanilla Shake is not coffee!  It is the first flavor of Crazy Cups brand new beverage line of Vanilla Shake.  It brews like you normally brew any other Crazy Cup Single Serve Capsule, but offers a change of pace for anyone who isn't in the mood for coffee.
Mexican Vanilla Sombrero Vanilla Shake contains 100 mg of caffeine and is tasty alternative to those individuals who do not want coffee, but still seek the caffeine.  The beverage can be brewed hot or cold and contains 90 calories per serving.  With that being said, it probably isn't for everyone and my initial response I must admit I was taken back by it.  Partly because I brewed it on the 10oz setting instead of the recommended 8oz, so it was really watered down.  I tried experimenting with the new Crazy Cup beverage by brewing over ice, lowering the water setting, and adding cream to it to make it a bit creamier.  The cream made it way too sweet and that was a no go!  Then I decided to heat a cup of milk and dump the capsule in.  OH WOW!  I know it probably isn't intended to be made that way, but it was the creamiest, tastiest, thick hot beverage bursting with vanilla flavor I have ever had!  Purely delicious and soothing!  I am looking forward to trying each one of the new flavors from the Crazy Cups Vanilla Shake line!
If you are looking for an alternative to drinking coffee, give the Mexican Vanilla Sombrero Vanilla Shake a try!  The beverage would be excellent to serve your holiday guests during entertaining.  It is versatile and can be served hot or cold, with milk, or even as a dessert beverage with a scoop of ice cream!  Happy sipping!
Crazy Cups Mexican Vanilla Sombrero Vanilla Shake Product Description:
Every cup of our Mexican Vanilla Sombrero comes with its own mariachi band.  Take a sip and close your eyes, you'll see. 
The Single Serve Cups contains 20 grams in each cup.
Dairy-based, sweetened latte beverage contains no coffee.
Contains 100 mg of caffeine.
Compatible with most Keurig brewers including the Keurig 2.0 brewer.
Contains 90 Calories per serving
Use cool-peel-recycle technology – The cups are recyclable.
Ingredients: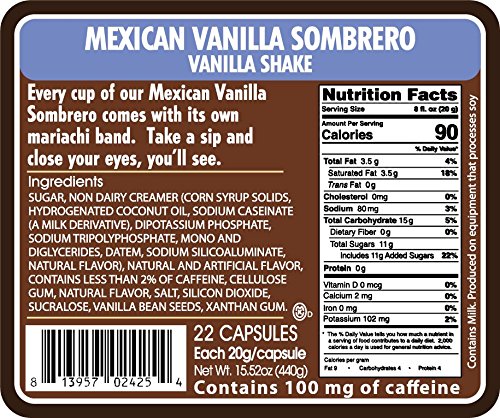 STAY CONNECTED
Like Crazy Cups on Facebook
Follow Crazy Cups on Twitter
Crazy Cups on Pinterest
Crazy Cups Mexican Vanilla Sombrero Vanilla Shake Giveaway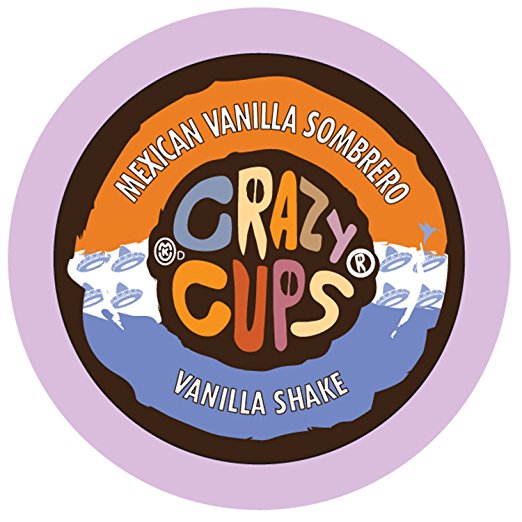 Courtesy of our friends at Crazy Cups, a lucky reader is going to receive a delicious box (22 count) of Crazy Cups Mexican Vanilla Sombrero Vanilla Shake Single Serve Capsules!
To enter the giveaway, please follow the instructions provided on the Rafflecopter form. Please also leave a relevant comment to show your support!  Thank you!
Open To US Residents Only- age 18 + December 15th , at 11:59 pm (eastern time)! Enter Daily!