Disclosure:  I was provided with product to facilitate this post.  The words and opinions expressed in this review are strictly of my own.
Video games, gaming consoles, and gaming accessories are always popular asked for items this time of year.  The gaming products seem to fly of the shelves and are the first items to be out of stock during the holiday shopping rush. Why?  Mainly because gamers are always seeking to take their gaming experience to a higher level with the newest gadgets.  The Christmas season just so happens to be the perfect reason to upgrade gaming equipment to achieve the ultimate playing environment.
One of the most essential elements of great gameplay is having a quality gaming headset that can deliver rich audio, is extremely comfortable for long usage, and has a clear microphone for player communication.  Being able to immerse yourself within the game for the best gaming experience and competitive edge depends on being able to hear every little blast, pop, footstep and audio detail.  Without great sound, the gaming experience just isn't complete!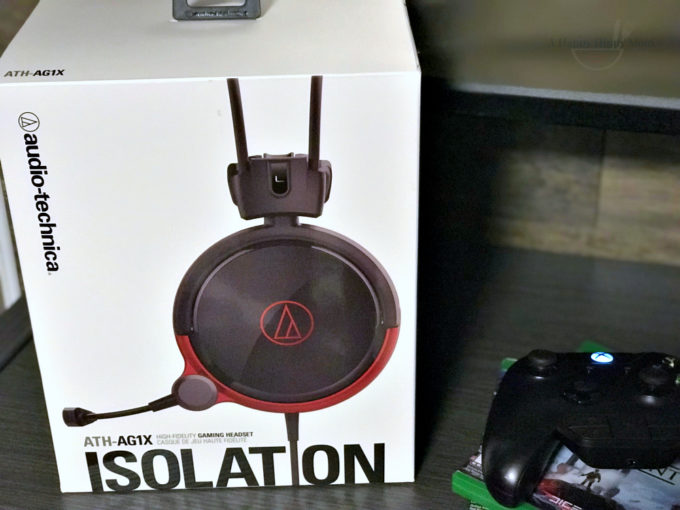 Audio-Technica's High-Fidelity ATH-AG1X Gaming Headset
Recently, we had the opportunity to test out Audio-Technica's High-Fidelity ATH-AG1X closed-back (noise isolation) Gaming Headset.  The gaming headset sports newly designed 55mm dynamic drivers for powerful audio and has an overall impressive performance.  Delivering crisp and clear sound with deep resonating bass (attributable to the newly implemented Double Air Damping System) this headset is the real deal offering gamers an amazing soundstage with how the audio is intended to sound.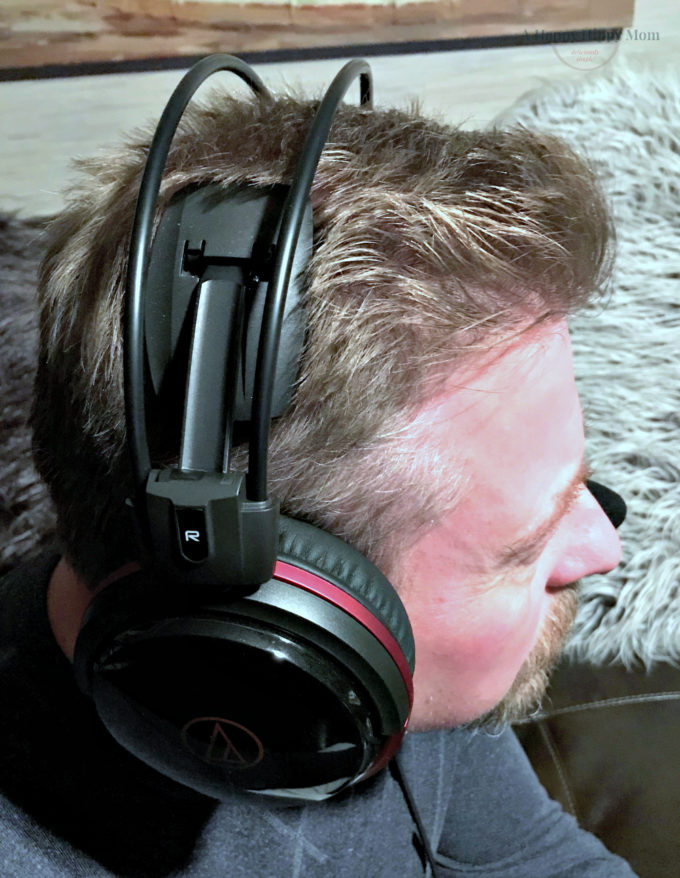 3D Wing Support System-Ultimate Comfort
Tired of adjusting your headphones to get the perfect fit?  The ATH-AG1X features a futuristic self-adjusting 3D Wing Support Housing design (two padded flaps that fold in from the sides and rest on your head) that automatically adapts to your head for ultimate comfort.
Extremely lightweight, the ATH-AG1X has large soft earcups making the gaming headset ideal for the gamers who seek comfort for those 4 hours or more playing sessions.  No rubbing, annoying adjusting, or neck-aches from hours of wearing.  In fact, you forget they are on your head for total concentration on gaming during extended usage. The ATH-AG1X  is one of the most comfortable gaming headsets we have ever tested!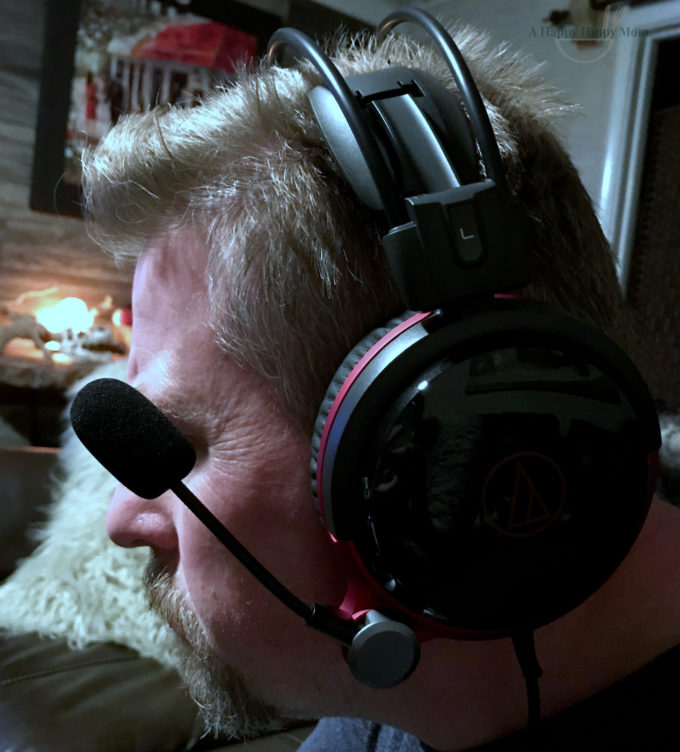 Premium Gooseneck Microphone
ATH-AG1X is equipped with a flexible microphone for in-gaming communication.  Now, we found the microphone to be good, but there is a bit of design quirks to discuss.  One, the microphone is flexible, however it doesn't fully retract.  It's rather large and if you plan on just listening to music it could be slightly bothersome, since it only folds up ¾ of the way leaving it in line of your peripheral vision.
Additionally, the microphone comes with a windscreen that fits onto the mic to combat unwanted wind and breath noise.  The clarity of the microphone is rather remarkable with little to no distortion, yet it also depends how close you have it to your face.  So, it might take some testing and adjusting to get the exact sound you are looking for.  We found it to be the best pulled away from the face instead of having it too close to our mouth.
The microphone's "volume/locking mute switch" is conveniently located on the headset's cable cord (3.9 feet long) for easy one-hand controlling.  It's a simple push up on/off button making it easy to use with a volume wheel on the side.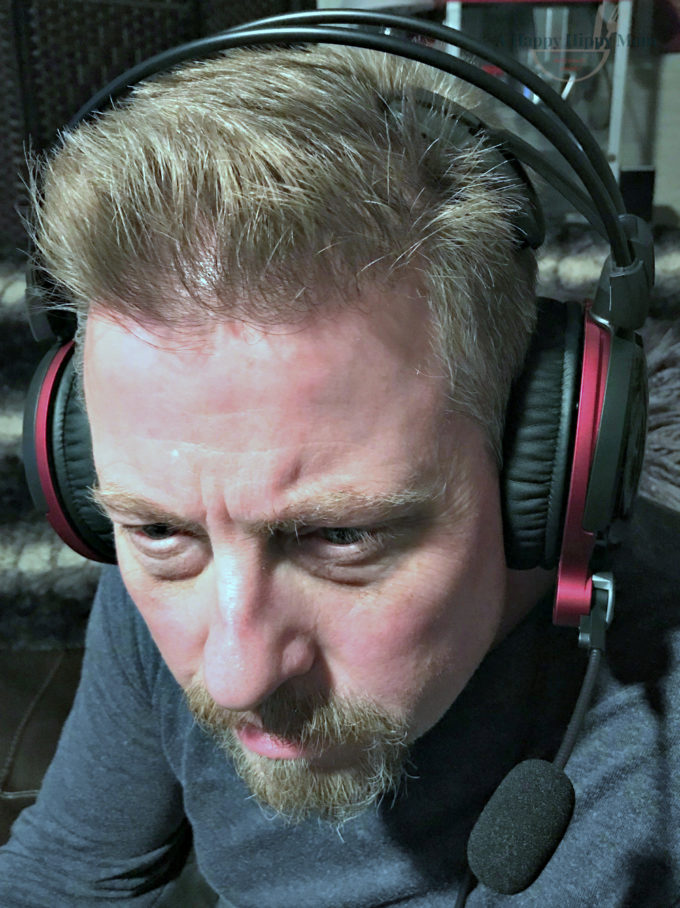 Compatibility and Music Sound Quality
ATH-AG1X is compatible with PS4, iPad, iPhone, laptops & PC.   The gaming headset is also compatible with Xbox One using the Xbox One Stereo Headset Adapter.  However, keep in mind that purchasing the adapter is going to set you back an extra $24.99 on top of the $299.99 for the headphones.  Don't try plugging it straight into an Xbox One remote equipped with a 3.5 mm audio jack.  For some reason, the headphones have little to no sound and the adapter is needed for full function.  We did test the gaming headphones on the Xbox One playing Battlefront, GW2, and various other games.   Overall, the headset worked incredible.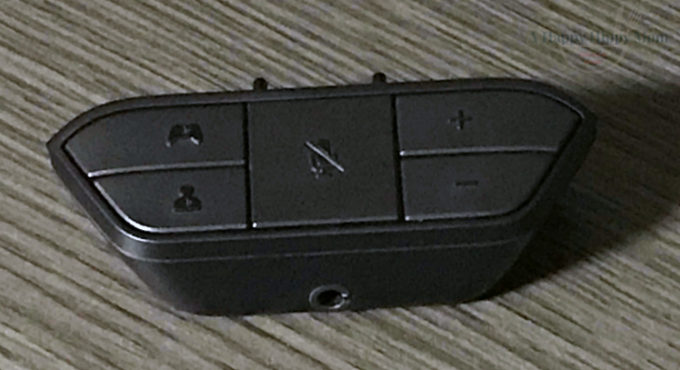 For music sound quality testing, we tried the gaming headset using the iPhone Plus 7 (using the iPhone headphone adapter) and streamed George Clinton and Prince "We Can Funk" for evaluating bass along with "Redbone" by Childish Gambino, "Animals"  from Martin Garrix, and other musical favorites.  The audio quality is ummmm…AMAZING! Crisp, clean sound with deep resonating bass! Truly flawless!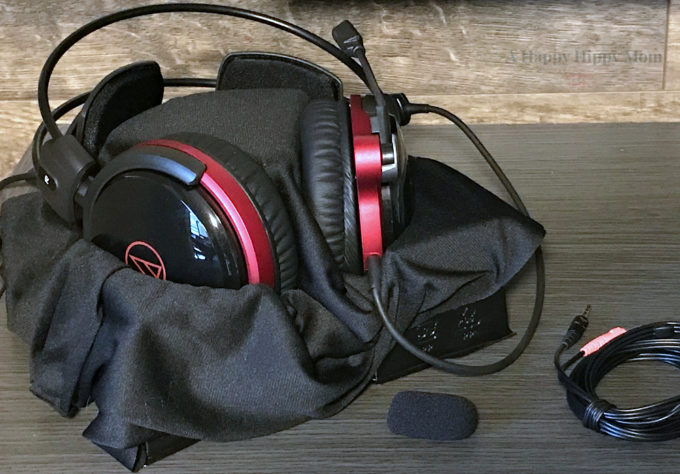 What's in the Box
The ATH-AG1X is packed with care.  In the box you will find…
ATH-AG1X High Fidelity Closed Back Isolation Gaming Headset
Windscreen for microphone
2.0 m (6.6′) extension cable
Cloth (shipping protection)
Instruction manual
Specs
Type: Closed-back dynamic
Driver Diameter: 53 mm
Frequency Response: 5 – 35,000 Hz
Maximum Input Power: 1,000 mW
Sensitivity: 100 dB/mW
Impedance: 50 ohms
Weight: 320 g (11.3 oz), without cable
Cable: 1.2 m (3.9′)
Connector: 3.5 mm (1/8″) gold-plated stereo mini-plug (4 pole)
Accessories Included: 2.0 m (6.6′) extension cable; windscreen
Type (Microphone): Condenser
Sensitivity (Microphone): -41 dB (0 dB=1 V/Pa, 1 kHz)
Frequency Response (Microphone): 100 – 12,000 Hz
Polar Pattern (Microphone): Supercardioid
Sold Separately: Earpads
Color: Red/Black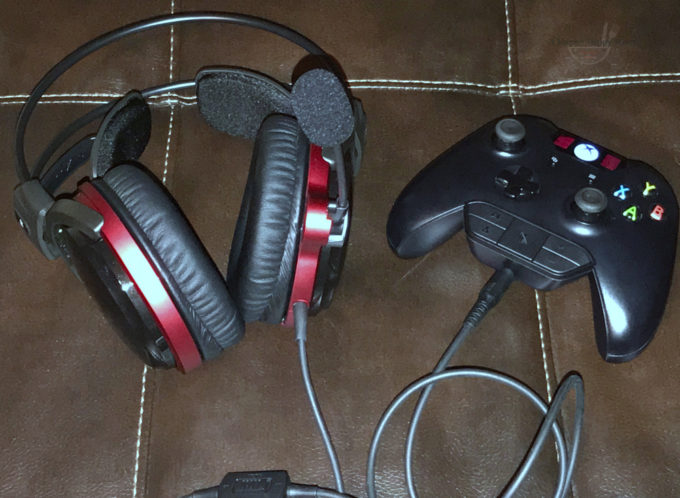 Final Thought
Audio-Technica's High-Fidelity ATH-AG1X Gaming Headset has a higher end price tag of $299.99.  If you have a serious gamer on your shopping list the headset makes an awesome unforgettable holiday gift!  Depending upon your shopping budget, if you can afford to put this technology beauty under the tree don't hesitate!  In our honest opinion, the audio quality, 3D Wing futuristic design, and total performance is superb.  The comfort is in its own class with an extreme lightweight fit and soft padded ear cups. The closed-back design gives true isolation that eliminates unwanted background distractions for complete gaming immersion.
What does the headset lack?  The only thing we can think of is we wish a good protective case came with it.  For the price tag of $299.99, the gaming headset should come with some protection!  So, just a thought—if you plan on purchasing these headphones get yourself a good case to protect your investment.
Gamers looking to take their gaming environment to the next level should checkout Audio-Technica's ATH-AG1X!
About Audio-Technica
Celebrating over 50 years of audio excellence, Audio-Technica is a recognized leader in the development and manufacture of high-quality personal and professional audio equipment. Founded in Japan in 1962 by Hideo Matsushita, the company made its name by manufacturing state-of-the-art phonograph cartridges and tonearms. Today, Audio-Technica is a worldwide group of companies devoted to creating high-performance microphones, headphones, wireless systems, mixers, turntables, phono cartridges and other electronic products.
A reputation for quality, durability, performance and value has made Audio-Technica products the first choice for many of today's top musical artists and audio engineers, and for discerning listeners everywhere. Drawing from its audiophile heritage, Audio-Technica remains dedicated to providing music enthusiasts with great-sounding, innovative audio gear, including the award-winning QuietPoint active noise-cancelling headphones, popular ATH-M50x monitor headphones, versatile USB microphones, and new Hi-Res Audio headphones and high-fidelity gaming headsets. Learn more at www.audio-technica.com.
Stay Connected
Like Audio-Technica on Facebook
Follow Audio-Technica on Twitter
Visit Audio-Technica on Instagram
Discover Audio-Technica on Pinterest