Disclosure:  K&H provided me with products to facilitate this post.  The words and opinions expressed in this review are strictly of my own. 
I don't know about you, but we are looking forward to the holiday season!  The holidays bring good cheer to those who truly embrace the season with friends and family.  I think the world needs a kick of happiness and some positive distraction from all the negativity flowing from the media.
This year we want to get a jump on the holiday gifts, so we can sit back and enjoy the festivities without the hustle and bustle of the shopping season.  From our family to yours, we have scoured the market to find the best of the best in pet gifts to surprise your furry friend.  Each one of these recommended products have been personally tested by our furry family members and have made the "A" list for excellence.
Below is our choice of gifting ideas to cover the beloved feline and canine on your shopping list! The suggestions include several NEW product offerings from K&H, a company offering a huge selection of unique innovative pet items. From the always nice to the occasional naughty furry companion in your home, here are the top 5 pet gifts from K&H that made our 2017 Holiday Gift Guide!
K&H Bomber Memory Sofa Medium Gray
Treat your best friend to the ultimate luxurious sofa to curl up on!  Every good dog needs a place to rest their joints and bones!  This Bomber Memory Sofa is quality made from stylish faux distressed leather with a comfortable memory foam base.  The quilted sleep surface provides a super soft place for your buddy to snooze away, while the overfilled boasters add the extra support dogs love.

My Pomeranian loves this pet sofa!  She feels like a little queen on it!  Plus, it looks great in the Livingroom and acts as a warm barrier between the cold floor.  Additionally, the bolsters and base memory foam can be removed for machine washing.  It's a fabulous pet bed for the price of $149.99!
The Bomber Memory Sofa is currently available in the colors of brown and gray.
Dimensions
Medium – 24″ L x 33″ W x 8.5″ H
Large – 30″ L x 41″ W x 9″ H
Item Weight
Medium – 7 lbs
Large – 12 lbs
Warranty             1 Year
K&H Heated A-frame
Here is EVERY felines dream!  Check out this awesome cozy Heated A-frame from K&H!  The heated A-frame can be used indoors OR outdoors!  It comes with a super plush cushioned floor that is weatherproof and thermostatically-controlled.  Additionally, it only uses 20 watts of power, so it won't drastically increase your energy bill.  Great for protecting your fur ball from cold weather conditions and those windy nights.   The unique A-frame design allows for the Heated A-frame to be easily collapsed for storing.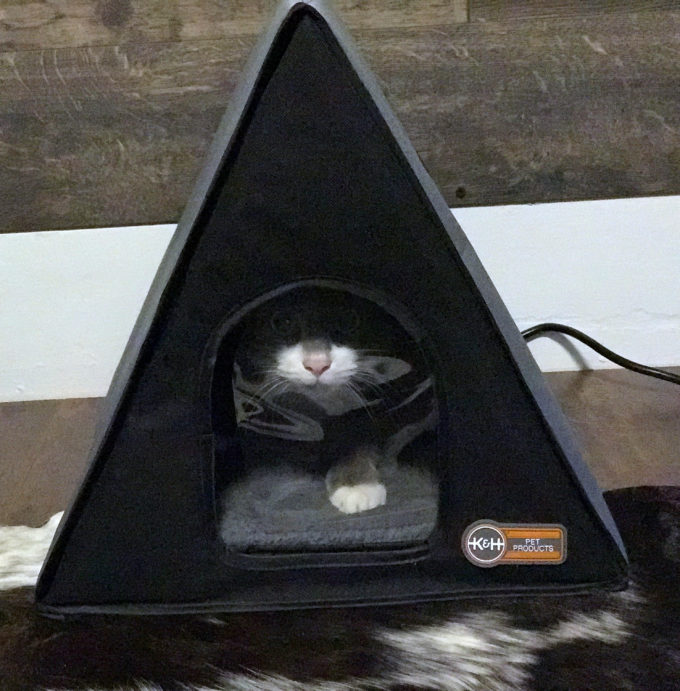 My kitties enjoy fighting over who is going to get to sleep in the innovative Heated A-frame!  Cats naturally like to curl up with something warm, so the heated kitty home is an amazing relaxation treat for them.  The home adds a modern touch to any room and is also a friendly conversation starter!
Dimensions        18″d x 14″w x 14″h
Item Weight       3 lbs.
Wattage               20 watts
Cord Length       5.5 ft.
Warranty             1 Year
Suggested Retail Price of $99.99.
K&H K-9 Ruff n' Tuff
Looking for a pet bed for your chewer or digger?  Look no further than this highly durable K-9 Ruff n' Tuff Indoor-Outdoor Pet Bed!  The oversized plush pillow like bed is constructed from extra durable 1260 denier polyester fabric and is great for the puppy who is just learning not to chew their stuff.  What makes this pet bed super-duper nice is how the polyfil stuffing is channeled within a liner for protection.  Additionally, the bottom of the bed closes with (Velcro) hidden hook/loop fasteners, which is fantastic for those chewers who are attracted to shiny things like zippers!

I cannot even tell you how many pet beds we have gone through over the years from my dogs who enjoy finding the smallest hole to pullout the fiberfill!  Nothing is more frustrating than paying for a beautiful bed to have your dog destroy it within minutes!  The K-9 Ruff n' Tuff Indoor-Outdoor Pet Bed is made of extra touch material and keeps the stuffing inside! It is fantastic for my larger Labs.  Makes a fabulous gift this holiday season!
*AWESOME gift for the eco-conscious households!  The bed is made from recycled materials!
K-9 Ruff n' Tuff Indoor-Outdoor Pet Bed is available for the price of $89.99 and comes in the colors Navy Blue and Chocolate.
Dimensions
Medium – 27 in x 36 in x 3 in
Large – 36 in x 48 in x 4 in
Warranty             1 Year
K&H EZ Mount Penthouse
Have a cat who likes to jump up on the windowsill to look outside?  Get your fuzzy friend an amazing EZ Mount Penthouse for the holidays!  The cat paradise easily fastens to any desired window with 6 extra strong suction cups (included) and is even strong enough to accommodate multiple cats.  It comes with a built-in ledge for easy entering and exiting.  Kitties will be super cozy with the super plush microfleece pad removable) along with the microfleece top which acts as an additional place to sit. Additionally, the cover can be removed for washing!

WOW!  This is such a very cool product!  The EZ Mount Penthouse is the perfect platform landing for my two fur balls.  As we all know, kitties love to look out the windows to view the birds and other outdoor goodies.  The penthouse is great for the elevation my cats enjoy along with an incredibly soft microfleece pad for pampering and napping.  It was simple to setup and is collapsible when you want to store it.  The trick is to make sure the window you are installing it on is clean without any dirty residue.   The innovative pet product is a giant hit in my home!
Dimensions        23″ x 19.0″ x 9.5″
Warranty             1 Year
Suggested Retail Price of $89.99.
K&H Kitty Tippy Scratch n' Track
Catnip, two rolling balls, and a place to scratch—a cat couldn't ask for anything more!  The Kitty Tippy Scratch n' Track lets your kitty use their natural instincts for scratching and clawing on a large cardboard surface instead of your furniture and carpets!  There are two balls (one on each end) to bat around along with a small bag of catnip to encourage playtime.  Optional "Tippy rockers" can be installed on the bottom of the toy for extra teetering fun.  Fantastic pet toy for keeping your kitty off your Christmas tree and occupied!

Dimensions        20.5″ x 9.5″ x 2″
Item Weight       2 lbs.
Suggested retail price of $38.00
Visit K&H for more information and innovative pet products for the holidays and all year long!
About K&H Pet Products
Located in Colorado Springs, CO, K&H Manufacturing is the largest dedicated producer of heated pet products in the country. We offer the greatest quality, innovation and selection for dogs, cats, wild and exotic birds. Each year K&H develops new and unique products to provide comfort for pets and appreciation by their owners.