Disclosure:  Reviewer was provided  with product to facilitate this post.  The words and opinions expressed in this review are strictly of their own.
It's a no brainer! Children love their electronic devices.  From tablets, video games, to cell phones, kids crave to be plugged in. Ask them to put them down and they act like the world is coming to an end!
While electronic gadgets have their advantages, they also can strip a child from creativity.  As they become more connected and addicted to smartphones and other portable electronic devices, children get more disconnected to the actual real world around them.  Healthy past times like playing outside and drawing fall to the wayside of Angry Birds, Talking Tom and Minecraft!  What's a concerned parent to do?
Stimulate Creativity with Magic Sketch
One solution is to replace the time spent on the devices with toys that stimulate creativity and are technologically advanced like Magic Sketch.  Brought to from the makers of the hit product Boogie Board, Magic Sketch inspires children to create amazing art.  The toy looks like a tablet, but is super durable and virtually kid proof!  Drop it, toss it, bend it and the Magic Sketch liquid crystal multi-color screen still works as before.  And because life always has its little spills, the incredible cool toy is even water resistant! Wipe it off and its ready for doodling, drawing, and sketching again and again.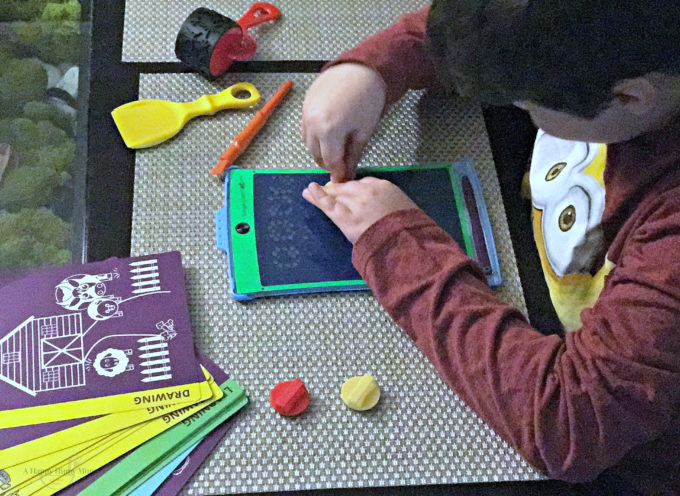 Encourages Educational Play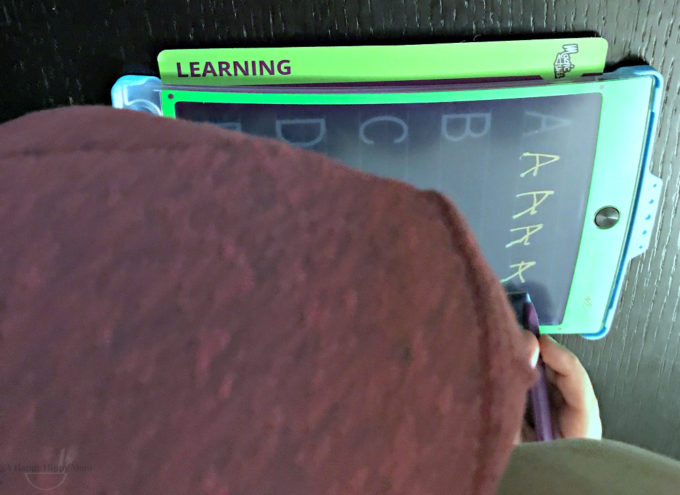 For children who need that extra push to want to learn, Magic Sketch encourages educational play.  My son can practice his math skills, spelling, and writing formation in a fun way.  The high-tech display allows him to write like he is using a pen on paper, but clears with a touch of a button.  He can keep going without having to worry about needing extra paper and is completely mess free.  There are 20 different "Learning stencils included!
Great for On the Go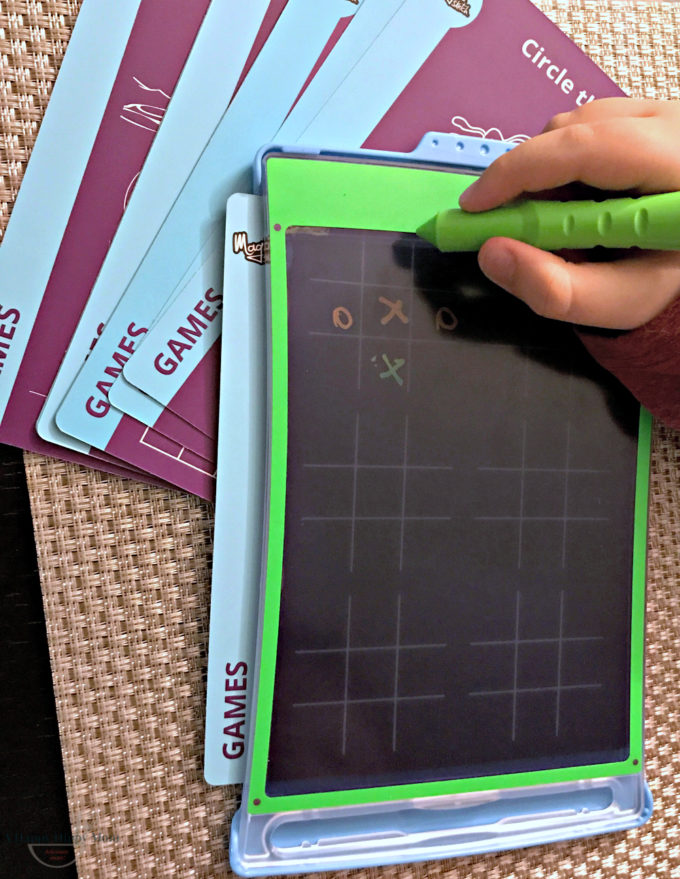 Looking to keep the kids occupied while traveling to Grandma's house during the holidays?  Magic Sketch is ready to go when you are!  The easy to pack light-weight toy is perfect for those long car rides.  Kids can play games like "Tic Tac Toe," "Maze," "Connect the Dots, "Circle the Differences," "Word Find" "and more all on the same device without needing separate books or scrap paper.
Inspiring Art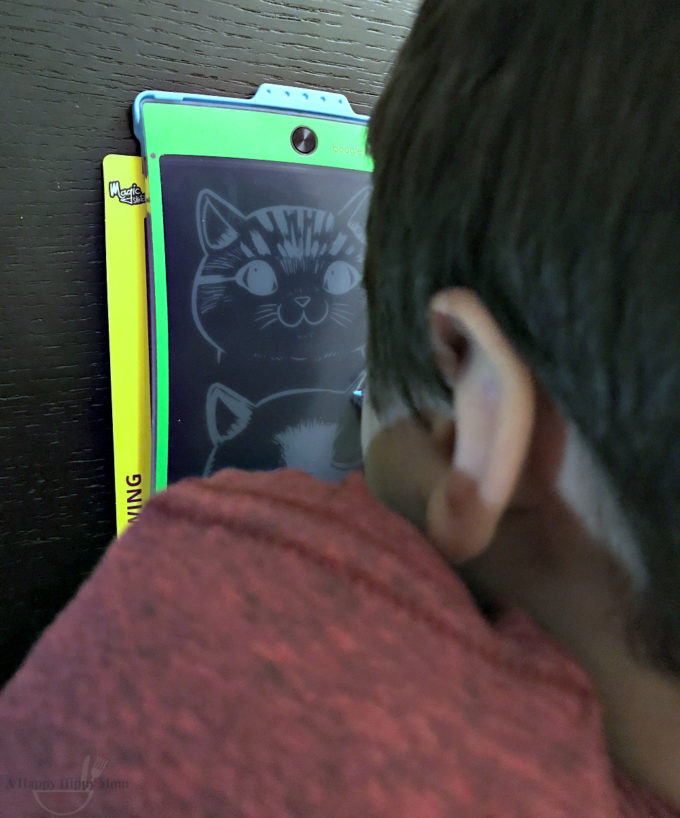 Magic Sketch inspires your child to draw! Kids can trace the 20 assorted Drawing stencils to trace spaceships, farms, fish, castle, animals, and other interesting masterpieces.  Or they can use their own imagination and draw whatever they want using the included roller, stamps and styluses! It helps get their creative juices flowing! Push the button, clear the screen, and doodle all over again!
Save, Edit, Share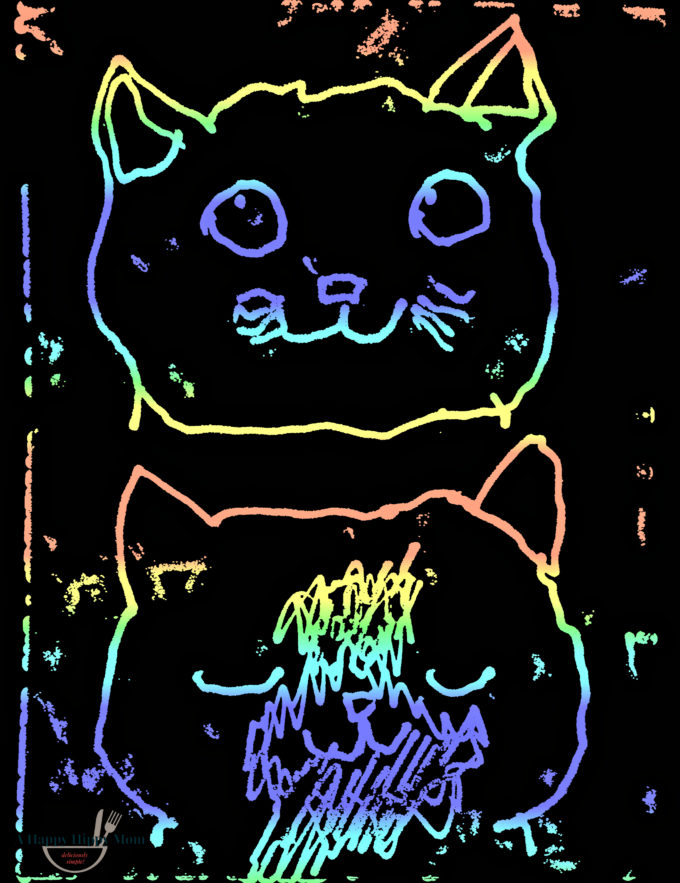 Children can save their Magic Sketch creations using the free mobile app and iPhone Camera. How it works is users draw something on the Magic Sketch, place the toy in a plain black surface, then use the app to easily capture what was drawn on the Magic Sketch.  Next, kids can edit what was captures by highlighting or adding strokes with the touch of their finger.  They can easily share the saved via the app to inspire other kids to create art.
*Images are not able to be saved directly on the Magic Sketch.
HOT Toy Under $30
Magic Sketch NOW retails for $29.95 on the company's website and includes:
Magic Sketch
Protector Guard
4 Stylus
1 Roller
3 Stamps
Learning Stencils =20
Games Stencils=20
Art Stencils=20
LONG Battery Life (7 years claim)
Has a 60 day money back guarantee.