Disclosure: This post has been sponsored by Zoono USA. All thoughts and opinions are my own.
It's everywhere… Lurking on every door handle, crawling in every dark and ominous mall bathroom stall. Germs are everywhere and the invasion of those pesky invaders is only going to get worse as flu season approaches. We all know that feeling when we're shopping in our local Wal-Mart and hear that one person cough from 6 aisles away and can just feel ourselves get the plague. Last winter season, our household fell victim to the horrors of flu season and no one was having a "Holly Jolly Christmas" by any means. One person running to the bathroom, another coughing up a lung, and someone somewhere is always sneezing. While it may seem that flu time blues are inevitable and the battle against germs is hopeless, there are a few personal tips and tricks I've learned through the years to conquer flu season!
1). The Essential Chicken Noodle Soup
While you may have always rolled your eyes when your grandma as a kid swore by homemade chicken noodle soup when you're under the weather, she wasn't wrong! The hot bubbling steam of chicken noodle soup on a cold day not only is a great decongestant, but the broth also helps to alleviate a sore and irritated throat. Also, the vegetables thrown in often pack a strong punch of vitamins and minerals that combat nasty cold symptoms.
2). It's Tea-Time!
There is nothing worse than a sore and/or hoarse throat that leaves you sounding like you've smoked 2 packs of cigarettes every day for 36 years and were the front of an 80's rock band. But fear not! I have the perfect and simple solution; hot organic green tea. Not only is tea have great antioxidants for year round support, but it is perfect for that troublesome sore throat that refuses to budge. Why not alleviate cold symptoms AND get a sweet immune boost at the same time?
3.) Drink, Drink, Drink!
While some of you may have read that and got excited, no, I don't mean that kind of drink unfortunately. One of the best ways to fight colds and shorten the torture, is to stay hydrated! And the best thing to drink is water. I know the idea of drinking water may have some of you soda addicts crawling out of your skin, but you'll thank me when you see how much faster you'll recover when you stay ahead of the game and are hydrated!
4.) Snug with the Winter Bug
It may seem tempting to try to be super mom and to have the house spotless and dinner prepped by noon, rest is essential to healing. Getting the right amount of sleep is imperative in order to get over the drowsiness of cold season. One thing you can do is snuggle up with the little ones in bed and watch a family favorite! Those dishes in the sink aren't going anywhere and are not the end of the world, it's okay to take that afternoon nap. Also, not only is it perfect bonding time, but a great way to get some group shut eye in.
5.) Protect and Deflect the Enemy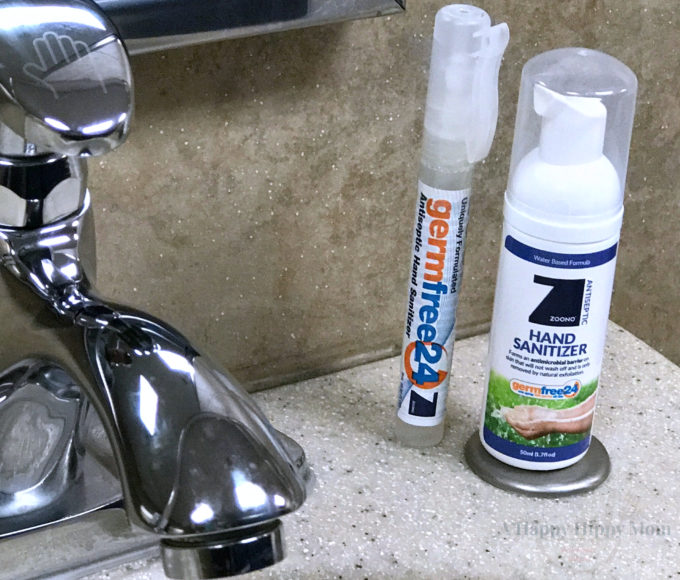 Saving the best tip for last, and my ultimate secret weapon is  Zoono GermFree24® Hand Sanitizer. This is isn't your typical foam and spray hand sanitizer, but one that leaves you protected and deflects the germy enemies for up to 24 hours that leave you feeling blue!  Just imagine everywhere your hands have been in 24 hours? How many doorknobs will you touch? How many times will you grab the remote to hit yes to Netflix's "Are You Still Watching?" while you binge your favorite show? There are approximately 8,643 germs on a doorknob, 79,000 bacteria on a computer mouse and a terrifying 17,000 bacteria on that living room remote. Rather than live in fear of the enemy, take charge and arm up with  Zoono GermFree24®! Fear not the public bathroom or the grocery store germ battlefields my fellow flu season veterans, the answer is here.
Product Information
Zoono GermFree24® Hand Sanitizer is an FDA-compliant, water-based hand sanitizer that kills 99.99% of germs on contact and keeps killing them for up to 24 hours.
Traditional alcohol-based hand sanitizers only work while they are wet and quickly evaporate. GermFree24® kills germs all day with one application.
GermFree24® doesn't use chemistry to kill germs – it uses physics. It bonds to your skin's surface and sets up a nano-molecular layer of "pins" that physically impale and destroy germs on contact.
GermFree24® has been proven to provide long-lasting antimicrobial protection against a wide range of microorganisms, including bacteria, viruses (such as influenza), fungi and mold.
GermFree24® does not rub off and will remain active on the skin's surface, even with hand washing or sweating.
What are your must have cold and flu season essentials?
Zoono GermFree24® & Visa Giveaway!
Courtesy of our friends at Zoono GermFree24® , one lucky reader is going to receive a $25 Virtual (online usage) Visa gift card and  (1) Zoono GermFree24® 50ml Foam Hand Sanitizer and (1) Zoono GermFree24® 9ml Spray Hand Sanitizer!
To enter the giveaway, please follow the instructions provided on the Rafflecopter form.  Please leave a relevant comment to show your support!  Thank you!
Open To US Residents Only- age 18 + Ends October 30th , at 11:59 pm (eastern time)! Enter Daily!