Disclosure: This post was sponsored by Eat Smart as part of an Influencer Activation for Influence Central and all opinions expressed in my post are my own.
As our family gears up for the back-to-school season, we look for time saving ways of lessening the workload and making the hectic days easier.  One way of easing the back-to-school hustle and bustle is being able to have fast nutritious dinners ready to go and on the table.  During the busy school week, there isn't allows time to prepare a nutritious home-cooked meal with all the extra activities.  So, having healthy, convenient meals stocked that are quick to throw together in minutes is an essential in our home!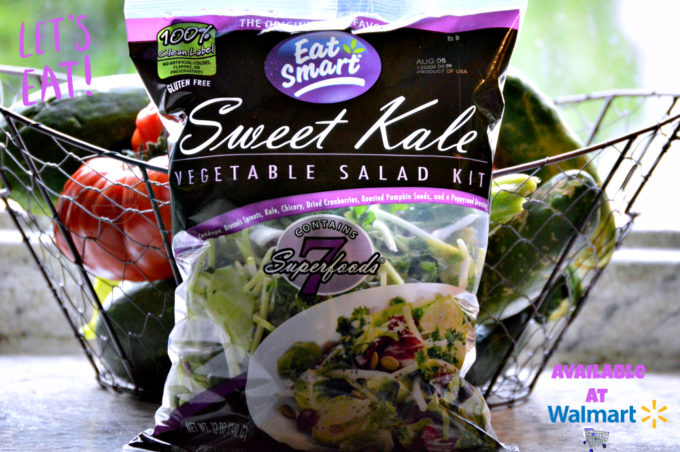 Eat Smart
For those busy nights when there are time constraints and dinner needs to be served super-fast, we turn to Eat Smart.  Eat Smart, an Apio Inc. brand, provides families the convenience of eating healthy with their pre-packaged blends of fresh cut vegetables.  The company offers an array of delicious innovative products for those individuals who strive to "eat smart", but don't necessarily have the extra time to prepare something from scratch.  Product offerings include Eat Smart Superfood Salad Blends, Salad Shake Ups™, BreatheWay® Vegetable Bags, Gourmet Vegetable Salad Kits, and more!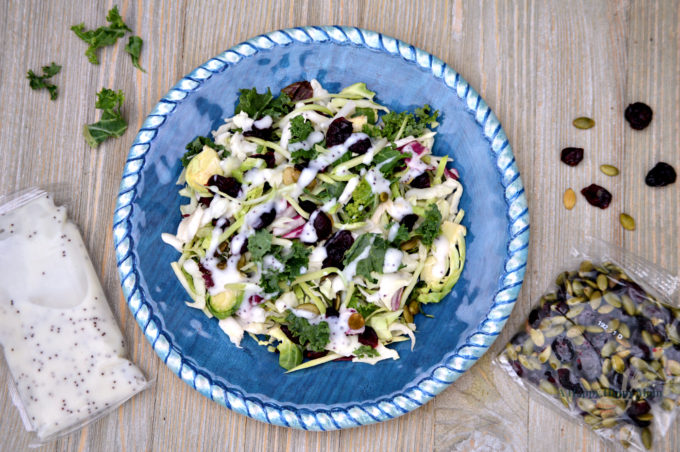 Eat Smart Sweet Kale Gourmet Vegetable Salad Kit
A family favorite of ours is the Eat Smart Sweet Kale Gourmet Vegetable Salad Kit!  The chef-inspired gourmet salad kit is conveniently available at Walmart and contains everything needed to make a scrumptious dinner.  It is packed with a unique blend of superfoods, including kale, green cabbage, broccoli, Brussels sprouts, chicory, roasted pumpkin seeds and dried cranberries.  Additionally, it comes with a package of tasty poppy seed dressing to complete the meal.
Quick, Simple, and Delicious!
The Eat Smart Sweet Kale Gourmet Vegetable Salad Kit is perfectly well proportioned and makes a scrumptious meal in just a few steps.  Basically, it is as simple as pouring the blend of crisp vegetables in a bowl, tossing in the package of pumpkin seeds and dried cranberries, and topping with the poppy seed salad dressing.
The flavor combination of the roasted pumpkin seeds, tartness of the dried cranberries, mixed with the crisp vegetables and sweet dressing—is a super tasty flavor creation!  The gourmet salad kit is great on its own, but for the nights I have extra time I like to toss in some mushrooms, cucumbers, peppers, and cherry tomatoes.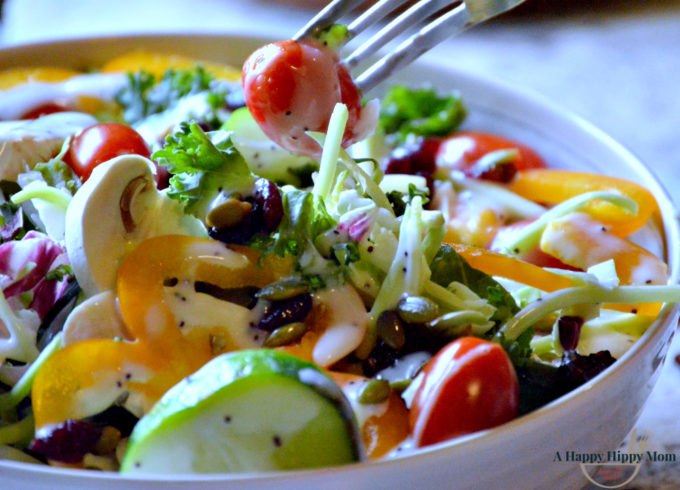 If you are looking to mix things up during the week, the salad kit is extremely versatile!  You can get creative and make different recipes using the contents.  For instance, add some chunk cooked chicken, a bit of quinoa or perhaps a handful of chickpeas for protein!
100% Clean Label
Let's keep it real!  Eating smart is all about eating clean! We try and always pay attention to the ingredients label, avoiding artificial colors, flavors and preservatives in our food.  With a history of breast cancer in the family (my sister passed away from it last December), ALS (my Dad) and autoimmune diseases—I consistently watch what we eat!  Yes, genetics plays a part, but I'm a firm believer most diseases can be avoided with a good diet (eating clean) and healthy lifestyle changes (eliminating harmful chemicals).
Eat Smart is the first brand in its category to commit to clean ingredients and labeling.  The company plans to market all products containing a 100% Clean Label by the end of 2018. What does all this mean?  Primarily, the Eat Smart entire product line will be completely free from artificial colors, flavors and preservatives.  Nearly 90% of their products are already clean, including the Eat Smart Sweet Kale Gourmet Vegetable Salad Kit .  Eat Smart's objective is to offer consumers an affordable, healthy option with easy-to-understand labels and ingredients.
Available at Walmart!
The Eat Smart Sweet Kale Gourmet Vegetable Salad Kit featuring the 100% Clean Label ( No Artificial Colors, Flavors, or Preservatives) is now available in Walmart stores nationwide!
Stay Connected
For exclusive offers and product information, don't forget to subscribe to the Eat Smart Newsletter!
Like the Eat Smart Facebook Page
Follow Eat Smart on Twitter