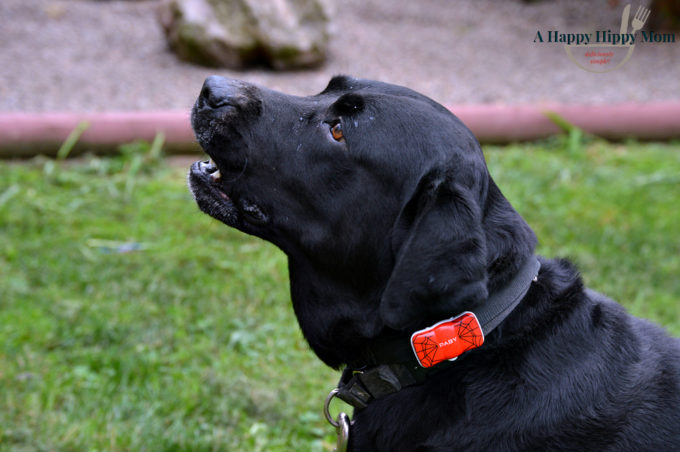 Disclosure:  Paby provided me with product to facilitate this post.  The words and opinions expressed in this review are strictly of my own.
Are you concerned about your furry companion getting lost?  As a pet parent to several fur babies, I always worry about my dogs wandering off and not being able to track them down.  Sammy (my black Lab) has broken his leash several times over the years and I have had to walk the streets searching for him.  The last time he experienced dog anxiety and decided to take a stroll without my permission, I found him four blocks down and covered in turkey poo.  Apparently, he is attracted to rolling in such disgusting things and will dart to any location that has the scent.  I circled the neighborhood for over an hour calling for him!  I was in tears the entire time thinking he was gone forever!  When I finally found him, I went on an emotional roller coaster of extreme happiness, irritation (would not come when called), and revulsion from the nauseating smell permeating from his fur.
One in three lost!
Does the story above seem all too familiar?  Over 10 million pets are lost each year.  The statistics are heartbreaking!  One in three pets will become lost at some point during their life.  Some are not found by their owners and end up in shelters to be claimed by other families.  The unluckiest, remain to stay missing without a trace.
Safe Solution
For us pet owners who have concerns about the health risks of implantation of microchips, there is a much safer solution to tracking our furry friends.     Thankfully with the advances in smart technology, there are pet wearable GPS trackers allowing owners to pinpoint their pet's location in real time!
Paby
Paby, a global Pet Tech company, recently introduced to the market a 3G wireless smart pet tracker that monitors a pet's location and activity to give owners a peace of mind when it comes to their furry loved ones' safety and wellness.  The pet wearable is equipped with advanced 3G GPS, LBS (Location Based Services) and Wi-Fi technologies which provides consumers real-time, highly accurate tracking information, no matter where their pets are.   The device easily attaches to a pet's existing collar (any size) and allows pet parents to set "virtual fences" using their smartphones to receive real-time alerts via the Paby app when their pets leave the designated "zone."
The Paby Test
I recently had a chance to test out Paby.  What I really like about this pet tracker is it not only gives the exact location of your pet's whereabouts, but it additionally tells number of steps, calories burned, sleep patterns and the intensity of their play time.  Sammy is a little on the heavier side and I like being able to see how much exercise he is getting per day.  The app provides daily exercise recommendations based on the pet's breed, weight and age. Think of a FITbit activity tracker for a pet!
Setup
Paby was simple to setup.  Although, I did receive a test unit which already had a SIM card ready to go.  The lightweight device ((31.6 grams) requires a cellular network connection to properly track your pet.  Apparently, users have two options when it comes to the cellular coverage being used to track the location of your furry friend.  The first option is Paby comes with a free SIM card and offers network subscription plans starting at $4.99 per month with 30 days free if the annual network service plan is purchased.  The second option offers customers with AT+T and T-Mobile to use their existing wireless network.  Sigh…I have Sprint, so I would need to purchase the plan.  AND even though $4.99 per month is relatively inexpensive for the service, I do not like having to budget in something more per month that is free for other consumers on different networks.
The overall setup only took minutes.  It was just a matter of registering the device in the free app (available at Google Play or iTunes), setting up Sammy's profile, and scanning the QR code on the back of the Paby device, and snapping it on his collar.  Within a few minutes the pet tracker reported Sammy's exact location via Google Maps!
Why Choose Paby?
There are several pet trackers available on the market to choose from.  However, Paby's easy setup, lightweight design, and extra reporting features make it an excellent choice for pet parents who are concerned with the safety and wellness of their beloved furry companion.  The free downloadable Paby app gives detailed information about activity, location, and recommended exercise.  The capability to set up a virtual fence that allows you to receive an alert on your phone when your pet leaves a designated set zone that you set also is an enormous security feature!   It's like a pet tracker and pet FITbit combined in one.  Plus, the software allows you to add more devices to monitor up to 20 different pets at a time!
Paby features
2G/3G GPS, Location Based Services (LBS) and WiFi technologies
RGB LED flashing light for added pet safety
High fidelity waterproof speaker that plays a sound to alert the user (via the mobile app) when their pet is nearby.
Polymer lithium ion battery
Small, light (31.6 grams), durable and waterproof design able to fit any size dog.
An adjustable band that keeps Paby secure on your pet's collar.
Available in a variety of colors and patterns ("Spider Red," "Future Green," "Allstar," "Midnight Black" and "Bubble Pink")
Comes with user manual, magnetic charger, small screw driver for removing the metal sheet for placing SIM card, reusable 100% food grade silicone collapsible travel bowl (BPA and lead free), and extra rubber strap.
(1) year limited product warranty
Extra Cost!
Paby is available for $79.99 at www.paby.com.  The device requires a cellular network connection to properly track the owner's pet.  Be prepared for the extra cost of service plan if you do not have AT+T or T-Mobile!  Monthly Network Service Plan is $7.99 per month!  Or you can purchase the annual plan for approximately $60.  This is the only feature of the device I would change!  For an individual on a strict budget this could be a non-selling point considering the unit alone is $80 without service.  Another thing to consider is depending on your usage, Paby will consume 43MB per month on average.
About Paby
Paby is a global Pet Tech company developing a full ecosystem of pet care products ranging from smart tracking devices and applications and services to pet lifestyle products and accessories.  The company's mission is to continually strive to merge cutting-edge technology with innovative product design that will help transform and better the life of your pet.  Paby's passionate team is focused on the global market, and are committed to sustainable pet care by the use of global talent and resources. Our core team is a combination of the world's leading professionals, from electronic and telecom engineering to health technology and pet biology.  For more information, visit www.paby.com.