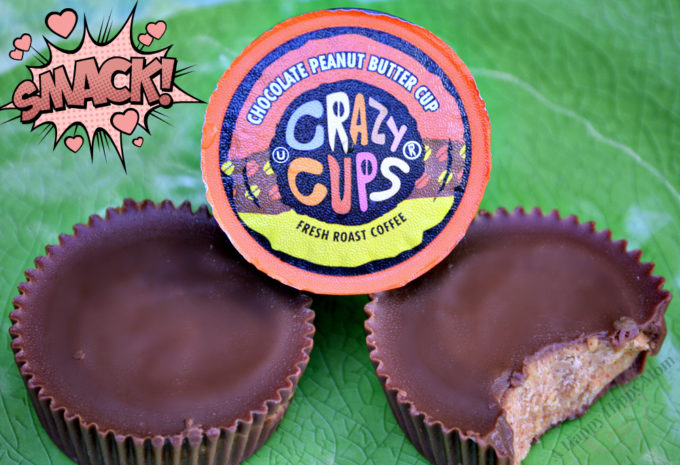 Disclosure:  Crazy Cups provided me with product to facilitate this post.  The words and opinions expressed in this review are strictly of my own.
Just when I think the world has gone to hell and a hand basket, Crazy Cups surprises me with their Chocolate Peanut Butter Cup Flavored Coffee.  Three of my favorite flavors– coffee, chocolate and peanut butter all inside an easy to brew single serve cup.  The medium roast coffee is deliciously rich containing a distinct milk chocolate taste with a small hint of peanut butter.  When it brews the amazing aroma of liquid chocolate peanut butter cups fills the room and awakens the senses and sweetens the soul.  Nothing can change your morning perspective on things and brighten your day better than a great cup of joe!  This does the trick!
The only grumble I have about this flavored coffee is that the peanut butter taste is smothered out a bit by the richness of the chocolate.  However, I happen to be an enormous peanut butter lover, so I enjoy a punch of it rather than a small slap.  For instance, Crazy Cups makes a fabulous Peanut Butter and Jelly Sandwich Flavored coffee loaded with peanut butter flavor.  The coffee is out of this world good!  Seriously, if I could purchase a skid of it—I would!  If you enjoy the taste of creamy peanut butter this coffee will knock your socks off.  The Chocolate Peanut Butter Cup Flavored Coffee is a close second, but my favorite Crazy Cups flavored coffee remains to be the Peanut Butter and Jelly Sandwich.  I'm hoping they eventually come out with just a peanut butter flavored coffee!
Product Description
Enjoy the magical taste of creamy peanut butter and rich milk chocolate.  It's a party in your mouth.
The Single Serve Cups contains 13 grams of coffee in each cup for a flavorful cup of coffee.
Compatible with All Keurig brewer including the Keurig 2.0 brewer.
Crazy Cups Are GLUTEN FREE, NUT FREE, NO CALORIES flavored coffee.
Use cool-peel-recycle technology – The cups are recyclable.
Crazy Cups Chocolate Peanut Butter Cup Flavored Coffee Giveaway
Courtesy of our friends at Crazy Cups, a lucky reader is going to receive a box of delicious Chocolate Peanut Butter Cup Flavored Coffee Single Serve Cups!
To enter the giveaway, please follow the instructions provided on the Rafflecopter form. Any comments are welcomed below, but won't count towards the giveaway. Only entries using the Rafflecopter form will be eligible for prize. Thank you!
Open To US Residents Only- age 18 + Ends August 15th , at 11:59 pm (eastern time)! Enter Daily!
STAY CONNECTED
Like Crazy Cups on Facebook
Follow Crazy Cups on Twitter
Crazy Cups on Pinterest