Disclosure: GourmetGiftBaskets.com provided me with product to facilitate this post.  The words and opinions expressed in this review are strictly of my own.
Father's Day is June 18th!  Forget the outlandish ties, cheap cologne, and weird singing fish!  And a definite NO to the men's romper (really)!  Dad is the man and he deserves to be awarded as such.  Get the #1 guy in your life what he really wants—a gourmet gift basket filled with beer and yummy snacks!
GourmetGiftBaskets 12 Beers Around the World Beer Bucket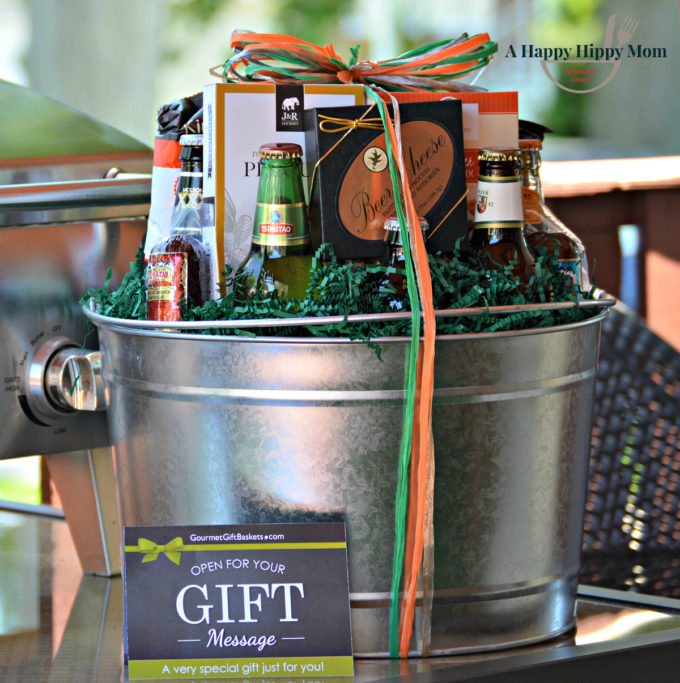 GourmetGiftBaskets.com sent us for a review a basket fit for a king!  Inside a large galvanized steel bucket contains 12 delicious brews from around the world and a bunch of manly man snacks to go along with them.  Seriously, this is one of the best gift baskets I have ever seen.  The gift takes Dad around the world with top beer selections including Samuel Adams (named the "Best Beer in America,"), Red Stripe (brewed in Jamaica), Pilsner Urquell (Czech beer) and 9 other outstanding cold ones. Each beer bottle is artfully arranged in the bucket around the fun-to-munch  gourmet foods, such as popcorn by KingOfPOP.com, tasty summer sausage, salami, beer cheese, snack mix, and peanuts!
Once the contents are removed from the bucket, it can be filled with ice to keep beer cold during those summer BBQ parties.  Everything about the gift basket is well thought out and lets the special man in your life travel to places like China, Belgium, and Canada without leaving his backyard.
Plus, it comes with a personalized note, so you can forget the overpriced Hallmark card. Additionally, it is very well packaged to ensure safe shipping to his door.   Even if you can't make it home to see Dad, each beer will be a refreshing reminder of your thoughtfulness on Father's Day.
I gave the gourmet gift basket to my husband early to see what he thought about it.  His response was just "WOW."   He loved it!
Around the World Beer Bucket Contents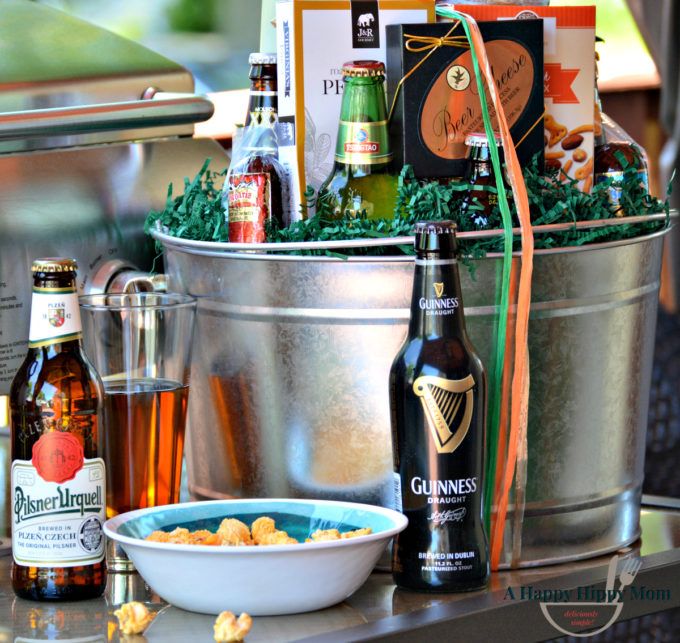 Large Galvanized Steel Bucket – A sturdy galvanized steel bucket with handles, that easily keeps 12 beers cold with the addition of ice.

Red Stripe – 11.2 oz. – Brewed in Jamaica since 1938, this flavorful, golden lager has been recognized all over the world for its vibrant taste.

Tsingtao – 12 oz. – Created in Qingdao, China, this well-hopped pilsner-style lager has a sweet, nutty taste.

Smuttynose – 12 oz. – This smooth and tasty IPA has plenty of hops without the bitter taste.

Guinness – 12 oz. – A traditional, dry Irish stout that boasts a uniquely bittersweet flavor, which has made it one of the most successful beers in the world.

Corona – 12 oz. – An iconic pale lager that's brewed in Mexico and celebrated for its crisp, refreshing taste.

Blue Moon – 12 oz. – A flavorful Belgian-style Wheat Ale with notes of Valencia orange peel and a smooth, creamy finish.

Molson – 12 oz. – Smooth and slightly sweet, this Canadian lager is brewed with extra malt and hops for a strong taste.

Newcastle – 12 oz. – Beautifully dark amber in color, this robust brew is created in England and has become the world's most famous brown ale.

Samuel Adams – 12 oz. – Named the "Best Beer in America," this timeless, full-bodied lager is created using only the finest hand-selected ingredients.

Stella Artois – 12 oz. – First introduced to the world over 600 years ago, this exceptional, classic Belgian lager is recognized by its beautiful golden color and crisp taste.

Smithwicks Irish Ale – 12 oz. – Dry and balanced with a fantastic aftertaste.

Pilsner Urquell – 12 oz. – This Czech beer is one of the best pilsners from any part of the world.

Beer Cheese by Northwoods – 3.75 oz. – Delicious cheese spread that pairs well with a variety of snacks.

Beef Salami by Bavaria – 3 oz. – Tasty handcrafted Bavaria beef salami, seasoned to perfection!

Roasted & Salted Peanuts by J&R Gourmet – 2 oz. – A tasty peanut snack, roasted and salted to perfection.

Chichester Snack Mix by Merrimack Valley Snack Company – 2 oz. – A delicious snack mix jam-packed with crunchy pretzel nuggets, cheddar cheese crackers, and premium nuts.

Beef Summer Sausage by Bavaria – 3 oz. – This tasty summer sausage amped up with a collection of spices will pair perfectly with your favorite cheese.

Honey Mustard Popcorn by KingOfPOP.com – 1.1 oz. – This gourmet popcorn perfectly encapsulates the sweet taste of honey and the tangy taste of mustard all in one bite.

Deli Style Hors d'Oeuvre Crackers by Partners – 2 oz. – Exquisitely crisp crackers that are fashioned out of the finest all-natural ingredients and seasoned with sea salt and hearty olive oil.

Buffalo Popcorn by KingOfPOP.com – 1.1 oz. – Handcrafted gourmet popcorn that's completely covered in mouthwateringly spicy buffalo flavor.
2017's Top Five Foodie Father's Day Favorites — For Dads, By Dads
The very cool fathers who work at GourmetGiftBaskets.com have singled out the following five top items.  Take a look at what they recommend this year for the 2017 Father's Day celebration.  You can also visit here for the full selection of Father's Day gourmet gift baskets.  There are dozens of yummy choices to choose from!
NEW for 2017 — 19th Hole In One Gift Basket, $69.99, SKU 4322
If the Dad in your life prefers a mini-golf bag (that doubles as a cooler) to a tin, then this is the ideal choice for him.
The 19th Hole is loaded with everything your favorite golfer needs for a day on the green, including four refreshing beers, a sleeve of golf balls, and a range of gourmet snacks like cheese and artisan crackers, hickory maple bacon popcorn, and zesty pretzel pieces. (If my kids are reading this now, this is what I want).
NEW for 2017 — Father's Day Beer-B-Q Bucket, $59.99, SKU 4658
Now, if the Dad on your list cares more about barbecues and less about golf, this gift has his name all over it.
This reusable stainless steel bucket is stocked with everything Dad needs to create a gourmet barbecue meal. It includes three refreshing beers (first things first, right?), along with three gourmet spice rubs, buffalo wing flavored gourmet popcorn, and more. (Another option for beer lovers is the very popular Spring Seasonal Beer Bucket).
A FREQUENT FATHER FAVORITE with a fresh, 2017 flavor combo — Father's Day Backyard BBQ Popcorn, $34.99, SKU 7402
Look no further than your own backyard to find your Dad's most cherished memories. It's where he helped perfect your pitch, showed you how to play badminton, or helped set up your first volleyball spike.
Pay homage to those times with this delicious popcorn sampler that perfectly unites Dad's most prized memories with his favorite tastes. Comprised of GourmetGiftBaskets.com's Honey Mustard, Hickory Maple Bacon, BBQ Ribs, Chipotle BBQ, Cajun, Buttered Corn On The Cob, Dill Pickle, Zesty Ranch, Sun Dried Tomato, and Watermelon popcorn flavors, this sampler helps you flawlessly celebrate your father on his special day.
NEW DESIGN FOR 2017 — Father's Day Gift Tower, $39.99, SKU 6870
Looking for an impressive gift that makes a big impression (on a budget)? This newly designed Father's Day Gift Tower fits the bill.
A mouth-watering selection of sweet and salty treats can be found inside this impressive four-tiered tower. These include crisp handcrafted popcorn, sweet candies, gently roasted honey peanuts, and more. (By the way, gift towers are a big hit with Dads and their kids, as he usually needs to share the goodies with the entire family).
For The Health-Focused Dad — Orchard's Abundance, $79.99, SKU 4404
Some Dads are in a very health-oriented phase of life.  Those fathers would surely appreciate this woven basket filled with juicy pears, oranges, and crisp apples, along with an assortment of Vermont cheddar cheese, premium Virginia peanuts, and a salted caramel dip.
SAVE
10% Off

at GourmetGiftBaskets.com

AND this year, GourmetGiftBaskets.com has a special code for our readers to receive 10 percent off their Father's Day purchases — FDAY10. Please use it, as Dads tend to highly approve it when family members are frugal.
STAY CONNECTED WITH GOURMETGIFTBASKETS.COM
Visit the GourmetGiftBaskets Website
Like GourmetGiftBaskets on Facebook
View  GourmetGiftBaskets on Pinterest
Follow GourmetGiftBaskets  on Twitter
GOURMETGIFTBASKETS.COM Father's Day 12 Beers Around the World Beer Bucket Giveaway
Courtesy of our friends at GourmetGiftBaskets, a lucky reader is going to receive a 12 Beers Around the World Beer Bucket . A $119.99 Value !
To enter the giveaway, please follow the instructions provided on the Rafflecopter form. Please also leave a relevant comment to show your support!  Thank you!
Open To US Residents Only- age 21 + Ends June 29th , at 11:59 pm (eastern time)! Enter Daily!