Disclosure: GourmetGiftBaskets.com provided me with product to facilitate this post.  The words and opinions expressed in this review are strictly of my own.
Mother's Day is a little over a week away!  By now you should have an extraordinary gift wrapped and ready to go or at least have something wonderful in the works. Right? Well for those procrastinator gift givers, there is still time to show your amazing mom how much you appreciate her with a beautiful basket filled with gourmet treats.
GourmetGiftBaskets.com, one of the leading online gift giving sites has recently released several new items to truly delight the special woman in your life.  The gift baskets are ready for shipping and arrive in plenty of time to WOW mom.  Some of the recent additions to the 2017 Mother's Day offerings include:
NEW! Mother's Day Brownie Cake, $49.99
Looking for a Mother's Day gift, but you want something that's not so predictable? Get her this scrumptious Mother's Day Brownie Cake! This 12-inch delight will arrive to her door just as fresh as if you had picked it up from the bakery. It also has a special Mother's Day message for Mom on top, reminding her that you're crazy about her.
NEW! Love for Mom Cookie Gift Box, $29.99
Cookie-craving Moms will get a great surprise this year with this gift box.
GourmetGiftBaskets.com has created this gorgeous gift showcasing six different varieties of gourmet offerings: Chocolate Chip Cookies, Fudge Brownie Cookies, Lemon Sugar Cookies, Pecan Sandy Cookies, Oatmeal Raisin Cookies, and Peanut Butter Cookies. There's something for almost every Mom here!
NEW! Happy Mother's Day Gift Basket, $69.99
Pampering Mom's tastebuds has elevated to a new level in 2017 with this basket — a stunning arrangement of tea essentials. This beauty features a keepsake "Awesome Mom" mug, two types of tea, sweet sugar sticks, and gourmet cookies. She'll think of you as she's enjoying cup after cup of relaxing tea alone or with her friends. There's plenty to share.
GourmetGiftBaskets.com Mother's Day Wine Basket $89.99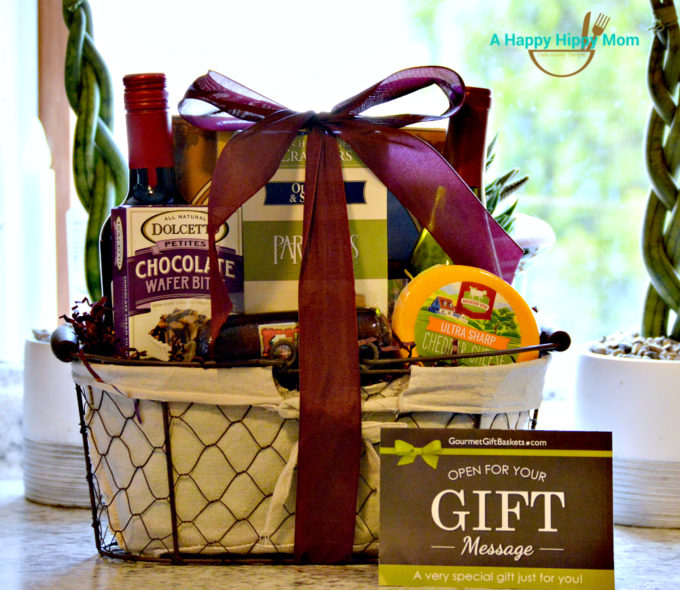 Survey moms with the question what they want for Mother's Day and they most likely will say they would like some extra sleep, relaxation, and quality time spent with their loved ones.  Personally, I would like a soothing glass of wine on the porch where I can reminisce about my children for just an hour!  That's all I want!
A Luxury Moment of "Me Time"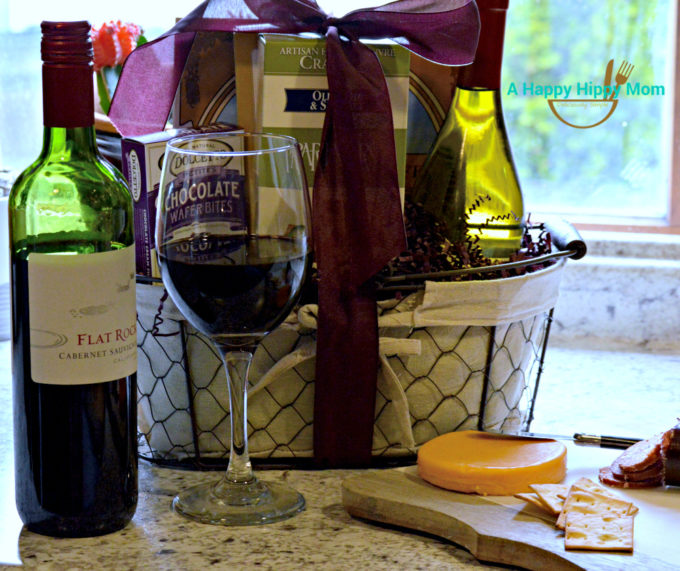 GourmetGiftBaskets.com Mother's Day Wine basket is the perfect gift for giving  mom what she really needs-  a luxury moment of "me time" over a glass of wine and delectable goodies.  The gift basket is gorgeous! It is brimming with two bottles of wine, deli-style crackers, cheese, meat, wine wafers, and more.  I absolutely LOVE this gift basket and it contains everything essential for a bit of self-indulging reflecting time.
Contains:
Chardonnay by Backhouse – 750 ml
Cabernet Sauvignon by Flat Rock – 750 ml
Deli Style Hors D'Oeuvre Crackers by Partners – 2 oz.
Ultra Sharp Cheddar Cheese by Mountain View Cheese Co. – 4 oz.
Beef Summer Sausage by Bavaria – 5 oz.
Mocha California Wine Wafers by Sacramento Cookie Company – 2 oz.
Cashew Brittle by Hammond's Candies – 2.5 oz.
Chocolate Wafer Roll Petites by Dolcetto – .7 oz.
Making Mother's Day Unforgettable
The Mother's Day Wine basket is a thoughtful way of making Mother's Day unforgettable!  Celebrate the day with your mom by sitting down and sharing a delicious glass of wine with her and remembering the happy times together.  Because all she really wants for Mother's Day is recognition and you!
* A 21+ Signature Is Required Upon Delivery
For the full selection of Mother's Day gift ideas (baskets, towers, cakes and more), visit here.
STAY CONNECTED WITH GOURMETGIFTBASKETS.COM
Visit the GourmetGiftBaskets Website
Like GourmetGiftBaskets on Facebook
View  GourmetGiftBaskets on Pinterest
Follow GourmetGiftBaskets  on Twitter
GourmetGiftBaskets.com Mother's Day Wine Basket Giveaway
Courtesy of our friends at GourmetGiftBaskets, a lucky reader is going to receive a gorgeous Mother's Day Wine Basket. A $89.99 Value !
To enter the giveaway, please follow the instructions provided on the Rafflecopter form. Please also leave a relevant comment to show your support!  Thank you!
Open To US Residents Only- age 21 + Ends May 20th , at 11:59 pm (eastern time)! Enter Daily!