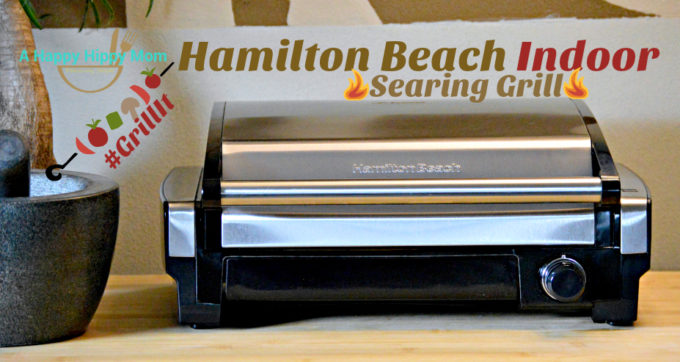 Disclosure:  Hamilton Beach provided me with product to facilitate this post.  The words and opinions expressed in this review are strictly of my own.
Mother's Day is fast approaching (May14th)!  Unless you are a genius gift giver, you are most likely struggling with the thoughts of what to give her again this year.   Another Mom mug, plant, or bottle of smelly perfume seems redundant and predictable.  You know she deserves better! This year why not reward Mom with a gift that will help her forget all those dreadful and disappointing report cards?  Get on the "A" list by giving her a Mother's Day gift she can use all year long like the Hamilton Beach Indoor Searing Grill!
About the Hamilton Beach Indoor Searing Grill
"With the Indoor Searing Grill, you can enjoy outdoor grilled flavor anytime you want, regardless of the weather. There are two secrets to its excellent grilling capability. The Searing Grill's high-heat searing temperature locks in juices and flavor, giving your meat better taste, texture and appearance. What's more, its unique hooded design helps keep in flavor to give your food that authentic outdoor grilled taste.
Cooking with the Searing Grill is easy. Simply plug it in and turn the temperature dial all the way up to sear. When it reaches the high searing temperature of 450 degrees, the green preheat light will glow. Now you're ready to sear steaks, burgers, pork chops or fish fillets to perfection. If you want to grill food that doesn't need to sear first, the Searing Grill has an adjustable temperature dial to let you grill at lower heat."
Features
Get outdoor grilled taste indoors with high searing temperature
Nonstick cooking plate removes for easy cleanup in the dishwasher
Removable hood & integrated drip tray are dishwasher safe
Adjustable temperature control ranges from 200° to high searing temperature of 450°
Lights indicate when the power is on and the grill has reached your selected temperature
118 square inch nonstick grilling surface fits up to 8 servings
Dimensions (inches): 6.81 H x 16.73 W x 12.4 D
Grilled Veggies and Meat All Year Long!
Living in New York, the weather is much to be desired.  Our winters are normally brutal and long!  We look forward to the summer months and can't wait to be able to grill again!  Nothing tastes better than grilled veggies, steak, and fish!  Unfortunately, the warm weather months fly by and grilling season seems over before it even begins.
With the Hamilton Beach Indoor Searing Grill, we can enjoy the great taste of grilled food all year long!  Over the years, I have had several different grilling appliances and they have fallen short for one reason or another.  By far, this is the BEST indoor grill I have cooked on!  The meat comes out tasting delectable and juicy while the veggies are perfectly crisp-yet-tender.  And I never worry about what the weather is doing outside, because I can easily grill indoors from the convenience of my kitchen anytime I want to.
Cleanup
Usually, indoor grills are problematic to cleanup.  Cleaning the grease, stuck on food, and overall mess is a backbreaker.  Plus, it seems like you are unable to get the grill looking completely back to its original "new" like appearance.  However, the Hamilton Beach Indoor Searing Grill is extremely simple to clean!  The greasy left behind food easily rinses off the nonstick cooking plate and the drip tray catches any mess.  I prefer to hand-wash the grill, but the nonstick cooking plate, drip tray, and hood are all dishwasher safe.  Once it is cleaned, it looks as great as it did the first day I received it.  It stays right out on the kitchen island and looks fabulous!
Grilled Steak and Scallop Kabobs!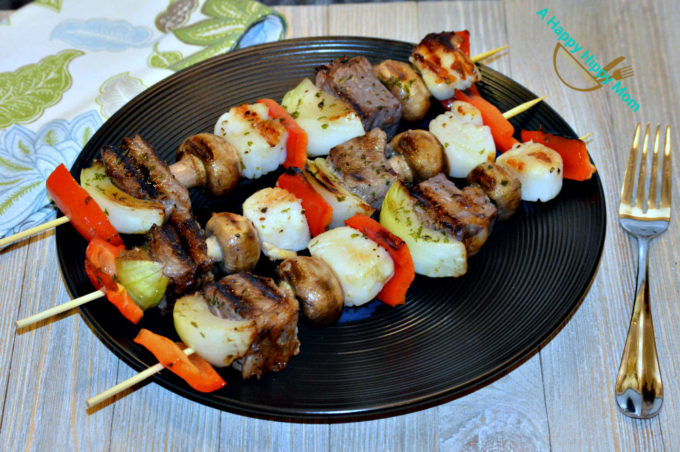 Over the past weeks, I have tried cooking chicken, hot dogs, steak, fish, seafood, and veggies on the grill.  Everything comes out delicious!  I can't wait for my vegetable garden to grow, so I can cook them on the grill!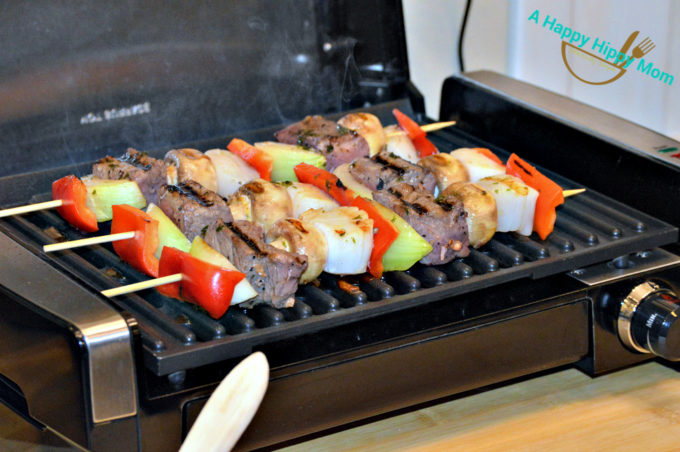 My favorite meal to make using the indoor searing grill is grilled steak and scallop kabobs!  The fresh veggies mixed with the juicy steak and sea scallops is a delicious combination.  The secret for juicy steak is to let the meat marinade for at least 8 hours and to sear the kabobs on each side before letting it cook to its desired doneness.
Great Gift for Mom!
The Hamilton Beach Indoor Searing Grill makes a thoughtful and useful gift for Mom this Mother's Day.  The counter top grill is fun to use, simple to clean, and adds a wonderful touch to her small appliance lineup!  It is the gift that keeps on giving all year long!
*Visit the Hamilton Beach Searing Grill Page for recipe ideas, product details, use & care guides and more.
Grilled Steak and Scallop Kabobs Recipe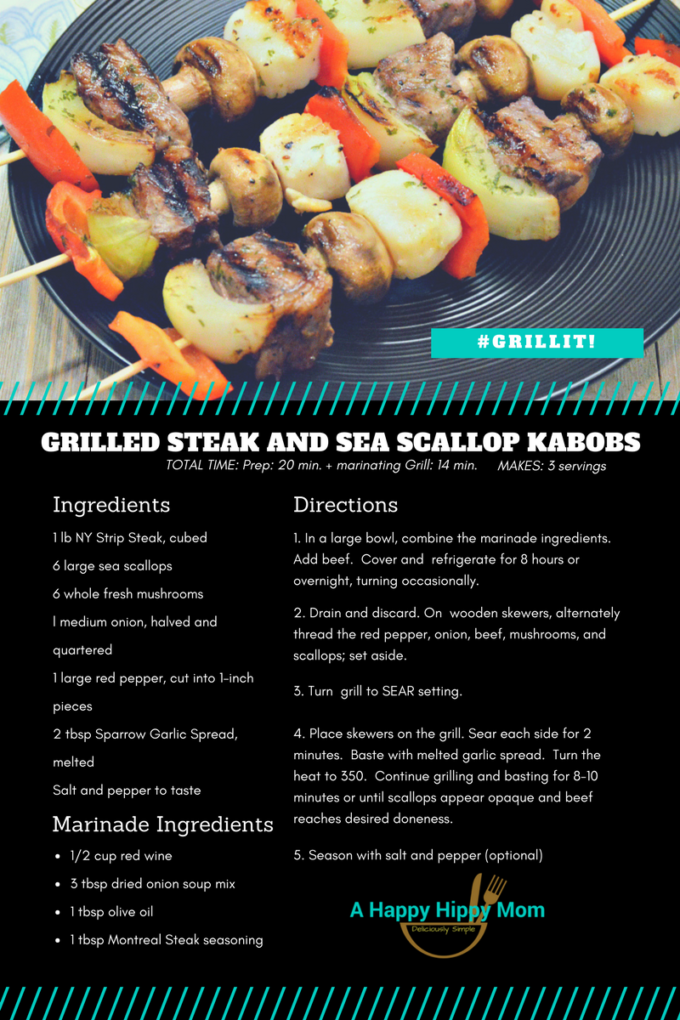 STAY CONNECTED
Visit the Hamilton Beach website
Like the Hamilton Beach Facebook page
Follow Hamilton Beach on Twitter
Discover Hamilton Beach on Pinterest
Mother's Day HAMILTON BEACH Indoor Searing Grill (Model 25360) Giveaway!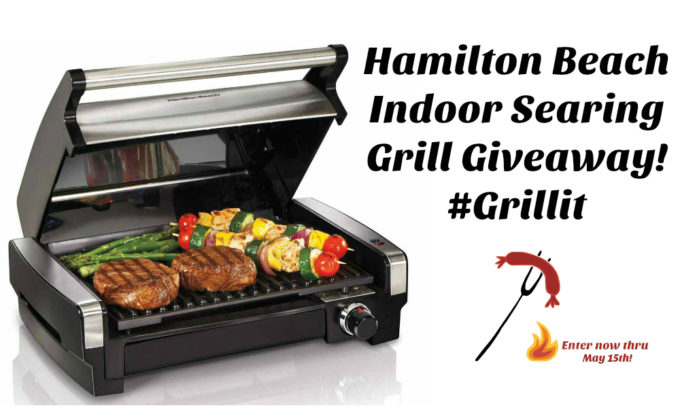 Courtesy of our friends at Hamilton Beach, one lucky reader is going to receive the Hamilton Beach Indoor Searing Grill (model 25360) mentioned above!
To enter the giveaway, please follow the instructions provided on the Rafflecopter form. Any comments are welcomed below, but won't count towards the giveaway. Only entries using the Rafflecopter form will be eligible for prize. Thank you!
Open To US Residents Only- age 18 + Ends May 15th, at 11:59 pm (eastern time)! Enter Daily!