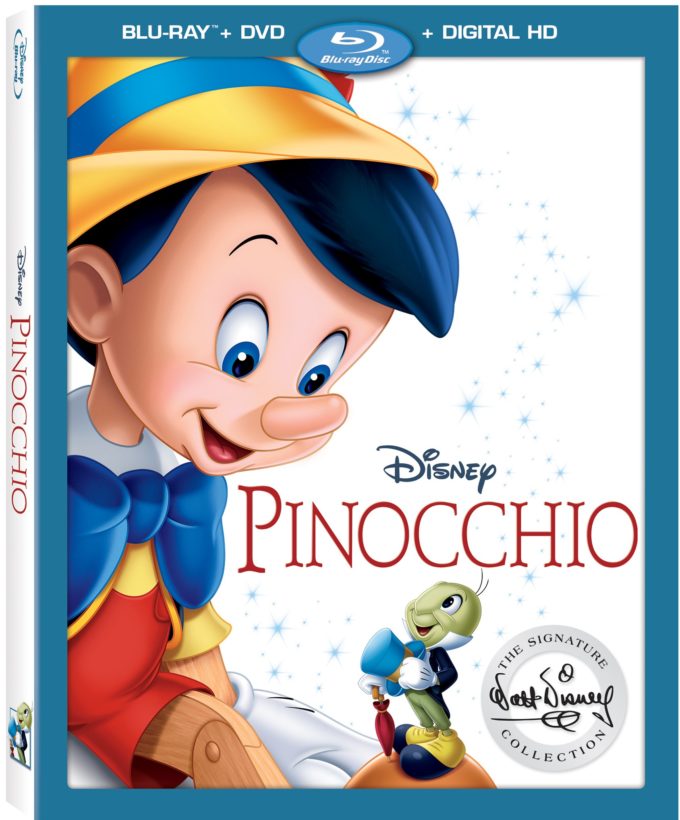 Disclosure:  Disney provided me with a product to facilitate this post.  The words and opinions expressed in this review are strictly of my own.
"Pinocchio", one of the greatest animated films ever made, has made its way to the celebrated Walt Disney Signature Collection!  The beloved classic, which inspired the world to wish upon a star, arrived on Blu-ray™ and DVD last Tuesday ( Jan. 31) with hours of new and classic bonus features.  Now Disney fans can enjoy hours of classic bonus material and exclusive features included on the new release, such as a reinvented rendition of "When You Wish Upon a Star", exciting never-before-seen artwork from the film's Pleasure Island sequence, a recently restored and scored 1927 short featuring Oswald the Lucky Rabbit, and more!
The 1940 American animated musical fantasy film was the second animated feature movie produced by Disney, winning two Academy Awards® — for best original score and best original song "When You Wish Upon a Star."  It also achieved the rare 100% rating on Rotten Tomatoes.  Now with its beautiful remastered color, crystal clear audio, uplifting music, and new bonus  extras—the film will delight a whole new generation of dreamers!
Pinocchio Walt Disney Signature Collection Bonus Features:
BLU-RAY, DIGITAL HD* & DISNEY MOVIES ANYWHERE:
Walt's Story Meetings: Pleasure Island – The Pleasure Island scene in "Pinocchio" had much more development than what is seen in the film. Join Pixar's Pete Docter and Disney historian and author J.B. Kaufman as they explore artwork recently discovered in Disney's animation research library revealing some of the attractions, gags and games, which Disney animators created for this iconic location of the film, that never made it on screen.
In Walt's Words – "Pinocchio" – Hear Walt himself discuss the making of "Pinocchio" through archival recordings and interviews.
The Pinocchio Project: "When You Wish Upon a Star" – Music influencers Alex G, Tanner Patrick and JR Aquino from Disney's Maker Studios, a global leader in short-form videos, gather in a creative workspace to create their rendition of the film's signature song, "When You Wish Upon a Star," and produce a fresh new music video.
Oswald the Lucky Rabbit in "Poor Papa" – This recently restored and scored 1927 short features Oswald the Lucky Rabbit who gets multiple visits from the stork and is forced to attempt various methods to help stop the onslaught of baby deliveries.
Classic Bonus Features – These offerings from prior home entertainment releases include hours of bonus material, such as the making of "Pinocchio," deleted scenes, sing-alongs, storyboards and theatrical trailers.
*Bonus features may vary by retailer
The Story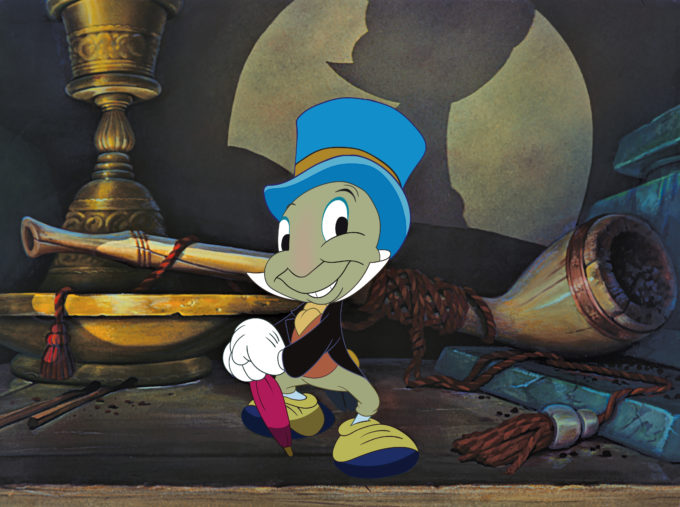 "Pinocchio" tells the tale of wood-carver Geppetto's beloved puppet who embarks on a thrilling quest – with faithful friend Jiminy Cricket – that tests his bravery, loyalty and honesty, all virtues he must learn to fulfill his heart's desire: to become a real boy.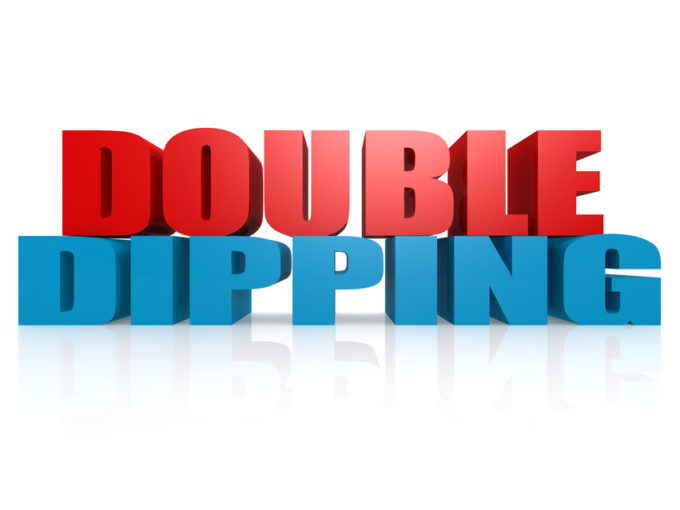 Worth the double-dip?
Already own Pinocchio on Blu-ray?  For fans who love the classic story of the wooden puppet who strives to become a real boy, the Pinocchio Walt Disney Signature Collection maybe worth the double-dip!  If you already have the 2009 release of the 70th Anniversary Platinum Edition of Pinocchio, the Walt Disney Signature Collection Blu-ray Combo Pack is worth adding to your Disney collection if you are interested in the bonus features.  It offers fans the legendary masterpiece in stunning 1080p High Definition with plenty of new extras including the 1927's Poor Papa, staring Oswald the Lucky Rabbit, restored with a new musical score by Mark Watters.
There is also the Pinocchio Project: "When You Wish Upon a Star" which is a collaboration of music talents to give a new rendition of the iconic song.  In my opinion, nothing beats the original, but it's definitely a must see for the true Pinocchio enthusiast.
Additionally, the new release includes classic content already contained on the previous 2009 Blu-ray, including the extra-long making of "Pinocchio", sing-a-longs, several deleted scenes, storyboards, and theatrical trailers.
We truly enjoyed the 2017 Pinocchio Walt Disney Signature Collection release and it's a favorite in our Disney movie collection.  Plus, with the Digital HD copy included in the purchase of the Blu-ray Combo Pack we can also watch the beloved movie on the go!  As with all the Disney movies, I would grab it before it goes back into the vault!
Stay Connected
Facebook.com/DisneyPinocchio
Movies.Disney.com/Pinocchio