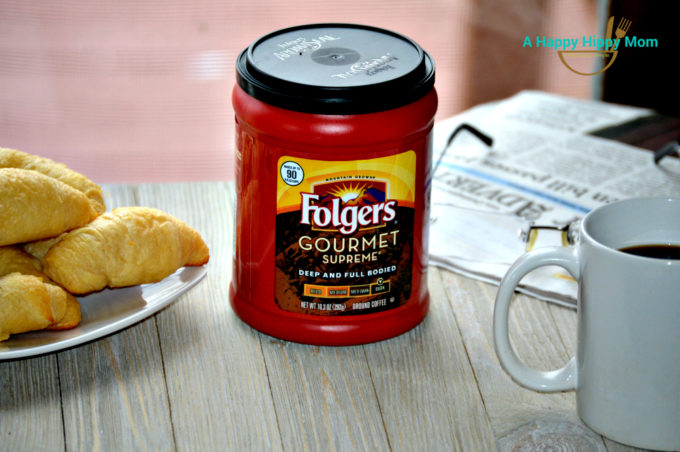 Disclosure: "This post was sponsored by Folgers® as part of an Influencer Activation for Influence Central. I am disclosing this in accordance with the Federal Trade Commission (FTC) guidelines concerning the use of endorsement and testimonials in advertising. I received complimentary products to facilitate my review."
"The Best Part of Wakin' Up is Folgers in Your Cup.®"  How many of you recognize that ingenious bit of memorable and historic  piece of Folgers® advertising?  As a young kid (age 14), I can recall hearing the catchy Folgers® jingle back in 1984 during a commercial break.  After listening to it, the uplifting melody along with the lyrics would get stuck in my head and I would find myself mindlessly humming the tune during the day.  Talk about an effective ad campaign!
Piece of Pop Culture
Throughout the years, the iconic Folgers® jingle has become a piece of pop culture.  Since its debut over three decades ago, the original jingle has been transformed into several different music genres, including jazz, gospel, country, folk, and more!  Popular musicians, such as Johnny Cash, Rascal Flatts, Aaron Neville, Michael McDonald, and others have recorded their own renditions of the iconic Folgers® Jingle.  The one factor which stays the same, no matter the version, is the famous ""The Best Part of Wakin' Up is Folgers in Your Cup,®"  lyrics are  unmistakable and resonates with coffee lovers everywhere!
Enter the 2017 Folgers® Jingle Contest
Folgers® has a long-standing tradition of encouraging inspiring musicians to follow their dreams.  This year, the leading coffee brand has teamed up with Grammy® nominated country music singer-songwriter Chris Young to inspire musicians to create their own spin of the iconic Best Part of Wakin' Up™ Jingle in the Folgers® Jingle Contest.  The Grand Prize winner will receive a whopping $25,000 to help make their dreams come true!
Here is how you can enter:
Now through February 27th, create your best original version of the Folgers® jingle and submit your video on the website. Your version of the Jingle must include the melody and lyrics of "The Best Part of Wakin' Up is Folgers in Your Cup®" in its entirety.
From February 27th to March 19th, the Folgers® team will select 5 semi-finalists and each will have a mentor session with Chris Young before the online vote. Vote daily for your favorite jingle finalist from March 27th to April 24th.  Each vote automatically enters you to win prizes up to $10,000!
Finally, in May, the judges will choose one winner to be rewarded the grand prize of $25,000!
Please make sure to read the contest rules before entering.
You Got This!
Don't be afraid to enter!  You have probably unknowingly created your own version of the jingle hundreds of times throughout the years!  If you need some inspiration look at past winners and finalists to get you started.  Keep in mind the finalists are being determined based upon the five highest point totals awarded using the following criteria: Creativity/Originality (0-25 points); Musical Performance (0-25 points); and Provides an Inspirational Message that is Actively Optimistic, Enthusiastic and Passionate (0-50 points).  Good luck and here is hoping you wake up to $25,000!
Stay Connected
Visit the Folgers® website
Follow Folgers® on Twitter
Enter the Folgers® Jingle Contest