Disclosure:  Hamilton Beach and Weldon Owen provided me with product to facilitate this post.  The words and opinions expressed in this review are strictly of my own. 
New year!  New you!  If you are committed to make a meaningful change this year and keep your new year's resolution on shedding pounds, you need to set yourself up with some weight loss arsenal!   I'm talking about tools that will help you change your lifestyle and get you on the proper path.  From eating healthier, getting up and moving, to changing your overall self-esteem, here are some suggested tools to get you started!
Hamilton Beach Professional 14 Cup Dicing Food Processor (model 70825)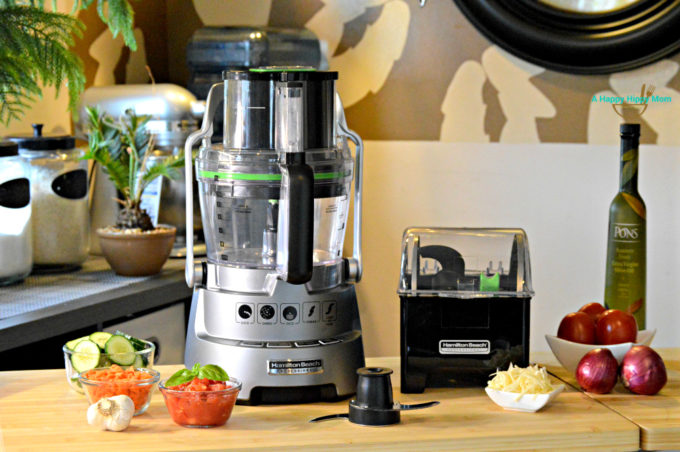 Having healthy snacks available and being able to easily make nutritional meals when hunger strikes is essential. Hamilton Beach Professional 14 Cup Dicing Food Processor with its powerful 600-watt motor has your back!  Snacking helps keep your energy up, but is a serious weight loss downfall if you are not choosing the correct foods and getting too many calories.  Cut vegetables, homemade soups, and high fiber foods like hummus can fill you up and prevent you from over eating.
Commercial Quality
Hamilton Beach Professional 14 Cup Dicing Food Processor is ready to dice, slice, shred, knead, chop, mix and puree anything you desire!  Homemade meals and snacks are prepared in a fraction of the time with this heavy duty commercial quality kitchen countertop appliance. It comes with everything you need to dice, slice and shred like a pro.
Five Attachments and Storage Case
The food processor comes with five attachments and a storage box to conveniently hold and keep the accessories organized in one place for easy finding.  Attachments include a Dicer for cubing, Shredding blade, an adjustable Slicing blade with 14 thickness settings, Chop and Puree attachment, and a Kneading attachment for dough.
Slicing Blade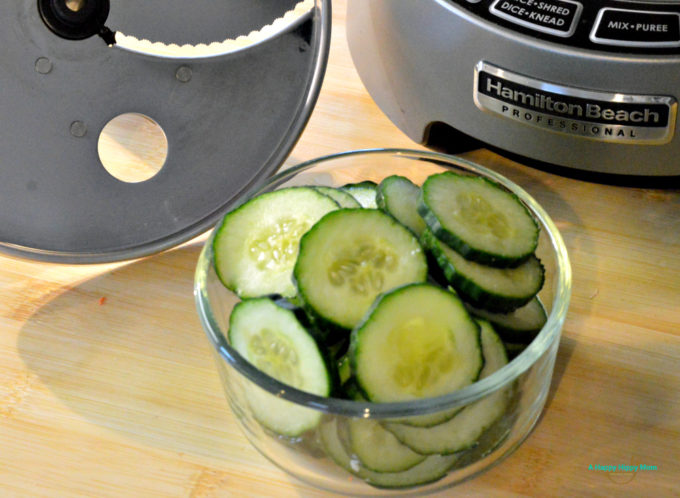 I LOVE this food processor!  Being able to quickly stock your fridge with a variety of cut vegetables, fruits, and meats for snacking is a major plus! The Slicing blade with 14 thickness ( ranging from 1/32" to 1/4" ) settings is amazing.  You can cut super thin slices to thick slices with a simple twist of the control on the attachment.
Dicer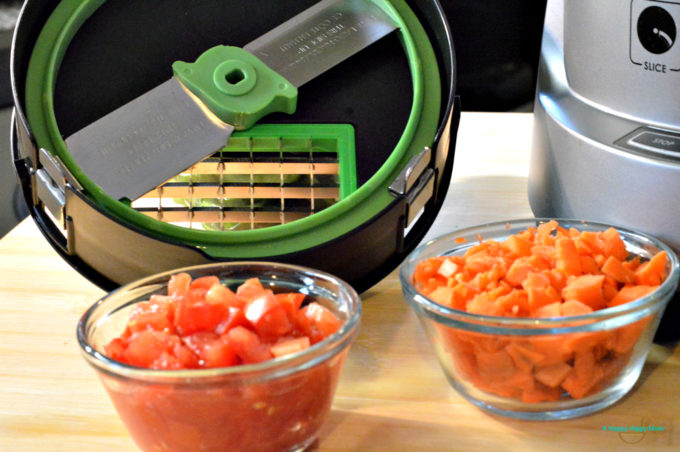 Preparing salsa is also a breeze!  The Dicer creates ½ inch uniform pieces in seconds.  At first the attachment looks a little intimidating, but once you get used to using it— you will wonder how you ever lived without it.  Homemade soups with perfect diced potatoes, onions, peppers, and carrots have never been easier or dice apples in seconds for tossing in oatmeal.  Eggs can be diced for quick egg salad as well! The unit also comes with a green cleaning tool to help get the food out of the sharp grids for cleaning.
Shredding Blade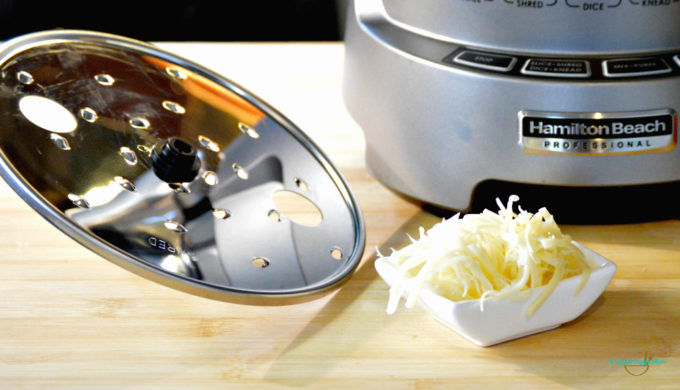 Do you purchase your cheese already shredded, because you hate all the elbow work involved?  Pre-shredded cheese on the average costs more than block cheese.  With cheese already being expensive, why pay more than you have to?  With the Hamilton Beach Professional 14 Cup Dicing Food Processor and Shredding attachment, grating an entire block of (chilled) cheese only takes a few seconds!  Additionally, the blade effortlessly shreds cabbage and carrots for a delicious homemade slaw and other salads.
Chop and Puree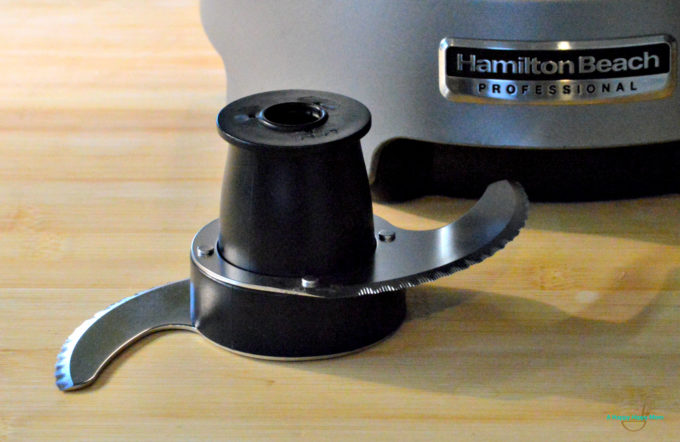 If you want to make your own hummus at home, this is the attachment you need!  Nothing beats homemade hummus!  Store bought hummus contains lots of ingredients you probably don't even recognize.  Simple hummus is a mixture of chickpeas, tahini (paste made from sesame seeds), olive oil, lemon juice, garlic, and desired spices.  Of course, you can dress it up a bit and toss in or garnish the hummus with roasted red peppers.  Whatever you decide, the stainless-steel Chop and Puree attachment is the key to getting the perfect consistency you need for mouthwatering hummus!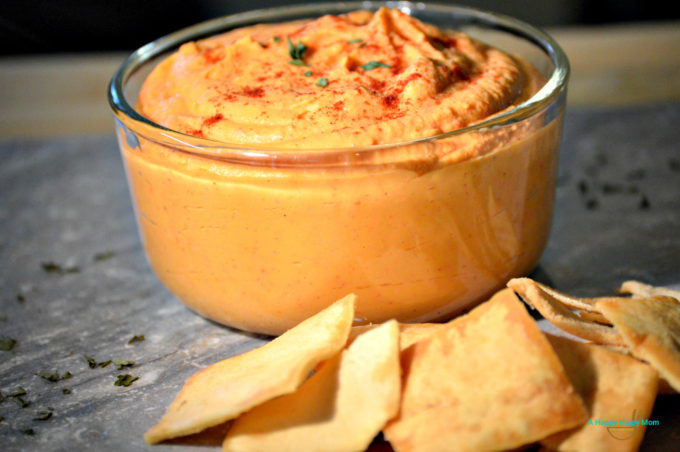 Also, great for chopping nuts, meat, garlic, onions, peppers, celery, herbs, bread (for crumbs), crackers and more!
Kneading attachment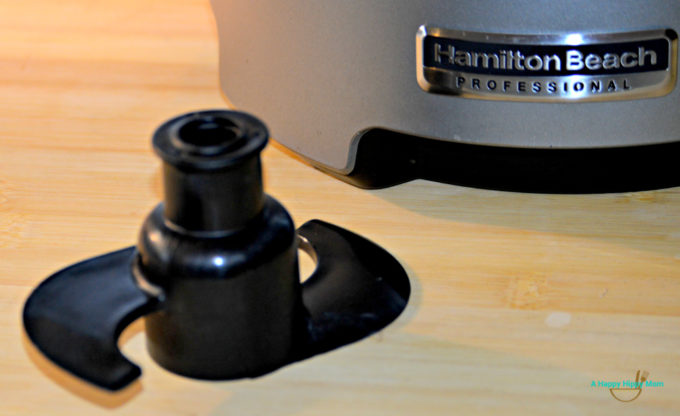 I have not used the kneading attachment yet, but it is for making things like homemade pizza dough, bread, and cookie dough.
Blades are SHARP!
The storage case is fantastic for keeping the extremely sharp blades organized and easily accessible. You don't want to be reaching blindly in a drawer and grabbing the attachments.  This nifty case helps protect your fingers plus the blades from unwanted accidents.  I recommend placing the box somewhere above in an area that is not reachable by young children.
3-in-1 Big Mouth Feed Tube
Save time with the 3 in 1 Big Mouth feed tube!  The feed tube has an enormous (one of the largest on the market) opening to push whole fruits through for fast processing.  Or use the 2 smaller tubes to keep thinner items like carrots upright to get desired slices.  It comes with a pusher to move food through the chute.
Stack and Snap Assembly
No turning or twisting to assemble the food processor.  The large BPA Free bowl stacks directly on the base and the lid fits directly on the bowl with a VERY heavy duty die-cast locking arm to lock them in place.
Easy to Read Controls
Located on the front of the base is an easy to read control panel featuring touchpad buttons to help simplify functions along with suggested attachment to use.  Once the button is selected the button illuminates to let you know when the processor is ready.
Process Large Amounts of Food
Save time by processing large amounts of food with the Hamilton Beach Professional 14 Cup Dicing Food Processor!  This kitchen appliance is by no means small.  It is massive, measuring 17.32 x 10.91 x 20.55 in and weighing 15.5 lbs.  The size is something to consider if you don't have the counter space.  However, if you are looking for a well-built professional quality food processor, this appliance should not be overlooked.  It is impressive and will allow you to slice, dice, chop, puree, and mix like a pro!
Unlike other processors I have used, thus far I have not experienced any leaking even when full. The leak-free bowl holds 14 cups of dry ingredients or 8 cups of liquid ingredients and is equipped with a mess-free pour spout.
Features:
Dice cubes, slice thick to thin, shred, knead, chop, mix and puree.
Easy Stack and Snap assembly with no difficult twisting.
Heavy-duty construction.
Includes 5 attachments and storage case.
14 cup, BPA-free bowl with pour spout and leak-free seal.
High liquid capacity – up to 8 cups.
Dishwasher safe blades, bowl, and lid.
Function guide eliminates guesswork.
Easy-clean touchpad controls with LED indicator lights.
3-in-1 Big Mouth feed tube.
Large tube fits whole foods for less precutting.
2 smaller tubes hold thin foods upright.
Storage case for accessories.
2 speeds plus pulse.
5 year limited warranty.
Retail Price $249.99
Roasted Red Pepper Hummus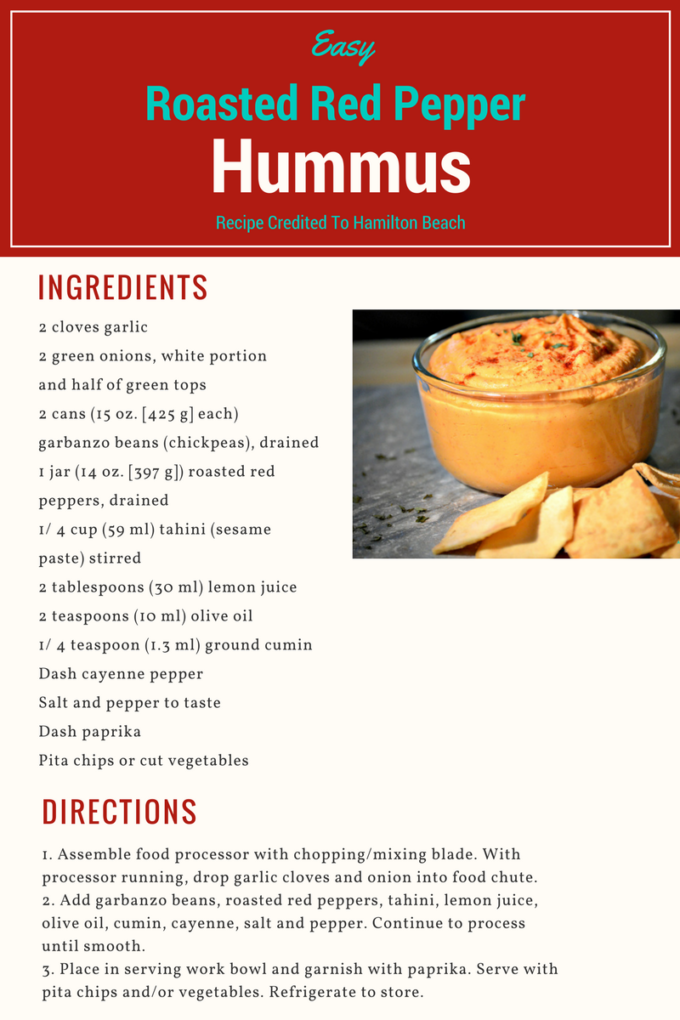 The Hungry Family Cookbook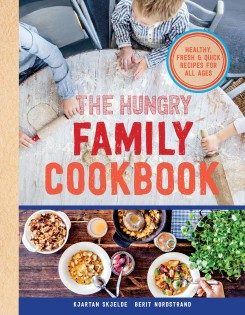 Every kitchen needs a good cookbook to help inspire the home chef to whip up healthy homemade food!  The Hungry Family Cookbook is packed with healthy, tasty recipes to get you on the road to eating fresh and nutritious meals. If you are looking to seriously make a positive lifestyle change in your diet, this cookbook is a great tool!
There are several things I adore about The Hungry Family Cookbook, but the one main selling factor is it was written by a chef and health concerned father of three children (Kjartan Skjelde) who collaborated with Berit Nordstrand's research based tips about meals.  Berit is a Norwegian Doctor, mother of six children, and a food expert who is passionate about the health benefits of clean, natural food.  Her entire career is devoted to the study of how medicine and food work on the body's receptors.  The doctor's belief is the right food can bolster health, which leads to a happy fulfilled life.  Kjartan incorporates her philosophy and expertise into each of his recipes within this amazing cookbook.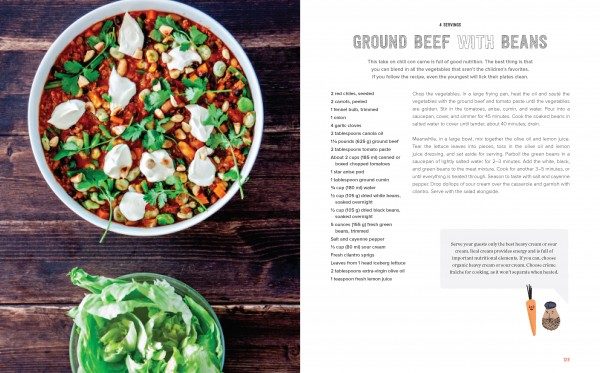 The cookbook features more than 115 healthy, family friendly recipes containing nutritious and delicious ingredients.  Each tasty dish is built upon modern research on nutrition, flavors, health issues, and sustainability. Additionally, there is a section about health benefits, including the importance of protein, how to replace sugar in foods, cooking vegetables to retain maximum nutritional value, best choices for kids of all ages, and more!  If you are interested in the environment, sustainability, and desire to find pure, natural foods for cooking yummy meals for your family—this is the cookbook for you!
 Cookbook Contents
Chapter 1: Breakfast: Whether it's a drink to kick start your day or breads with different spreads, this book has enjoyable healthy breakfast recipes for the most important meal of the day. Sample recipes include: Red Smoothie with Oatmeal, Scrambled Eggs with Cottage Cheese, Nugatti Spread, Bread Baked in a Cast-Iron Pot.

Chapter 2: Everyday Meals: From lemon mackerel with sweet cabbage and grilled asparagus to chicken wings with Caesar salad to pork stew with tomatoes and mashed potatoes, this chapter is the longest chapter of the book and covers a diverse range of dishes.

Chapter 3: Small Dishes: For anyone who craves something healthy and quick to eat between meals, The Hungry Family Cookbook gives you ideas for everything from energy bars to smoked trout and avocado on crisp bread to a hot sandwich with lox.

Chapter 4: Weekend Meals: Weekend meals are different from weekday meals, with more time for creativity and cooking with your family. Sample recipes include: Moussaka, Shellfish Bonanza, Grilled Mussels with Green Curry Soup and Yoghurt Lefse.

Chapter 5: Sweets: Fruits and berries are the common thread in this chapter. Light desserts like coconut drops, strawberry and yogurt bars, and chocolate cookies will help you round out any meal or double as snacks.
Healthy, Quick and Delicious Food
Berit Nordstrand, Kjartan Skjelde
320
Hardcover
october 2016
ISBN 9781681881133
category: food + drink, general, health + wellness
$35.00
iFit Coach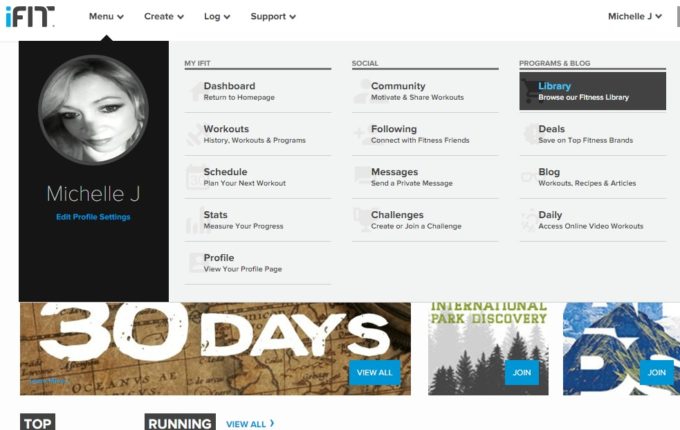 When it comes to exercise, I need motivation to get moving—and lots of it!  Some individuals wake up in the morning and look forward to their morning workout.  I am NOT that type of person.  I need the extra push to get me going.  iFit is my inspiration and it makes fitness more fun.
The membership includes custom workouts, calorie targets, daily activity logging, sleep tips, and recipes from expert trainers and dietitians.  Do I think the iFit Coach membership cost is worth it?  Yes, IF you use the ENTIRE program.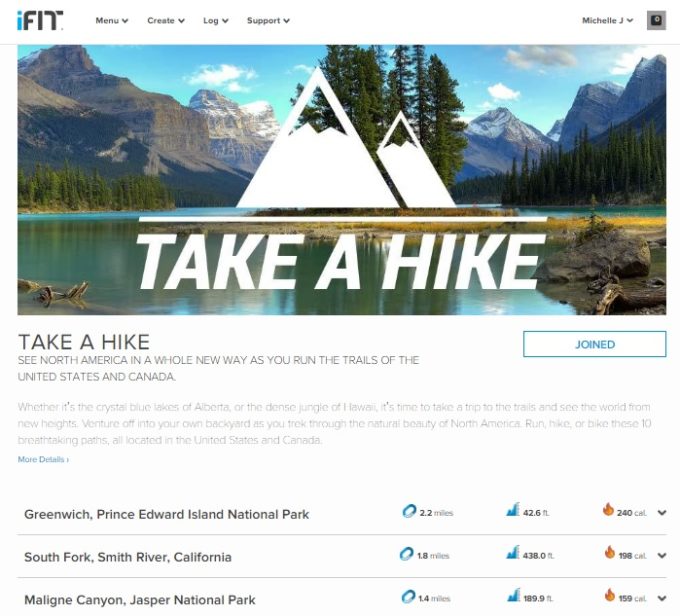 What I like the most about iFit is my treadmill can synchronize (via Bluetooth) with the scheduled workouts using my tablet.  I can run through Rio one week or take a hike through the trails of crystal blue lakes of Alberta, or the dense jungle of Hawaii the next.  There is a library full of workouts all ready to get you moving with the most beautiful scenery.  OR you can create your own map based workout with the location of your choosing, time based workout, distance based workout, or even a personal challenge.
I have tried other weight loss fitness programs in the past and this one keeps me coming back.  Once you start finishing the scheduled workouts it leaves you feeling strong, empowered, and gives you a self-esteem boost.  If you need that extra motivation to get you going its worth trying!
It Takes Balance!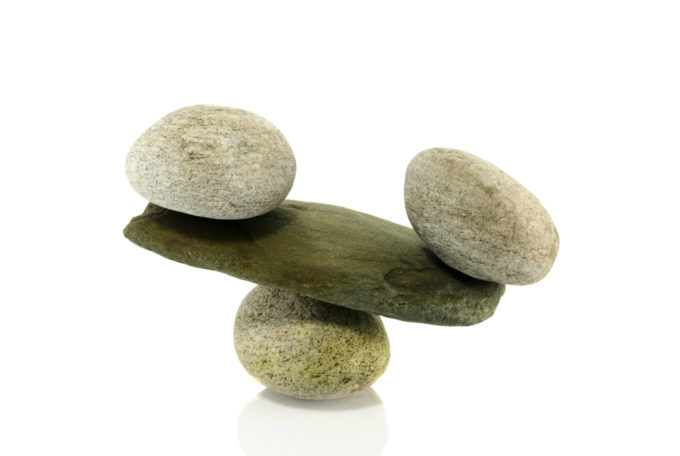 Losing weight should be more of a goal of getting healthier than what you think is the ideal size.  It takes a balance of eating healthy, moderate exercise, and the motivation to make a positive lifestyle change.  Those three elements are the key to looking and feeling great in 2017!
 STAY CONNECTED
Visit the Hamilton Beach website
Like the Hamilton Beach Facebook page
Follow Hamilton Beach on Twitter
Discover Hamilton Beach on Pinterest
HAMILTON BEACH Professional 14 Cup Dicing Food Processor (model 70825) GIVEAWAY!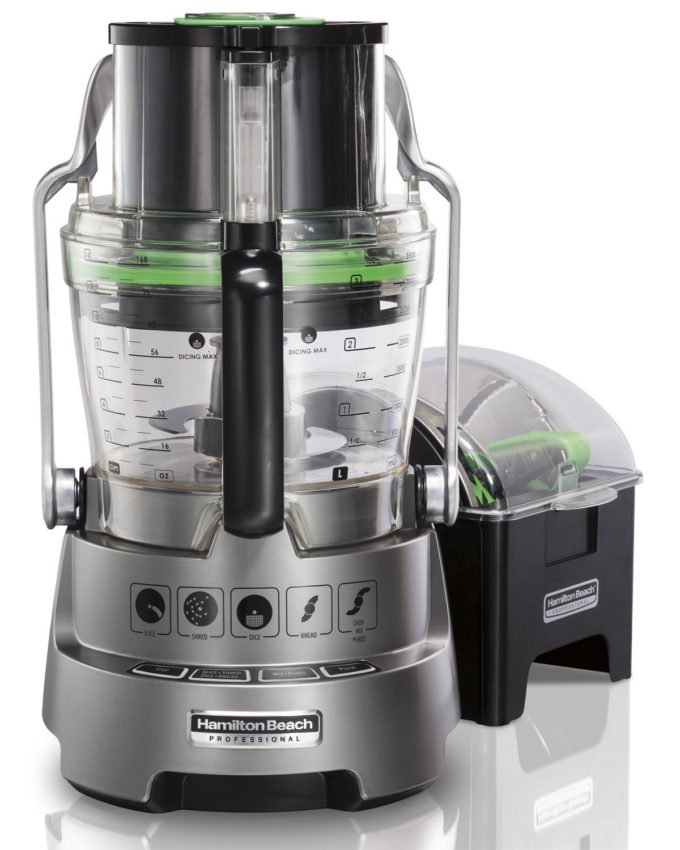 Courtesy of our friends at Hamilton Beach, one lucky reader is going to receive the Hamilton Beach Professional 14 Cup Dicing Food Processor (model 70825) mentioned above!
To enter the giveaway, please follow the instructions provided on the Rafflecopter form. Any comments are welcomed below, but won't count towards the giveaway. Only entries using the Rafflecopter form will be eligible for prize. Thank you!
Open To US Residents Only- age 18 + Ends January 31st, at 11:59 pm (eastern time)! Enter Daily!