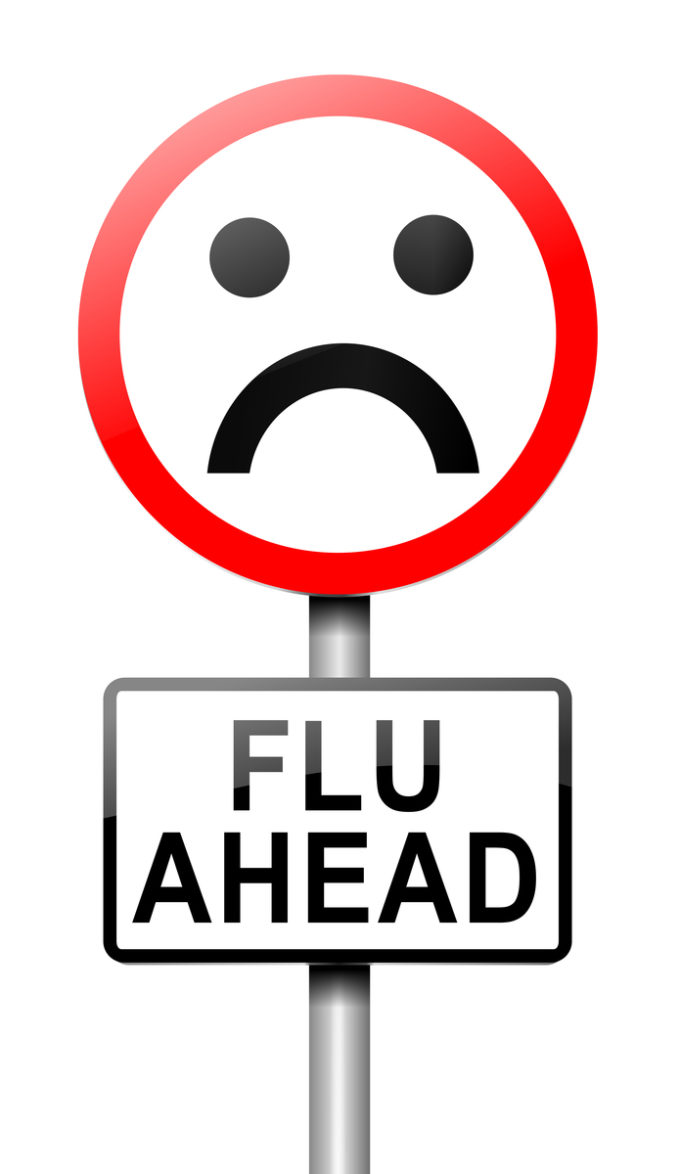 Disclosure: This post has been sponsored by Pfizer Consumer Healthcare. All thoughts and reviews are my own.
Flu season!  While viruses can affect our children all year long, they are most common during the fall and winter.  Per the CDC, we are in the peak months (December-February) of flu activity, so it is time to prepare for colds and flu.  Keeping up on good hygiene practices can help avoid germs from passing, but there are also extra preventive steps you can take to hopefully prevent at least some of your family from getting sick.  Proper hand washing for 20 seconds, disinfecting heavily touched surfaces, and getting proper rest are a few simple things to do for combating germs.
Unfortunately, even with the best preventive practices children still get the common cold and flu.  Between all the increased gatherings, hugs, and crowded shopping centers, germs spread during the holidays and are unavoidable.  AND as the kids head back to school from the long holiday vacation, it's time to prepare for those sick days at home.  Here are some tips on how I get ready when #SickJustGotReal in our home.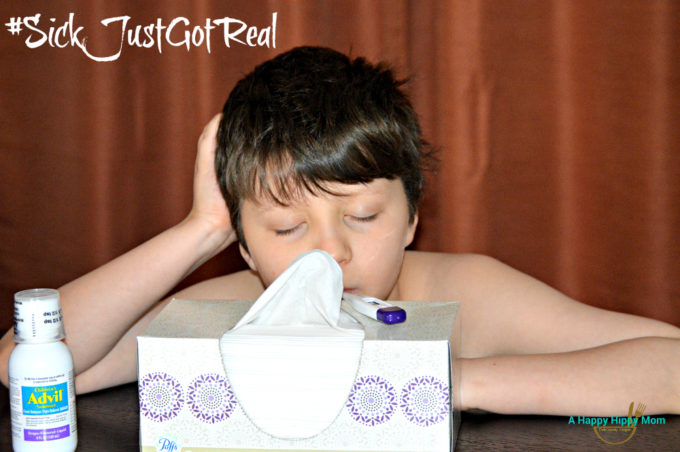 Know the Symptoms of Colds and Flu
Are you dealing with a cold or the flu? The flu tends to come on with sudden symptoms of fever, chills, aches, and tiredness.  Colds usually begin with a stuffy nose or sore throat, and then gradually become more intense.
Stock Up on Supplies During Flu Season
I don't want to have to make a last-minute shopping run when sick does get real!  Come October I begin to load up on supplies, such as tissues, hand soap, hand sanitizer, and white vinegar.   The vinegar is used as a safe alternative to bleach to sanitize door knobs, remotes, counter tops, toilets, sinks, and other highly touched areas.  It kills most household germs and bacteria.
Although, it is a powerful and natural cleaner, vinegar is not a registered disinfectant with the EPA.  A good thing to remember is it doesn't kill some dangerous bacteria like staphylococcus.  There are other natural alternatives you can make or purchase for disinfecting, such as solutions using concentrated Hydrogen Peroxide or thyme and oregano essential oils.
Fun Kid Activities
Other things to stock up on are fun activities your kid can do during sick days.  Pick up extra coloring books, crayons, puzzles, and card games.  Also, have a stack of age appropriate DVD's and reading material ready to distract your kid during those feeling yucky days.
Check Medicine Cabinet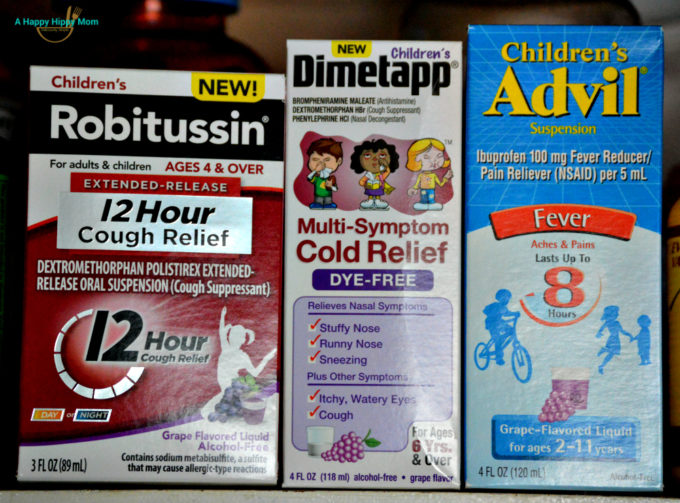 Double check your medicine cabinet for children pain relievers, fever reducers, decongestants, and cough syrups.  I make sure my medicine cabinet is stocked with Pfizer Pediatric products during the flu season.  They always have my back when sick does get real.  My son has been sick at least twice already within the last 6 months.  Having products like Children's Advil® in our home when colds and flu strike is an essential!
About Pfizer Pediatric products
When sick gets real, the pediatric brands of Pfizer Consumer Healthcare are there with three solutions – Children's Advil®, Children's Robitussin® and Children's Dimetapp® – to tackle the ickiest of symptoms.
Ease those aches and pains, while reducing a child's fever fast with Children's Advil®, a great solution for kids as young as 2 and up to 11. Children's Advil® comes in several great-tasting flavors, including: Sugar-free Dye-free Berry, Bubble Gum, Grape, Blue Raspberry, Fruit and Dye-Free White Grape flavors. There's also Infants' Advil® White Grape, which provides unsurpassed fever relief (among OTC pain relievers) with a syringe for easy dosing for children 6-23 months.
For your child's cough, trust Children's Robitussin® Extended-Release 12 Hour Cough Relief to control and relieve symptoms all-day or all- night. Available in grape or orange flavor, for children ages 4 and up. Please note, certain Children's Robitussin® products are only suitable for children ages 6 and up.
Children's Dimetapp® Multi-Symptom Cold Relief Dye-Free eases your child's stuffy and runny nose, while quieting a bothersome cough. All in a great-tasting grape flavor that's dye-free, for children ages 6 and up.
*It is important to remember to always read and keep the cartons for complete warnings and dosing information on Pfizer Pediatric products and to use as directed
Double Check Thermometer
If you haven't used your digital thermometer in a while, check to make sure the batteries are still working!  When the batteries get low the thermometer might give inaccurate readings.  If there is no battery low indicator to warn you, the thermometer might need its batteries changed if it is taking an extra-long time to get a reading or the temperature is always below normal.
Comfort Products
Keep on hand comfort products to help ease aches, stuffy nose, and other discomforts.  I always make sure to have Vicks® VapoRub,  saline nose spray, and the vaporizer cleaned and ready to go during the flu season!
Fill the Pantry!
Stock-up on easy to make snacks, drinks, and meals your child prefers.  Classics like chicken soup is a no-brainer!  Other favorites like ice-pops, applesauce, and PB&J are good too!
Don't Panic
As parents, we worry about our kids getting sick!  We want them to thrive and be healthy!  When sick does get real it is time to think clearly and be prepared for the flu season.  Colds and flu normally go away on their own without the need of a doctor visit.  However, its best to have your child's pediatrician number on the fridge where you can clearly see it in case you have concerns or need to make an appointment.
Sick Just Got Real Giveaway!
Courtesy of our friends at Pfizer, a lucky reader is going to receive a gift pack including:
$25 Visa Gift Card
(1) Children's Advil® Suspension, Grape (ages 2-11)
(1) Children's Robitussin ® Extended-Release 12 Hour Cough Relief (ages 4+)
(1) Children's Dimetapp® Multi-Symptom Cold Relief Dye-Free (ages 6+)
To enter the giveaway, please follow the instructions provided on the Rafflecopter form.  Please leave a relevant comment to show your support!  Thank you!
Open To US Residents Only- age 18 + Ends January 15th , at 11:59 pm (eastern time)! Enter Daily!