Preparing for a family ski trip can be lots of fun. This is the kind of trip you all make memories for a lifetime, not to mention skills! Skiing is a great activity for families who like to stay active. Here's how to prepare for your family ski trip:
Find A Suitable Place for Your Family
There are so many different places you can go skiing, but some will be more suitable for your family than others. It all depends on the amenities, how difficult the slopes are, your skill level, and more. Make sure you do plenty of research to see what's right for you. You might want to start by looking at a typical ski chalet in Meribel to see what you think.
Go At The Right Time
Going skiing at the right time is crucial too. Many families like to go skiing over Christmas and New Year, but you might want a quieter atmosphere. If that's the case, go during January. However, if you want your kids to make friends and you want a great atmosphere, going during peak time can still be fantastic.
Have A Few Lessons
If this is your first family ski trip, it's a great idea to have a few lessons beforehand. You don't want to get there and panic because you have no idea what you're doing, and you definitely don't want your kids to do that. Arrange to have some lessons beforehand so you all have more confidence before arriving to your destination.
Be Honest With Your Kids
If your kids have never been skiing before, being honest with them is a good idea. Don't be afraid to tell them that it'll be difficult to master at first, and that it's cold. But make sure you also tell them why it's a great thing to do and how much you'll all enjoy it!
Read Books And Watch Videos
There are books and videos out there that can help you to prepare your kids for what's to come. This should give them a few ideas on what they'll be doing and help them to get more excited about the whole trip!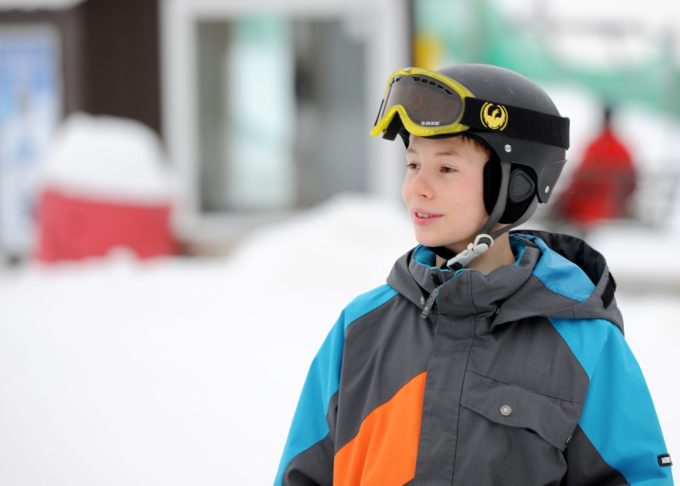 Rent Or Buy Your Equipment?
When you go skiing, you have the choice to rent your equipment or take your own. Obviously if you're seasoned skiers, it makes sense to take your own. However, renting your equipment is a good idea for first timers. This ensures you don't have to lug equipment everywhere you go and that you don't waste money if you decide never to go skiing again.
Pre-Book Before You Go
Pre-booking as much as you can before you go ensures you'll all have an even better time. You can pre-book your lessons, and make sure there's equipment for you when you get there. Doing this will ensure your trip goes as smoothly as possible.
Stock Up On SPF
You can still get sunburned when you go skiing. As the sun reflects off the snow and back at you, it's actually easier to get sunburned than if you were going to a hot country. Stock up on SPF and other things to protect the skin and eyes, such as glasses and gloves.