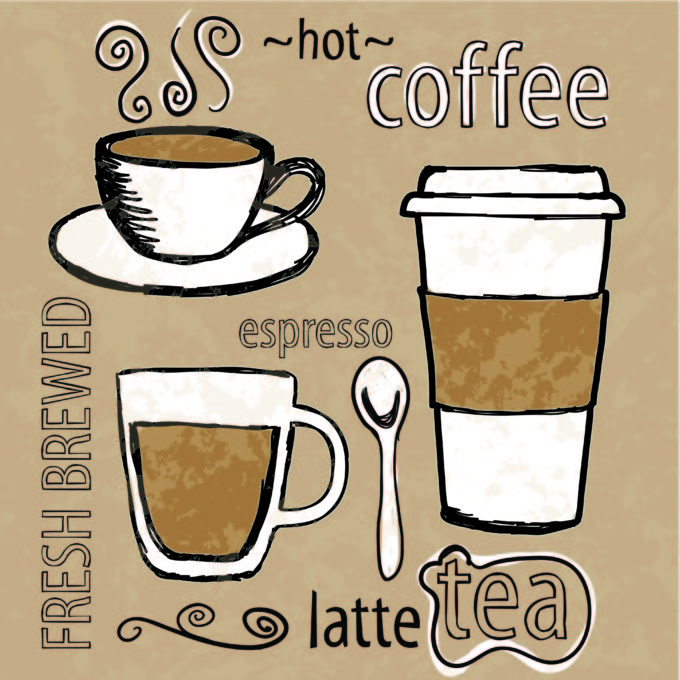 Disclosure:   Shark/Ninja provided me with a Ninja Coffee Bar® System to facilitate this post.  The words and opinions expressed in this review are strictly of my own.
With Christmas and New Year's fast approaching, it's time to begin thinking about ways to make the best of the special occasions and how to entertain our family and friends within our homes.  From planning the main feast to baking delightful desserts, to concocting specialty drinks to wow the guests,  tis the season for finding the perfect way to raise the bar on entertaining and making the holidays fun and memorable.
The Ninja Coffee Bar® System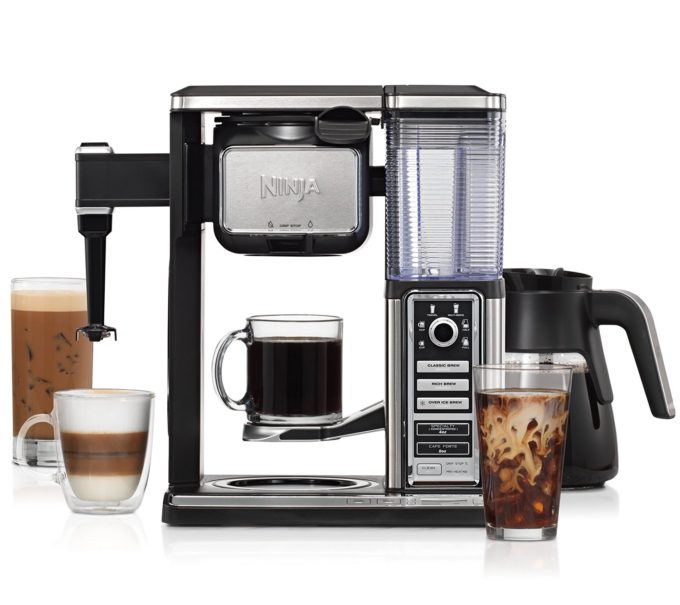 The Ninja Coffee Bar® System, allows you to create delicious specialty drinks you normally would have to purchase at your local café right within the comfort of your own home.  Dazzle and delight guests with coffeehouse-style hot and cold layered drinks, such as latte macchiato, cappuccino, ice cold frappe, and more!  Featuring a built-in hot and cold frother whisk, five custom brews, and six brew sizes, the Ninja Coffee Bar® System is extremely flexible to satisfy even the most sophisticated coffee snob on your guest list.
Custom Brews:
Classic, Rich, or Over Ice
Signature Brews:
Specialty and Cafe Forte
Custom Brew Sizes:
Cup, XL Cup, Travel Mug, XL Multi-Serve, Half Carafe, and Full Carafe
Several different machines in one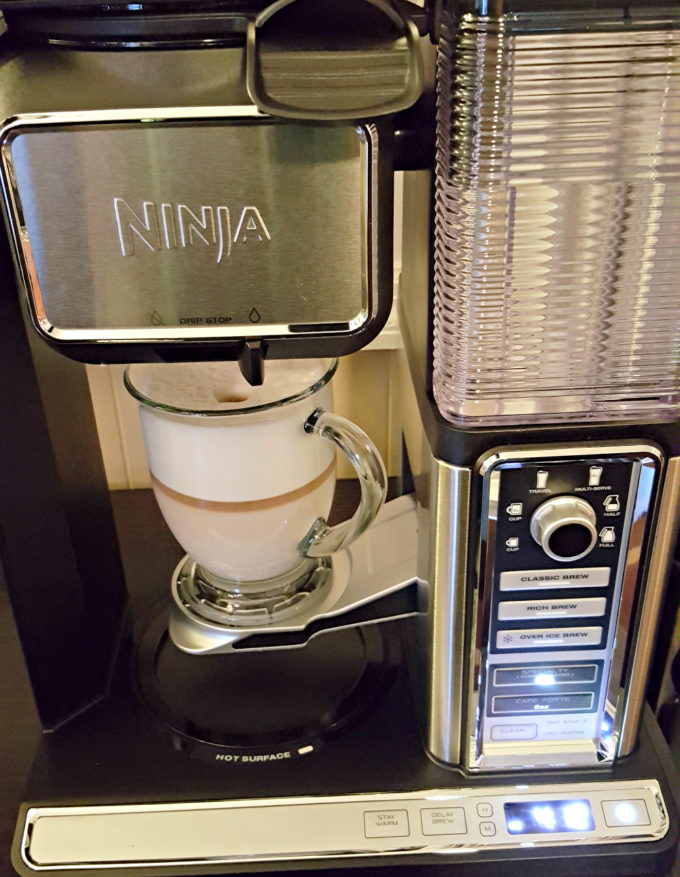 For years, I have been using a single serve coffee machine that uses strictly k-cups.  Additionally, to froth milk I have a separate frother for those specialty drinks.  The process of making a simple latte was timely and messy.  The Ninja Coffee Bar® System lets me make any desired specialty drink in less time without all the extra steps.  It is like having several different machines in one!  Plus, with the Ninja's advanced Thermal Flavor Extraction Technology and Auto-iQ One-Touch Intelligence I get a rich, coffee flavor cup every time no matter what size I brew.
Less Waste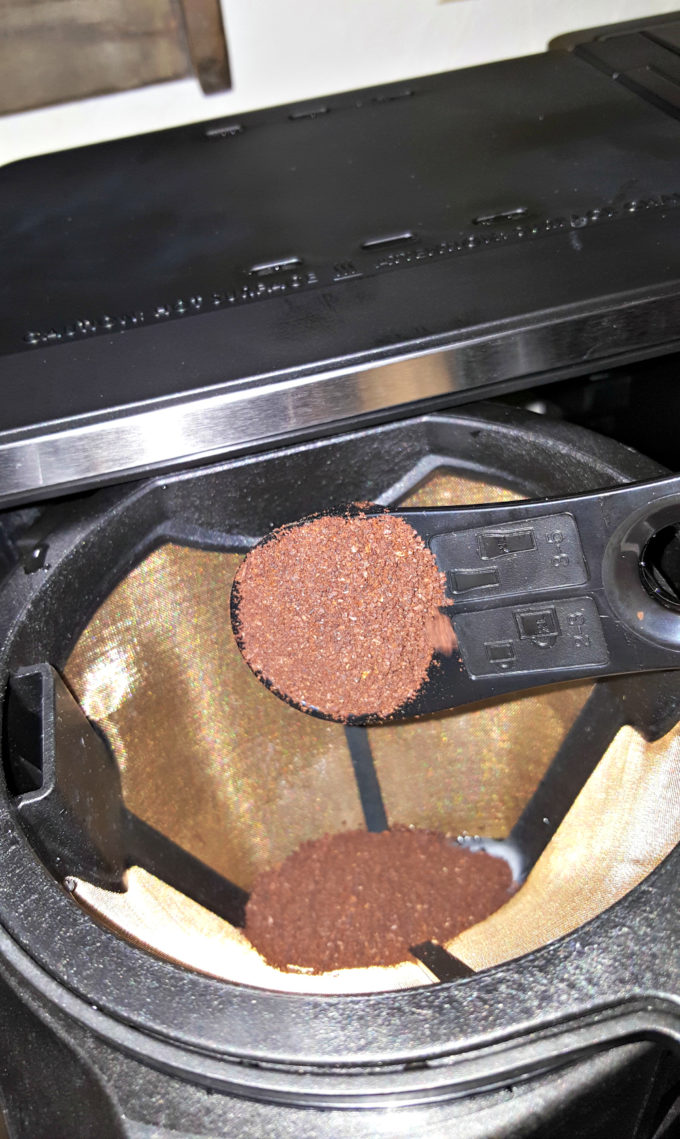 If you are looking to cut down on waste, the Ninja Coffee Bar® System is your pod-free answer.  The coffee machine comes with a permanent filter, so there is no need for extra paper filters or wasteful k-cups.  You can use any brand of ground coffee you want!   Brew as little as a concentrated cup (3.8 oz.) all the way to a full carafe (43 oz.).  The coffee system comes with a double-sided Ninja Scoop that has built-in markings to make measuring the coffee simple.   Some days call for more coffee than others!  You are in full control of how much you want with personal customization of your coffee drinks.
Features
The attractively designed Ninja Coffee Bar® System is packed with features!
10-Cup (50 oz.) Ninja® Glass Carafe
50 oz. Removable Water Reservoir
4 Single Serve Brew Sizes – Cup, XL Cup, Travel, & XL Multi-Serve
5 Brew Types
Permanent Filter
Built-in Hot & Cold Frother
Ninja Smart™ Scoop
Programmable Delay Brew
Drip Stop
Intelligent Clean Cycle Indicator
Product Dimensions: 15 x 11.3 x 16.3 inches
Item Weight: 13.8 pounds
What's in the Box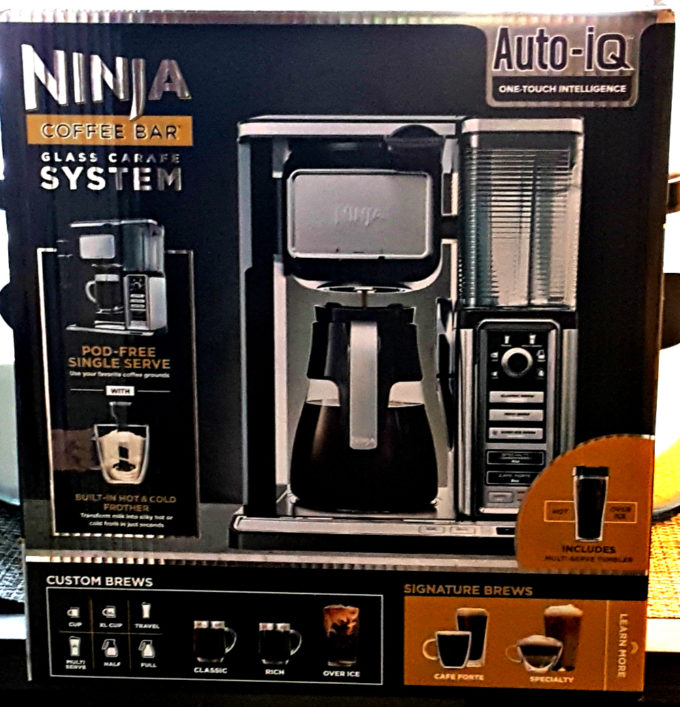 Ninja Coffee Bar® System
10- cup Glass Carafe
Multi-Serve Tumbler
Permanent Filter
Ninja Smart Scoop
20 Recipe Inspirational Guide
Integrated Frother Info
Quick Start Guide
Owner's Guide
Limited 2 year warranty
Conclusion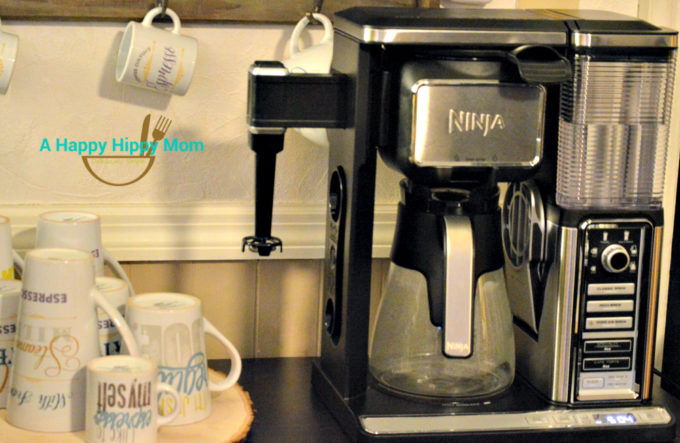 Even if you are not an experienced barista, the Ninja Coffee Bar® System lets you make specialty drinks like a pro in your own home!  Lattes, cappuccinos, frappes, and other delicious hot and cold coffee beverages are made easy with one coffee system machine.  It lets you personalize your coffee with endless possibilities!  Plus, you can use any ground coffee you like,  brew as little or as much as you want, and don't need any wasteful paper filters or k-cups!
The Ninja Coffee Bar® System is the single best coffee machine I have ever used.  It is like having several machines all in one beautifully well designed coffee system.  I absolutely love it and can't wait to use it to dazzle guests during our holiday gatherings.  If you are looking for something special for entertaining this is your product!  The coffee system lives up to the infomercial above!
Peppermint Latte Recipe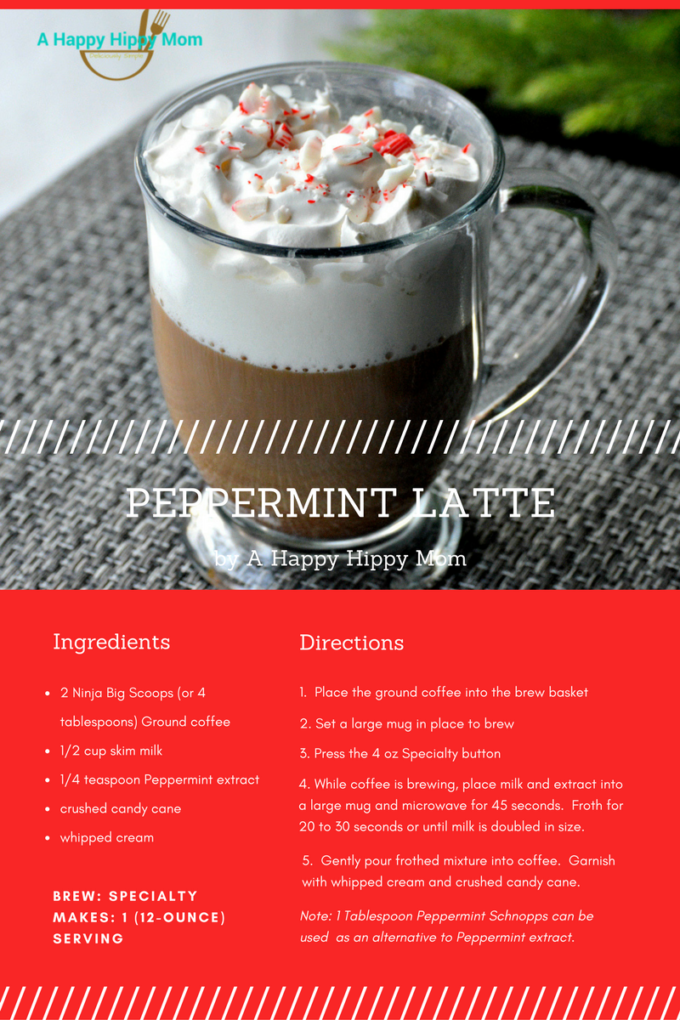 FEATURED ON 2016 HOLIDAY GIFT GUIDE!
The product above is featured on A Happy Hippy Mom's 2016 Holiday Gift Guide!   The gift guide includes recommended gift suggestions to make your holiday shopping a breeze!