Disclosure:  I was provided with a product to facilitate this post.  The words and opinions expressed in this review are strictly of my own.
Have you ever wanted to decorate cookies like a pro?  100 Best Decorated Cookies by Julie Anne Hession will get you on your way with detailed cookie decorating ideas and instructions for just about every occasion or holiday!
750 Step-by-step Photos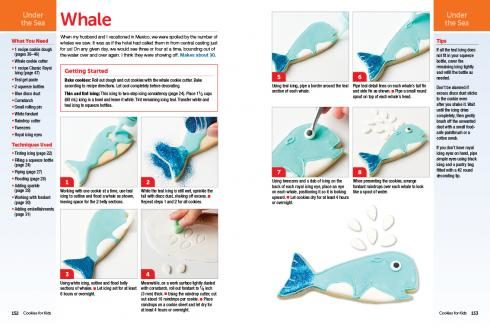 photo credit 100 Best Decorated Cookies by Julie Anne Hession
The well-thought-out book features 750 step-by-step photos giving you the confidence you need to decorate the most gorgeous hand-crafted cookies straight from your kitchen.  From piping, flooding, to tips on working with fondant, Hession breaks it down into simple instructions to get the best possible cookie decorating results.
Create Beautiful Edible Gifts for the Holidays
This time of year, homemade cookies that are festive and delicious make perfect thoughtful gifts. 100 Best Decorated Cookies has eleven "Winter" cookie decorating ideas to create the most beautiful edible gifts for the loved ones on your holiday list.  Learn how to decorate stylish snowman, stunning snowflakes, yummy peppermint candy, and adorable Christmas stockings stuffed with a candy cane and a snuggly bear.  There is even decorating instructions for a Christmas Tree cookie with royal icing branches and a fondant star sprinkled with gold luster dust ideal for serving at tree-trimming parties!  The cookies might sound complicated, but Hession gives you a list of exactly what you need and techniques used to duplicate the wintry delights featured in the book.
Cookie Dough and Icing Recipes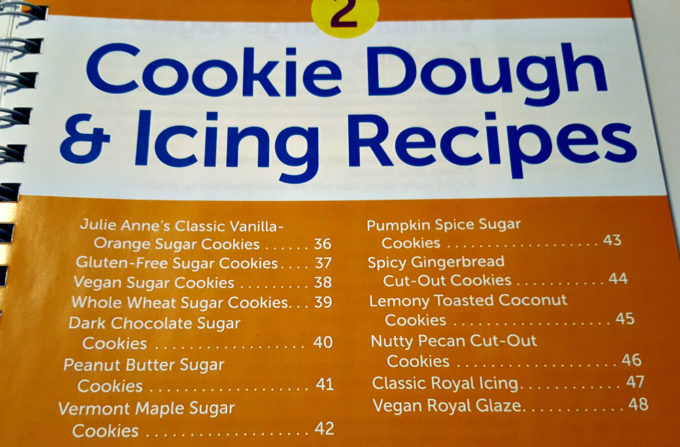 The cookies used in the concealed Wire-O lay-flat binding decorating book are all variants of dough suitable for cut-out cookies.  Julie Anne shares her favorite recipes including Peanut Butter Sugar Cookies, Julie Anne's Classic Vanilla-Orange Sugar Cookies, Dark Chocolate Sugar Cookies, and Lemony Toasted Coconut Cookies great for tropical-themed cookies like beachy Flip-flops!
Additionally, the book includes a recipe for Gluten-Free Sugar Cookies and Vegan Royal Glaze for those individuals with dietary concerns.
In all the cookie decorating book features 11 cookie dough recipes along with 2 icing and glaze recipes.
Personal Favorites
100 Best Decorated Cookies by Julie Anne Hession has quickly become one of my preferred go-to cookie decorating books!  I have several personal favorite cookie decorating ideas, but I can't resist sharing the Mouse and Cheese Cookie!  It is incredibly detailed and cute!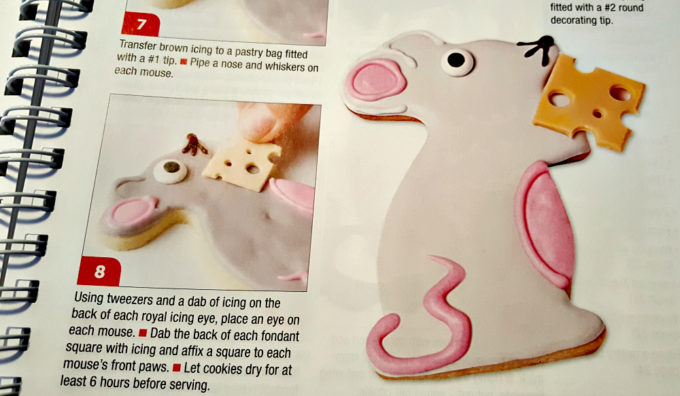 Another one of my favorites is the Corn on the Cob decorating idea!  The cookies include three different tints of icing, white sanding sugar for the salt, and a fondant pat of butter!  In fact, the entire Lobster Bake section is just incredible and fun!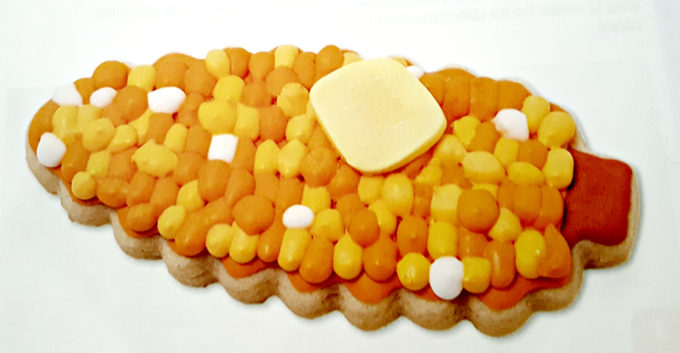 Priceless Tips!
Julie Anne Hession has really covered all the bases in her 100 Best Decorated Cookies book to get you decorating like a professional!
For beginners and seasonal decorating cookie bakers the single most difficult element to creating a desired look is getting the Royal Icing to the desired consistency.  Julie gives priceless tips on adjusting icing consistency for piping, flooding, and two-step icing.
Two-step icing has the texture of hair gel and is thick enough to hold its shape when piped, but also thin enough for flooding.  Julie comments that the icing has changed her decorating life and saves time plus cleanup!
Conclusion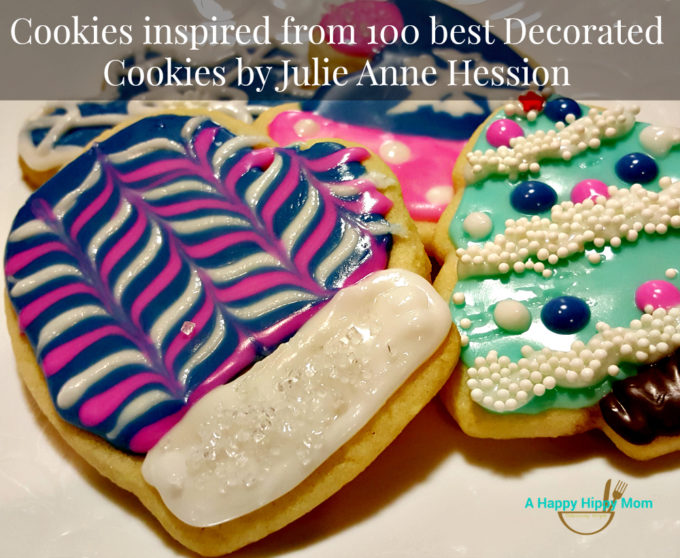 100 Best Decorated Cookies by Julie Anne Hession is a fabulous and well created book for baking beginners or pros looking to create the most adorable cut-out cookies!  From the easy to flip through concealed Wire-O lay-flat binder to the detailed photo instructions and step-by-step techniques the book will be a cherished addition to your baking cookbooks.
The decorating book contains 100 ideas for just about every occasion including Seasonal Cookies, Cookies for Kids, and Party Cookies.  Each cookie idea explains in easy to read instructions on what you need, techniques used, tips, and variation suggestions for getting the desired results.
Additionally, Julie shares her packaging and shipping cookie knowledge, so you can make sure your hard work arrives at its desired location in the best possible condition!  You will never have to worry about what to send your friends for the holidays, birthdays, or any other "cookie-worthy celebration" , since not much beats a gift box filled with custom decorated sugar cookies!
Book Details
ISBN-10:  0778804569
ISBN-EAN:  9780778804567
Price (USD):  $29.95
Format:  Hardcover
Number of Pages:  256
Published Date:  Oct 2013
About the Author
Julie Anne Hession is a self-taught cook and baker who prides herself on creations that are unique, yet approachable, using only the best ingredients in her divine made-from-scratch dishes. She is also a successful bakery owner, food writer, and competitive cook, having won national cooking contests including the grand prize in Food Network's Ultimate Recipe Showdown: Cakes.

Julie's blog, Peanut Butter and Julie, is a spectacular showcase of her culinary creativity, and Julie is honored to have her work featured in O, the Oprah Magazine, People, Better Homes and Gardens, Sunset, Family Circle, Hannaford Fresh, Desert Companion, Taste of Home, Country Woman, Relish, Every Day with Rachael Ray, and Food Network magazines.

When Julie gets a little time out of the kitchen or away from her writing desk, she loves running, hiking, yoga, and spending time with her husband and their two dogs. And, of course, she is always looking for new experiences to inspire fresh culinary ideas. Julie splits her time between Las Vegas and Jackson Hole, Wyoming.