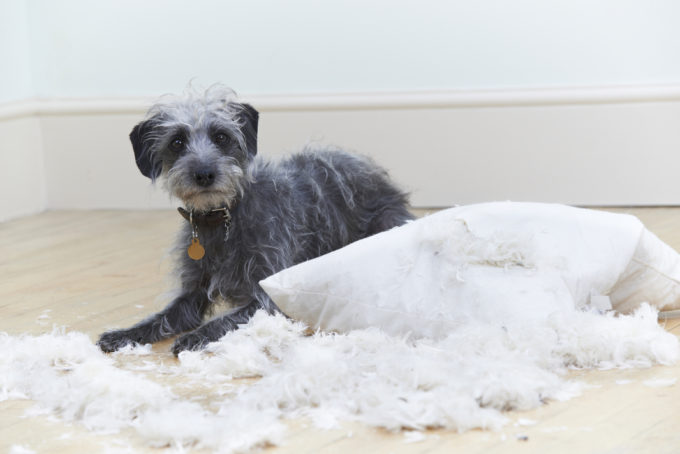 Disclosure:   Vimtag  provided me with a Vimtag P1 Smart Cloud IP Camera  to facilitate this post.  The words and opinions expressed in this review are strictly of my own.
Do you ever wonder what happens in your home when you're gone? Is your four-legged friend shredding your favorite belongings and you want to catch him in the act?  Are you concerned of a home invasion while being at work and would like to make sure your loved ones are safe?   Or perhaps you want to make sure the hired nanny is being kind and attentive to your baby?  I can think of at least 101 reasons why every home could benefit from a home surveillance camera!
Our family has had plenty of situations over the years which have made us contemplate purchasing a home security camera.  Hearing bumps downstairs at night when everyone's sleeping upstairs has a way of sending shivers throughout your body.  We live in a safe neighborhood, but these days in a world of uncertainty you never know who can be trusted or not.  I mean,  do you know your neighbors two streets over good enough to ensure their integrity when you are away and your home is most vulnerable?
The reason we never purchased a home surveillance camera is because of the misconception the equipment, installation, and recorded video storage subscription was too expensive. I believe most people who are on a budget probably assume the same.  However, I recently learned Vimtag offers low-cost high end home surveillance solutions that are easy to install and don't require a monthly cloud storage fee.
Vimtag P1 Smart Cloud IP Camera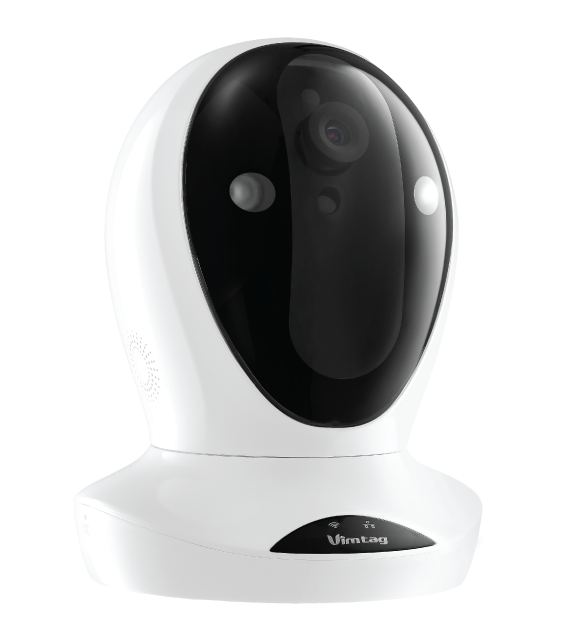 I have been testing out the Vimtag P1 Smart Cloud IP Camera for two weeks. The inexpensive indoor surveillance camera is packed with high end features for its low-price.  The camera has a sleek modern design measuring 3.58(L) x 3.5(W) x 4.7(H) inches with an impressive viewing angle of 350° that delivers optimal coverage.
Features
There is a lot to brag about with the Vimtag P1!  The unit features stunning 1080p HD Video Quality, easy controllable pan and tilt function for complete in-house coverage, two-way voice functionality, Night-Vision Technology allowing for superb clarity in the pitch dark, and a 4x zoom feature for a 320 x 120 Face to Face effect.  AND the best part—you get full surveillance with NO MONTHLY FEES!
Setup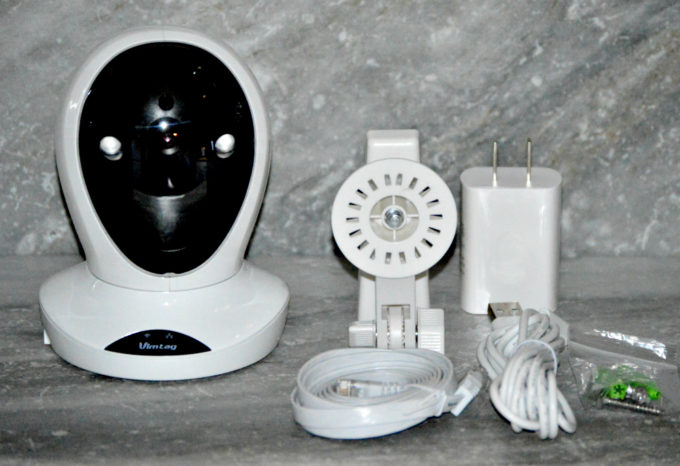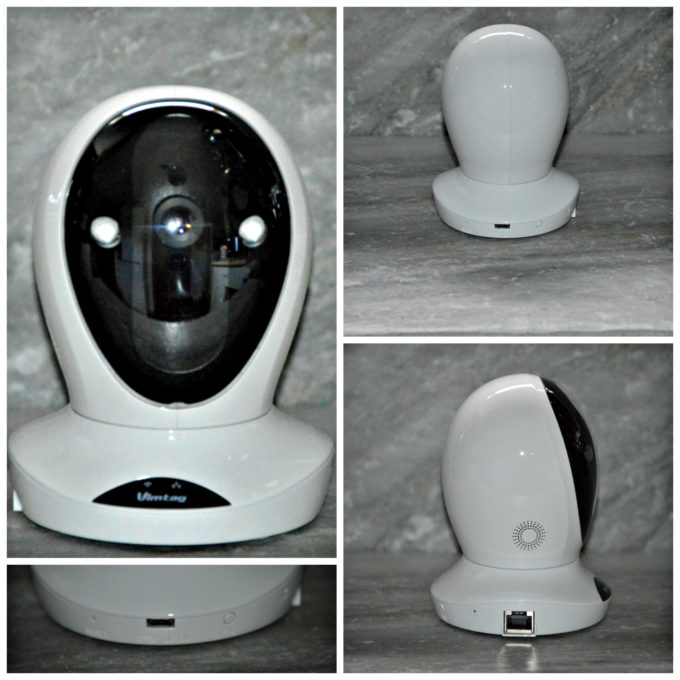 The camera comes with a stand in case you want to mount it to the ceiling or wall.  Find a good place to get the best possible coverage for each location that you need to keep secure. It is small enough to fit on a bookshelf or counter-top, but you want to install it near an outlet to plug it in and where it can do its best work.  Per the Bureau of Justice Statistics, the front door, back door and first-floor windows are the most common entryways for criminals. 81% of intruders are reported to come through the front door.  Try and consider this when installing your camera.  I placed the surveillance camera in my kitchen window area, giving it the ultimate viewing range.  Additionally, I can watch outside my house through the window.  There is some window reflection, yet I can still receive a clear enough image to watch what's going on.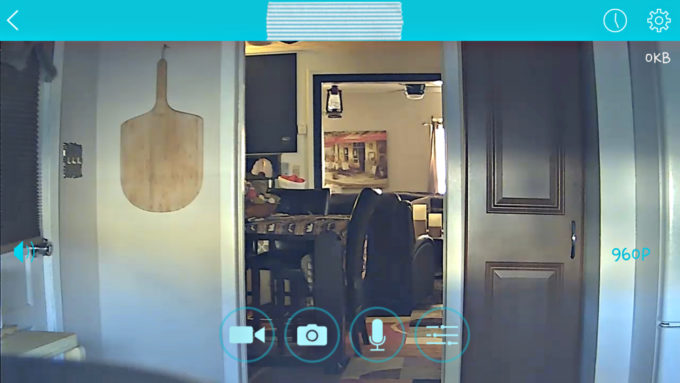 Setting up the wireless surveillance camera is rather painless.  Vimtag makes it as simple as possible with plug and play setup.   I used my smart phone to setup the camera, but there is also an option to connect the camera to your router using an Ethernet connector.
The company brags setup and installation can be accomplished in under three minutes.  For me it took about 10 minutes.  Installing the Vimtag app and signing up for an account only took a couple of seconds.   What took me extra time was trying to get the camera to detect my WiFi connection.  I had to reset it a few times to get it to config.  Once it was connected I was observing my home in real-time via smartphone within minutes.
Change the password!
The default password is admin, please make sure to change it to something secure you can remember.  Don't leave it admin, because you don't want hackers being able to watch your home through the camera!
Controlling the Camera Movement
One of the best features of the Vimtag P1 Smart Cloud IP Camera is not only being able to view your home from remote locations, but also the ability to control the camera easily using the Vimtag App.  To turn the camera for a different viewing angle all you do is swipe your smart device to the right or the left to move the camera in that direction.  Additionally, you can zoom in or out and tilt the camera with simple finger movements.
Motion and Notification
When the camera detects motion, it can trigger an alert to your smart device, begin recording, or take a snapshot depending upon the way you configure it.  Notifications are only sent via mobile devices and snapshots and recordings will be saved and available for viewing via the History pages.
There is an option to schedule alerts within the Schedule Alerting tab.  This enables you to specify the days and times of the week when you want to receive alerts and during that time, automatically record any motion in the viewing area.  The camera gives alerts when it detects motion, but this gives you the power to record during a specific time when you normally don't expect there to be movement.
Need a MicroSD Card or VimBox S1
Like I mentioned, Vimtag P1 doesn't come with a cloud subscription offer, so there is no annoying monthly fee.  Out of the box, the camera can take snapshots, which you can store on your smart device.  If you want to record video, you are going to need to purchase a MicroSD card (up to 64 GB) or a VimBox (either 1 TB or 2 TB version).  I purchased an MicroSD card for under $20 at Walmart for now. However, I would like to upgrade to a VimBox to get the most out of the home surveillance camera.
Some Snags
Overall, the camera is an amazing home surveillance solution for the price. With that being the case, I did find a couple of features that could be improved.  The two-way voice functionality is not exactly clear and I can't understand what is being said unless someone is directly in front of the camera.   Although, it still is good enough to startle an intruder or your pet from doing something he shouldn't. Also, the app freezes  and takes some time loading.  The screen will go black and you must close it and reopen it several times to get it to load.  Besides those two things, I haven't any notable issues and love the camera!
Conclusion
Vimtag P1 Smart Cloud IP Camera offers a wonderful DIY surveillance solution for the first-time home security buyer who is looking for an inexpensive means to monitoring their home, pets, small business, baby, elderly parents, or nanny!  The camera is simple to setup and within minutes you can begin monitoring your home from remote locations within the Vimtag App.  There are no extra monthly costs to budget in.  It is packed with high-end features for the price of $129.00, including:
Hi-def video recording with 4x Digital Zoom
Crisp hi-fidelity sound with 360-degree audio pickup
Advanced Night-Vision Technology
Seamless two-way voice functionality
Fully controllable pan and tilt functionality for near complete inhouse coverage
Motion triggered push notifications
Wireless data storage via Vimtag Cloud Storage box or MicroSD Card (sold separately)
I've been enjoying this camera and would like to add a one or two more to my device account!  It gives our family an affordable sense of control and security in a world of uncertainty!
Visit Vimtag for more product information and cutting edge home surveillance solutions.
Package Contents

The device
Ethernet cable
Power adapter
Stand and installation kit (where applicable)
Warranty card
Getting Started card (containing a download link for manual)
Specs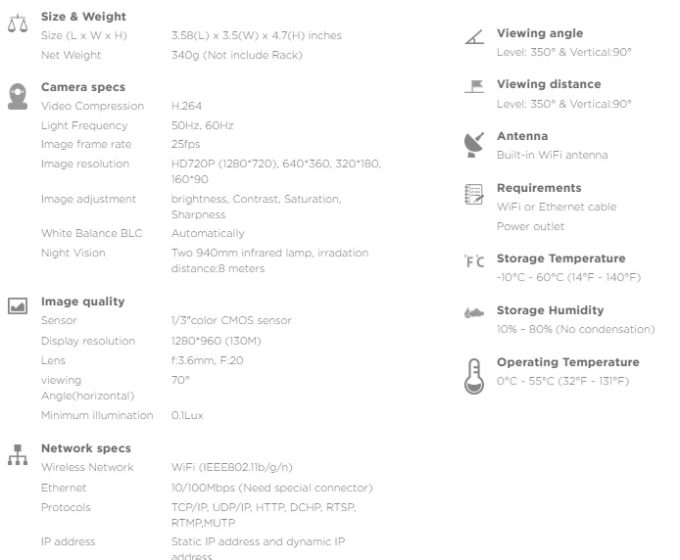 FEATURED ON 2016 HOLIDAY GIFT GUIDE!
The product above is featured on A Happy Hippy Mom's 2016 Holiday Gift Guide!   The gift guide includes recommended gift suggestions to make your holiday shopping a breeze!