Disclosure: Disclosure:   Bil-Jac provided me with dog snacks to facilitate this post.  The words and opinions expressed in this review are strictly of my own.
Holidays are fast approaching!  It's time to think about how to reward Fido for being such a good doggy all year long.  Why not give your four-legged friend something to flip for?  Let your furry buddy join in the fun of the season's flavors with Caramel Apple Flavored Treats from Bil-Jac.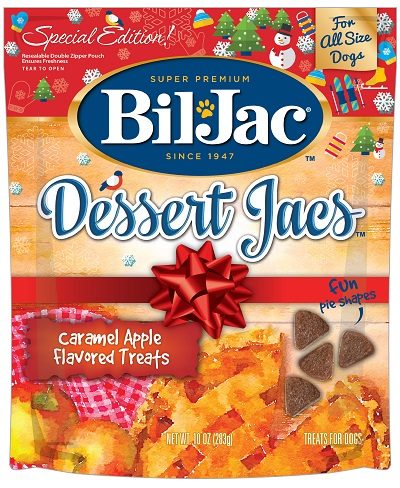 Dessert for dogs!  Have you ever heard of such a thing?  Well, why not?  Just how we like our Holiday after dinner dessert of apple or pumpkin pie, dogs like yummy treats too.  Bil-Jac Dessert Jacs are not only deliciously indulgent, but are made with natural apple caramel flavoring and healthy ingredients.   With real chicken as the #1 ingredient, you will feel good about rewarding your pup with these fun pie shaped dog snacks.  Plus, the dog snacks are free from fillers, soy or added rendered fat.
Past the Pomeranian Finicky Dog Snacks Test!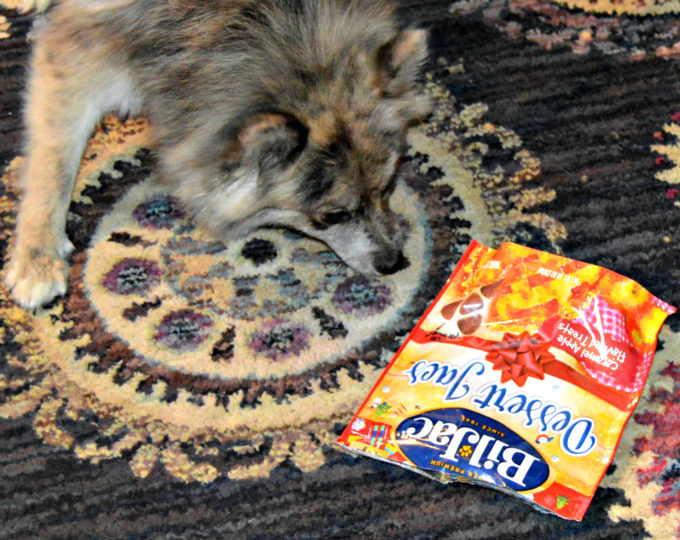 Chibi is extremely finicky.  I have bought her dog snacks in the past that she wouldn't even try after smelling them.  While the Labs love food and eat almost anything, my Pomeranian is a whole different story.  If it doesn't past the skinny sniff test, she will turn her nose up and walk the other way.  Her fussiness makes it very difficult to train her!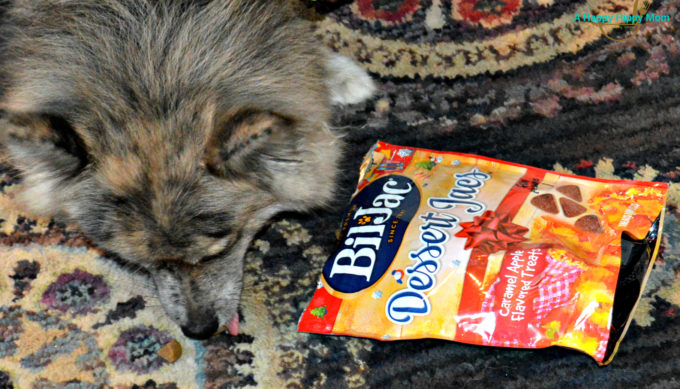 Bil-Jac Dessert Jacs caramel apple flavored treats have a soft chewy consistency that makes it easy for smaller dogs like Chibi to eat.  The dog snacks also have a sweet aroma from the natural caramel apple flavoring, which dogs drool over. I put the pie shaped snacks in front of her and she did her usual smell "I'm not going to eat it move." However, she nibbled on it, liked the taste, and gobbled them up!  My cat likes them too!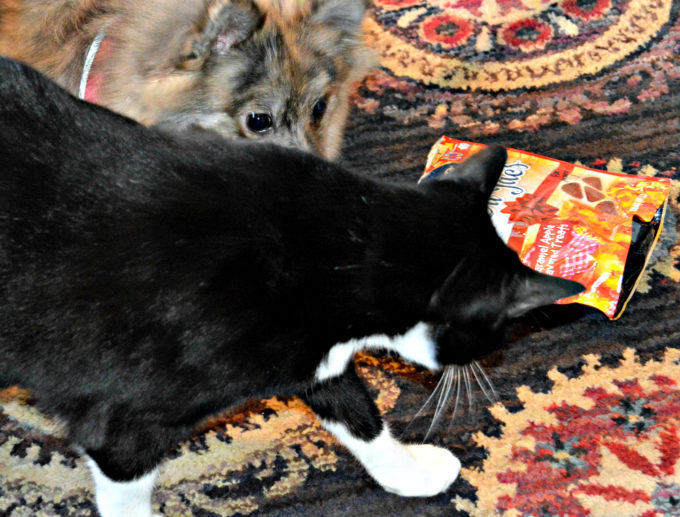 I've been using the treats I was given for review as a training aid for Chibi to come when called and to sit on command.  There is some positive progress!  The dog snacks are a Bil-Jac special edition, so I immediately ran out to my local PetSmart to grab a few more bags before they disappear.  The treats were located right next to the register and there were only two bags left! I grabbed them up!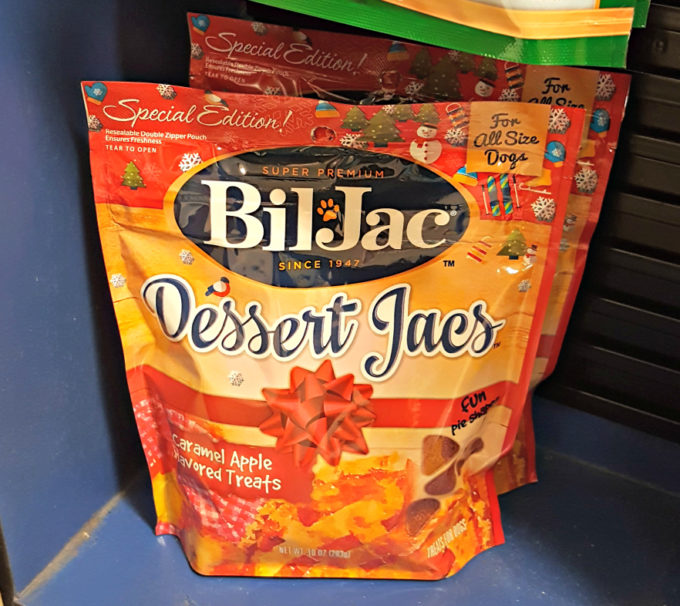 About Bil-Jac Dessert Jacs Caramel Apple Flavored Treats
Introduce your dog to a unique taste he'll come to crave with Bil-Jac Dessert JACS Caramel Apple Pie Flavored Treats. The best part about these treats is that they are as healthy and nutritious for your dog as they are delicious.
Features: Dessert Jacs are deliciously indulgent and healthy snacks. Real Chicken is the #1 Ingredient.
Food Type: Dog Treat
Food Consistency: Soft and Moist Treat
Life Stage: All Life Stages
Flavor: Caramel Apple Flavor
Primary Ingredient: Chicken
Package Weight: 10 oz
Feeding Instructions:
Feed as a treat.
Ingredients:
Chicken, Chicken Liver, Chicken Meal, Wheat Flour, Glycerin, Phosphoric Acid, Salt, Potassium Sorbate and Citric Acid and Mixed Tocopherols and Calcium Propionate and BHA (preservatives), Natural Apple Flavor, Natural Caramel Apple Pie Flavor, Rosemary Extract
Guaranteed Analysis:
Crude Protein (min) 24%
Crude Fat (min) 10%
Crude Fiber (max) 2%
Moisture (max) 30%
Caloric Content: (calculated): 3070 kcal/kg ME, 1.9 kcal/treat ME
Bil-Jac's Nutritional Philosophy
We have never added wheat gluten meal, corn gluten meal, rice gluten, or protein concentrate to any of our formulas. Our primary source of protein nutrition is real chicken, because your dog evolved as a carnivore. Your dog's nutrition is optimized when fed a diet where the protein is derived primarily from fresh ingredients. While real chicken protein is a more expensive ingredient, we know it's what your dog was evolved to thrive on.
Don't forget Fido!
Don't forget Fido during the holidays!  Stock up on Bil-Jac Dessert Jacs!  The dog snacks are available for purchase at PetSmart, Petco, and other authorized dealers for $5.49 (10 oz pouch).
FEATURED ON 2016 HOLIDAY GIFT GUIDE!
The product above is featured on A Happy Hippy Mom's 2016 Holiday Gift Guide!   The gift guide includes recommended gift suggestions to make your holiday shopping a breeze!