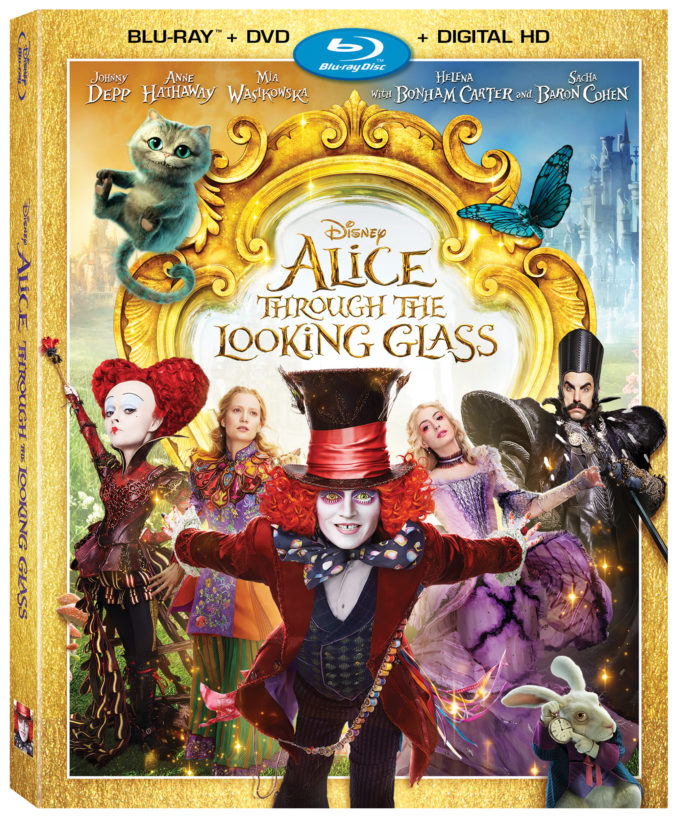 Disclosure:  Disney provided me with a product to facilitate this post.  The words and opinions expressed in this review are strictly of my own.
Disney's spectacular adventure Alice Through the Looking Glass makes its way home on Digital HD, Blu-ray™, Disney Movies Anywhere, DVD and On-Demand.  The movie is a whimsical sequel to Alice in Wonderland, the 2010 live-action adventure directed by Tim Burton.
In Alice Through the Looking Glass the movie features the unforgettable characters from Lewis Carroll's beloved stories reuniting the all-star cast from the 2010 blockbuster; Johnny Depp as the Mad Hatter, Anne Hathaway as Mirana, Helena Bonham Carter as Iracebeth, and Mia Wasikowska as Alice.  The movie also welcomes newcomer Sacha Baron Cohen as Time, an unusual creature that is part human, part clock.  Additionally, the voice of the talented Alan Rickman is back as Absolem, as the blue Monarch butterfly.  Unfortunately, the actor passed away during the making of the film, but completed all his ADR sessions prior to his death.  The film is dedicated to Alan in remembrance of his incredible work. Also, making a return are the voices of Stephen Fry, Michael Sheen, Timothy Spall, Barbara Windsor and Paul Whitehouse, who are joined by new addition Matt Vogel as Wilkins, Time's right-hand man.
Alice Through the Looking Glass Synopsis
Disney invites you to step through the looking glass and join Alice, the Mad Hatter, Cheshire Cat and the Red Queen on a wild ride back to Wonderland! The adventure begins when Alice embarks on a daring quest to save her dear friend the Hatter (Johnny Depp). Plunging back into the whimsical, topsy-turvy world of Wonderland with all her old companions and a host of zany new ones, Alice must take on Time himself to right a past wrong, find her muchness… and remember that nothing is impossible.
Clips
Hatter's Costume
Bonus features include*:
DIGITAL HD/SD & BLU-RAY:
A Stitch in Time: Costuming Wonderland – Three-time Oscar®-winning costume designer Colleen Atwood ("Alice in Wonderland," "Memoirs of a Geisha") explains how costuming helps shape the curious characters of Underland and reveals hidden Easter Eggs within the cast's ornate outfits.
Music Video: "Just Like Fire" by P!nk – "Watch this madness, colorful charade" in P!nk's music video for "Just Like Fire," the hit song featured in "Alice Through the Looking Glass" that powered to the top 10 on Billboard's Hot 100.
Behind the Music Video – Go on set with P!nk for production of her "Just Like Fire" music video, featuring fantastical imagery, aerial stunts, Underland character cameos, and guest appearances by P!nk's family.
Behind The Looking Glass – Jump back and forth through time during this in-depth look into the making of "Alice Through the Looking Glass," hosted by director James Bobin.
Time On… – Delight in this discussion with the unpredictable and witty Sacha Baron Cohen who plays Time, the keeper of the Chronosphere, a metallic sphere that powers all time.
Alice Goes Through the Looking Glass: A Scene Peeler – View a side-by-side comparison of raw production footage and final scenes, as Alice enters Underland through a magical looking glass.
Alice Goes Through Time's Castle: A Scene Peeler – View raw production footage alongside final scenes, as Alice enters Time's castle of eternity.
Characters of Underland – Get to know the quirky and colorful supporting characters in Underland, such as the tubby twins known as the Tweedles (Matt Lucas) and Absolem (Alan Rickman), the blue caterpillar turned blue Monarch butterfly.
Filmmaker Audio Commentary by James Bobin – Director James Bobin delivers scene-by-scene insight into the creation of "Alice Through the Looking Glass."
Deleted Scenes with Director Commentary – Bobin introduces five never-before-seen scenes that didn't make the final cut of Disney's spectacular adventure.
DVD:
A Stitch in Time: Costuming Wonderland
A Delightful Family Film!
Disney's Alice Through the Looking Glass is a delightful family film that takes you on a spectacular journey through Underland with visually stunning scenes and captivating unusual characters!
I found the movie to be more entertaining than Alice in Wonderland. The emphasis of the film was on the friendship of the characters and not so much on good versus evil.  The heart of the story is focused on Alice and her trying to keep a balance between the goals she wants to pursue, the struggle of a modern woman trying to live in a not so modern society, and the importance of spending time with family.   The overall tone was lighter, fluffier, and had a comedic feel. Not to mention, the talents of Sacha Baron Cohen (Time) brought a refreshing lightheartedness to the table with his witty personality and eccentric charisma.
In Alice Through the Looking Glass you find out secrets to questions that were not answered in its predecessor like why Iracebeth head is enormous and the reason she despises her younger sibling, Mirana.  You also get a deeper look at Hatter Tarrant Hightopp's (Mad Hatter) relationship with his father and what truly happened on the day the Jabberwocky destroyed Witzend.  The movie is a sequel, but in a strange twisted way it is prequel with Alice being able to travel back in time in the Chronosphere.
You can't discuss Alice Through the Looking Glass without mentioning the one-liners in the movie!  Here are my two favorites, which rather sum up the entire movie!
I used to think time was a thief. But you give before you take. Time is a gift. Every minute. Every second." –Alice Kingsleigh
"A very important thing about family is that you only have one." –Mad Hatter
HOW TO THROW THE PERFECT TEA TIME!