Disclosure:  Disney provided me with a product to facilitate this post.  The words and opinions expressed in this review are strictly of my own.
Marvel's Captain America Civil War arrived on Blu-ray 3D, Blu-ray, DVD and On-Demand on Sept. 13!  Marvel fans flocked to the theaters giving the movie the fifth-biggest domestic opening of all time, earning more than $1.14 billion at the worldwide box office.  If you missed the epic movie at the theaters, now you can bring home the years' biggest blockbuster on Blu-ray and join in the action packed fun and pick your side!  Would you choose Team Cap, commanded by Steve Rogers (Chris Evans), or Team Iron Man, led by Tony Stark (Robert Downey Jr.)?
I'm on Team Cap!
I received Marvel's Captain America Civil War on Blu-ray and was able to watch the film uninterrupted!  The movie is action packed right from the beginning and moves quickly!  Unlike Marvel's Avenger's Age of Ultron (which I found hard to follow and was a disappointment) Captain America Civil War kept me glued to my seat with intense superhero conflict and high entertaining combat scenes. The movie is fantastic throughout!  Even Rotten Tomatoes gave the film a 90% approval rating!
Marvel's Captain America Civil War is the sequel to 2011's Captain America: The First Avenger and 2014's Captain America: The Winter Soldier.  It is the 13th film of the Marvel Cinematic Universe (MCU) and a definite must see.
No spoilers—the storyline opens up in the past of 1991 where James "Bucky" Barnes (the Winter Soldier) is being reactivated from a Hydra base in Siberia to intercept an automobile carrying a case of serum.  Then the movie jumps to present day as a team of Avengers stop a villain from stealing a biological weapon from a lab in Lagos.
During the attack, Wanda uses her telekinesis abilities to deflect a blast into a nearby building that accidentally causes humanitarian worker casualties.  The deaths are the icing on the cake for the United Nations (UN) and the call for government control over the Avengers through the Sokovia Accords is set in motion.
Not all of the Avengers agree with the government controlling their actions and it causes a division between them.  Then things escalate further over how to handle the Winter Soldier.  Rogers and Stark assemble their own teams of Avengers and conflict within begins.
Not giving away too much, fans get introduced to the Black Panther in Captain America: Civil War.  Additionally, Ant-Man is also recruited along with Spiderman who gets a cool super-suit upgrade!  You also learn some interesting secrets which act as the main source of the rift between Captain America (Chris Evans) and Iron Man (Robert Downey Jr.).  Absent appearances from Thor and Hulk make the movie seem a bit incomplete, but I can't see how they could have actually tied the characters within the movie.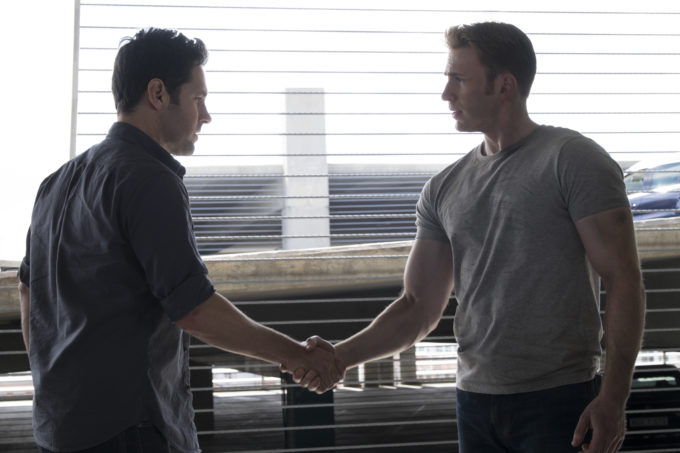 Of course Stan Lee makes his cameo appearance towards the end of the film in an epically hilarious scene.  In my opinion, it is one of his best yet!
Keep watching past the credits, so you don't miss the additional important footage of the movie!
About Marvel's Captain America Civil War
[field name= iframe]
Rogers and Stark are joined by a star-studded lineup of beloved Marvel Super Heroes, including Natasha Romanoff aka Black Widow (Scarlett Johansson), Bucky Barnes aka Winter Soldier (Sebastian Stan), Sam Wilson aka Falcon (Anthony Mackie) Colonel James "Rhodey" Rhodes aka War Machine (Don Cheadle), Clint Barton aka Hawkeye (Jeremy Renner), Vision (Paul Bettany) and Wanda Maximoff aka Scarlet Witch (Elizabeth Olsen), along with new recruit Scott Lang aka Ant-Man (Paul Rudd) and joined by two new additions to the MCU: T'Challa aka Black Panther (Chadwick Boseman) and Peter Parker aka Spider-Man (Tom Holland).

More than 60-minutes of thrilling, exclusive bonus material includes: an inside look at the evolution of lead characters Steve Rogers and Tony Stark, a behind-the-scenes exclusive on the making of Marvel's Captain America Civil War, never-before-seen deleted scenes and hilarious outtakes. Plus, home audiences can learn more about the latest additions to the MCU and get an exclusive, first look at Marvel's "Doctor Strange," starring Benedict Cumberbatch, coming to theaters Nov. 4, 2016.

Bonus features include*:

DIGITAL HD/3D & BLU-RAY:

United We Stand, Divided We Fall – The Making of Captain America: Civil War Part 1 & Part 2 – As the tension mounts, sides are chosen and lines drawn. Learn more about the characters on each side—from Captain America and Iron Man to the latest recruits. In this complete behind-the-scenes look at a landmark in the Marvel saga, we'll examine their stories through exclusive footage and interviews and discover just what went into selecting the Super Hero teams, filming the epic action sequences and introducing Black Panther and Spider-Man to the MCU.

Captain America: The Road to Civil War – Explore the First Avenger's fascinating evolution from loyal soldier to seasoned, conflicted hero who questions authority.

Iron Man: The Road to Civil War – From Gulmira to Sokovia, delve into the development and evolution of one of the most iconic characters in the Marvel Cinematic Universe.

Gag Reel – Break the tension of this high-stakes conflict with some hilarious outtakes featuring the lighter side of your favorite Super Heroes.

Deleted & Extended Scenes – Check out never-before-seen footage that didn't make the final cut of "Captain America: Civil War."

Audio Commentary – Directors Anthony and Joe Russo and screenwriters Christopher Markus and Stephen McFeely deliver scene-by-scene insight and explain the storytelling challenges they faced creating the third installment of the Captain America franchise.

Open Your Mind: Marvel's Doctor Strange – Exclusive Sneak Peek – Go behind and beyond the scenes as Doctor Strange makes his journey to the big screen.

*Bonus features may vary by retailer. The DVD does not include any bonus materials.

The most explosive clash to ever rock the Marvel Cinematic Universe ignites a firestorm of conflict in the game-changing epic, Captain America: Civil War.  In the wake of collateral damage, government pressure to rein in the Avengers drives a deep wedge between Captain America (Chris Evans) and Iron Man (Robert Downey Jr.), causing a catastrophic rift that escalates into an all-out feud.  Against a backdrop of divided loyalties, their fellow Avengers must deal with the fallout. Pick a side in this spectacular adventure, packed with mind-blowing action, suspense and exclusive bonus content!

Marvel's "Captain America: Civil War" is directed by Emmy® Award-winning directors Anthony and Joe Russo from a screenplay by Christopher Markus & Stephen McFeely. Kevin Feige, p.g.a. is the producer of the film, with Louis D'Esposito, Victoria Alonso, Patricia Whitcher, Nate Moore and Stan Lee serving as executive producers.
Marvel's Captain America Civil War Concept Art
As a special treat, I have also been given the right to share some new Marvel's Captain America Civil War concept art with you!  Enjoy!
[field name= iframe1]
Buy It
[field name= iframe2]
Stay Connected
Facebook.com/CaptainAmerica
Marvel.com/CaptainAmerica
Twitter.com/CaptainAmerica
Instagram.com/Marvel