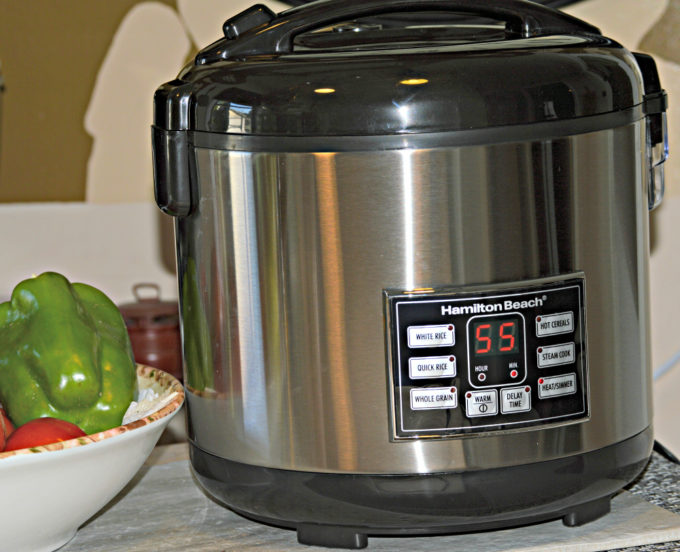 Disclosure:  Hamilton Beach provided me with product to facilitate this post.  The words and opinions expressed in this review are strictly of my own. 
When you think of a rice cooker you naturally think about cooking rice, right?  Yes, it is true a rice cooker is able to cook all types of rice to perfection with ease.  Once you learn the proper proportion measurements and settings, you have fluffy delicious rice every time. No more over heating a pan and scorching the rice on the bottom!  Or serving under-cooked rice hard enough to break your teeth! But here is a little secret, the inexpensive gadget can do so much more than just cook a pot of rice.  A rice cooker is a versatile appliance and once you learn its full potential—it can save you tons of time and messy moments in the kitchen.
Hamilton Beach Rice/Hot Cereal Cooker (37543)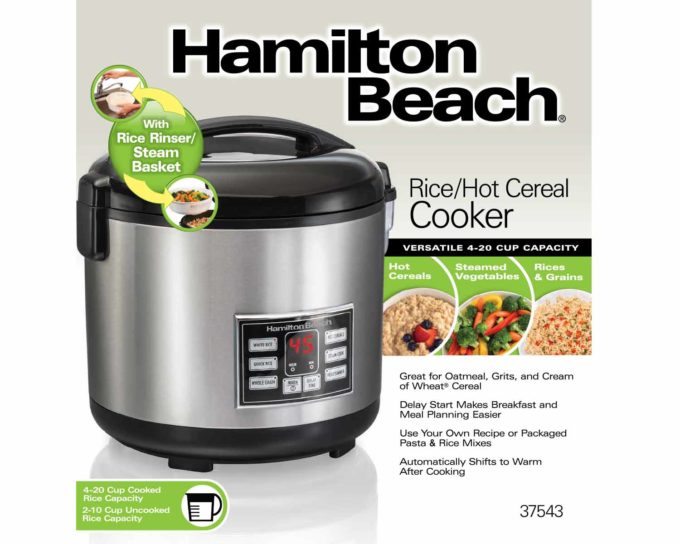 I have been experimenting in the kitchen with the Hamilton Beach Rice/Hot Cereal Cooker.   Hamilton Beach sent me the nifty appliance in the beginning of the month for review and I have been testing it for the past weeks.  Besides cooking rice, the rice cooker is great for making oatmeal, cream of wheat, grits, steamed vegetables, beans, hot soup and lots more.    It can even cook a scrumptious pot of macaroni and cheese. Seriously, why make box macaroni and cheese when you can serve homemade cheesy goodness (without hard to pronounce preservatives) in 30 minutes?
One Pot Steamed Vegetables & Rice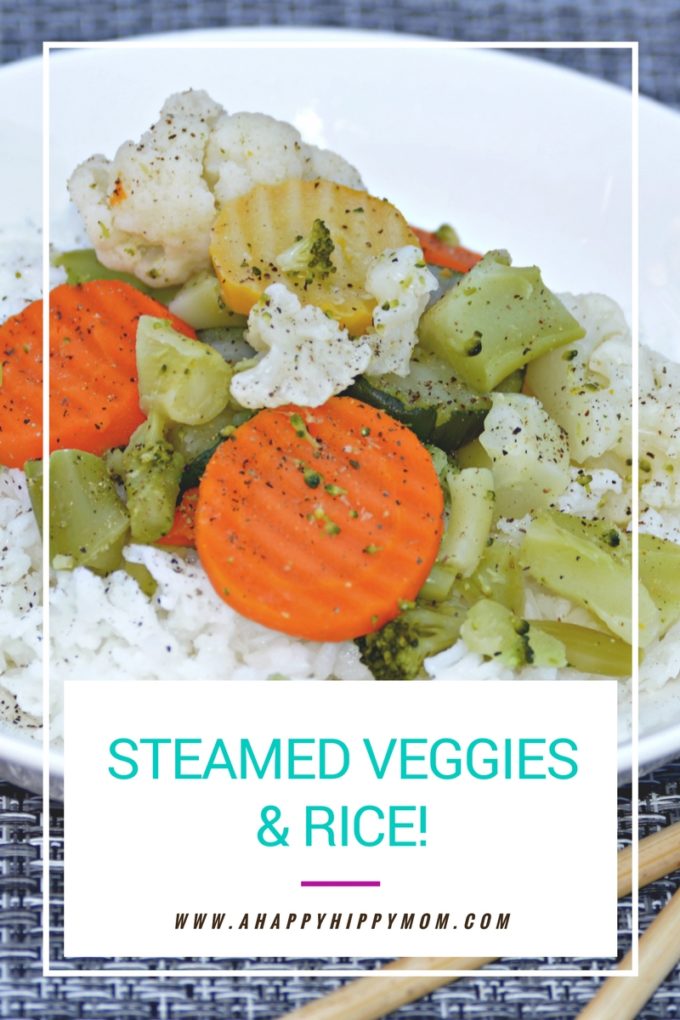 What I like about the Hamilton Beach Rice/Hot Cereal Cooker is it is able to steam vegetables while cooking rice at the same time.  The unit comes with a steam basket (also used for rinsing rice) that fits at the top of the pot, allowing for multi cooking ingredients.  As long as you measure correctly and select the proper program, you can't go wrong.  The vegetables come out perfectly steamed (not mushy) and the rice is tender.  If you are looking to eat healthy without the fuss of long meal preparation, this appliance could be a huge helper in the kitchen.  It can also steam fish, such as salmon, and cook brown rice for a delicious heart healthy meal in less than 45 minutes.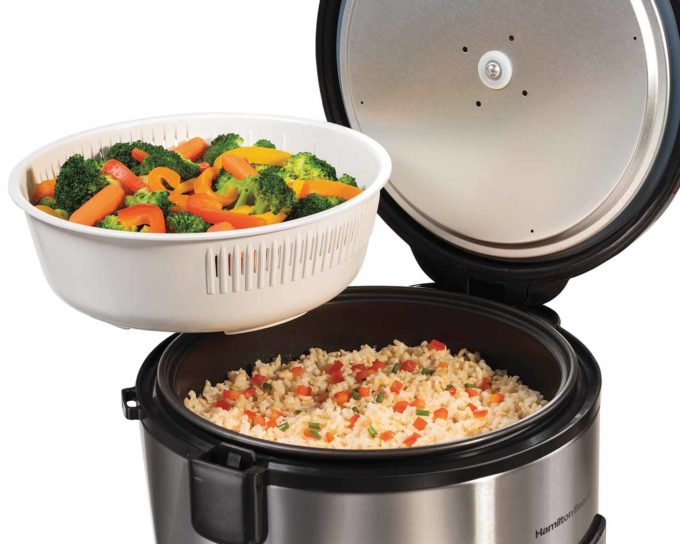 Set and Forget
The rice cooker comes with a Delay Time feature.  Set the ingredients in the pot before going to work and come home to a simmering pot of soup!  You are able to program cooking for up to 11 hours in advance and once it is done cooking the unit switches to the Warm setting to ensure your meal stays at the right temperature until you're ready to serve it.  Plus, you can set the cooker before going to bed and wake up to your breakfast already to go.  The rice cooker Delay option makes meal planning effortless.
Features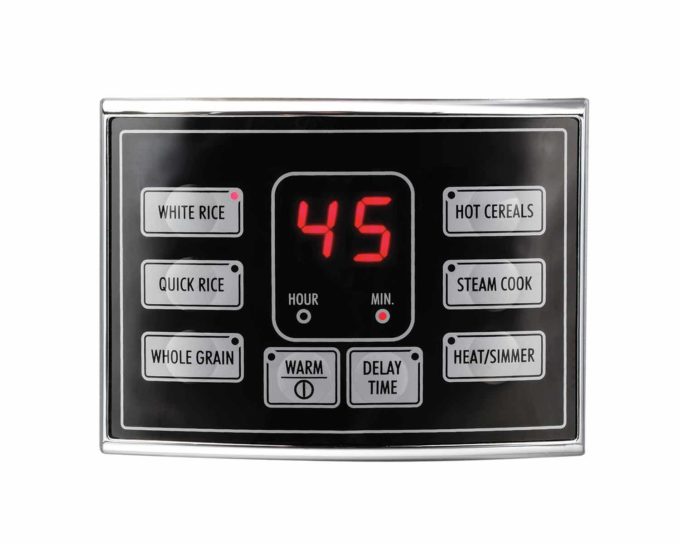 Great for oatmeal, grits, Cream of Wheat cereal, steamed vegetables and fish, and more.
Six different cooking settings: White Rice, Quick Rice, Whole Grain, Hot Cereals, Steam Cook and Heat/Simmer
Delay Setting: set for up to 11 hours ahead
Warm Setting: Pot switches to Warm once cooking is completed.
4-20 cup cooked rice capacity – 1-10 cup uncooked rice capacity
Comes with Rinse/Steam Basket
Able to your own recipe or packaged pasta and rice mixes
Nonstick pot for easy cleaning
Attractive stainless steel finish
Limited Warranty of 5 years
Great for Holiday Gatherings and Game day!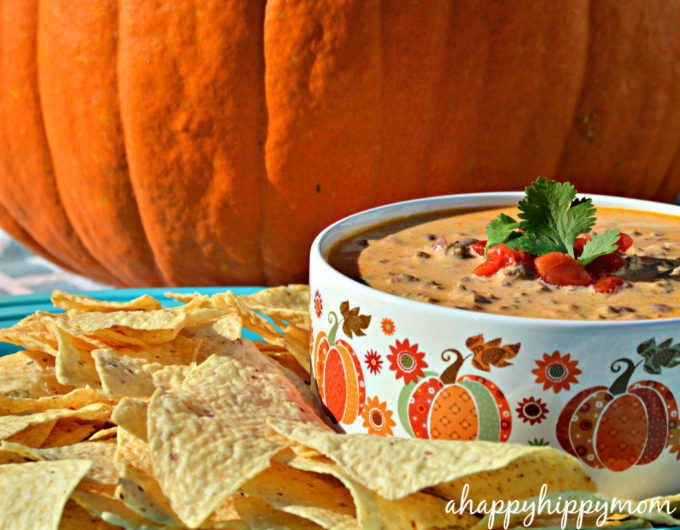 September is the kickoff to football Sundays!  The rice cooker is great for preparing crowd pleasing snacks!  During my experimenting with the appliance, I tried making a delicious Chili Queso Dip in the rice cooker and it came out perfect!  My entire family loved it!  I have included the recipe below, so you can try it out during your next game day party. You can scale it down a bit and make a smaller batch for family nights.
With the holidays fast approaching, the Hamilton Beach Rice/Hot Cereal Cooker would be a useful kitchen addition for those holiday gatherings.  Try testing out your favorite holiday snacks and side dishes now, so you can perfect them in plenty of time for the holidays!
The Hamilton Beach Rice/Hot Cereal Cooker is available for purchase at Amazon.com for only $37.99!  It would make a thoughtful holiday gift idea for the cook on your shopping list.
STAY CONNECTED
Visit the Hamilton Beach website
Like the Hamilton Beach Facebook page
Follow Hamilton Beach on Twitter
Discover Hamilton Beach on Pinterest
Hamilton Beach Rice/Hot Cereal Cooker Giveaway!
Courtesy of our friends at Hamilton Beach, one lucky reader is going to receive the Hamilton Beach Rice/Hot Cereal Cooker (#37543) mentioned above!
To enter the giveaway, please follow the instructions provided on the Rafflecopter form. Any comments are welcomed below, but won't count towards the giveaway. Only entries using the Rafflecopter form will be eligible for prize. Thank you!
Open To US Residents Only- age 18 + Ends October 15th, at 11:59 pm (eastern time)! Enter Daily!
[field name= iframe]