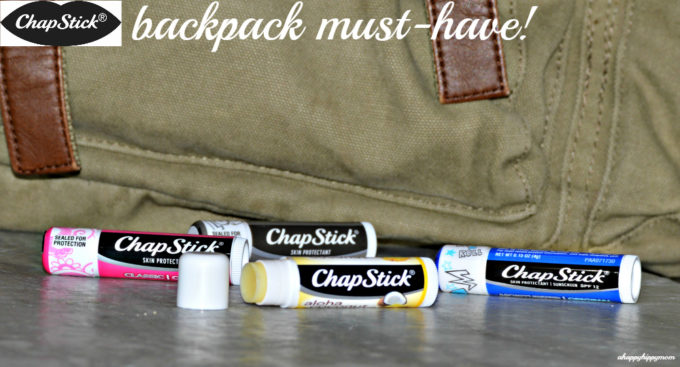 Disclosure: "The ChapStick® product, information and gift have been provided by Pfizer Consumer Healthcare."
Your child's backpack probably looks a little different than the year before.  For instance, my daughter's college backpack looks a lot different than her high school bag.  It's a bit bigger, more trendy, and brimming with the best features.  Whatever it looks like, a bag should be filled with the back-to-school essentials to get them through the day.  A backpack is your child's all year long BFF, staying by their side and carrying the necessary supplies.   You probably made sure it contains the necessities like notebooks, pens, pencils, lunch, and gadgets when they walked out the door this morning, but did you remember to pack the ChapStick®?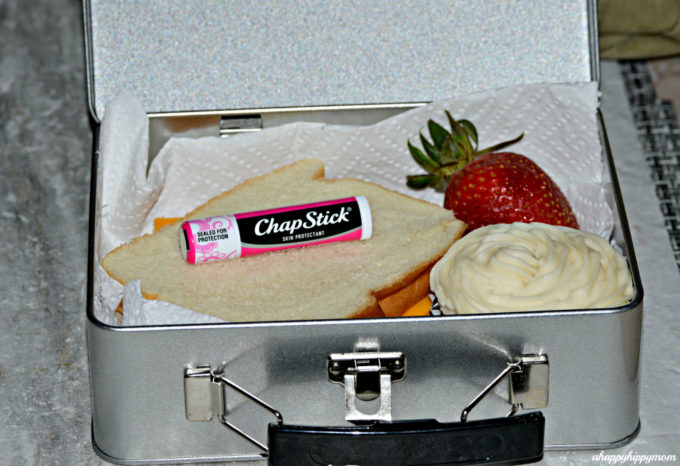 ChapStick®, America's favorite lip balm, is not only a trendy backpack must-have, it is a skincare staple that helps keep lips smooth and silky for the school year.  As the cold weather approaches, you want to make sure your kiddo has his or her favorite flavored ChapStick® to combat chapped lips caused by the harsh elements.  Skin on the lips is very delicate and does not contain sebaceous glands, meaning your lips cannot make their own oils.  This is why it is important to keep them moisturized with lip balm to prevent and protect lips from the drying effects of wind and cold weather.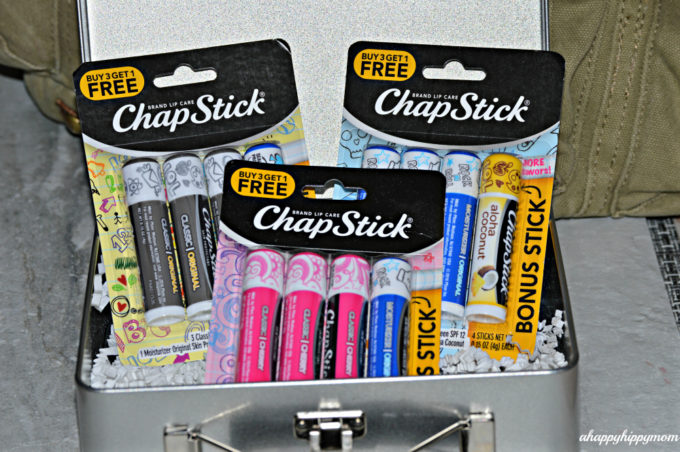 If you haven't already purchased the back-to-school essential, this is the time to stock up on your favorite ChapStick®!  Right now some ChapStick® varieties come in buy 3 get 1 free bonus packs!  Additionally, check out the new online ChapStick® store, where you can shop for your favorite varieties and have them shipped to your door.  You're never more than a click away from healthier looking lips.
* Please note: there is a minimum quantity requirement of 3 items in order to proceed with checkout.
Stay Connected with ChapStick®
ChapStick® website: http://bit.ly/1NR21t3
ChapStick®  Facebook: http://on.fb.me/1Yz11NQ
ChapStick® Instagram: http://bit.ly/1V82G8B
ChapStick®  Twitter: https://twitter.com/ChapStick
ChapStick®  Pinterest: http://bit.ly/1QWt5pc
ChapStick®  YouTube: http://bit.ly/1MGCT8i

ChapStick® Lunchbox Tin Giveaway!
Our friends at ChapStick® sent my family a lunchbox tin packed with 3 packages of ChapStick® varieties  (12 ChapSticks® total) and they would like to send a reader one too!
To enter the giveaway, please follow the instructions provided on the Rafflecopter form. Please also leave a relevant comment to show your support!  Thank you!
Open To US Residents Only- age 18 + Ends September 30th, at 11:59 pm (eastern time)! Enter Daily!