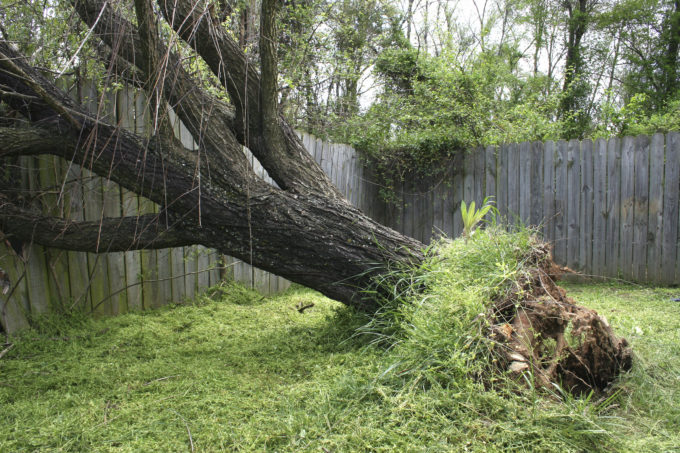 Disclosure:  I was provided with product to facilitate this post.  The words and opinions expressed in this review are strictly of my own.
September is recognized as National Preparedness Month (NPM) which acts as a friendly reminder that we all must take action to prepare for all types of emergencies that could affect us no matter if we are home, at work, or visiting some other place.
An important element we can prepare for is the weather. Severe weather is a subject everyone can relate to, especially these days.  From dangerous flooding, strong wind gusts, quick extreme hot to cold temperatures, the weather can change instantaneous.  With such erratic weather patterns, it is always best to stay knowledgeable of what it going on in our environment.  Be informed, have a plan for the worst, and act quickly if and when it does, is the best way to stay safe and prevent damage.

AcuRite® Smart Home Environmental Monitoring System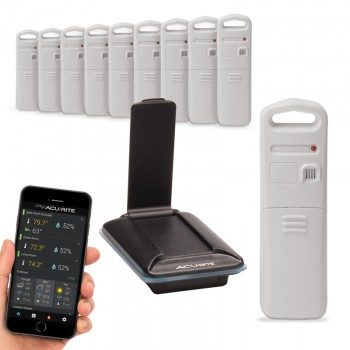 A great way to know your environment inside and out is with a smart home environmental monitoring system.  AcuRite®, the leader in personal weather station technology, offers several customize packages to act as a personal home monitoring system to help consumers protect their home, valuables, and even business.
Powered with the technology of "My AcuRite®," the powerful cloud-based platform delivers specific local environmental measurements straight to your laptop, tablet or smartphone.  With the easy-to-navigate app, you have the capabilities of staying alert even while your away from home to help stay one step ahead of changes that could affect your home and loved ones.  The notifications give a crystal-clear picture of indoor and outdoor conditions, so you have a peace of mind you are doing your utmost to safeguard family, pets, belongings, and home structure.
Here are some of the outstanding features and capabilities of My AcuRite®:
My AcuRite® Benefits
Minimize potential for water damage with water leak detection

Monitor air quality to prevent mold and allergens with high indoor temperature and humidity alerts

Protect musical instruments and collectables with low indoor humidity alerts

Prevent frozen pipes with low temperature alerts

Prevent flood damage with excessive rainfall alerts

Prevent wind-related damage with high wind alerts

Properly water lawn, flowers and garden with rainfall tracking

Know the best time to plant with soil temperature monitoring

Prevent frost damage to plants with low outdoor temperature alerts

Remotely monitor pool, hot tub, pond, fountain and aquarium temperature

Ensure ideal sleeping conditions for bedrooms and nurseries

Save on energy costs by making sure heating and cooling systems are operating efficiently, and checking for drafts and leaks

Plan outdoor activities with reliable weather forecasts and conditions measured right in a user's back yard
All New My AcuRite® Features
Customizable alerts include email and phone notifications about conditions you want to track
Ability to connect up to 10 indoor and outdoor monitoring sensors
Compatible with a full range of environmental sensors, including water leak detectors and liquid and soil temperature sensors
Expandable to track additional locations or properties
Current conditions dashboard with 12-hour trend charts
Charting and graphing of historical data for analysis and download
My AcuRite® mobile apps for Android and iPhone
Integrated five (5) day and 36-hour weather forecast
Share home conditions to keep family, friends and even neighbors informed
Rapid Fire updates to Weather Underground
Visit www.acurite.com/my-acurite to learn more about My AcuRite.
HD Multi-Sensor Display & 3-Sensor Temperature and Humidity Smart Home Environment System with My AcuRite®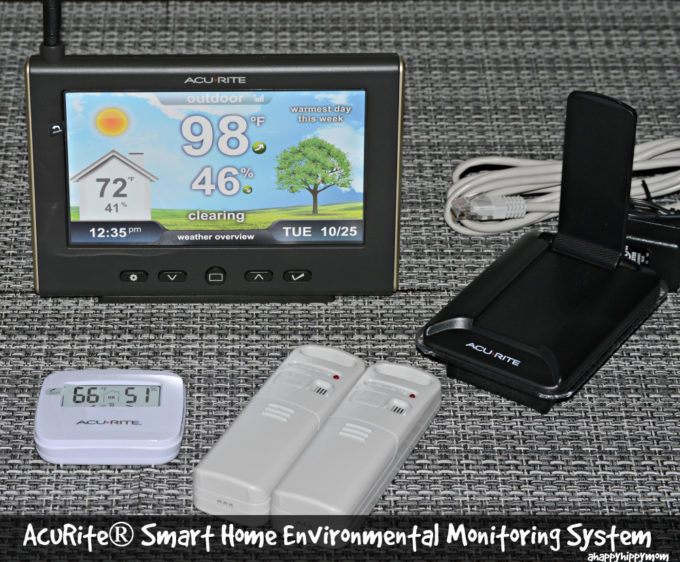 AcuRite® sent my family the HD Multi-Sensor Display & 3-Sensor Temperature and Humidity Smart Home Environment System with My AcuRite® .  The smart home environmental monitoring system was customized to include a room monitor in place for one of the indoor/outdoor temp sensors, so I could measure the air temperature and humidity indoors as well.  See, that is the awesomeness of AcuRite® home monitoring packages!   You are able to add products to packages to fit your personal needs or customize a system from scratch by creating your own smart home environmental monitoring system from available products from the website.
SETUP
Now as you may be aware, setting up a smart home environmental monitoring system can be a BEAR!  Personally, I love technology, but it doesn't always cooperate with my understanding.  AcuRite® sent a Quick Start Tips sheet that was easy to follow and with my husband's help, the system was set up under an hour.
Trying to find an appropriate placement of the outdoor sensor was a bit challenging.  Even though the sensor has a weather-resistant design, the unit needs to be in an area within 330 feet that is not directly in the sunlight or rain to extend its life.  With that being the case, it can be hung up easily just about anywhere within the recommended distance and wirelessly send readings.  Best place is somewhere the sensor can get plenty of fresh air like a well-covered tree branch about 4 to 8 feet from the ground.
I hung my outdoor sensor on my deck where it has airflow, but also protected from the direct elements. The other sensor is down in the basement near my pipes and the room monitor is upstairs.   Also, each sensor needs batteries, so make sure you have them ready.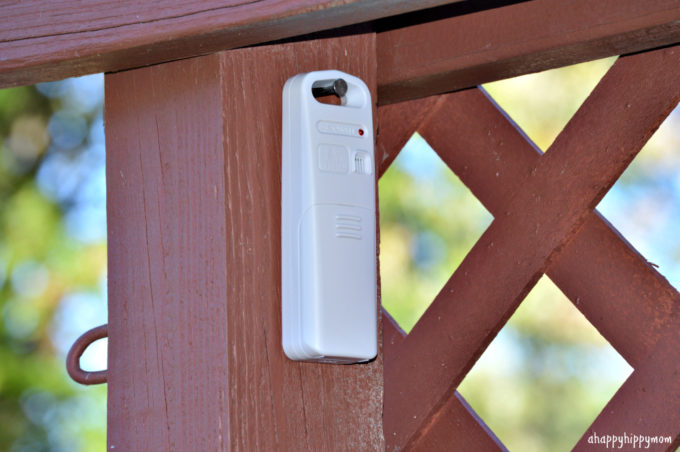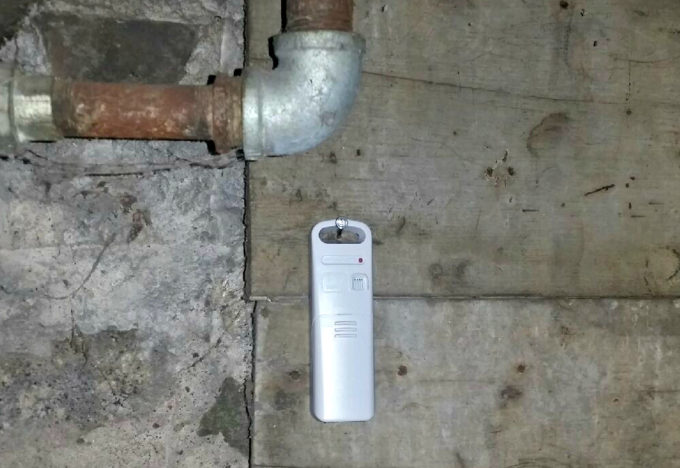 Hooking up the smartHUB was actually the easiest of the smart home environmental monitoring system installation.  It was as simple as connecting it to my router using the provided Ethernet cable, then plugging in the adapter.  Next I created an account at myAcuRite.com, added the correct Device ID located on the bottom of the smartHUB, and waited for it to have a network connection.
Here is where we had a pain in the backside!  We hooked up all three sensors at once, didn't completely read the directions about the A,B,C switches, didn't name the sensors at myAcuRite.com, and had the readings show up wrong on the HD monitor.  The outside sensor was marked as indoors and vice versa.  The upstairs room monitor was just reading indoors as well.  SO, my strong advice is to read the instructions, place the switches in the proper placement, name the sensors, and add them one by one to the High Resolution Weather Station Display.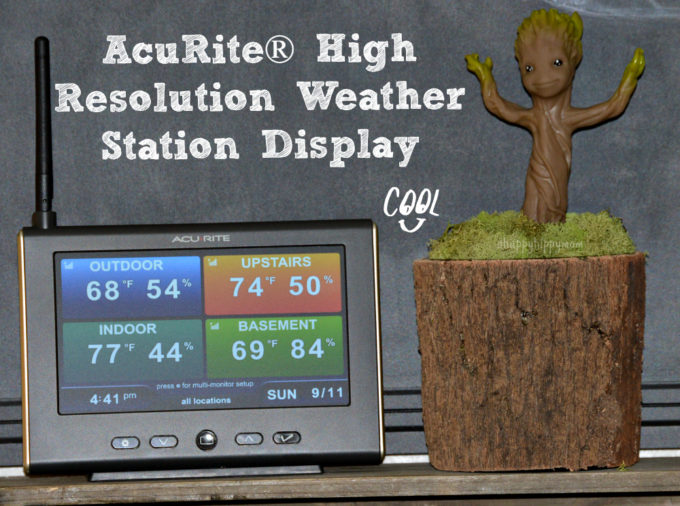 The High Resolution Weather Station Display is absolutely gorgeous!  Colors and graphics are crisp with all the smart home sensor readings (once you install correctly) and looks fantastic no matter where you decide to showcase it.  I placed it on my shelf above my coffee bar.
After everything was setup and working correctly, we downloaded the My AcuRite® app to view sensor readings away from home.  This way we can always track what is going on to prevent any damage from extreme conditions.
Overall, if we would have read the install directions we could have saved time.  Even with the few mix-ups, the entire process wasn't that difficult and we have an awesome cool looking smart home environmental monitoring system!  I love it!  In fact, I would like to get my Mom her own system so she can stop asking what's going on with the weather here…being she only lives 5 minutes away!  In my opinion, every home could benefit from having their own AcuRite® smart home environmental monitoring system as a way to keep up to date on what's going in their environment inside and out!
Stay Connected
www.acurite.com
www.facebook.com/acurite
www.twitter.com/AcuRite